One of the first things I thought about when buying my camper was how to keep it secure. Finding ways to protect it against theft and people with bad intentions was very important to me.
Realistically, what could stop someone from backing up to your camper, hitching up, and driving away with it? Depending on where you are, not much. 
Even with having hitch-to-bumper insurance and storing it in a warehouse, the thought of losing something that is essentially your home-on-wheels when traveling is nauseating. 
6 Ways to Protect Your Camper 
1. GPS Tracker 
There are many brands of GPS trackers out there that will let you know exactly where your unit is at all times. I use the Optimus GPS.
Pros: You will be able to locate your unit by your phone or desktop with a simple login. It will tell you exactly where your camper is located. 
Cons: Depending on where you are and the signal it is using will determine how long the battery will last. It operates on both GPS and cell phone towers for accuracy and to make sure it always stays online. Battery charging takes up to four hours. 
The unit does require a monthly, quarterly, semi-annual, or annual subscription to use the service, but well worth it.
The monthly rate is $19.95 but gets to around $15 per month if you buy a year in advance. You can also turn it on and off if you will go months at a time not using your unit and it's in storage.
If you're renting your unit, this could be an invaluable unit in case something were to go wrong and you had to get to your camper quickly. 
2. Solar Powered Security Lights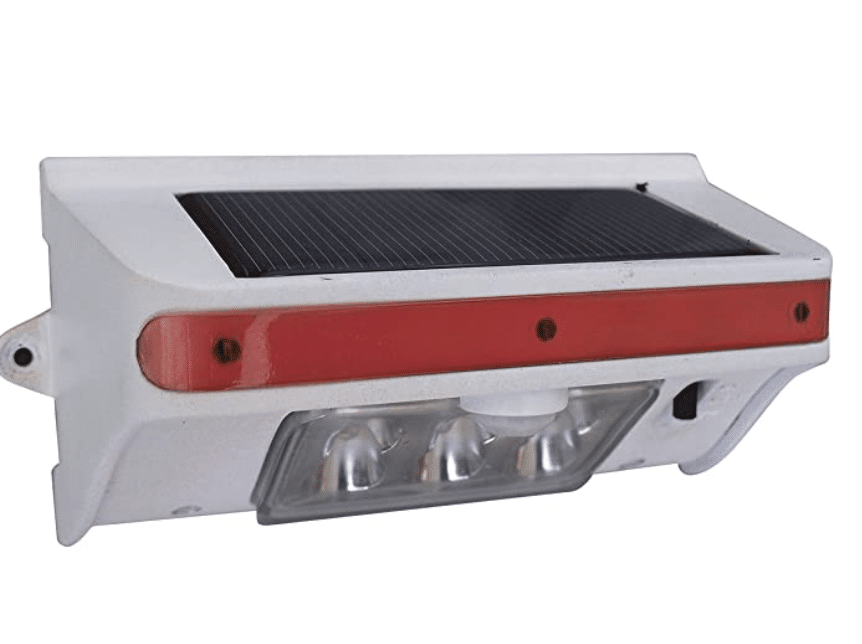 Find solar powered motion sensor lights that you can install on your travel trailer. With them being solar powered, you won't have to tap into any of your electrical wirings and it's very DIY.
Be conscious of the location where you're installing these lights. If you put them on the side of your unit and they are not aerodynamic, they could rip off the moment your unit hits 55 mph. The most strategic place for these lights with the least wind resistance is on the back of your unit. 
If installing lights on your unit seems like too much work, you can always go with the stick in the ground solar lights and create a lit path to your unit. 
3. Trailer Hitch Coupler Lock 
This device goes where the hitch from your truck goes and locks into place. Once you disconnect your camper from the truck, you can put this in place to prevent someone from driving off with your camper. 
READ MORE: 12 Accessories You Need For Your Camper
They make a generic size to fit 1-7/8″, 2″, and 2-5/16″ hitches and comes with two keys that are unique to your lock.
4. Trailer Hitch Coupler Lock
This lock is made of high strength steel that goes into the latch of your travel trailer. The purpose of this lock is to prevent someone from lifting the latch and connecting to your camper. These are made by different brands and come with a set of keys. 
5. Hitch Reciever Lock 
This lock goes on your vehicle and not on the actual travel trailer. This prevents anyone from walking away and stealing your hitch. This is a matter of preference because you can always remove your hitch and put it in your vehicle once you arrive at the campsite.
6. Camper/RV Insurance 
This might be a no brainer, but if you paid cash for your unit, you might not have purchased insurance — make sure you're covered. When purchasing RV/camper insurance, do not skimp on the coverage. 
Make sure you cover all the bases regarding the pay off if it were to get stolen or totaled. And just like an automobile policy, make sure you're well equipped with both comprehensive and collision insurance. 
Final Thoughts 
From my limited personal experience, storage facilities and parking lots have my theft versus a campground like a KOA property where campsites are closer together. 
At the end of the day, if someone wants your unit bad enough, they will find a way to take it. There are some smart crooks out there, but staying two steps ahead of them can save you a lot of time and money.
Pin it!