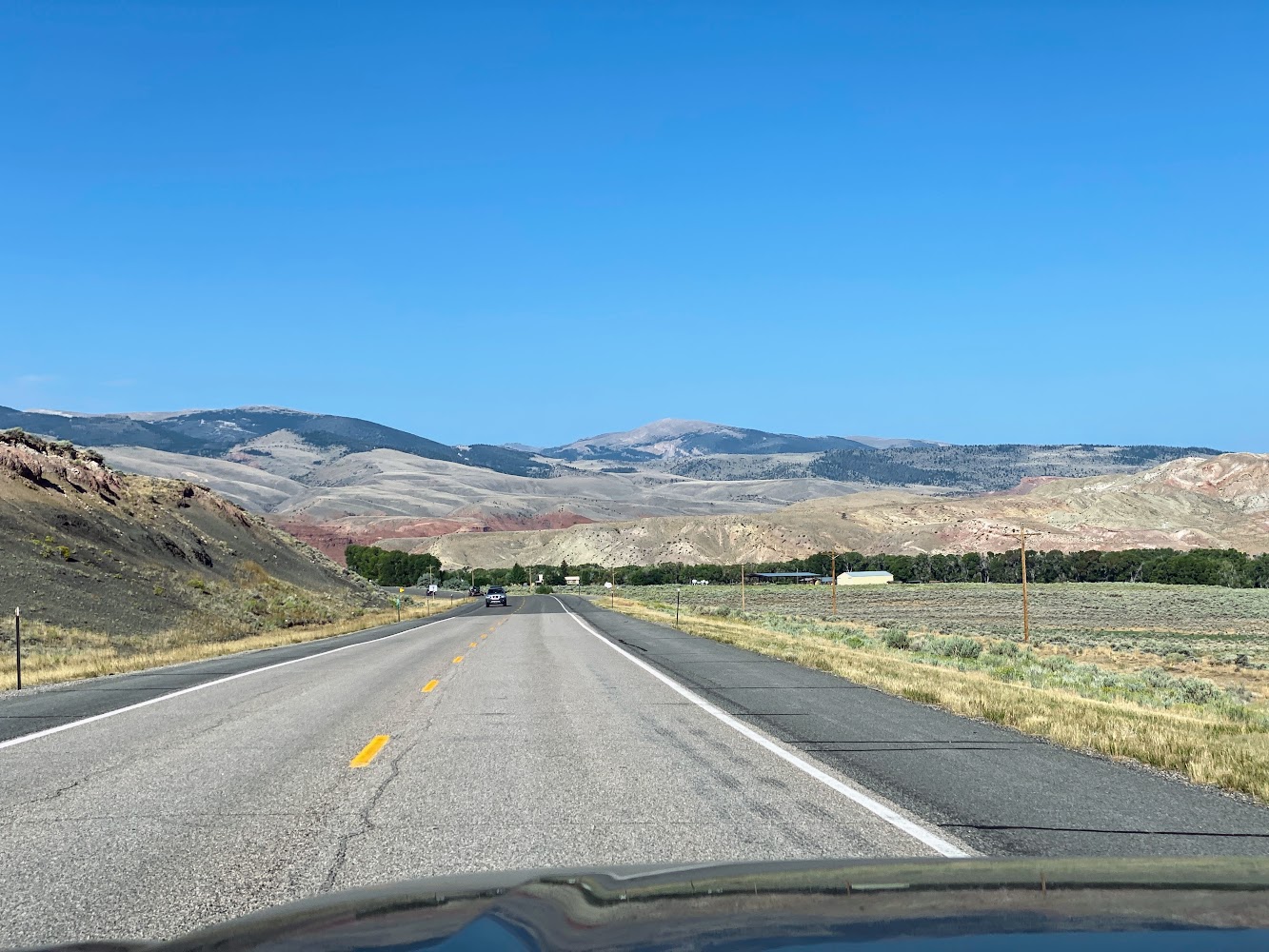 I took a 39-hour road trip from Florida to Montana and stayed at the Yellowstone Park/West Gate KOA Holiday. The purpose of the trip was to check Yellowstone National Park off my bucket list.
During the peak season, Yellowstone National Park attracts millions of visitors. In 2020, the park saw 3.8 million. Those visitors need a place to stay, so RV campgrounds fill up quickly. For this reason, it is important to plan to avoid being unable to find a campsite.
Yellowstone has five entrances, and each one has campgrounds nearby. We decided to make the Yellowstone National Park west entrance our base camp for the week because of its proximity to the trails.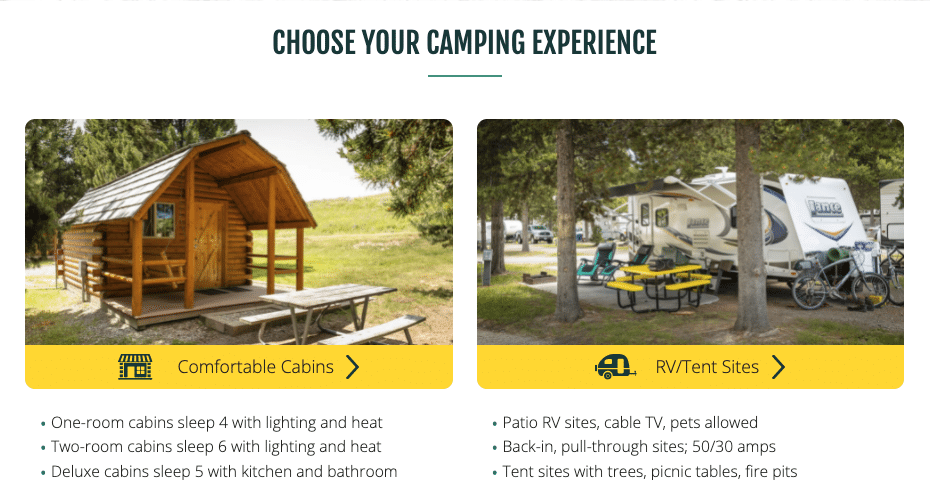 Make sure to check for availability and book your site before arriving. It is always best to call in advance to avoid disappointment. If you are traveling with family or with a large group, make sure to reserve a site in advance.
Many campers just showed up with their campers or tents during our stay and were turned away because there was simply no availability. As you can imagine, everyone wanted to be outdoors during the pandemic.
READ: How to Make the Most of Yellowstone National Park
The West Yellowstone Park KOA location is very convenient as it's only six miles to the entrance to Yellowstone's West Entrance, 36 miles to Old Faithful, and 46 miles to the Grand Canyon of Yellowstone.
Another perk is the location. Gallatin County, MT, is at 6,600 feet above sea level. You can expect cooler nights with summertime lows averaging in the upper 30s to lower 40s, with a max high of 81 degrees in July. We were surprised how chilly it got at night; some nights in late August it was down to the upper 20s. By September, it gets downright cold.
First Impressions of the Campground
Address: 3305 Targhee Pass Highway, West Yellowstone, MT 59758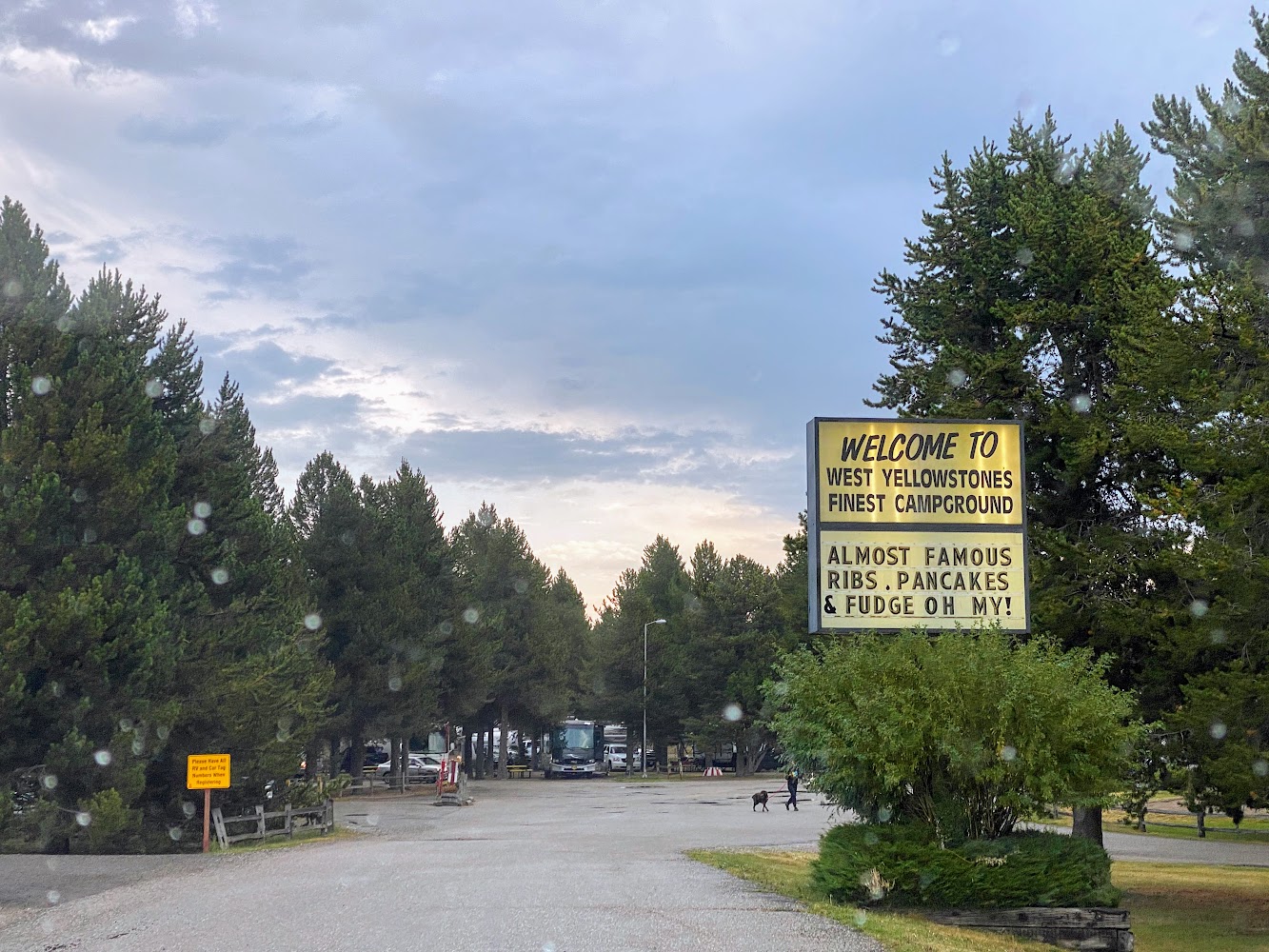 After spending the night in Riverton, WY, we made the five-hour trip to the Yellowstone Park/West Gate KOA. Just over the Idaho border, we arrived at the campground around 11 in the morning. The convenient entry point made it easy to find right off US hwy 20 with a big sign that said "Welcome to West Yellowstone's Finest Campground."
I didn't know if it would be like a hotel where we had to check in after 3 pm. We could go right to our site and by that afternoon we were headed out on our first hike in Yellowstone.
We were there in late August so it was towards the end of the season. However, the campground was pretty full. The property manager told me they are a seasonal location from May 19 to October 1.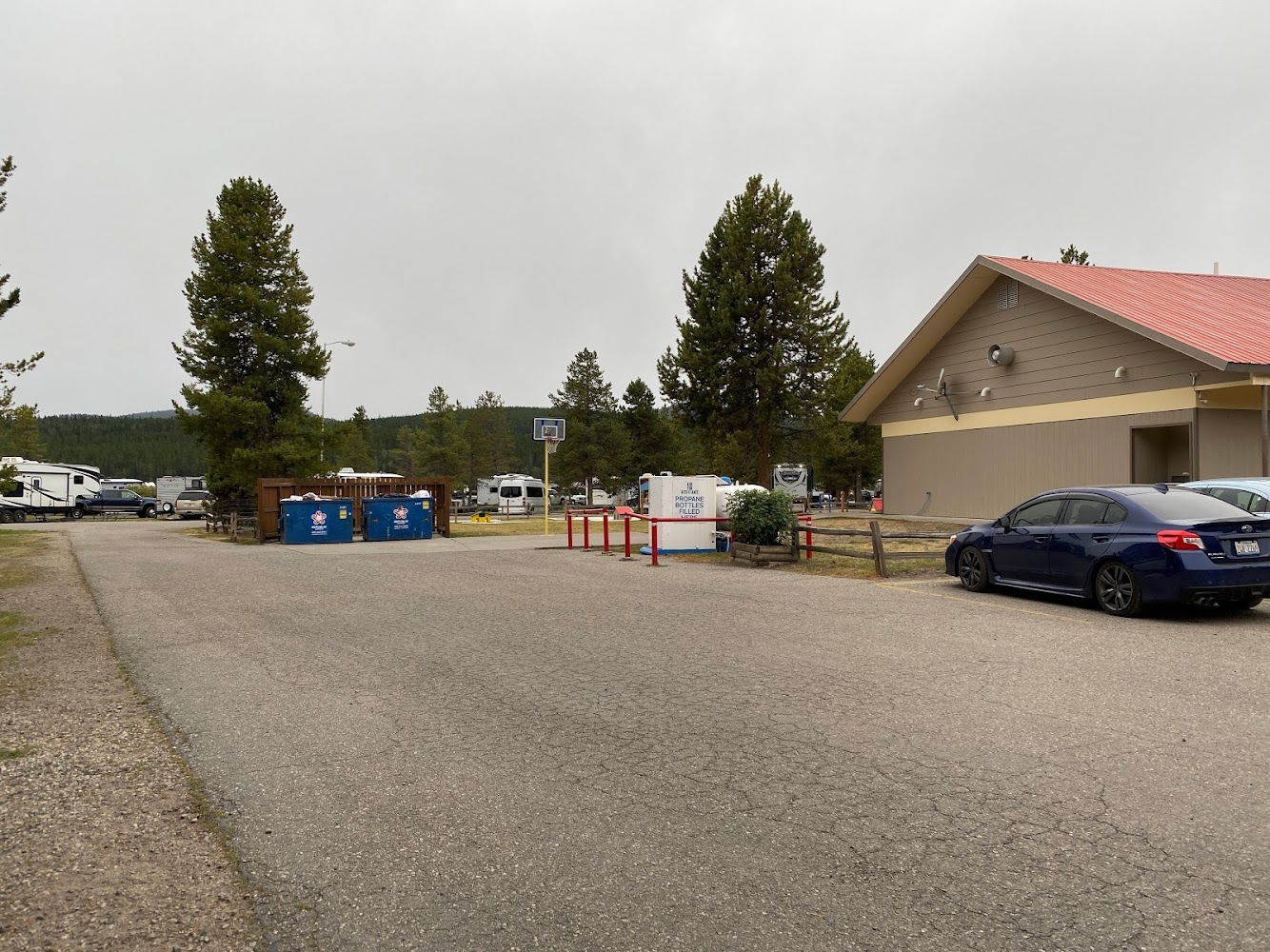 Everything was spaced out so you never felt packed into a spot — perhaps one of the reasons everyone went camping over the summer.
KOA's office and the general store were in the same location. The store sold everything from RV hardware, hoses, and accessories to groceries, beer, and firewood.
If you couldn't find what you needed on the property, there was a grocery store and hardware store a few minutes away in the downtown district. There's also a new Mountainside Journey KOA if there's a part you can't find at the general store.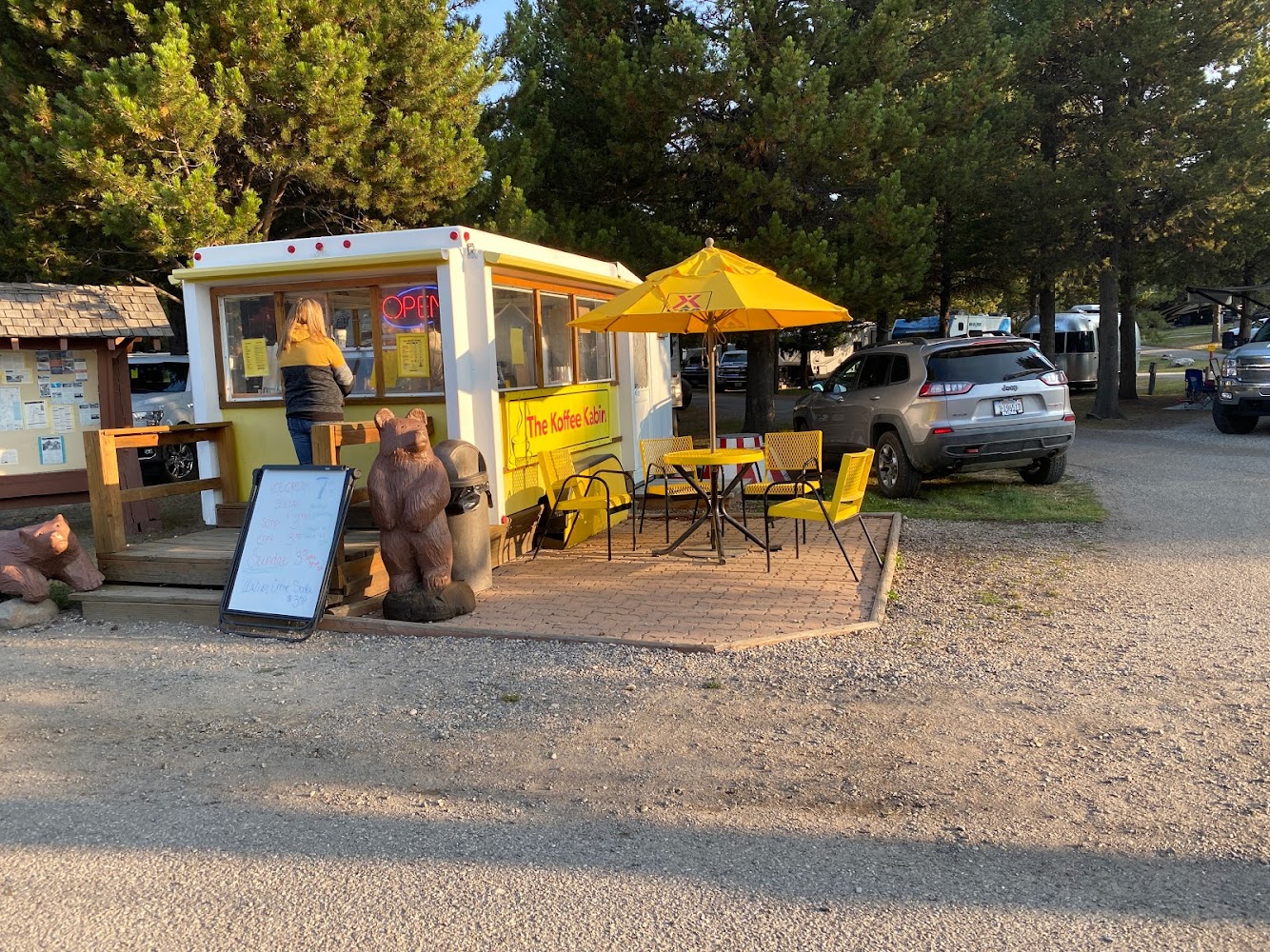 In the mornings there was a coffee truck open on the property where you could get things like a coffee, latte, and danish. At night, it transformed into an ice cream truck. It was a nice touch if you didn't feel like brewing coffee early in the morning.
The truck was super popular on cold mornings, so we tended to try to get there right when it opened.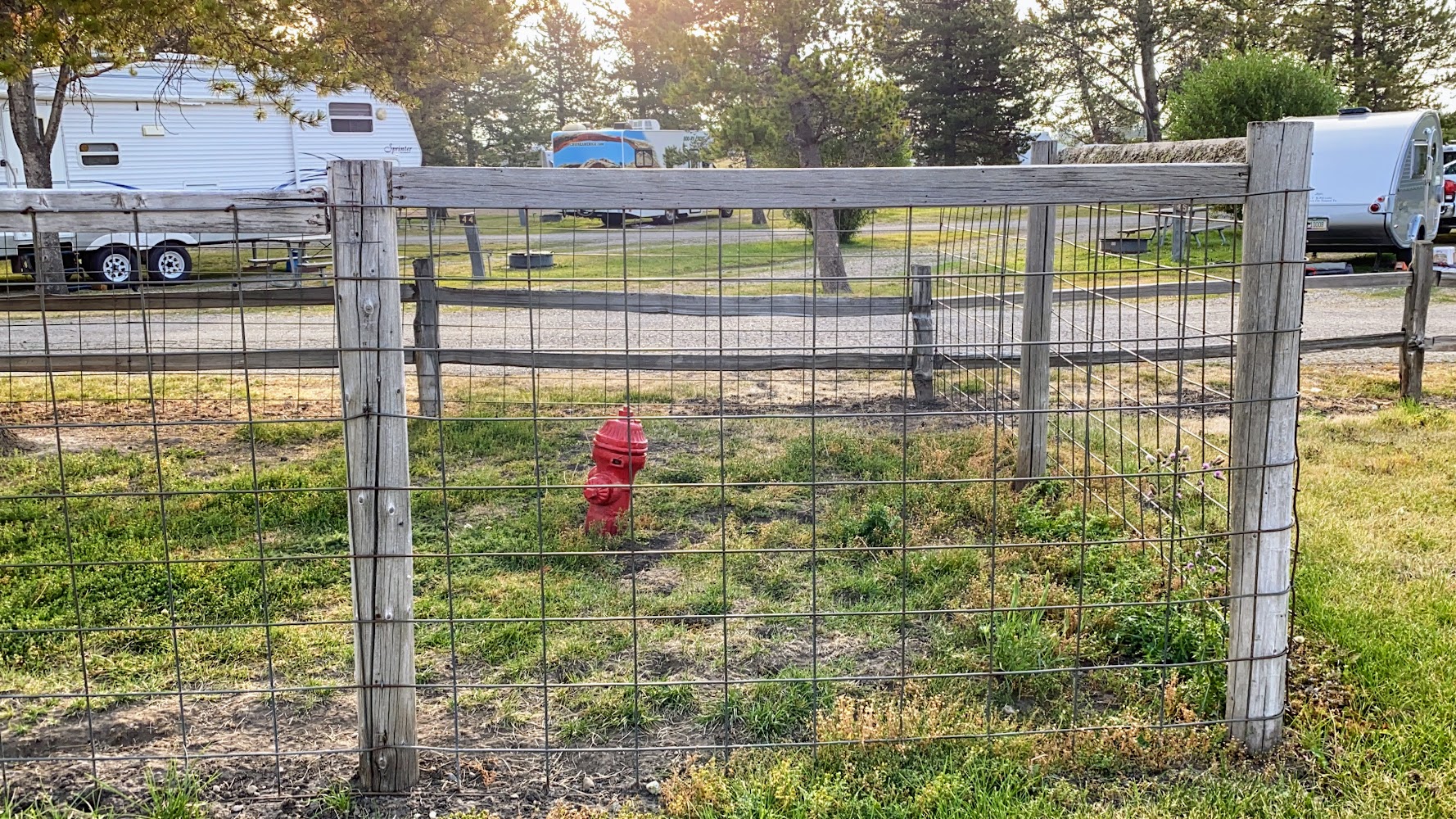 There was an indoor pool on the property as well as a mini-golf course, playground, basketball court, and dog park.
Our Campsite at KOA West Yellowstone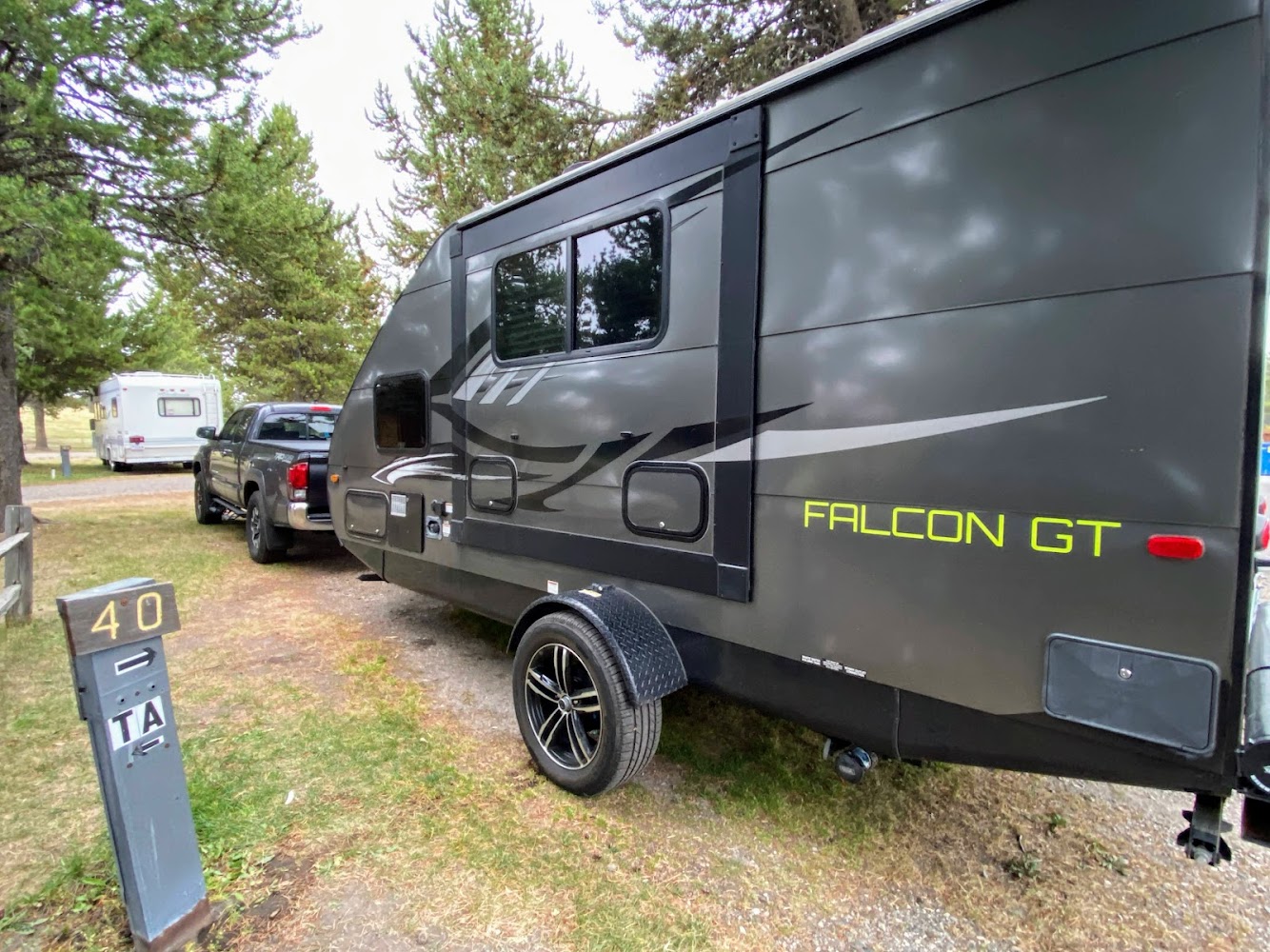 There are sites available for every type of RV and camper, from a small tow-behind to motorhomes. We even saw a tour bus on the property! There are also tent sites available if you're looking to pitch a tent, along with one and two-bedroom furnished deluxe cabins if glamping is more your thing.
There are over 200 sites there, and select sites can accommodate up to a 90-foot camping rig.
We had friends staying next to us in a tent site, so we were lucky to get the very end where there was a camper and tent site next to each other. It made cooking meals and packing up for Yellowstone very easy every morning.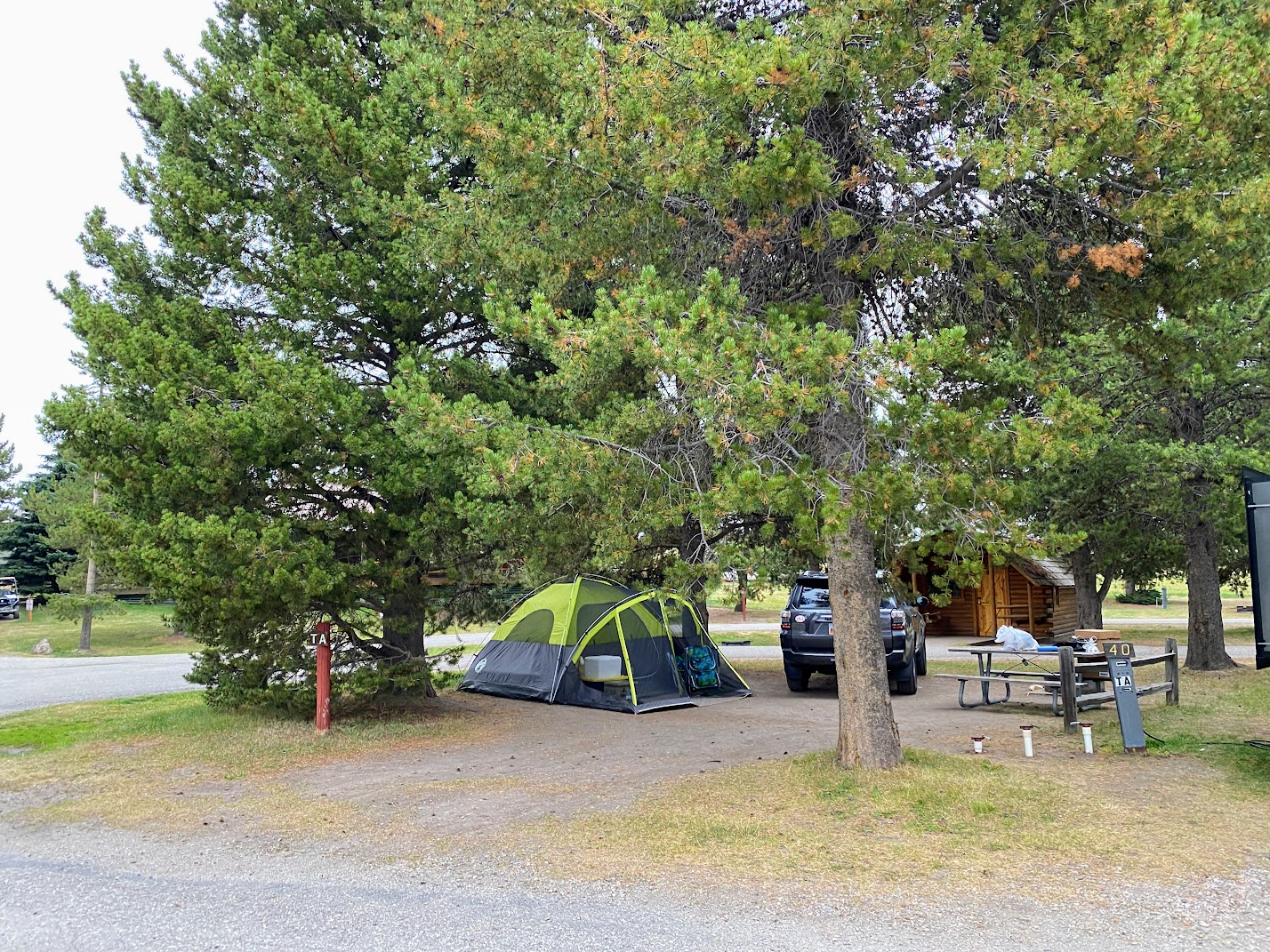 Having a 22-foot camper that I tow behind the truck, we went with a pull-through site that had water and 20/30 amp electrical hookups. (Other sites on the lot had 20/30/50 amps of power; my rig requires 30 amps.)
None of the sites have sewer hookups, but there is a dump station at the entrance of the park. We emptied our black and gray water tank at the station on the way out.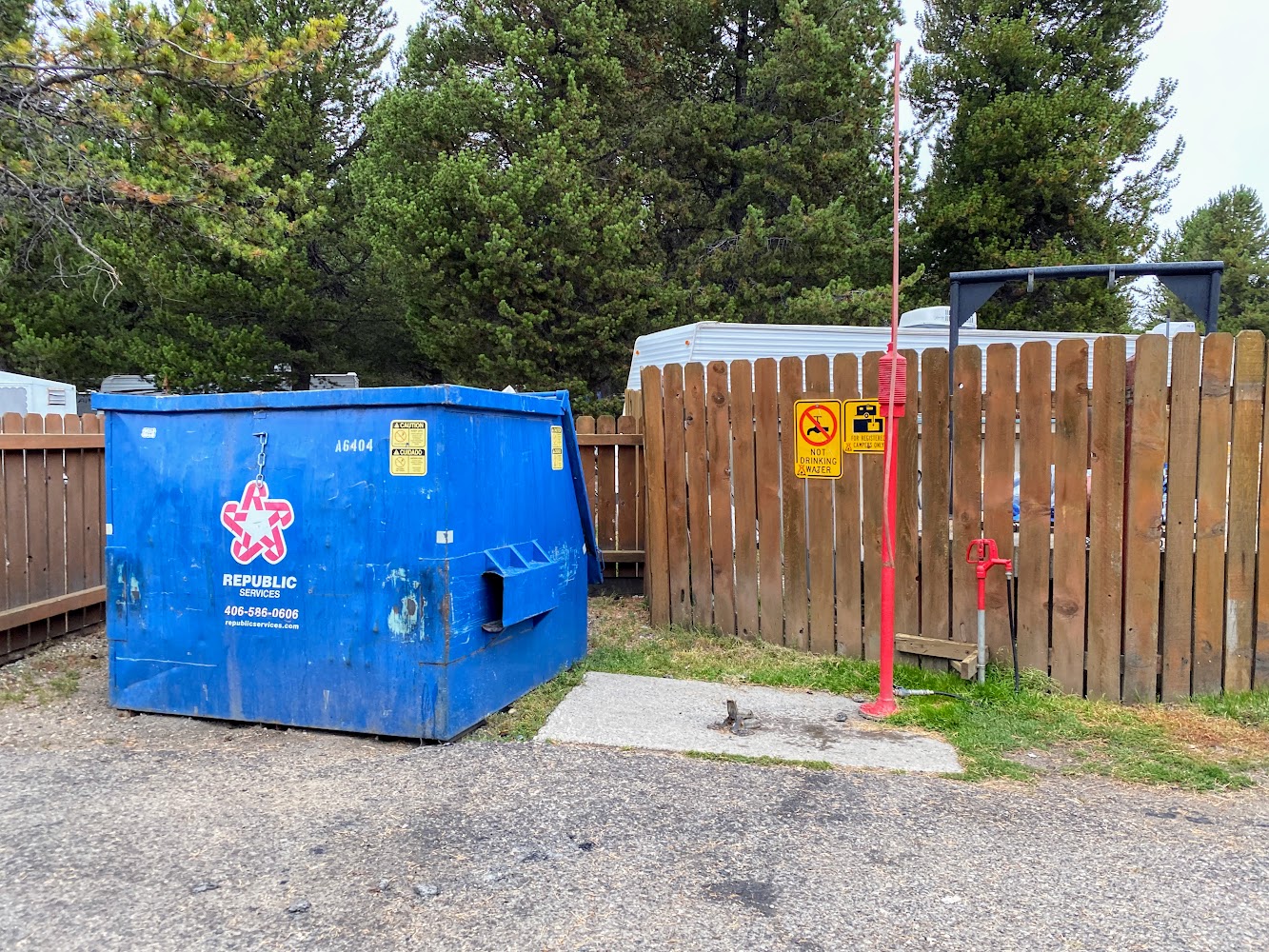 Each campsite had a fire ring and a picnic table that we used every single day of the trip. There were also cable TV hookups at select sites.
The area had plenty of pine trees and was well shaded. John, the property manager, made the rounds every night to make sure everything was going okay.
One thing the campground is adamant about is absolutely no hammocks. We were told that a couple of times during our five-night stay. I'm not sure if it's a liability issue or what.
KOA Campground at Night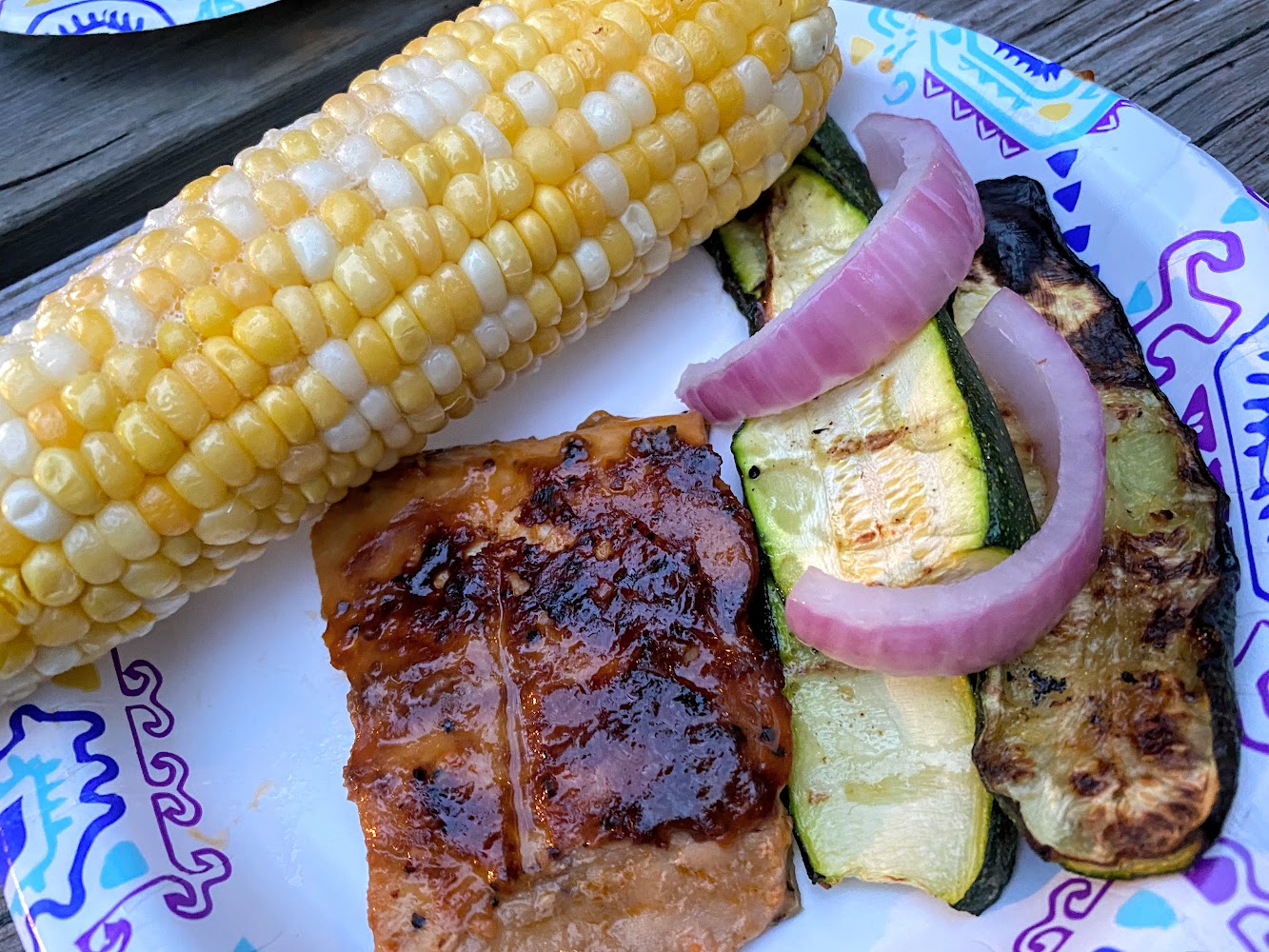 The campground was pretty quiet at night, with most people just cooking or hanging out by the campfire. Just after dark people would wash dishes in the outdoor kitchen that was attached to the main building, but that was about it.
There were a lot of families with kids staying on the property, so after nine it was very quiet. Because we were located right by the entrance, we'd hear the occasional late-night campsite arrival or someone throwing trash away, but other than that it was really low-key.
Bathroom Facilities at KOA West Yellowstone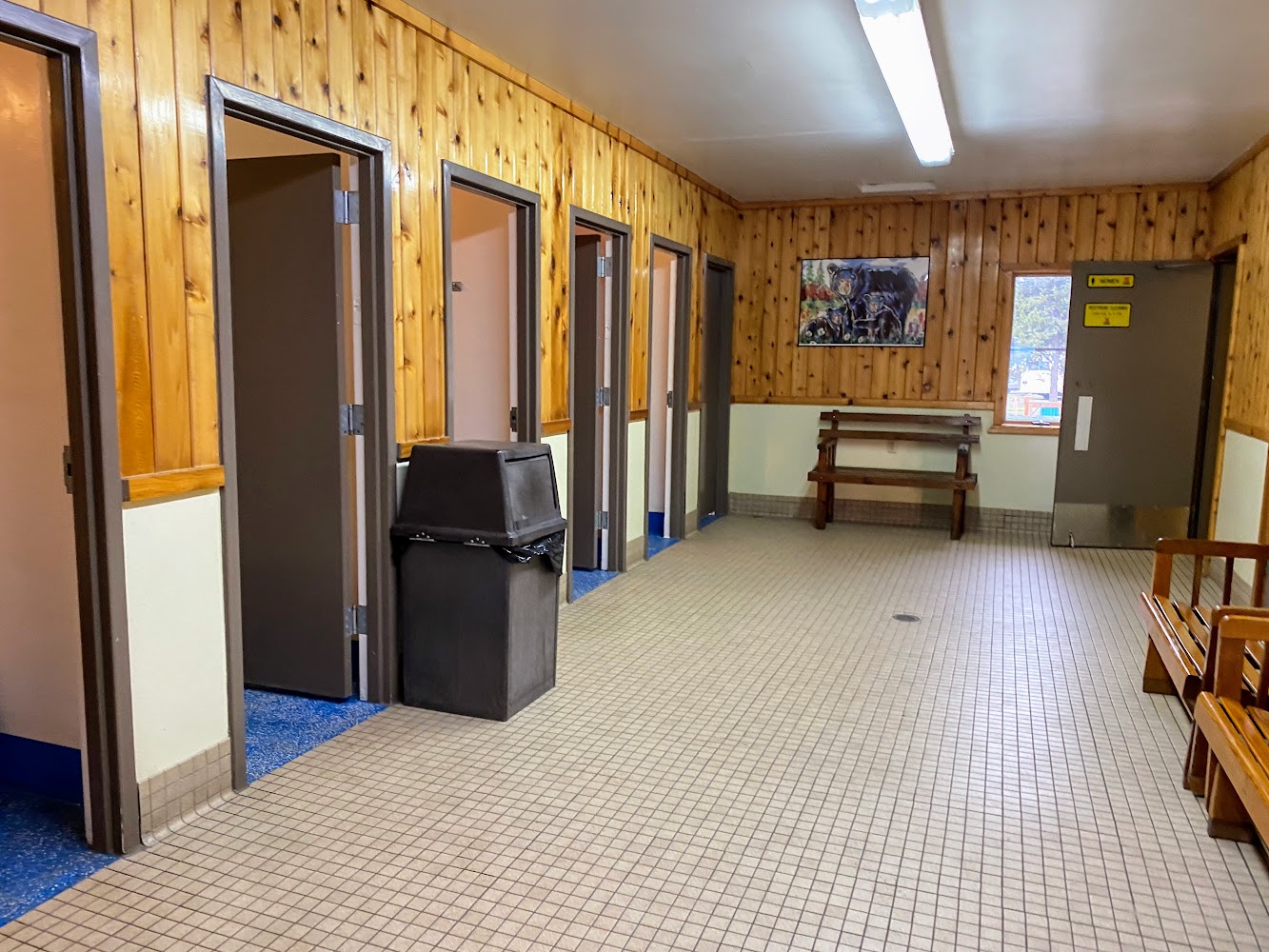 Both the bathroom and bathing facilities were serviced a couple of times per day, so by dinnertime they weren't spotless by any means. The restrooms were separate from the showering area which had a dedicated space.
Bathrooms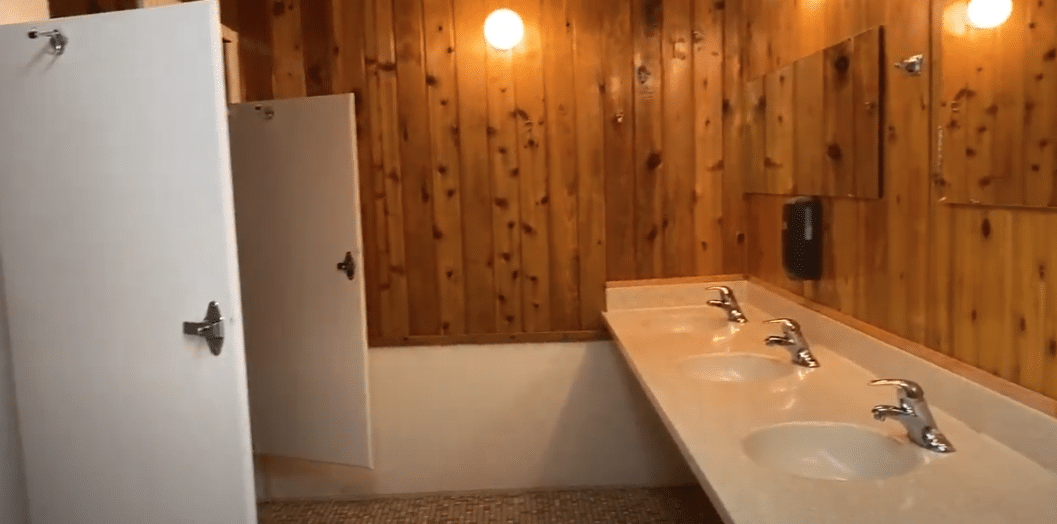 There are three different bathroom facilities spread across the property. We used the one closest to the general store because it was the closest to our campsites.
The heated bathrooms had multiple stalls (and urinals for the men) and lots of counter space. The only downfall — and this is going to sound gross — but if you can brush your teeth or shave at your campsite, it might be best. In the morning, the bathroom stalls sound like the horn section of an orchestra. Not the most pleasant way to brush your teeth.
Showering Area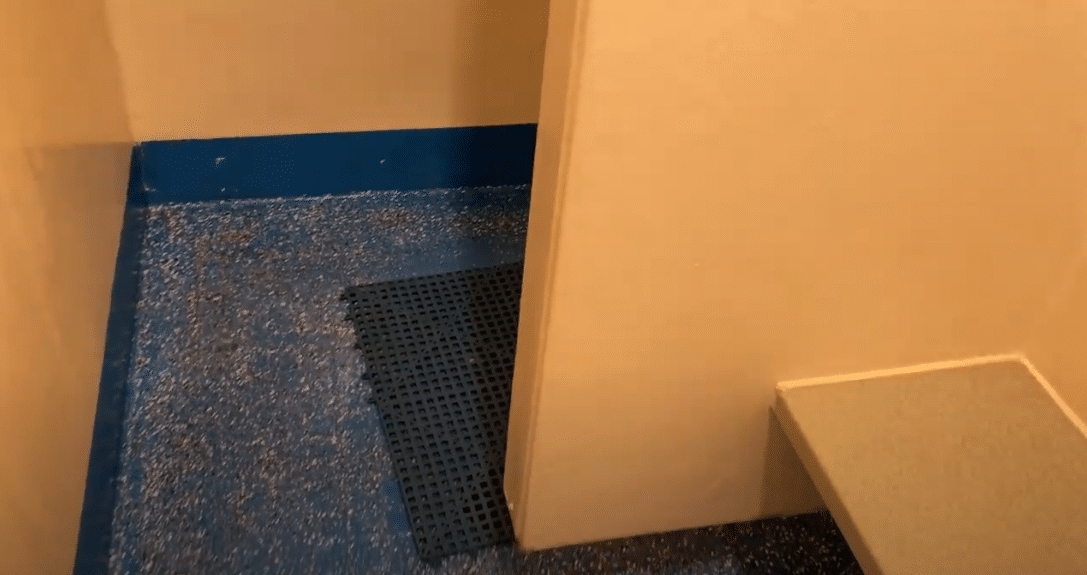 There were approximately six individual rooms that were rectangular shape, and each one had a changing area and shower area. They were approximately six feet deep by four feet wide. It was big enough that they could if two people wanted to shower at one time.
READ: What You Need to Know About Truck Stop Showers
There was plenty of water pressure, and even with all the showers occupied at the same time, the hot water never ran out.
The floors were a bit dated in the shower stalls, and I would suggest wearing flip-flops or water shoes to keep the funk off your feet, no different than if you were taking a shower at a gym or changing at a public pool.
Thoughts on Amenities KOA West Yellowstone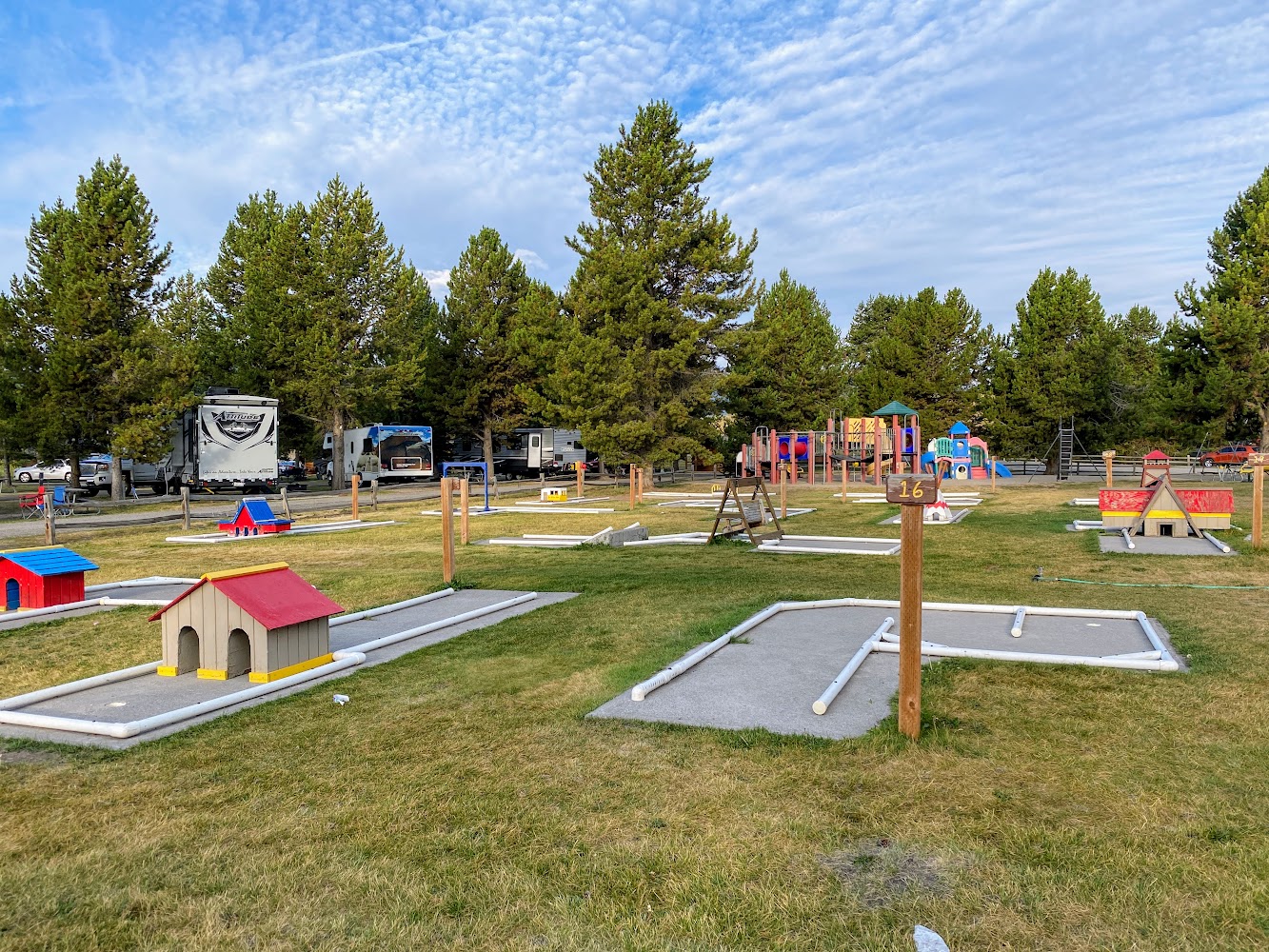 The campground offered a lot of amenities, more than other sites I've stayed at over the years. It was also very peaceful. The property is located next to a cattle farm where the cows would walk up to the fence to check out what the humans were doing.
The breakfast and dinner served at the campground were both affordable and a nice touch. We never did the barbecue dinner or had the "almost famous ribs," but on departure morning we tried their pancakes, which were really good!
They also make delicious homemade fudge that they sell in the general store, which is out of this world!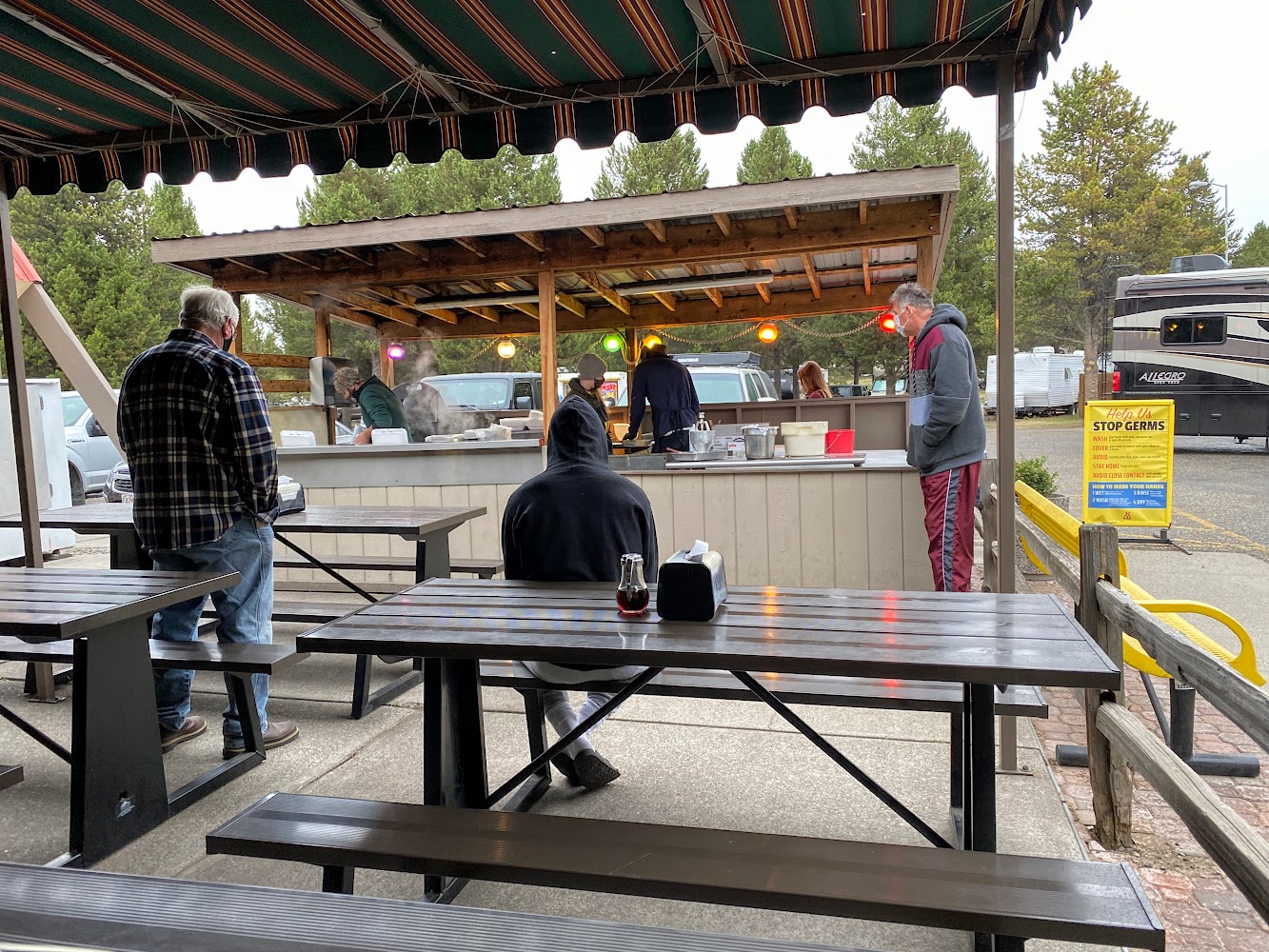 The outdoor kitchen prep area was very convenient to clean after cooking dinner. Not having to do our dishes in the camper and fill up the gray tank was a nice bonus. The campground also includes a laundry room and lounge area.
Because it gets downright cold in this part of the country at night, the indoor pool and spa — inside a classic Montana log building — were a welcome feature for many guests to enjoy a warm soak at the end of the day.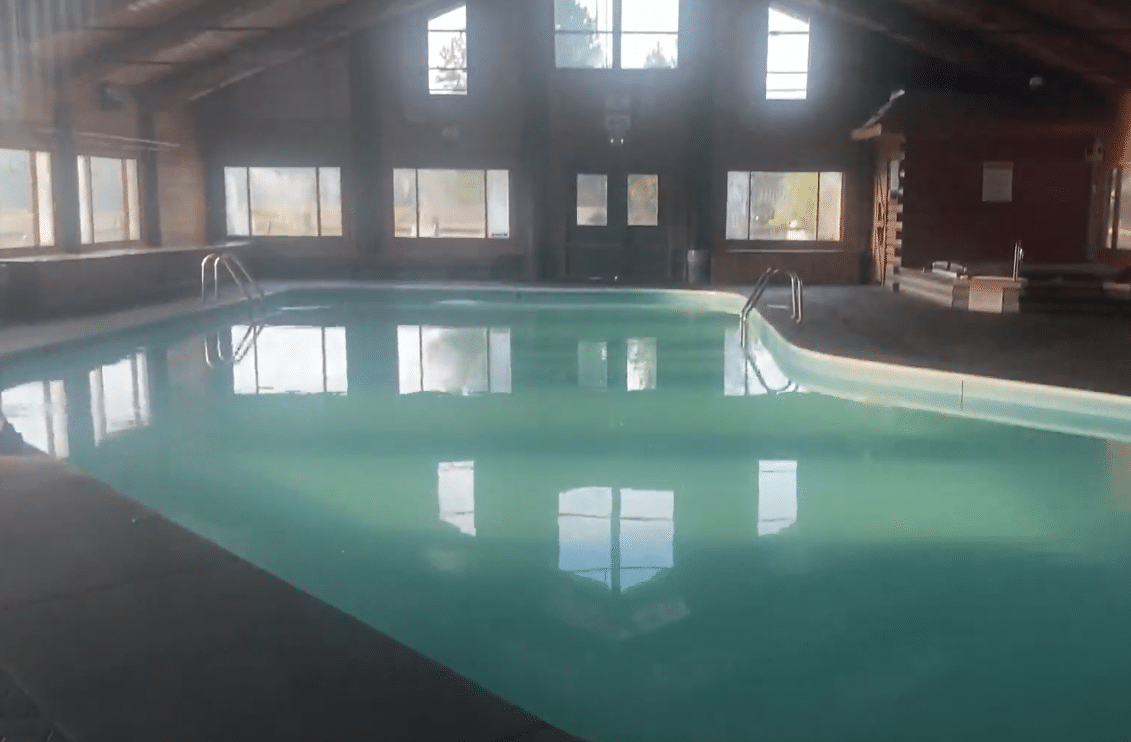 The WiFi service was good for checking email or putting something on social media, but don't expect to stream Netflix or upload or download any large files. I use T-Mobile as a cell phone provider and the service was fair at best. If I wanted to get decent data or service, I had to walk out by the road. My friends have Verizon and didn't have any issues connecting.
Points of interest in the vicinity include the Grizzly & Wolf Discovery Center, a nightly Old West Rodeo, and the Yellowstone Giant Screen Theatre. Activities nearby include whitewater rafting, world-class fly-fishing, and horseback riding.
Final Thoughts of Yellowstone/West Gate KOA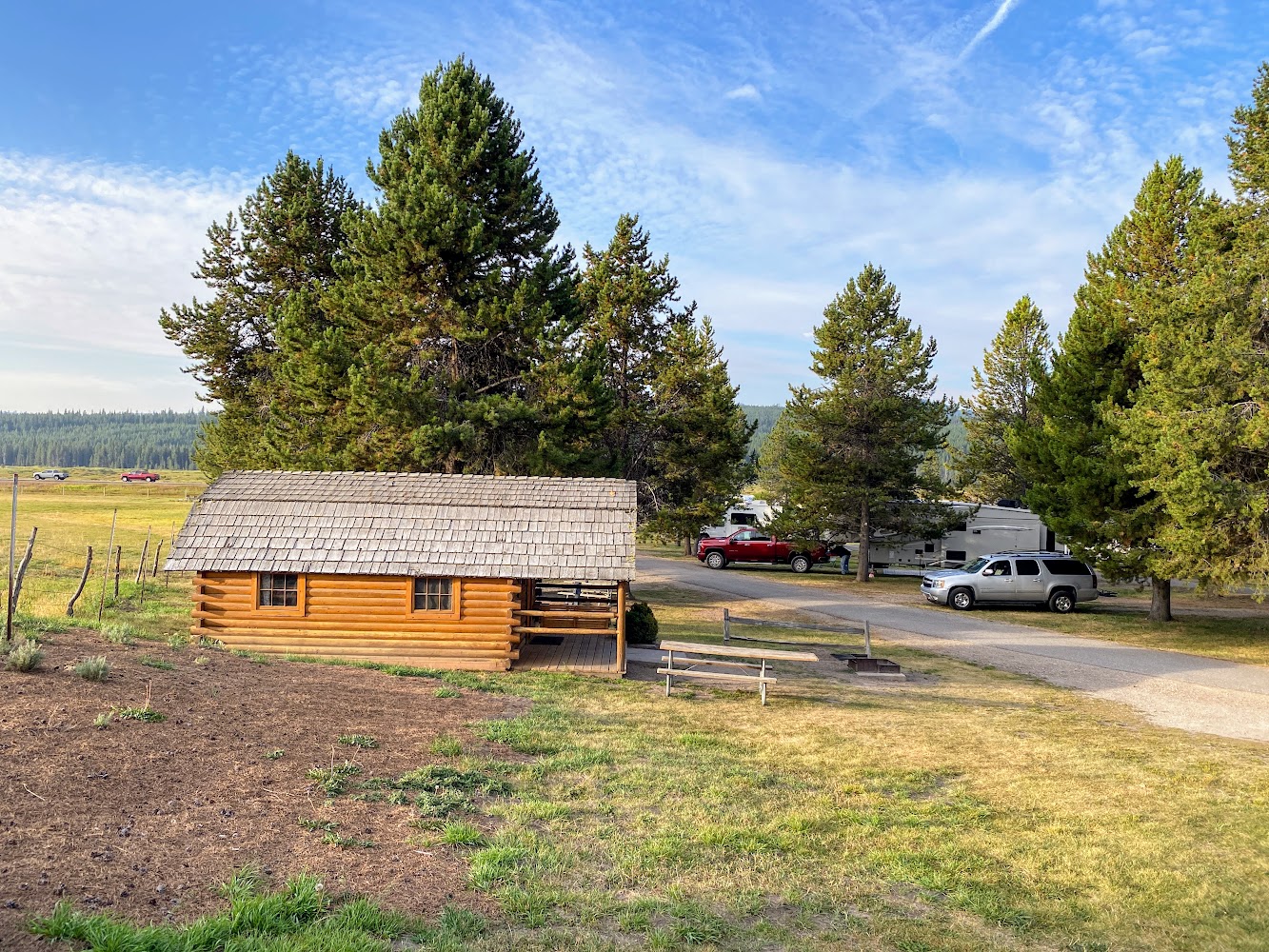 We felt really at home at the West Gate KOA, and the people there couldn't have been any nicer. The staff was friendly and would stop by and chat while we were cooking dinner just to see if we needed anything.
The nightly fee is a little on the steeper side, with prices averaging around $80 to $100 per night, but a way to offset that is to pick up the KOA Value Kard, which gives you 10 percent off every night for a year.
I bought my card at the very first KOA campground I stayed at in St. Marys, Georgia.
READ: Review of St. Mary's Georgia KOA
If you stay more than three or four nights, it pays for itself. Plus, the points you accumulate give you $50. I had no clue about the point program until I went to book my trip for this summer at the KOA at Glacier National Park.
After reading this if you've decided that camping isn't your thing, you can always stay inside the park at an inn or lodge. We've detailed where to stay in Yellowstone National Park here.
Oh, and don't worry about missing the famous geyser. Like clockwork, Old Faithful puts on a show up to 20 times per day.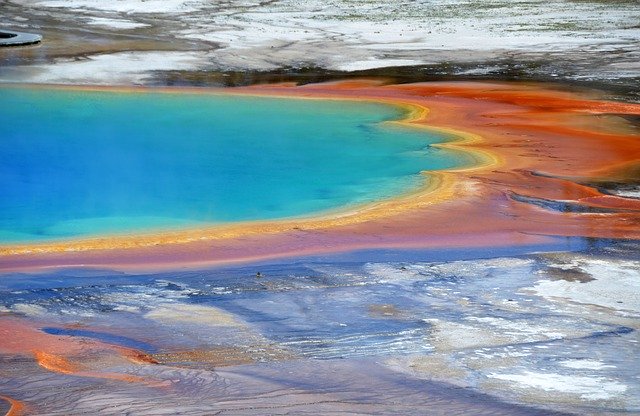 PRO TIP: Two easy-to-travel and not-to-miss spots while visiting Yellowstone are the Upper Geyser Basin, with over 150 hot springs, and the colorful Grand Prismatic Spring.
You can find out more information by visiting the Yellowstone KOA website.
Pin it!