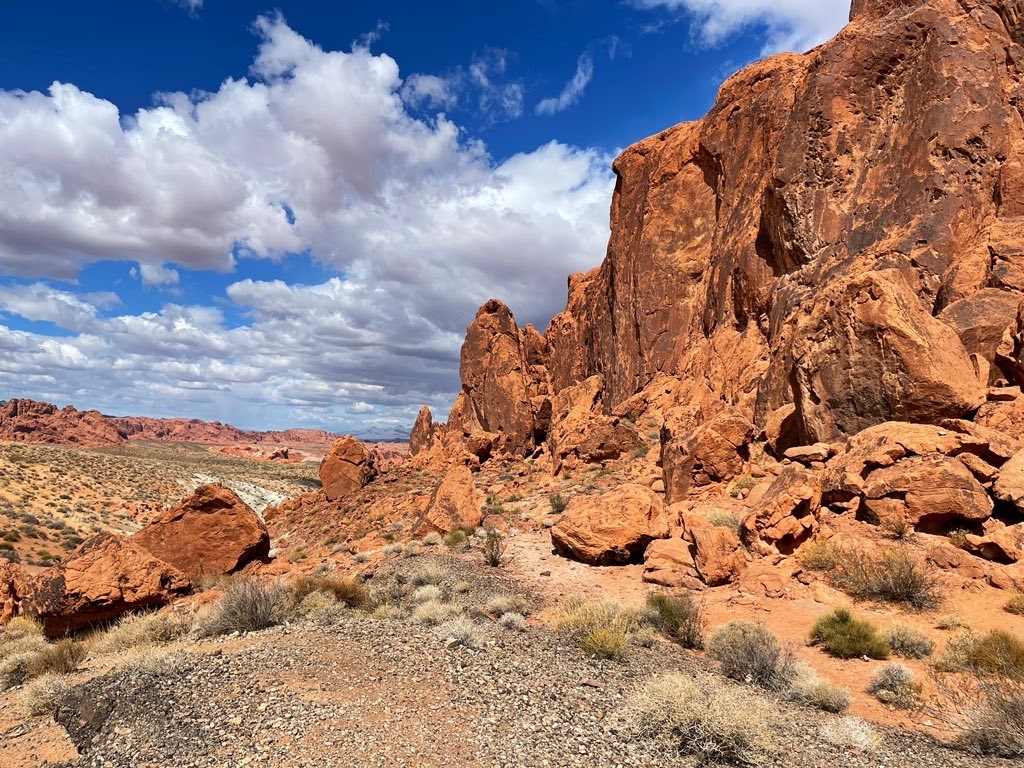 On a recent hiking trip out to Nevada, we stayed at the Las Vegas RV Resort. The purpose of this trip was to see places that have been on my bucket list, including the Hoover Dam, Lake Mead Recreational Area, the Valley of Fire State Park, and the Vegas Strip.
We picked the Las Vegas RV Resort because it's adults-only, its proximity to both the trails and sights, and the fact that it is seven miles from the Las Vegas Strip and the Fremont Street Experience.
It's also right down the street from Sam's Town, the hotel and casino off Flamingo Road, and a couple of miles from the Boulder Strip. This property is 60 miles from the Valley of Fire State Park, 31 miles from the Hoover Dam, and 24 miles from the Lake Mead recreation area.
Las Vegas RV Resort Prices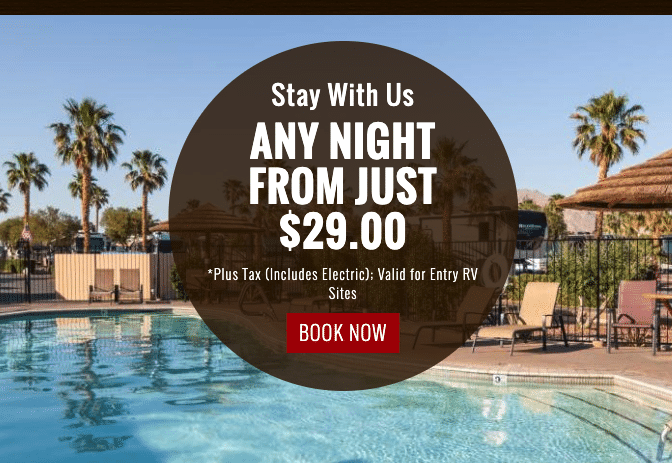 Doing my research, I saw that this is a year-round RV resort with very affordable rates that start at $29 per night for one of the basic sites. And with the campground having 389 full hook-up sites with over 100 pull thru slots, it was a no-brainer for me to make the decision.
During our stay, the rates were between $29 and $48 per night and with plenty of availability — and for Vegas — the price was a steal. Most hotels on the strip charge that much in resort fees alone. When I was at Treasure Island in December 2021, I paid $40 per night in 'resort' fees.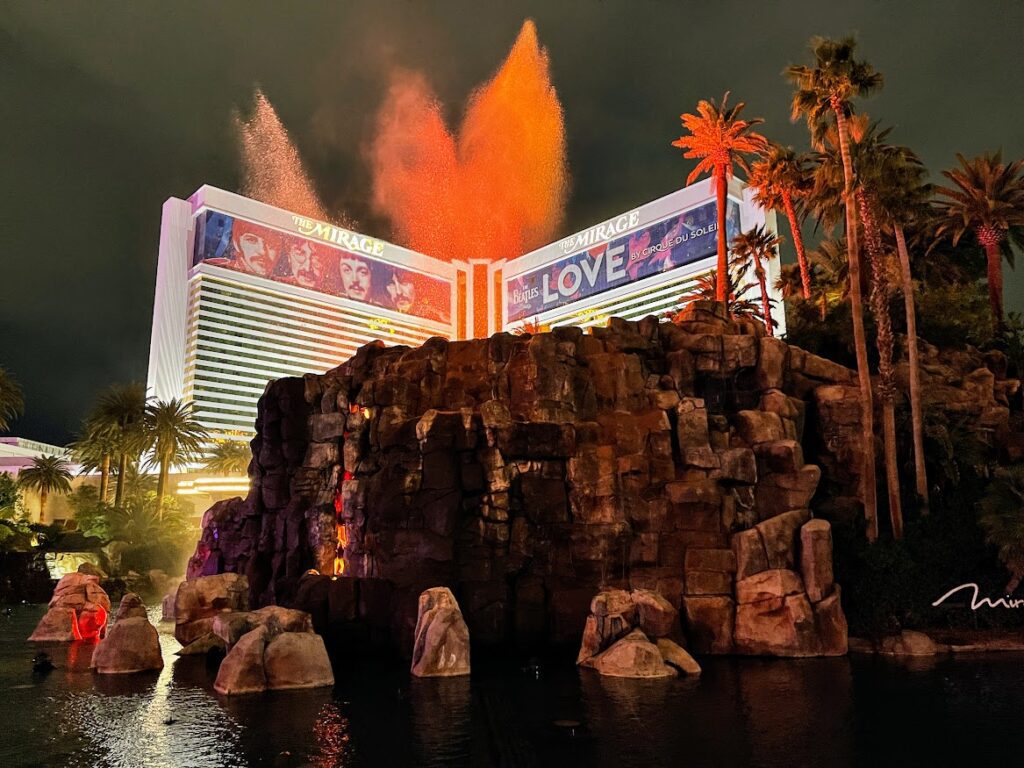 The campground has deluxe, premium, standard, and XL sites. The major difference between the standard and the other three is how much space you have next to your camper for grilling and parking an extra vehicle.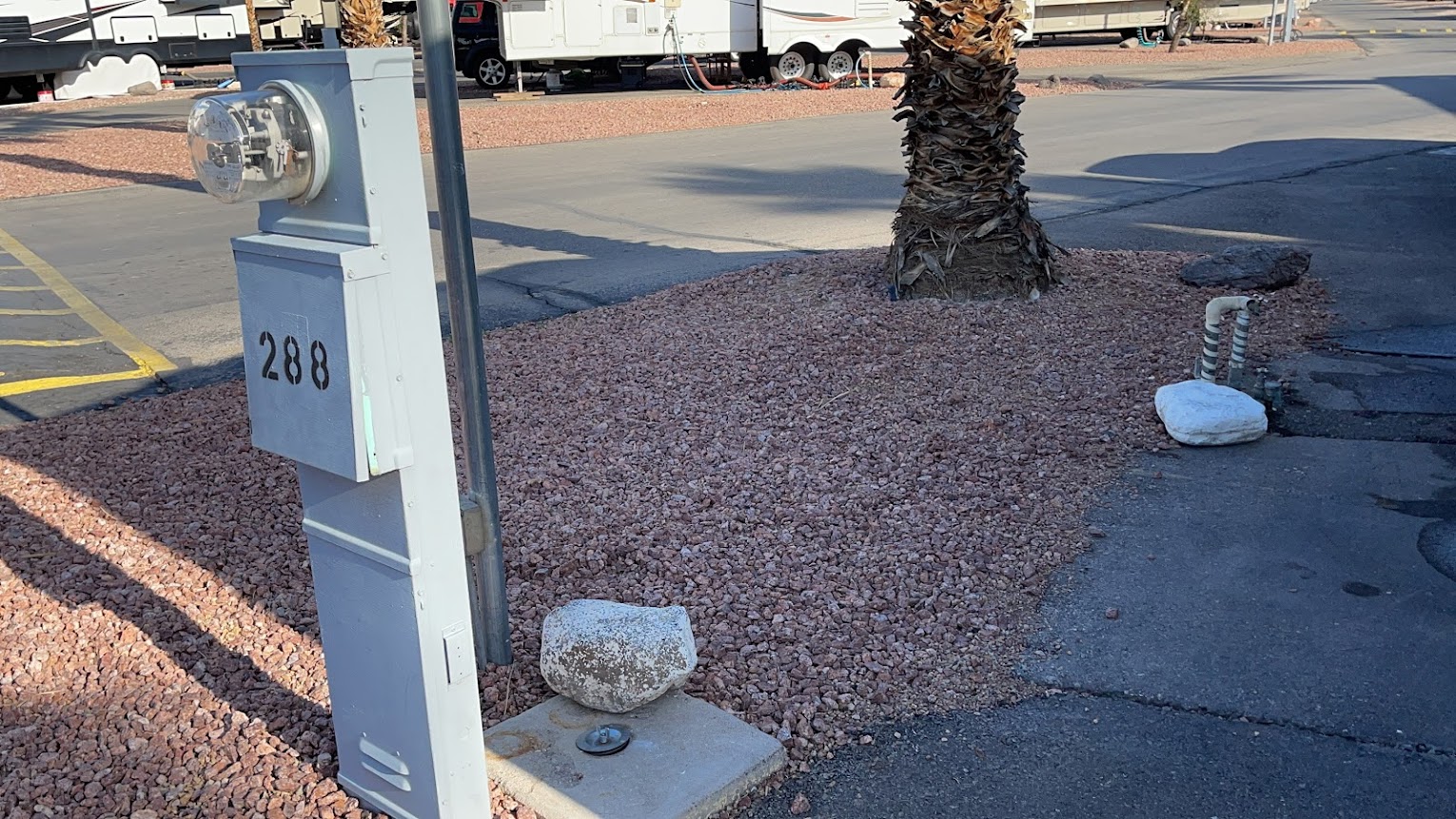 If you want an elevated camping experience at the resort, there's one cottage on site but it seems to be booked up every time I've checked on the availability. It is fully furnished complete with a full-size kitchen, utensils, dishes, microwave, couch, recliner, cable TV, towels, and linens.
After researching, I reviewed the cancellation policy, paid for the five nights with a credit card (debit cards also accepted), and received my booking confirmation.
Seasonal Average Temperatures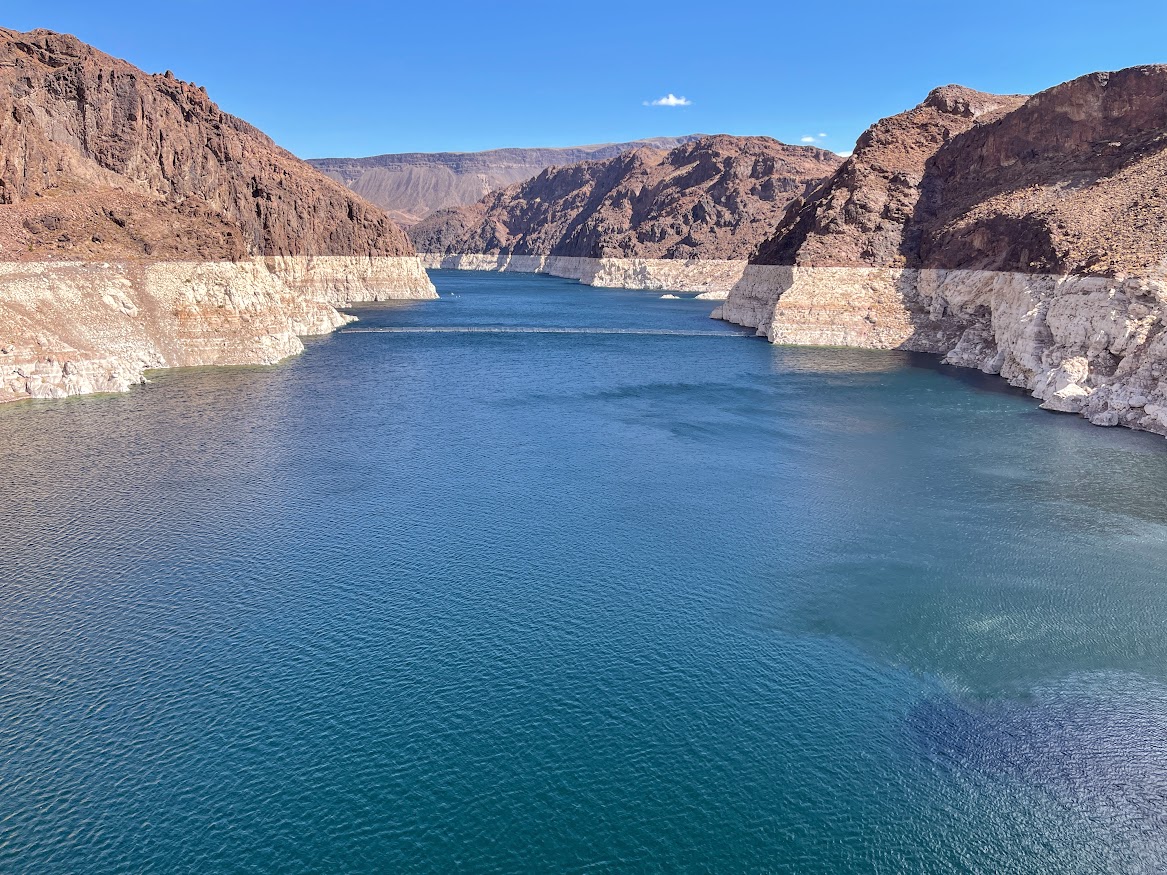 What made this trip even more appealing in March is that the weather in the region has an average high of 72 degrees during the day and gets down into the 30s at night, which makes for some cool sleeping.
Summertime in the desert can get a little hot. Expect highs reaching the triple digits and sometimes remaining there until midnight, then dropping into the 70s. This past July, it was 117 degrees in Las Vegas at 7 pm, and at midnight it was still above 100. Albeit a dry heat, 100 degrees is still 100 degrees.
This reminded me of our camping trip to Yellowstone with the cool nights and mild days.
The resort is located in Sunrise Manor, which is in Clark County, and at the base of Frenchman Mountain. It's also a short walk to the Boulder Station Casino.
First Impressions of the RV Resort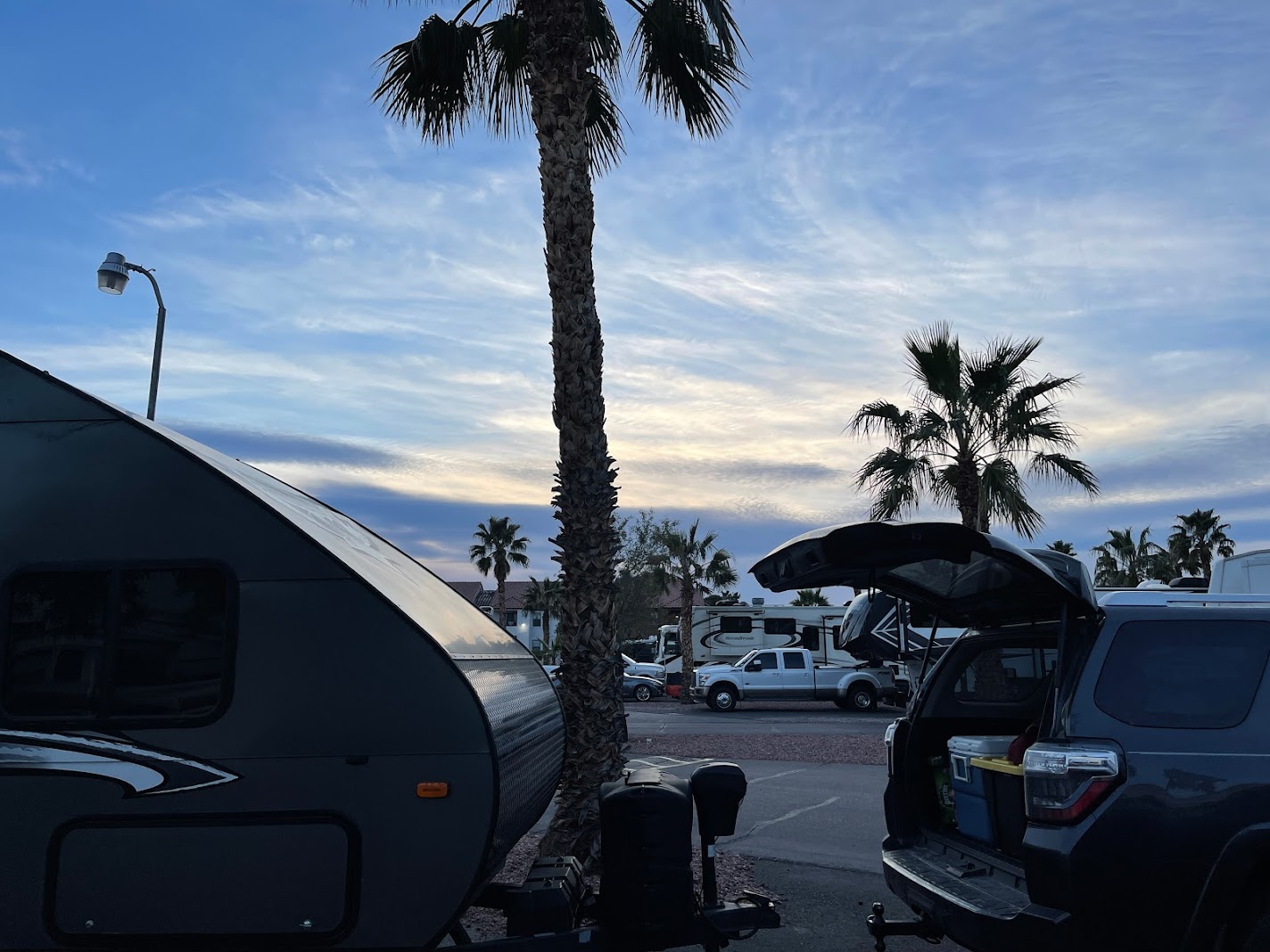 Address: 3890 S Nellis Blvd. Las Vegas, NV 89121
After 2,200 miles in the truck from Florida, we finally made it.
When we entered the RV park off of S Nellis Blvd, we drove about 100 feet until we came to a guard shack where I showed my photo identification and my reservation number. After we were processed through the contactless check-in, one of the employees showed us to our site.
There were no additional charges at check-in and no cash deposits; we were given the property rules and instructions and went straight to setting up our campsite.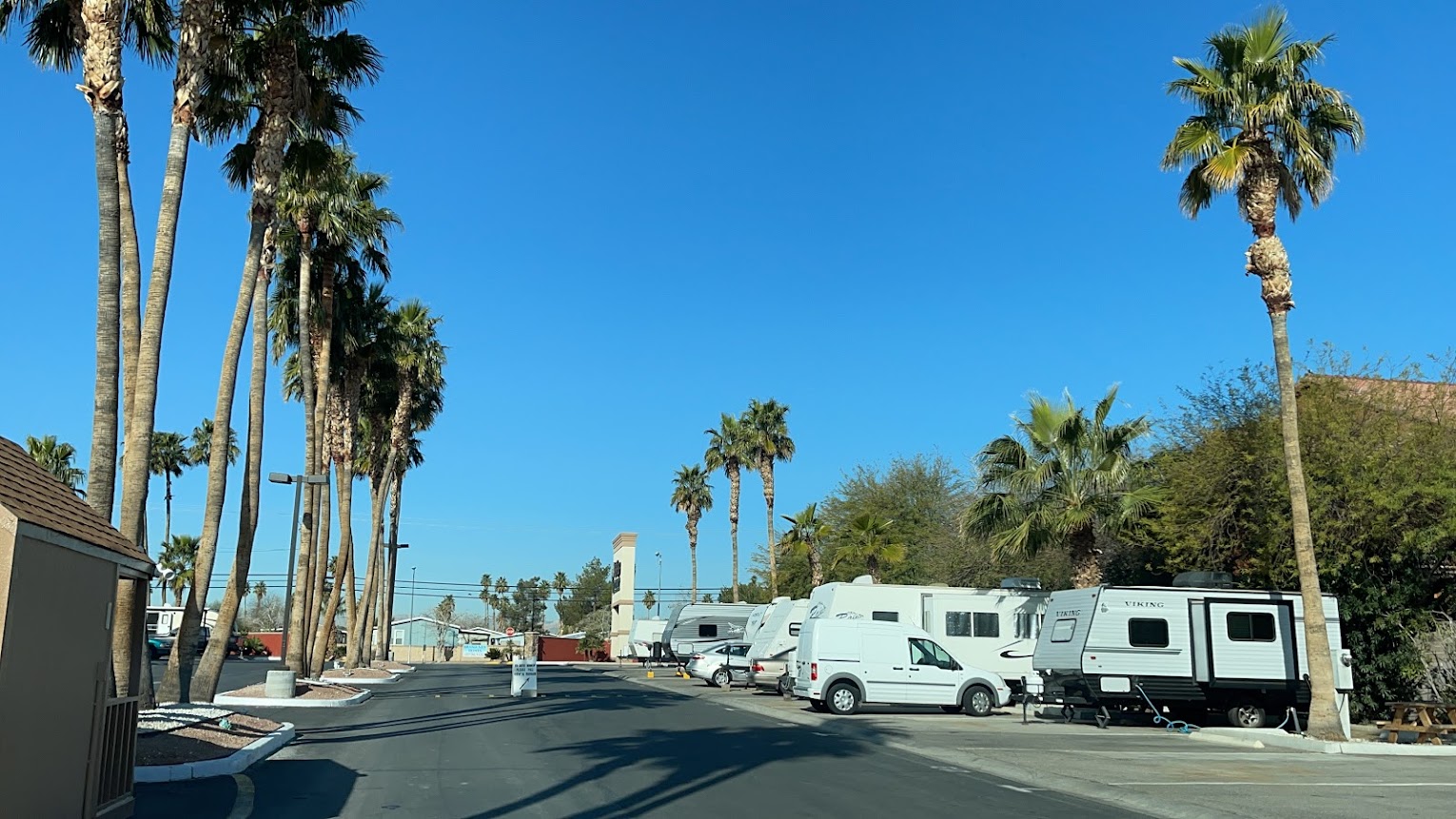 If you need help setting up your site or backing in, be sure to ask the team member guiding you to the campsite. You want to make sure you don't incur any incidental charges by backing over a sewer line or water connection.
We had two campers in our group this trip and were a couple hundred feet from each other, but it was no longer than a 60-second walk to each other's campsite.
The first thing that caught my eye about the resort was that there were no grass or dirt sites. This was the first campground I experienced where the entire site was a concrete slab — basically a huge concrete lot with painted lines for parking and hookups for your unit. Between each site was an area of red rocks; this was on the utility side of the camper where the water and electric hookups were.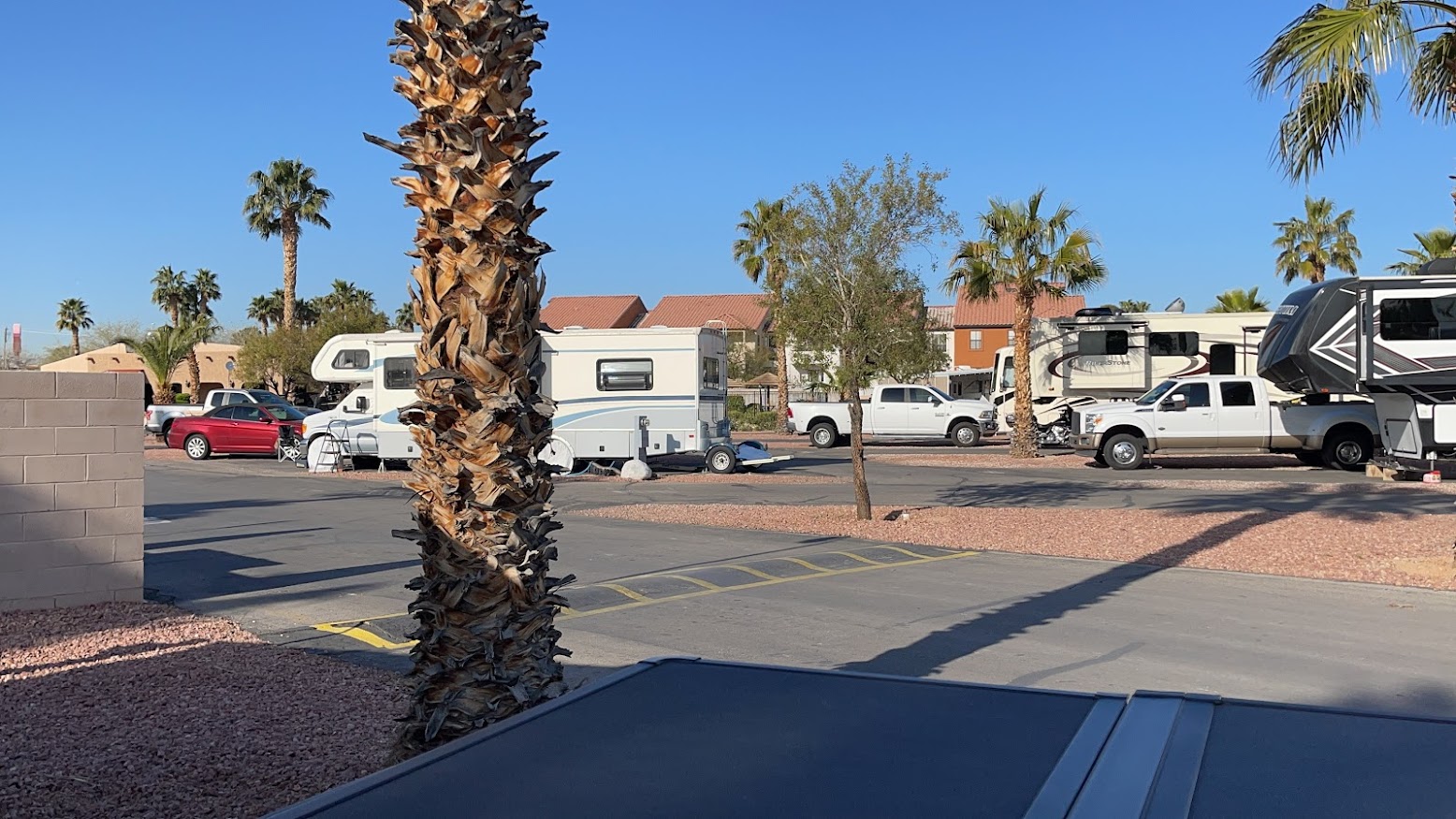 I was really surprised at the number of units that were here. There was everything from small teardrop campers that were towed behind a car all the way up to a massive Prevost bus.
The area was well-appointed with everything within walking distance from your site including the bathrooms and showers, laundry facilities, the dog park, outdoor pool and spa tub, and a clubhouse that looked to be vacant because of the pandemic.
The property was also close to dozens of convenience stores and restaurants. We brought everything we needed to cook and didn't have to go to any stores, but if we did there were plenty of options.
The resort has a detailed map of the property that you can see here.
There wasn't a dedicated picnic area on the property, but if your site isn't large enough you could always inquire about using the pool area or the clubhouse.
We were allowed to check in at noon, and the check-out time was 11 am. If you need to arrive earlier or stay a little later, drop by the front desk and see if they can extend a courtesy for a special check-in or out.
Our Campsite at Las Vegas RV Resort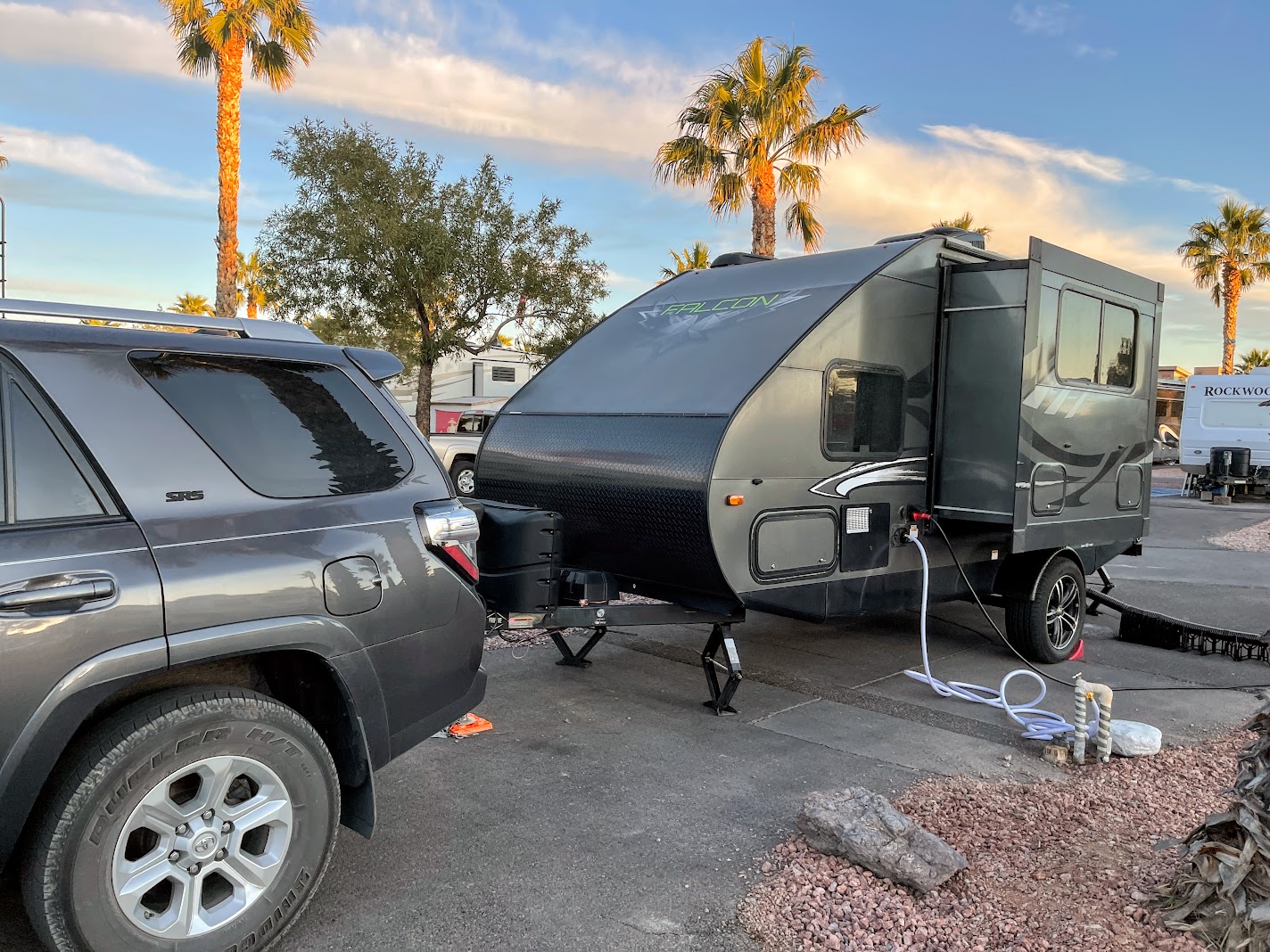 We were in slot number 288 that had full hookups with water, 30/50 amp power, and a sewage line to dump the grey and black tanks. Since every site had a concrete slab, there was no reason to spend the extra time leveling the unit as it seemed to be perfectly flat.
Each slot had a picnic table but no fire ring. Campfires were not allowed at the Las Vegas RV Resort because you are essentially on pavement the entire time.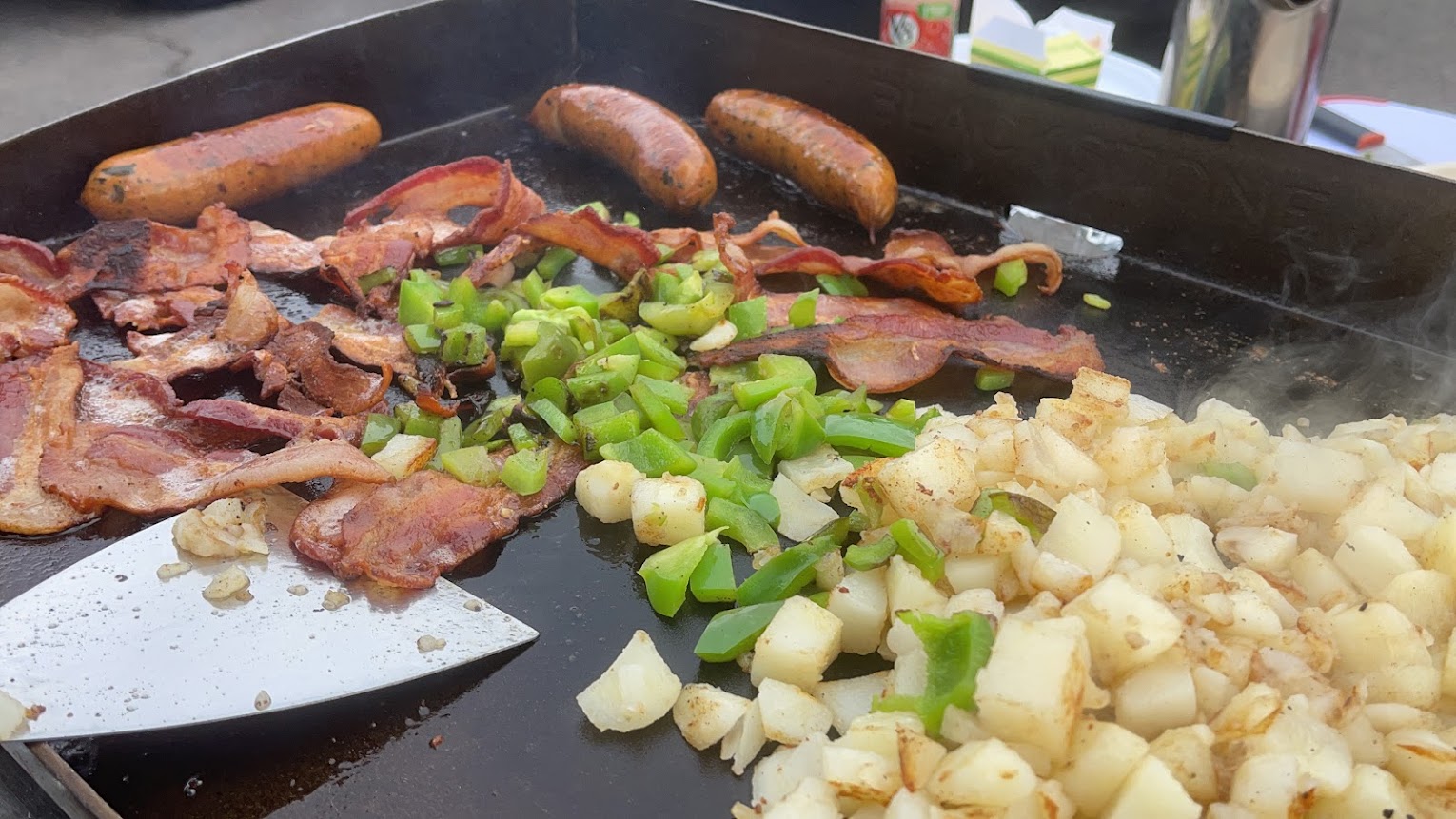 We were in a nice spot that had the dumpster just on the other side of our site, so it was a short walk to dispose of trash.
Because you're in the middle of the desert, there wasn't a lot of shade in the area. You will find palm trees scattered throughout the property, but not enough to make a difference in cooling your unit on a hot summer day. The good news is that Vegas has dry heat and it isn't full of humidity like we have here in Florida.
Campground at Night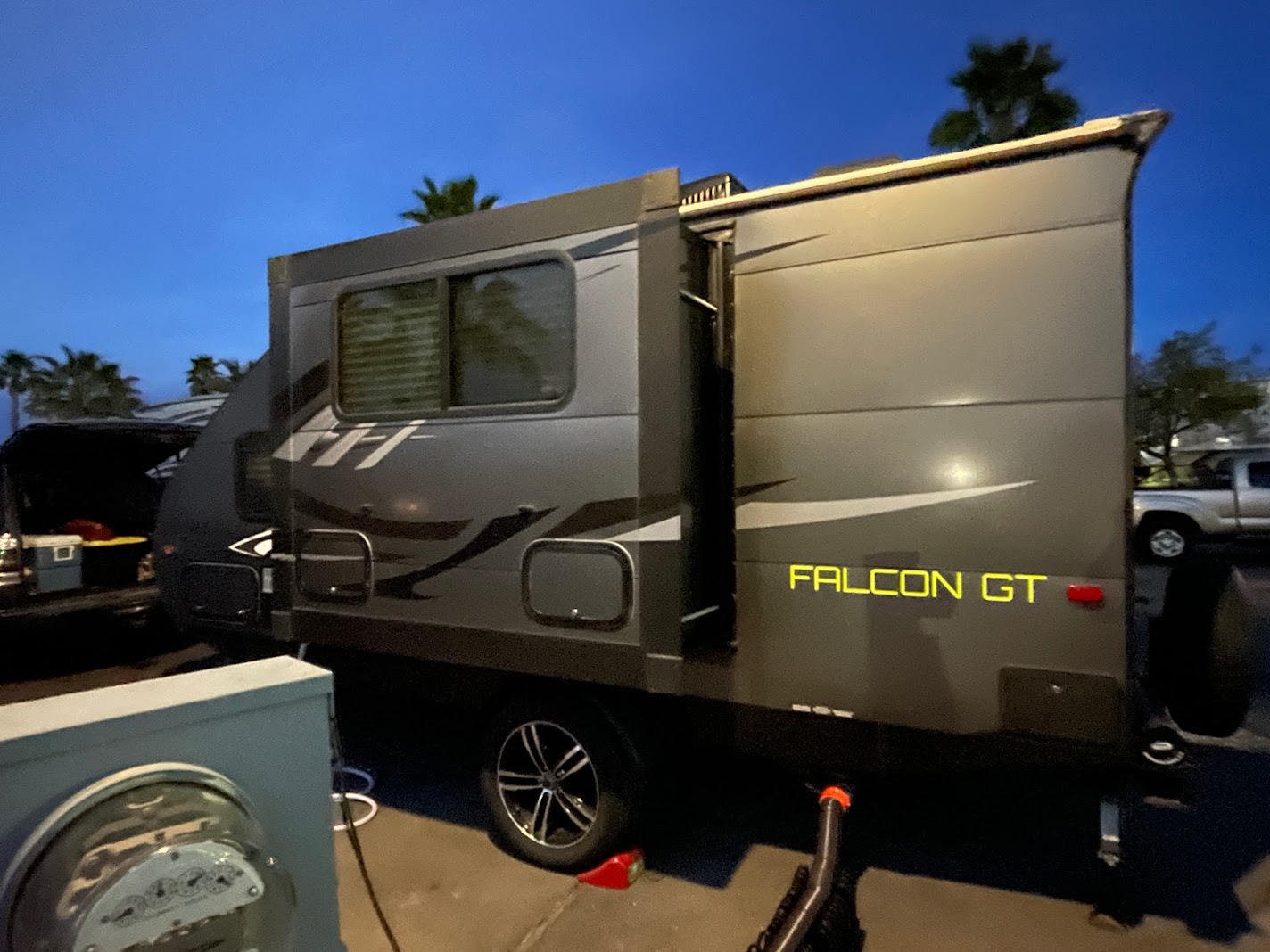 The nighttime vibe felt very secure around the campground because of the 24-hour guard shack at the entrance. If you had any questions or issues in the park, you could drop by anytime.
The security officers took who was coming in and out of the park very seriously. Anyone who needed to enter the park had to have a permit or their ID checked at the guard shack.
Being an adults-only campground, it was very quiet at night. There were no kids running around chasing each other or splashing in the pool. People respected the quiet time which started at 10 pm every evening.
(Note: If you're traveling with kids in your group, there's a Las Vegas KOA Journey at Sam's Town Journey next door.)
We wound up cooking on our flattop every night, so we sat out there and cooked dinner and talked on the patio before it was time to load the truck up for the next morning and crash out.
Bathroom Facilities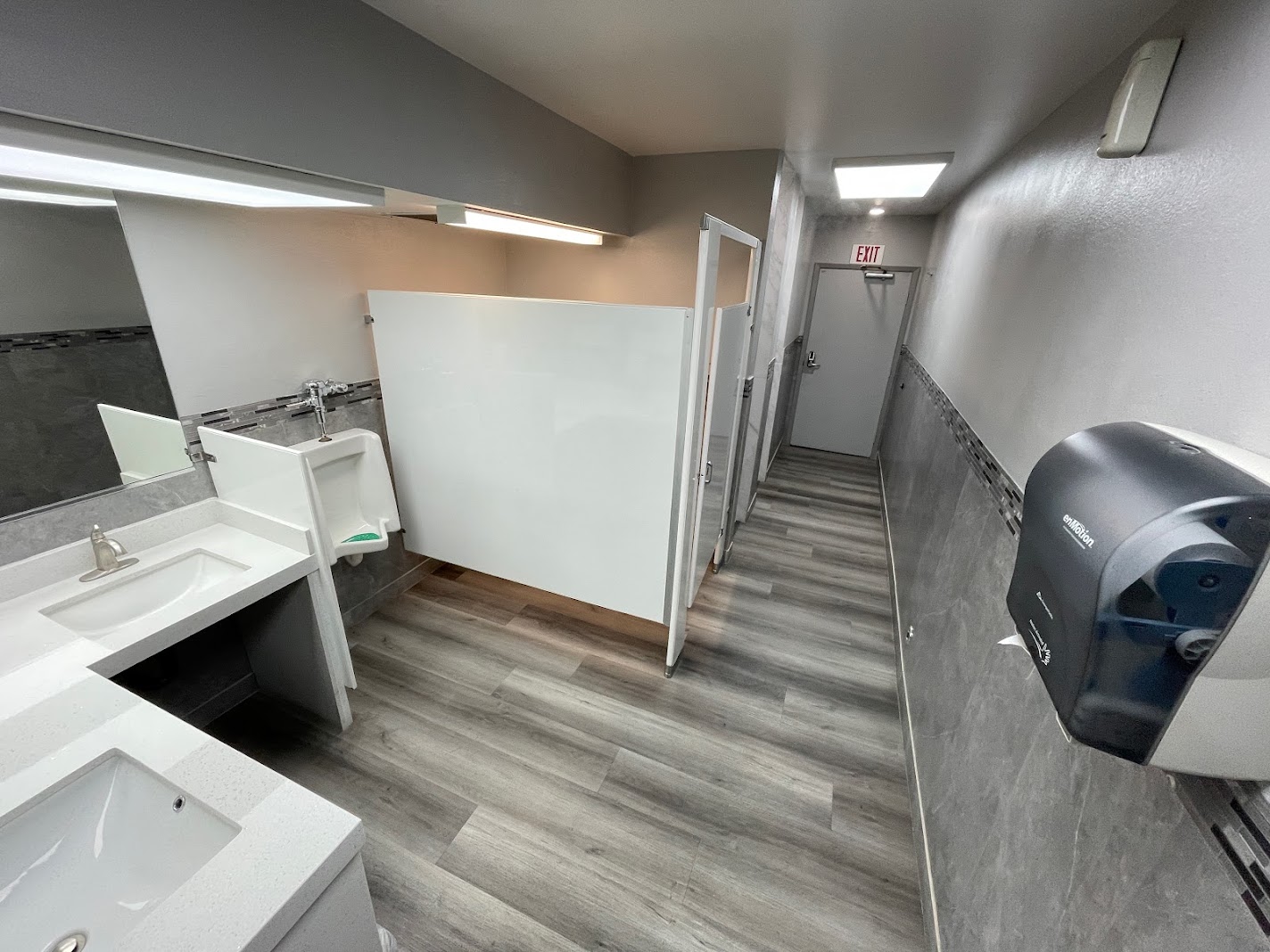 The property seemed to take guest safety measures very seriously, along with enhanced cleaning of the bathrooms. There wasn't one time during the day when I walked in the bathroom that it wasn't either freshly cleaned or smelled liked disinfectant (but it wasn't overwhelming).
(Note: The campground has its COVID-19 statement posted on the website.)
The bathrooms are spread out across four main buildings. Three of the buildings are stand-alone with toilet and shower facilities in them. These are located within a couple of minutes' walk from anyone's campsite.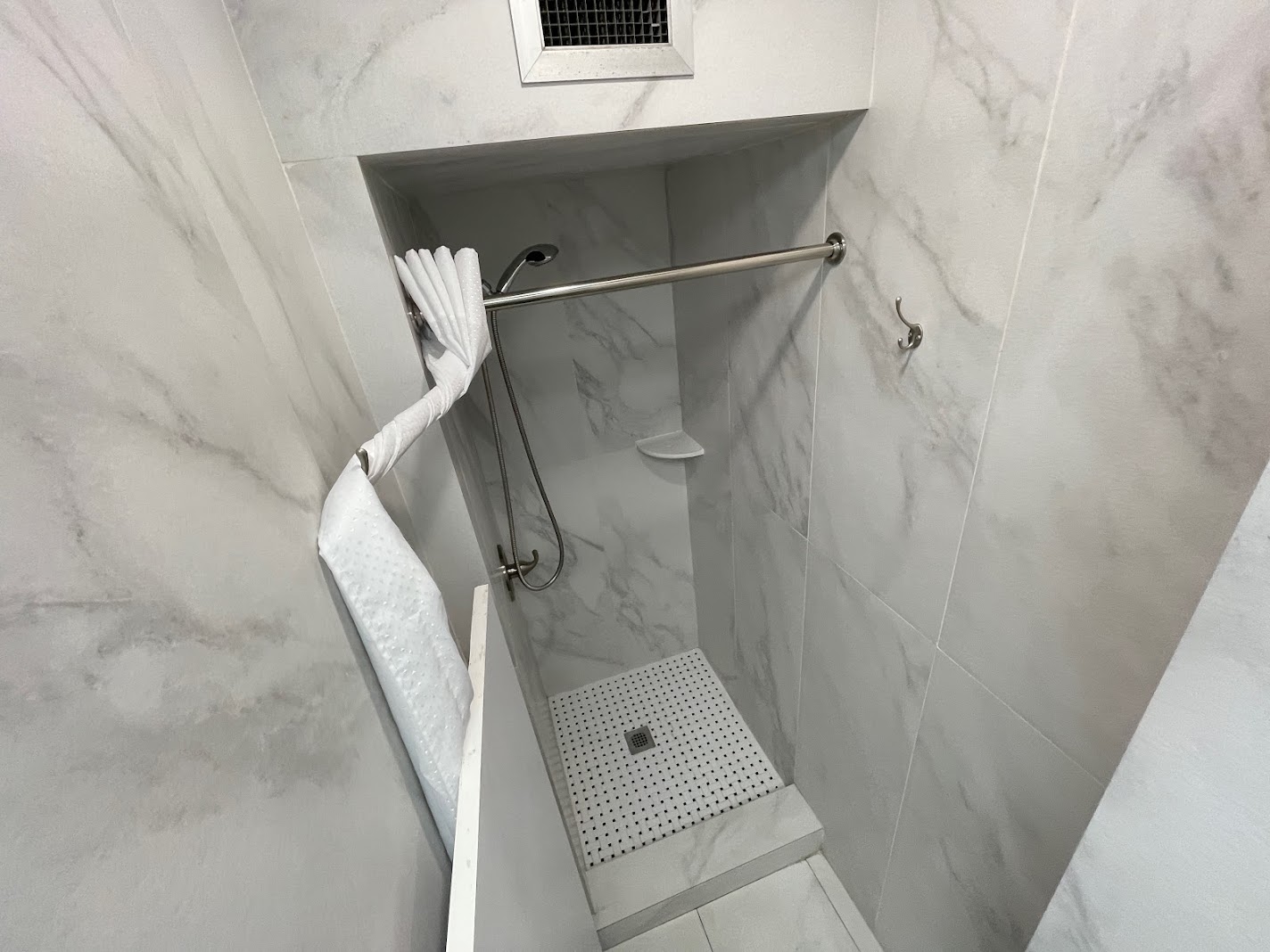 Then, there are the main women's and men's bathrooms, which are by the clubhouse and the pool area. They are a standard restroom design (as opposed to private rooms with locks), so you don't have as much privacy in there as you would in your own bathrooms in the RV park.
Toilet
The bathroom area was well-kept and clean. You can tell that the facilities were cleaned multiple times per day. There are multiple stalls in the bathrooms that are located by the clubhouse. The facilities that are located in the stand-alone buildings are limited to single stalls only.
Showers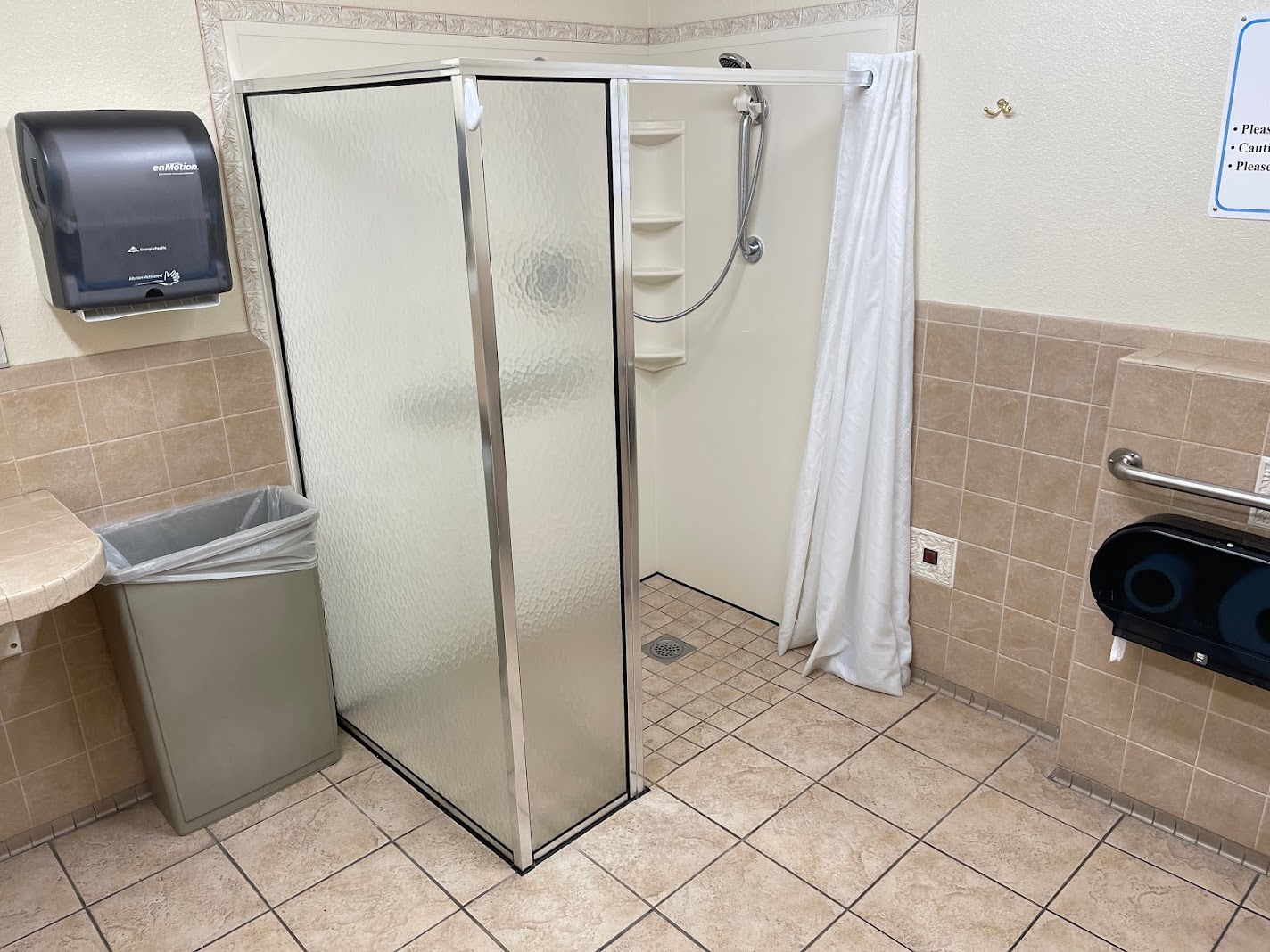 The shower facilities were very nice. The ones that are scattered throughout the property were also maintained on a constant basis and included a mop for you to clean up after yourself. The tile got very slippery when went, so for the safety of yourself and others, consider mopping the water up when you're done showering.
Thoughts on Amenities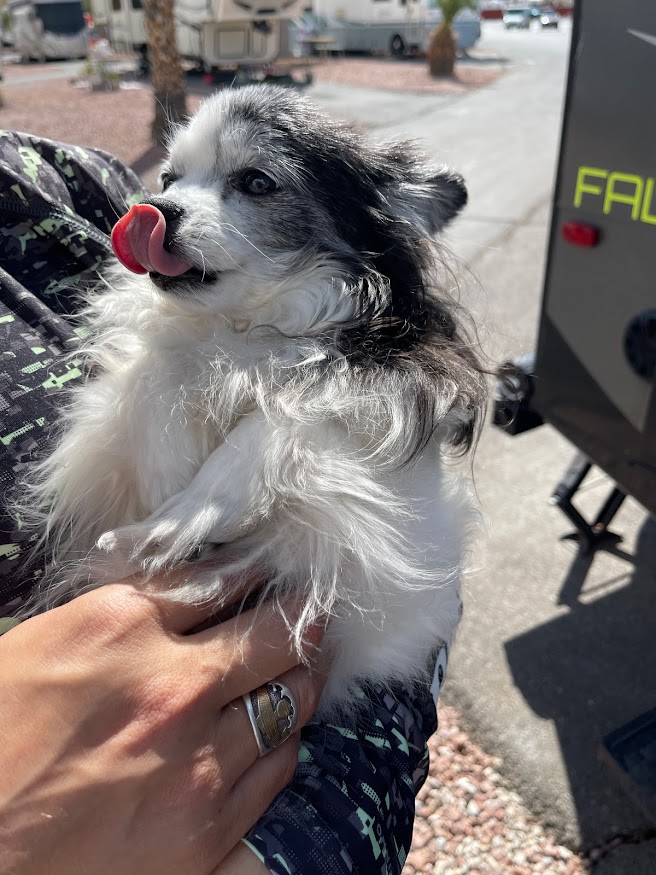 The two dog parks were in a gated-in area and the resort has a relaxed pet policy with no pet fee. Aggressive breeds like Rottweilers, Pitbulls, or Dobermans are not allowed. I suggest you check with the resort manager before arrival to get the specifics on pet policies.
The password-protected wi-fi signal was decent enough to check email, but since you are so close to the city you are much better off using the data plan on your phone to stream Netflix or post on social media channels. I had four bars with T-Mobile and my friends with Verizon had full bars.
I USED ONE OF THE LAUNDRY FACILITIES because I was there for five nights and spent a lot of time hiking and getting dirty on the trails. There were plenty of washers and dryers and no one was using them when I went in. It was around two dollars to wash, and then two additional dollars to dry. If you needed quarters, they could provide you with some at the front desk.
Final Thoughts of Las Vegas RV Resort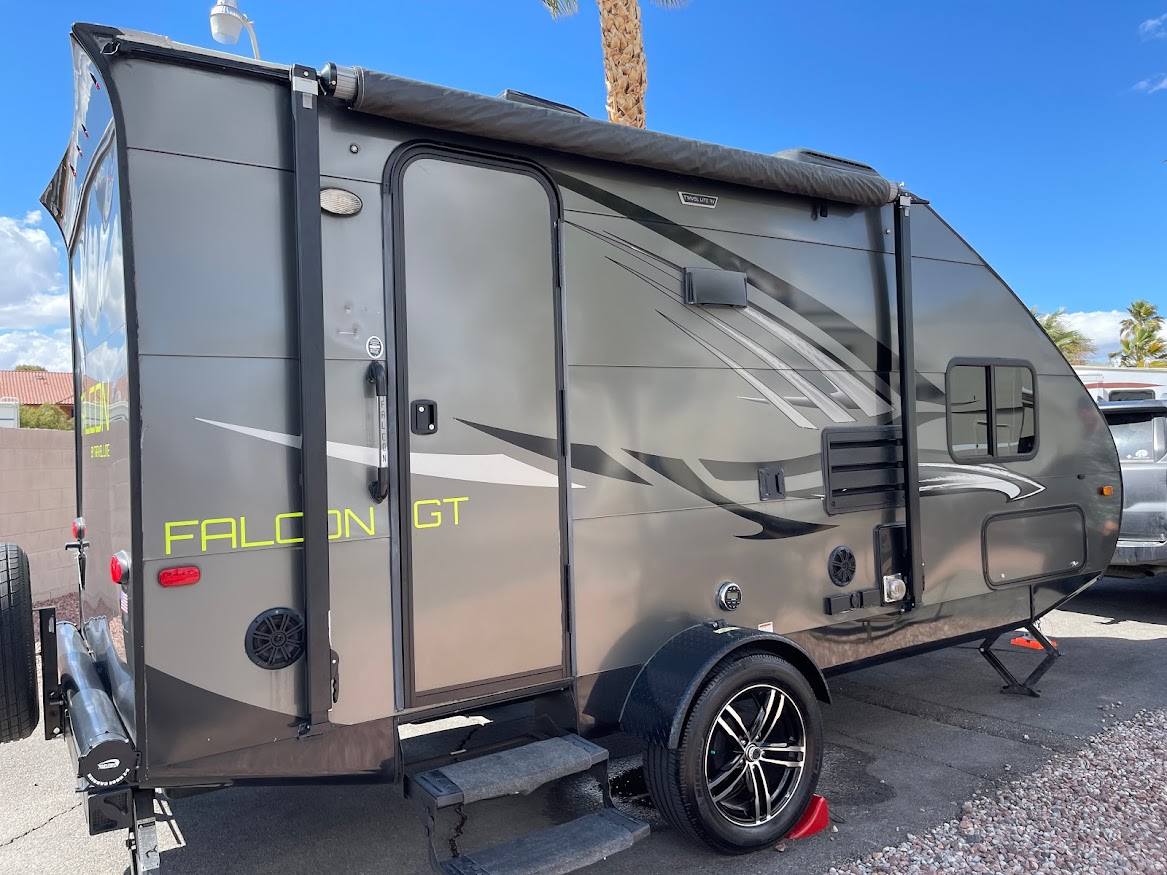 The Las Vegas RV Resort is a great place to camp with friendly front desk staff and fantastic prices. If you had any special requests, like wanting your campers next to or close to each other, they did their best to accommodate.
It is located six miles (10 km) from the Harry Reid Intl Airport (LAS) in Paradise, Nevada, so it's close to a major airport (15 minutes) but far enough outside of town where you don't feel crowded like on the Vegas Strip.
The one requirement the Las Vegas RV Resort had was that your unit could not be older than 20 years. I saw some a little bit older than that but I suppose they were grandfathered in.
Another popular park is the Oasis Las Vegas RV Resort, located on the other side of town and is a little pricier but also has more amenities.
READ: 7 Best Things to Do in Las Vegas with Kids
If you're not dead set on an RV park, or you think you'd like to be closer to the strip, Circus Circus has an RV park with full hook-ups, but it isn't in the best part of town.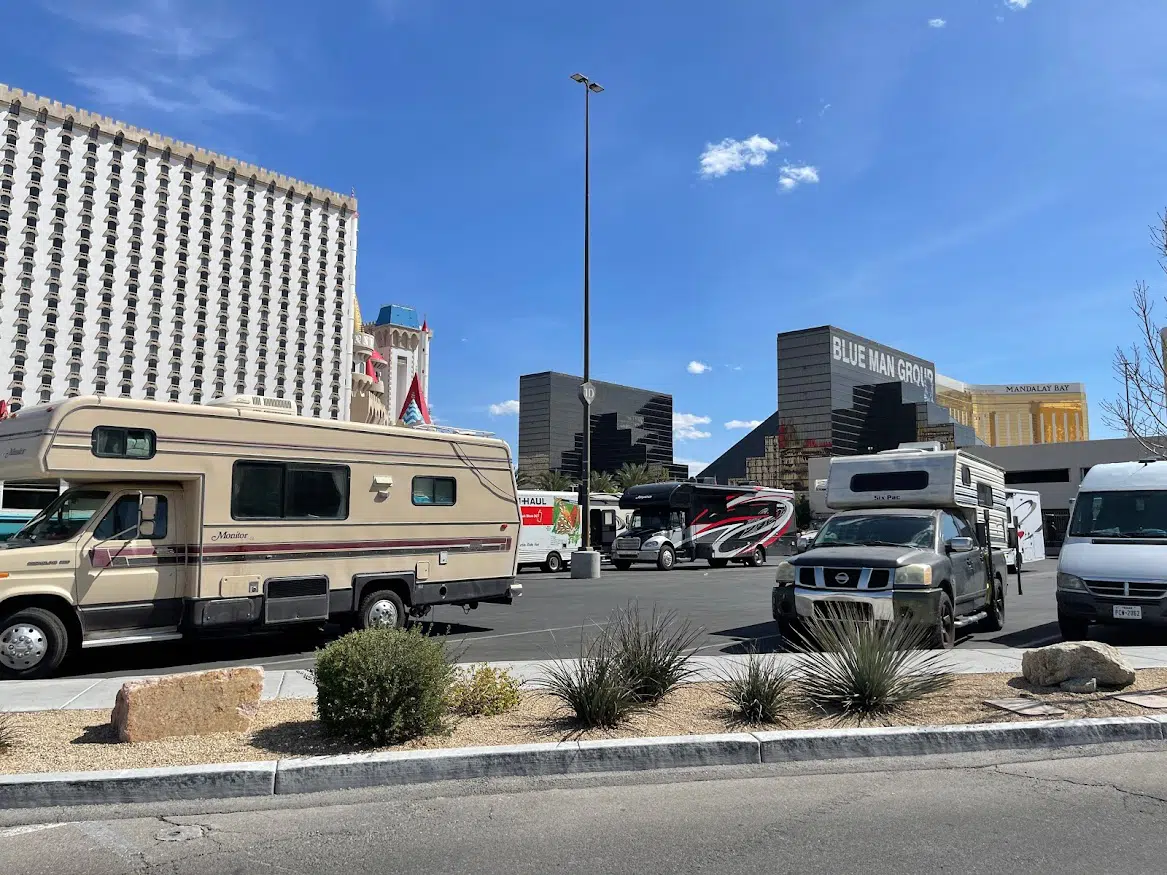 If you are rolling into Las Vegas with an RV or camper, there is parking behind the Excalibur Hotel for MGM property guests, you just have to arrange it with guest services before arrival.
On the way out, we parked there for the day to go to a couple of shows and it didn't cost anything, however that was in the middle of the pandemic and a lot of the parking garages had free self-parking at the time.
You can find out more information by visiting the Las Vegas RV Resort website.
Pin it!