Fort Wilderness Resort and Campground is a favorite among a lot of Disney's repeat guests. After all, it's difficult to imagine a quiet, scenic woodland setting bustling with native wildlife in the center of Orange County, Florida. This area tends to bring forward visions of Disney tourists, palm trees, Mickey Mouse souvenirs, and kid-focused activities.
There is one place, though, that successfully wraps all of these ideas into one fabulous experience, and it's none other than the campsites at Disney's Fort Wilderness Resort & Campground. Campers regularly observe free-ranging deer, rabbits, and turkeys, and awake to the chirping of songbirds and views of ducks paddling on the water.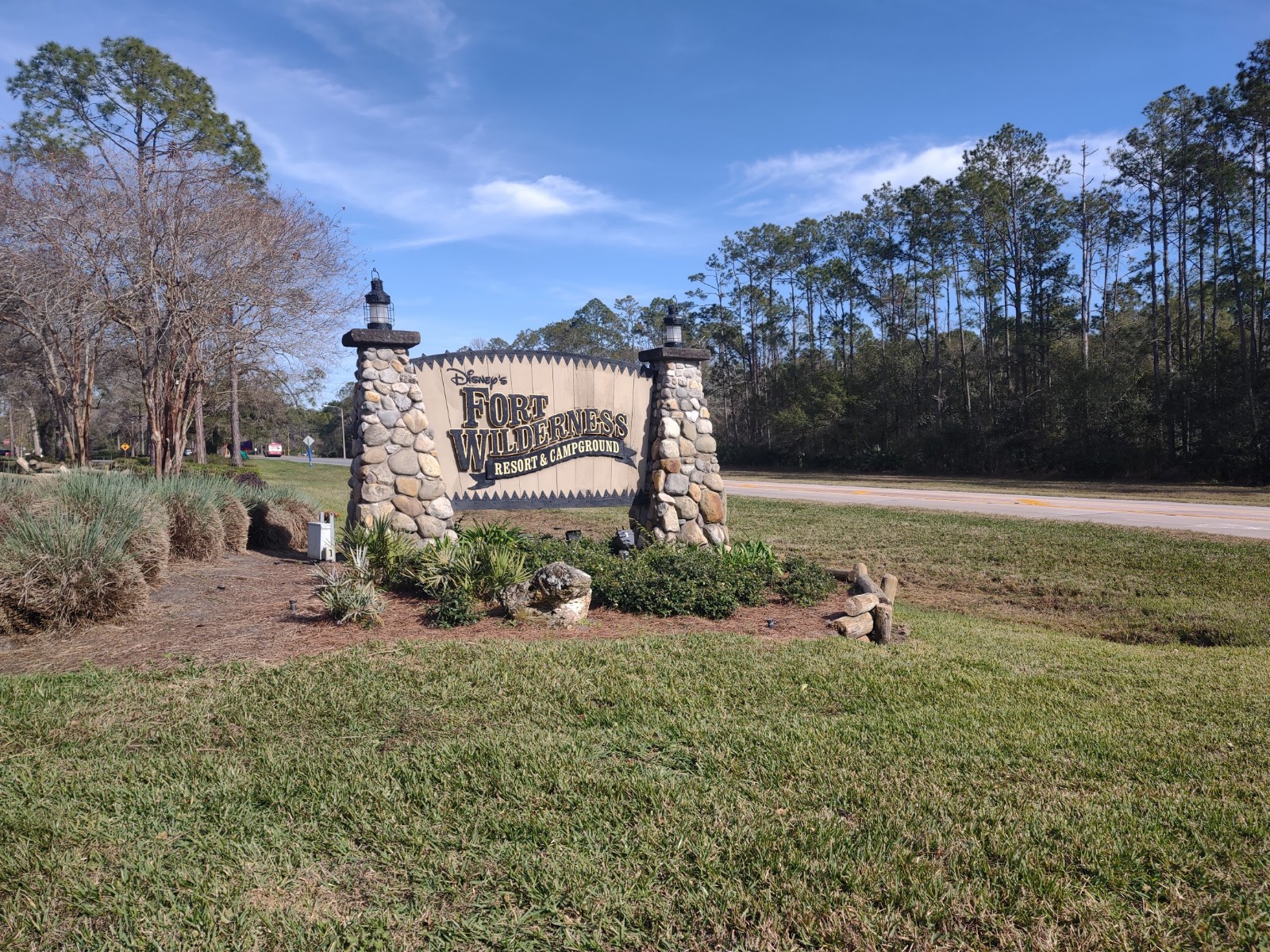 Fort Wilderness Campsites & Cabins
The sites are suitable for all campers and RVs, and although placed in close proximity to one another, are separated by native palms and vegetation for privacy.
Every campsite has water, cable, and electrical hookups, a simple standing charcoal grill, and a well-maintained picnic table. A selection of sites are meant specifically for tent setups, and the cabin rentals are popular as well.
A single Fort Wilderness campsite covers the cost of up to ten adults, which is a generous allotment and great for families traveling together. Most of the sites include a sewer hook-up (these are an excellent capped system, superior when compared to the rustic style available at many other campgrounds) and permit pets.
There's even a spacious, fenced-in dog park centrally located in the campground — one side meant for smaller breeds, and the other meant for larger.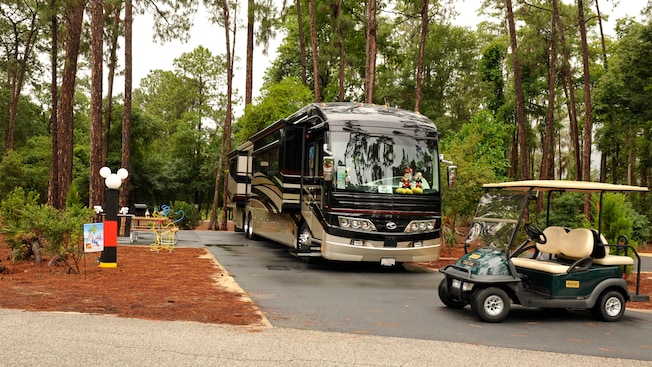 Campground Public Spaces
The campground is located in the city of Lake Buena Vista, home of Walt Disney World's official mailing address. Being situated within the Magic Kingdom resort area, the campground provides daily shuttles — in the form of boat ferry or bus — to and from the Disney park.
The feeling of being "in" Disney is apparent throughout the whole campground – many campers decorate their campsites with Mickey-themed lights and flags, while the on-site restaurants serve Mickey-shaped food (waffles, ice cream pops, and more).
Guests can visit the stables where Magic Kingdom's horses reside and are groomed before their daily acts. Kids' pony rides are available in this same area for an additional fee, but arrive early since it's popular and the line gets long.
It's completely acceptable to stay at the Fort Wilderness campground even if you're not visiting any of the Disney parks — there is plenty to do within the campground boundaries, and it's an excellent commuter location to the area's other major attractions.
There are two spacious pools with separate whirlpools located at Fort Wilderness. The Wilderness Swimmin' Pool is meant to be the quieter, calmer setting — open to all ages. The Meadow Swimmin' Pool has a corkscrew waterslide attached and an adjacent splash park — it's undoubtedly the place to be on hot days. (Note that the Meadow Swimmin' Pool will be closed for construction through May 2021).
To protect guests from the risks of COVID-19, staff regularly spray disinfectant on the many lounge chairs located around the pool. There's a lifeguard that staff stands guard at the pool throughout the day, ensuring all the rules are followed.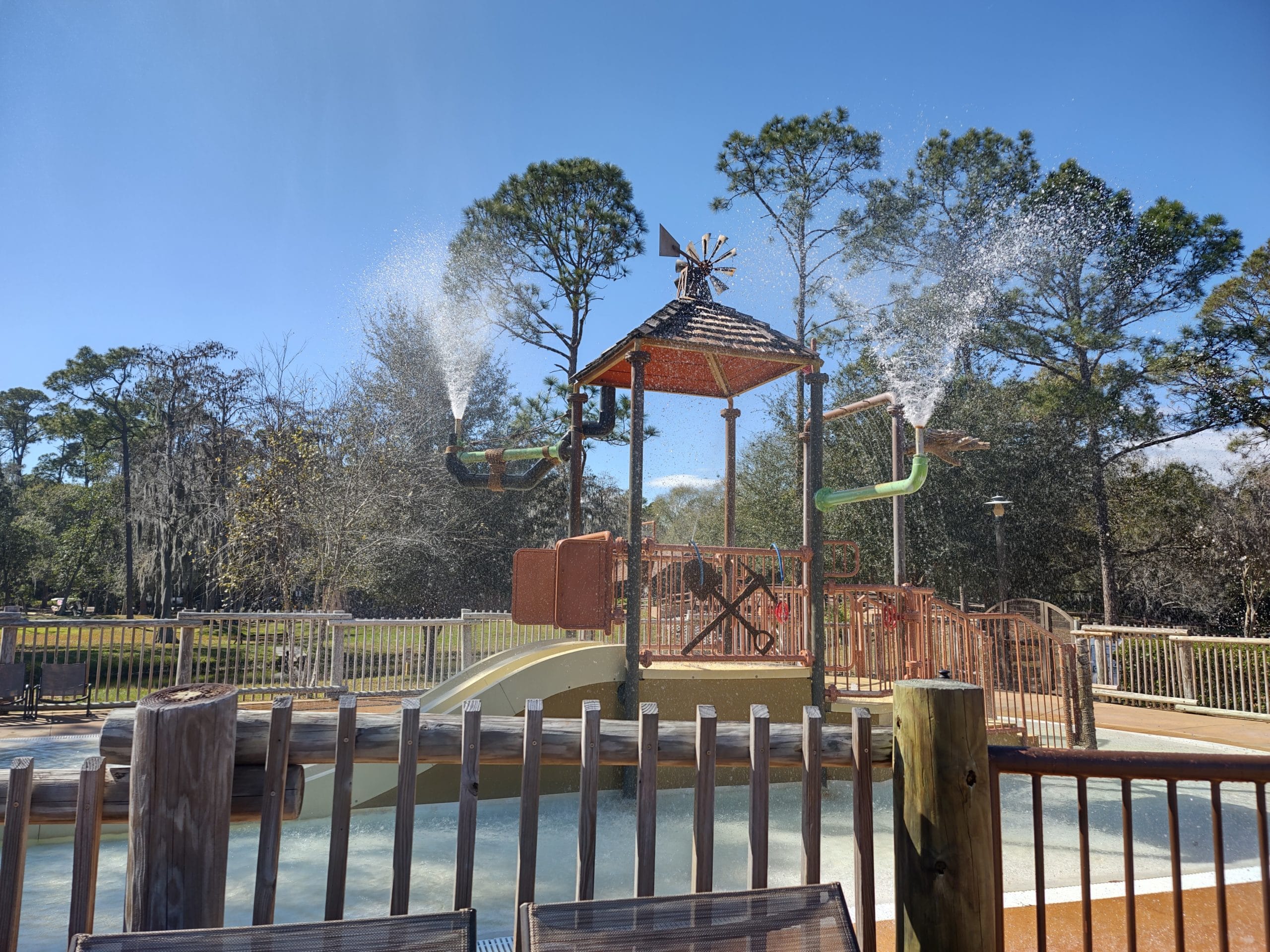 READ MORE: 10 Things to Know About Wekiva Island in Florida
Health & Safety
Campground staff take COVID-19 precautions very seriously, and masks are still required any time you leave your own campsite (as of May 2021). Luckily for swimmers, masks aren't required once in the water. That being said, once out and about within the campground, there are a bit more rules to follow than other area campgrounds seem to be currently enforcing.
There has been some re-opening of indoor dining, and the campground maintains a few different takeout options. The snack bars and food truck are popular, serving up standard snack-style food. Two on-site restaurants, P&J Southern Takeout and Trail's End, serve basic breakfast, lunch, and dinner options that are delicious — even with a limited menu.
Disney has made no-contact takeout even easier with the use of an online ordering app. The famous Hoop-Dee-Doo Musical Revue is a popular feast-and-show-in-one, but has remained closed since the COVID-19 outbreak began. Crockett's Tavern also remains closed, without a reopening date announced.
Fort Wilderness Pricing & Other Information
Since the Fort Wilderness campground is huge, free shuttles are provided and there's an entire fleet of golf carts available for campers to rent. The whole family can participate in an on-site horse trail ride — another popular activity here — and an archery course and canoe rentals round out the outdoor fun.
However, all rentals are currently postponed in response to COVID-19 without an official date for reopening. For some families, this is a benefit since the reduction in available amenities and families refraining from traveling during this time has allowed some sites to open up at this campground, which is usually booked solid up to a year in advance.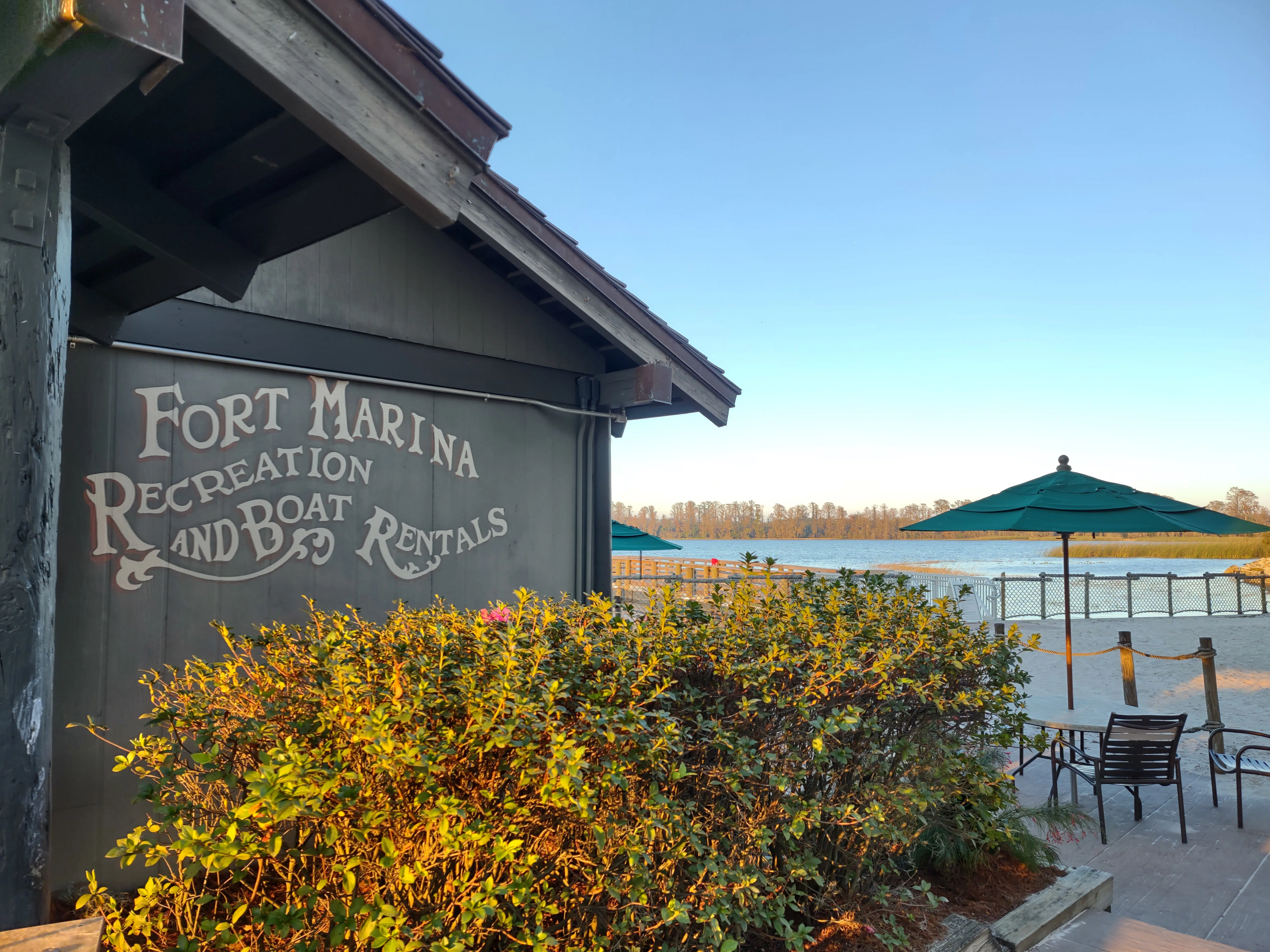 It's important to note that all of these great amenities and extras do come at a price. Standard nightly rates to stay at Fort Wilderness hover around $200. Your admission into Fort Wilderness does not cover admission into any of the Disney parks or Disney attractions — these are a completely separate purchase.
If the Fort Wilderness fee was reduced to reflect the reduced amenities, it would be a home run for many families.
Campers have to enter with the mindset that this is still a Disney resort, and costs are higher because of the tourism factor and its excellent location.
Regardless, this campground has it all — from the spirit of Disney to immaculate cleanliness — you won't be disappointed with your stay. For more details and to start the reservation process, visit the Disney Resorts website.
Address: 4510 North Fort Wilderness Trail, Lake Buena Vista, Florida 32830-8415
Phone Number: (407) 824-2900
READ NEXT: Review: KOA Orlando NW / Orange Blossom
By Loren Tucker
Pin it!