Any seasoned camper or outdoor travel expert will often suggest that your first RV trip be close to home, for us it was KOA Orlando. So, I took that advice and stayed at the KOA Orlando NW / Orange Blossom, about two miles from our apartment.
My thought process? If everything goes wrong, I can leave our fabulous new Class C RV in a ditch and walk home.
Fast forward to now, I did not need to walk home and the Orlando KOA proved a good training ground. Let's start with the fun part, escaping the world of Coronavirus if only for a few days.
The last time I camped was with the Boy Scout more years ago than I care to remember. Still, the feel, aroma and scene at the KOA campground were familiar and brought back memories of every camping trip I have ever taken.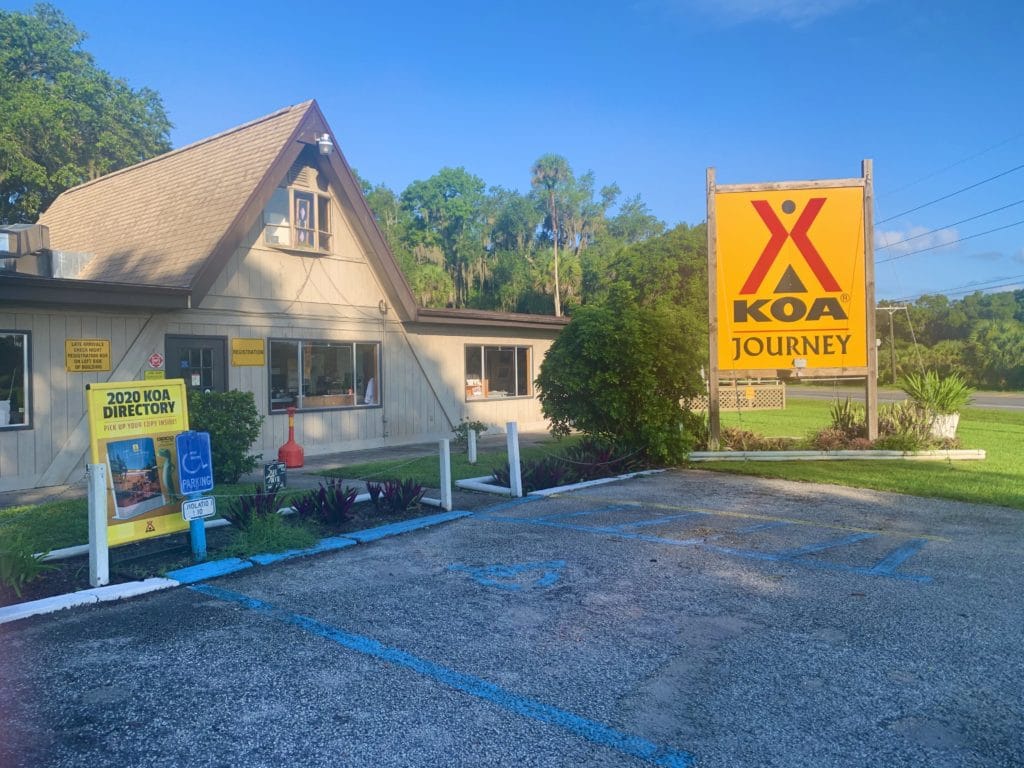 Campsites Available
Like all KOA locations, this one had what is called "full hookups" which means the campsite includes a freshwater hose connection, electricity to match your particular camper (30 or 50 amps), and a sewer connection to dump gray and black water collected during your stay.
With gray and black water and what to do with it being the most troubling or biggest concern for new RVers, including myself.
What's good to know is that you're not alone. This was also probably an area of concern for just about everyone who has ever bought or rented an RV.
But don't worry, your can always ask a neighbor to supervise you. Odds are they did the same thing when they were new to all this and will probably be happy to help.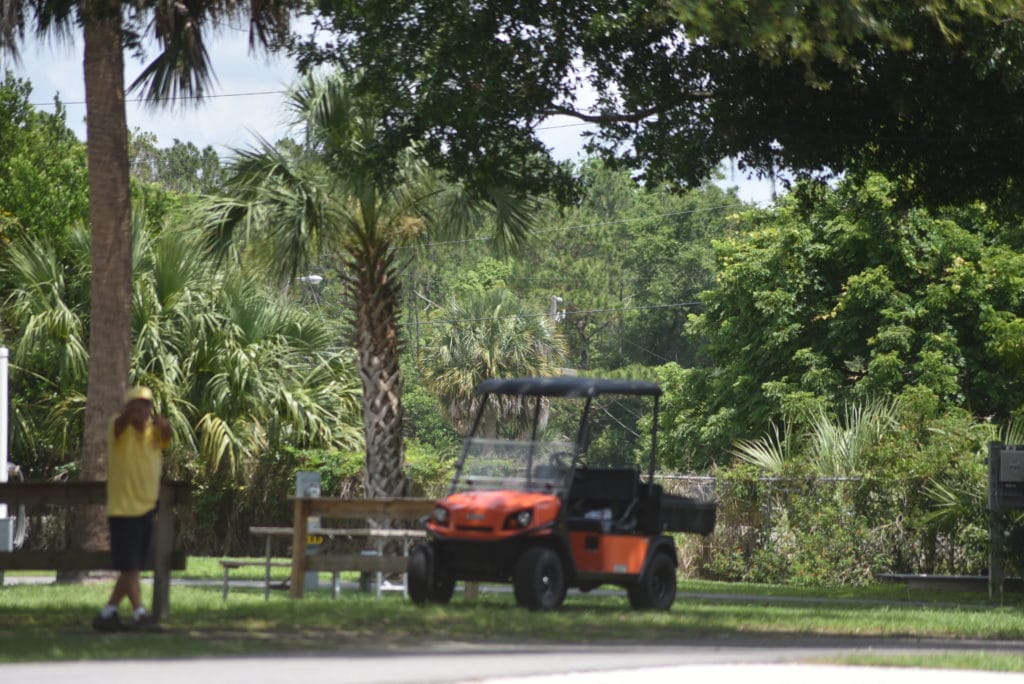 First Impressions of the KOA Orlando NW OBT Apopka

This was our first camping trip in our new Thor Freedom Elite Class C motorhome. Like probably everyone else who ever bought their first RV, our focus was solely on the RV and learning how to use it.
REVIEW: Jacksonville North / St. Marys KOA Campground
Upon arrival at the campground, signs tell visitors to register at the office.  There, helpful and friendly resident KOA campground hosts were eager to answer our questions, help us get set up at the campsite and could be seen around the campsite answering questions or just being available to campers.

Checking Out My Campsite

I had nothing to compare KOA Orlando to when visiting this location since it was our first time out with the new rig.  Still, the campsite I found was very much as advertised on the KOA website, which includes a number of site choices and configurations. Kind of like picking a cabin on a cruise ship, but without the wide range of pricing.
Pull-through sites are for long rigs like a vehicle pulling a trailer. Back-in sites are for everyone but mostly those in Class A, B or C motorhomes use them. We ended up staying here three times, trying all the different sites as well as multiple locations.  One lesson learned really fast, is if camping in the dreaded heat of Florida in the summer, a shady site is a good idea.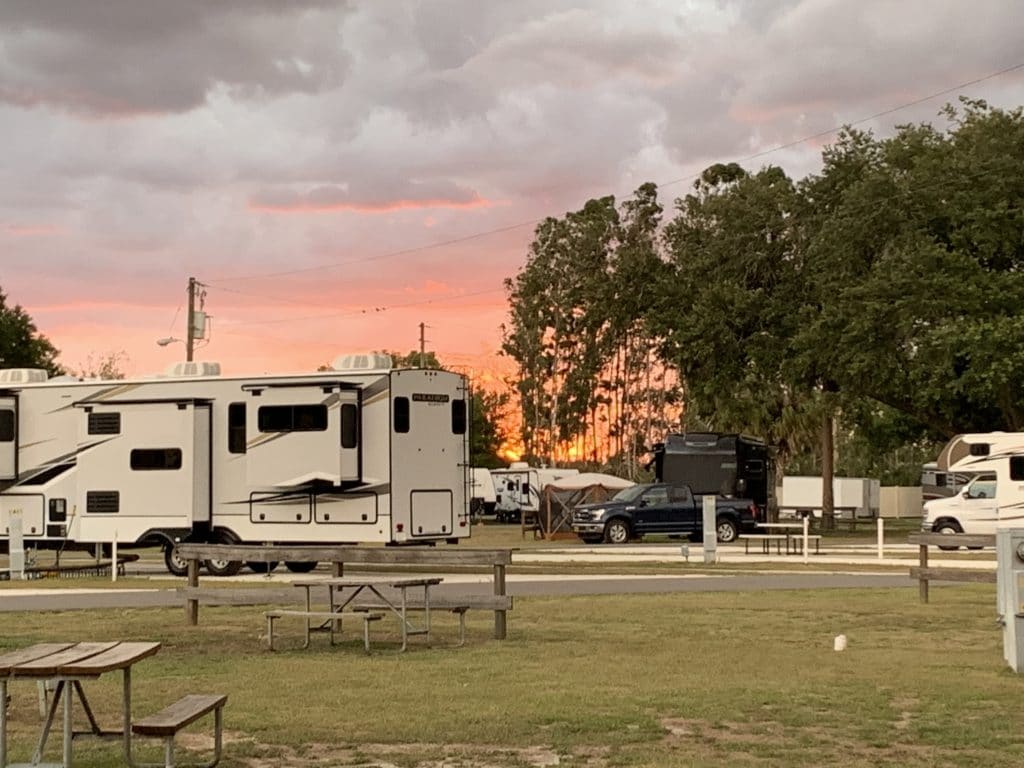 The Campground At Night

I liked that campers were respectful of the quiet hours between 11 p.m. and 7 a.m. Like us, many others were there for their first time or were very early in the writing of their camping history.
Like so many KOA's the easy-to-find location is right off the interstate. That's good to know when looking for a strange place in a strange land, but not so great for those who are not sound sleepers.
In our case, this was not an issue as our visit was in the summer and the air conditioner ran all night, covering up any noise we might have heard from the close-by highway otherwise.
Bathroom Facilities

I couldn't tell you what it was like to use the public restroom and/or shower facilities, because we never did. Due to the Coronavirus, one of the main reasons we bought this RV was to escape travel situations where social distancing would be difficult.
However, a walkthrough through the men's facility showed individual shower stalls and restrooms. They were cleanly kept with great pressure and hot water.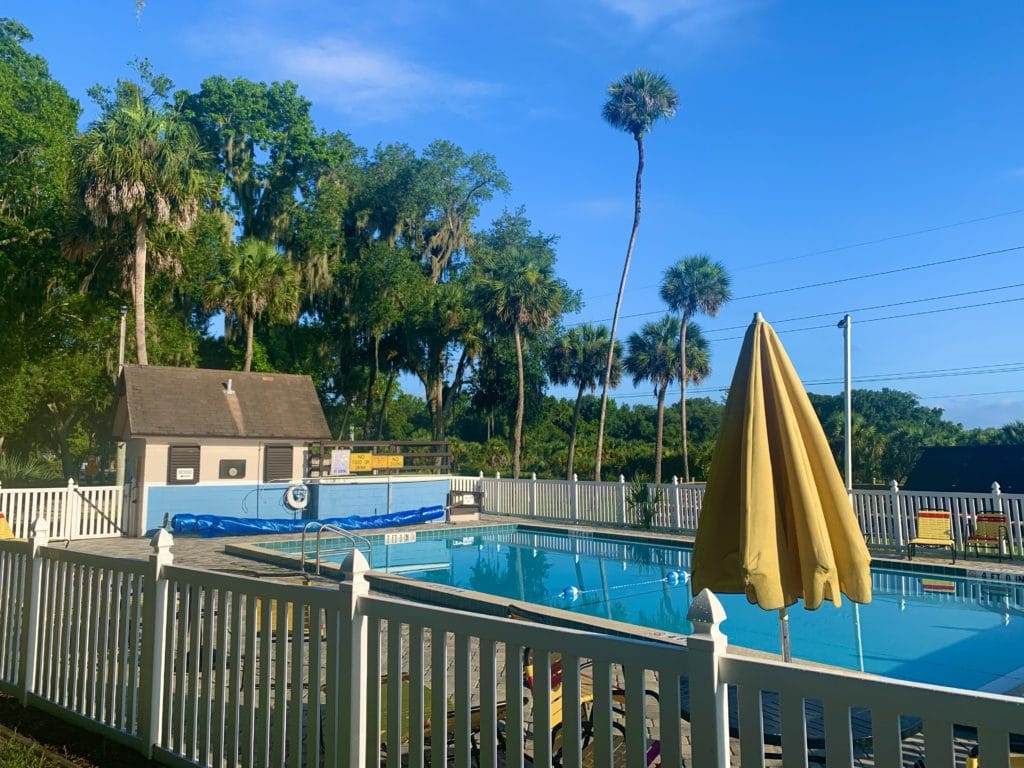 Walking Around The Campground
I would find out later that all KOA's have high standards of operation and this location was no exception. Campground spaces were nicely spaced, so social distancing was no problem.  A handy convenience store, dumpsite and hose wash for RV's were nice to have.
A must-have for me is an internet connection and we had a great one here, almost as good as at home or in an office.  The fact that we were parked right next to the internet tower probably helped.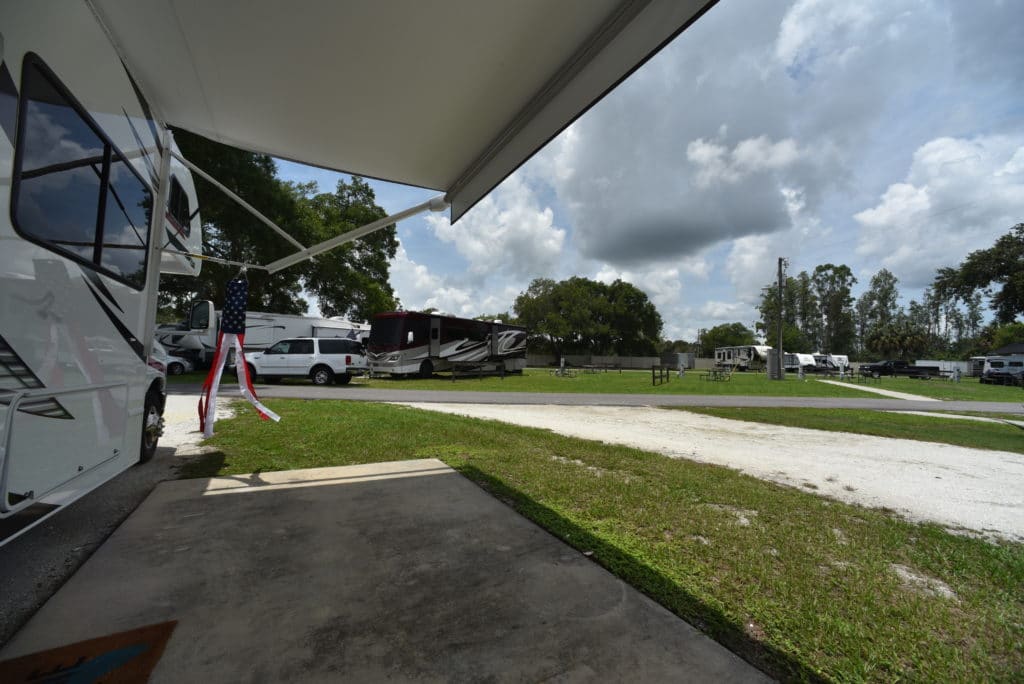 The Bad News
We loved this place the first two times we visited there, once for four-nights and the second time for three-nights. It was on our third stay that we had a problem with a campground host. The first two times we had no problem hooking up to their water spigot. The third time there was a special fitting on the spigot and our hose would not fit. It looked like some sort of adapter to me so I took it off and screwed on our hose.
Later, a surly campground host came by asking why we took the 'backflow preventer' off the spigot. The guy went off on me like I had destroyed something.
It just left a bad taste in my mouth and that was it for the KOA Orlando NW OBT Apopka.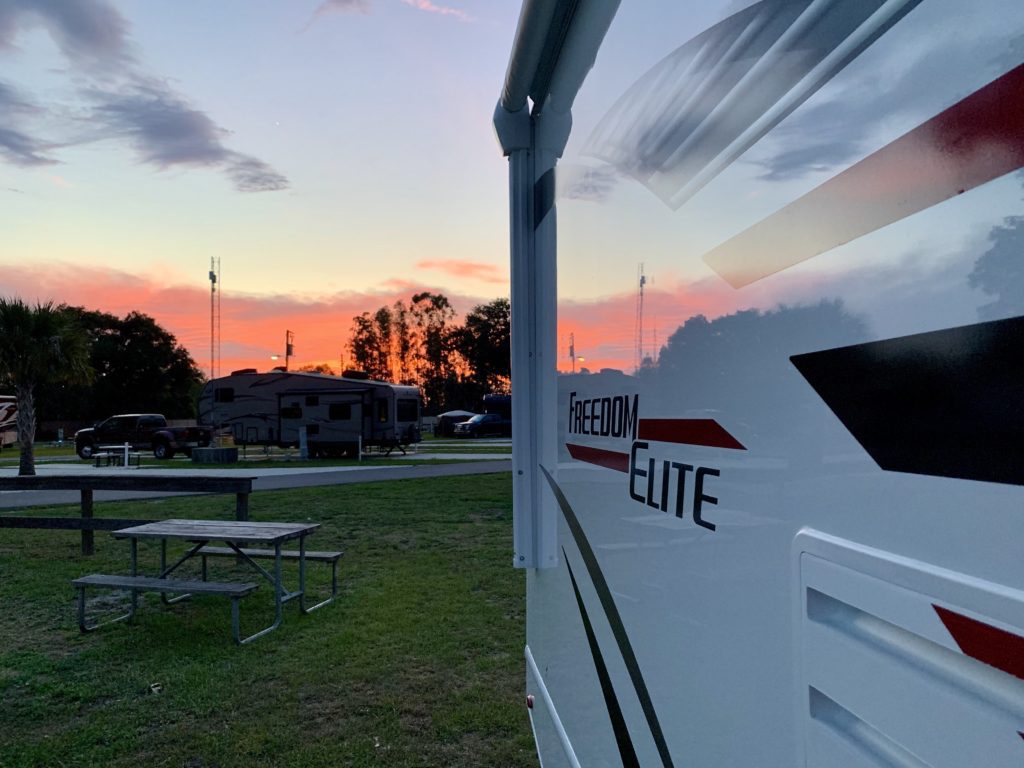 Final Thoughts of KOA Orlando
Since that visit we have been to multiple other campgrounds all of which did not include that dose of unwanted drama. Life is (or should be) good at the campsite.
No need to adjust to a campsite that is not pleasant- there are just too many from which to choose, at least in Florida.
Along those lines, I suggest trying to find out if there are a lot of full-time residents at any campground you might consider. Stay away if there are. Apparently there is a class system of sorts in place and part-time visitors are not at the top of the list.