When you think of Florida, you typically think of the beaches and theme parks. A lot of people even focus in on big cities like Orlando for the restaurants and nightlife. What most people don't know is that there are plenty of hidden gems in Central Florida for you to get a break from the hustle and bustle.
I know the perfect spot!
One of my favorite places to relax with family and friends is Wekiva Island, located in Longwood, Florida. Surrounded by beautiful scenery and fresh air, this is the perfect place to relax and play. The following are 15 things you should know about Wekiva Island so you are prepared to have the most fun in the sun.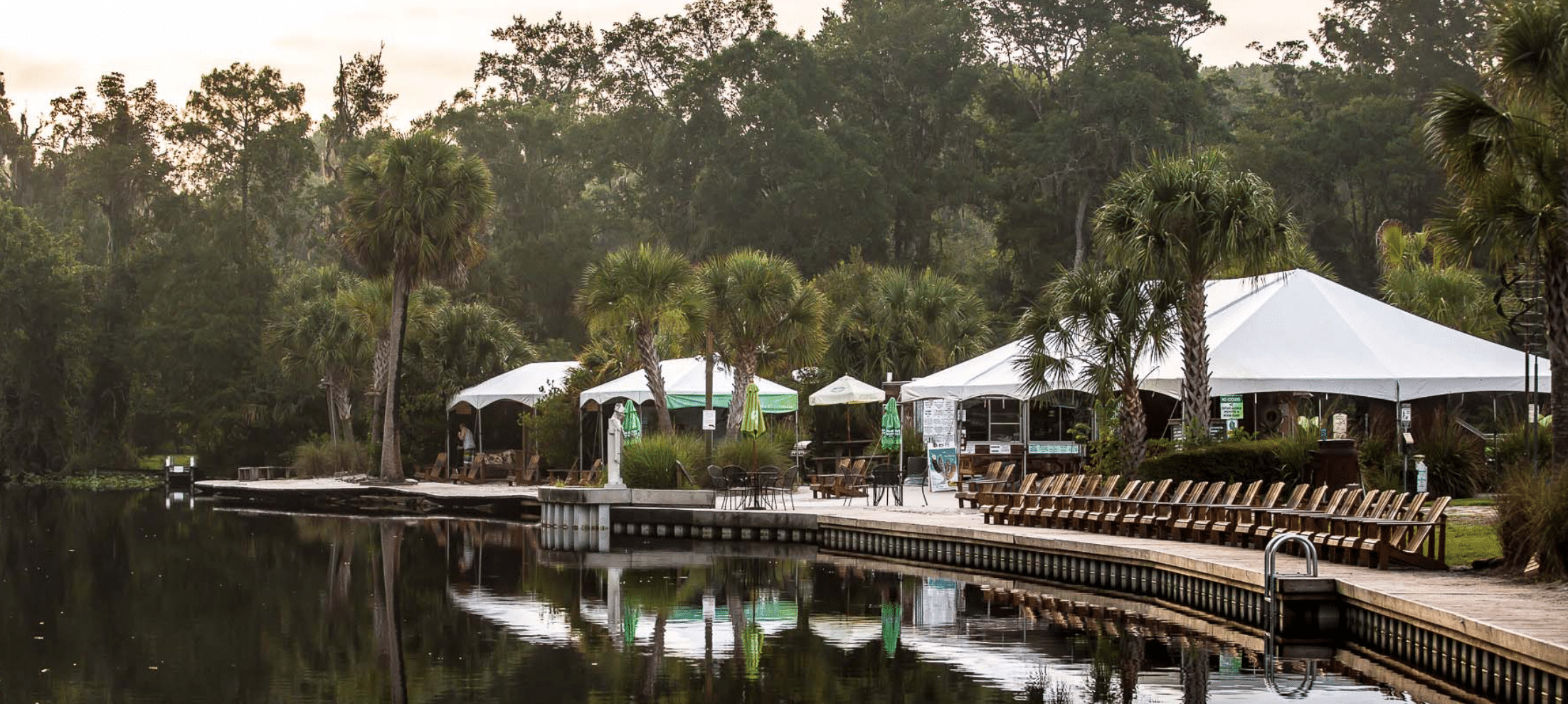 1. Entry
The first amazing thing about Wekiva Island is that unlike many water parks, you're not paying $60-$100 per person to have fun. Most of the year it is free to get in except for during the summer. Even then, it's only $2 per person cash for June and July. Can't go wrong with that! Wekiva Island hours of operation are Sunday through Thursday from 8 am to 9 pm and Friday through Saturday 9 am to 10 pm unless they have an event.
2. Activities at Wekiva Island
This amazing local watering hole sits on the pristine Wekiva River. The river runs 16 miles starting from the city of Apopka just north of Orlando then joins the St. Johns river in DeBary. This gives you the opportunity to explore their wildlife and beautiful scenery by renting a canoe, kayak, or paddle board. You can also enjoy swimming in the year-round 72 degree river, fishing, and even boating. They have a boat ramp where you can launch your own boat up to 25 HP maximum. 
My 10 year old son loves to swim. One of his favorite things to do at Wekiva Island is to swim to the bottom of the river with his goggles and find things along the river bed. He has found glasses, special rocks, coins, and even a wallet! Pretty much anything people can drop or lose eventually end up at the bottom of the river.
There is tons more fun on land too, from relaxing in the sun on the deck or sandy beach area to volleyball and cornhole which my son can play for hours. You also have an open grassy area for your own games such as football or badminton. There is plenty of room at Wekiva Island to spread out and enjoy time with your family and friends.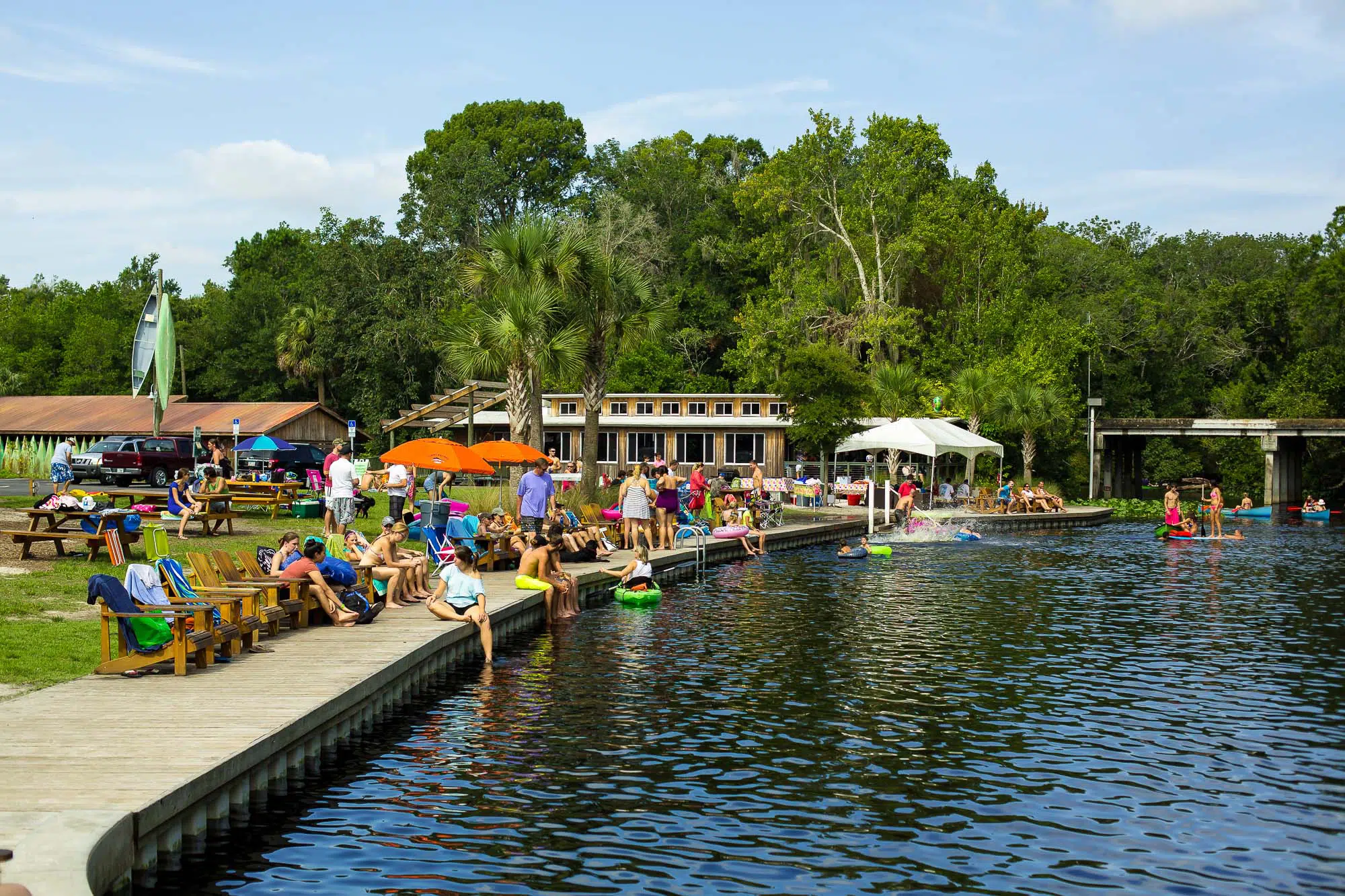 3. Rentals for Events
Are you looking for a place to have a birthday party, reunion, or team-building time? Wekiva Island has several rentals of different sizes including cabanas, an indoor bar area, and a large building on site for your private events. I have rented cabanas for birthday parties and little retreats for team-building social time. Restrooms are in the same building as the bar, so you don't have to worry about porta-potties — a fact I'm pretty happy about.
4. Coverings
The sun these days is pretty crazy. You don't have to be out in the sun too long before you start to feel a little toasty, so make sure you bring sunscreen! The swimming deck and grassy field areas are not covered and you are not allowed to bring tents or umbrellas that go into the ground. However, you are able to bring umbrellas that attach to your chair so you can get some shade when needed.
If you rent a cabana, you will have a covered area all to yourself. There is also a huge tent that covers the eating area where you can sit with picnic tables and relax anytime you need. If you are stopping by at night, make sure to bring your bug spray. You are on the river after all — the mosquitoes will want to party with you.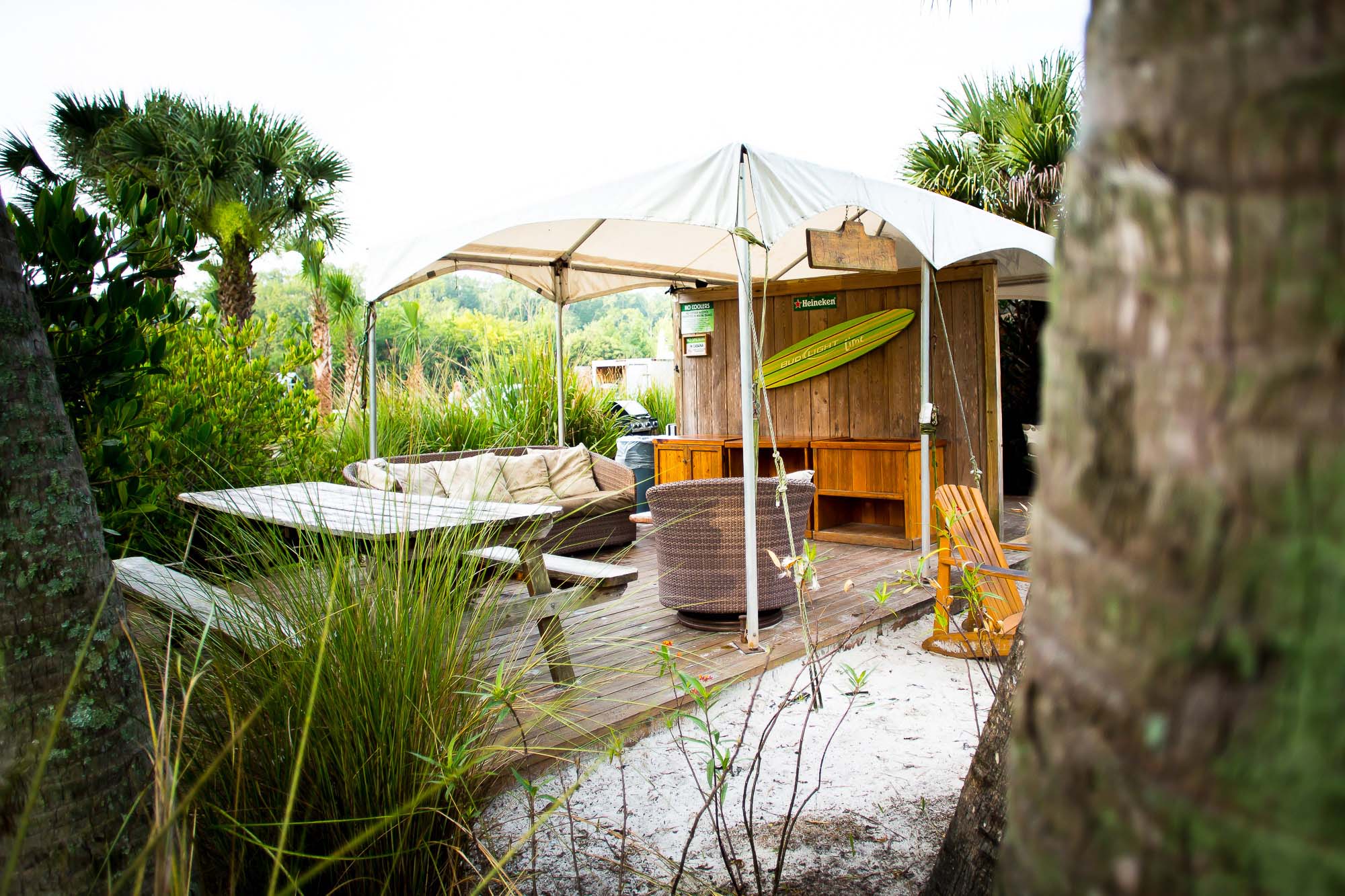 5. Drinks
Okay, so we have grabbed a sun chair on the deck overlooking the beautiful river and trees, our sunscreen is on, and our umbrella is hooked onto the back of our chair. I think it's time for a drink! Head over to the Tooting Otter — an indoor and outdoor bar. You can expect a huge variety of drinks including 21 beers on tap, 47 canned beers, six Bud light seltzers, five ready-to-drink cocktails, 13 wines, and a couple of choices for Mimosas. You can also get bottled water, Gatorade, and soda. If you can't find something to drink here, you should probably double-check the menu. 
Keep in mind you are not allowed to bring your own drinks or alcohol on-premises. If you are renting a cabana or kayaking/boating, you are able to bring non-alcoholic beverages. It's against the law to bring any kind of alcoholic drinks on the river. Wekiva Island is state-owned property.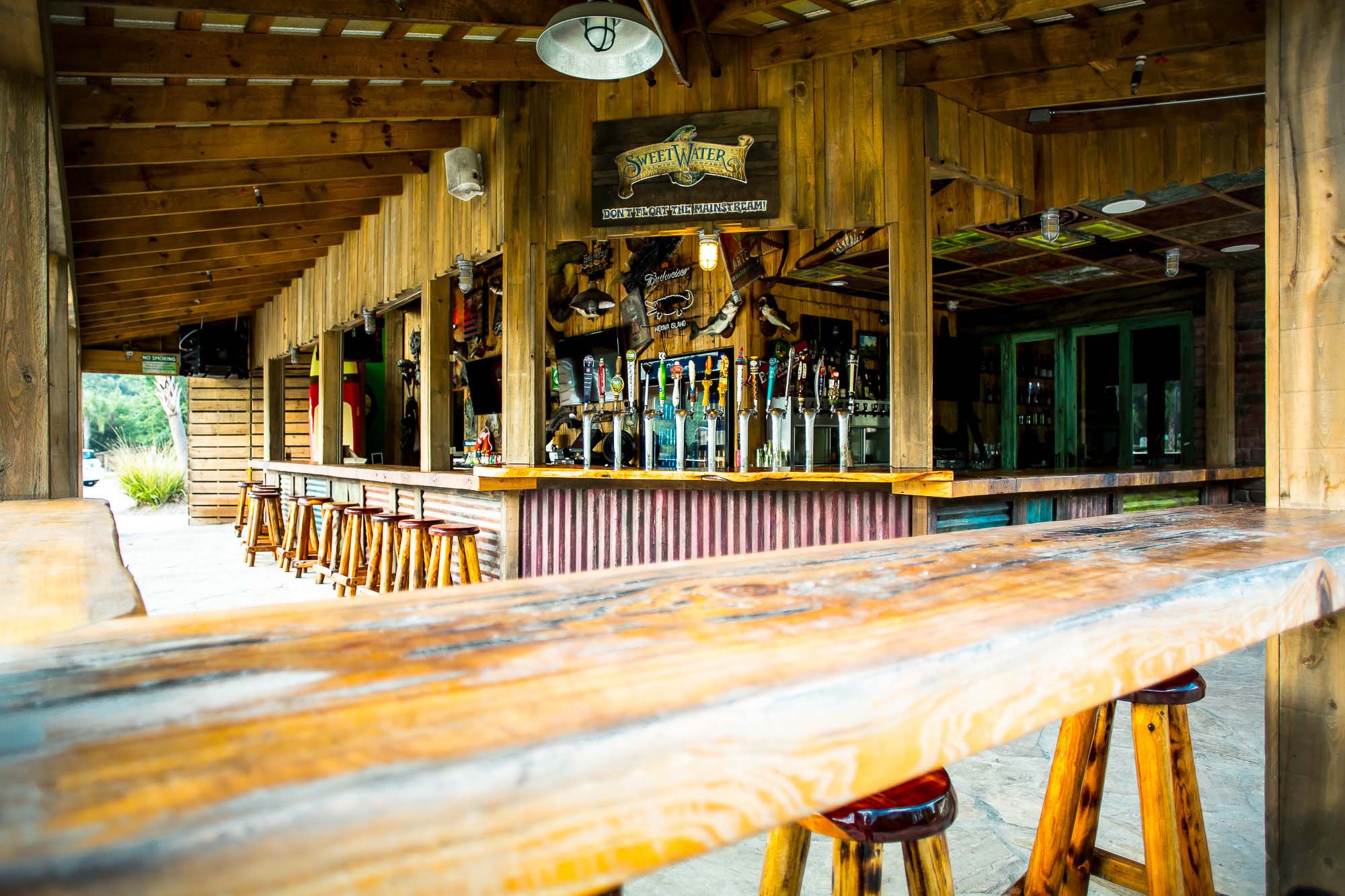 READ MORE: When Is The Best Time To Camp In Florida?
6. Food at Wekiva Island
I've had my favorite sangria slushie, gotten toasty from the sun, and now it's time to eat. Let's head over to Without a Paddle, a food truck that is onsite all year long. There is something for everyone in your party, from island favorites like fish and shrimp dishes to burgers, hot dogs, loaded fries, and — my personal favorite — their Philly cheesesteak sub. They also have a vegetarian menu and barbecue options.
In addition to drinks, you're not allowed to bring food on-site either unless you have rented a cabana or other event space. Without a Paddle does catering, so if you don't want to deal with preparing food for your event, they would love to help out.
7. Pets
Unfortunately, pets are not allowed unless they are service animals and have their vest on. This is in an effort to keep all guests and animals safe during their time at Wekiva Island and to ensure a relaxing environment.
8. Wekiva Island Events
Wekiva Island plays host to a lot of events. Almost every weekend, there are live music performances from local bands and singers in their indoor barroom for you to enjoy as you sip on your drink and enjoy the breeze coming off the river (since there's a removable wall). They also have painting classes, craft beer tastings, and fun events for different holidays. 
One of my son's favorite events is during Christmastime when they have huge ice sleds, hot cocoa and popcorn, outdoor movie times, breakfast with Santa, and more. There is always something for everyone to enjoy.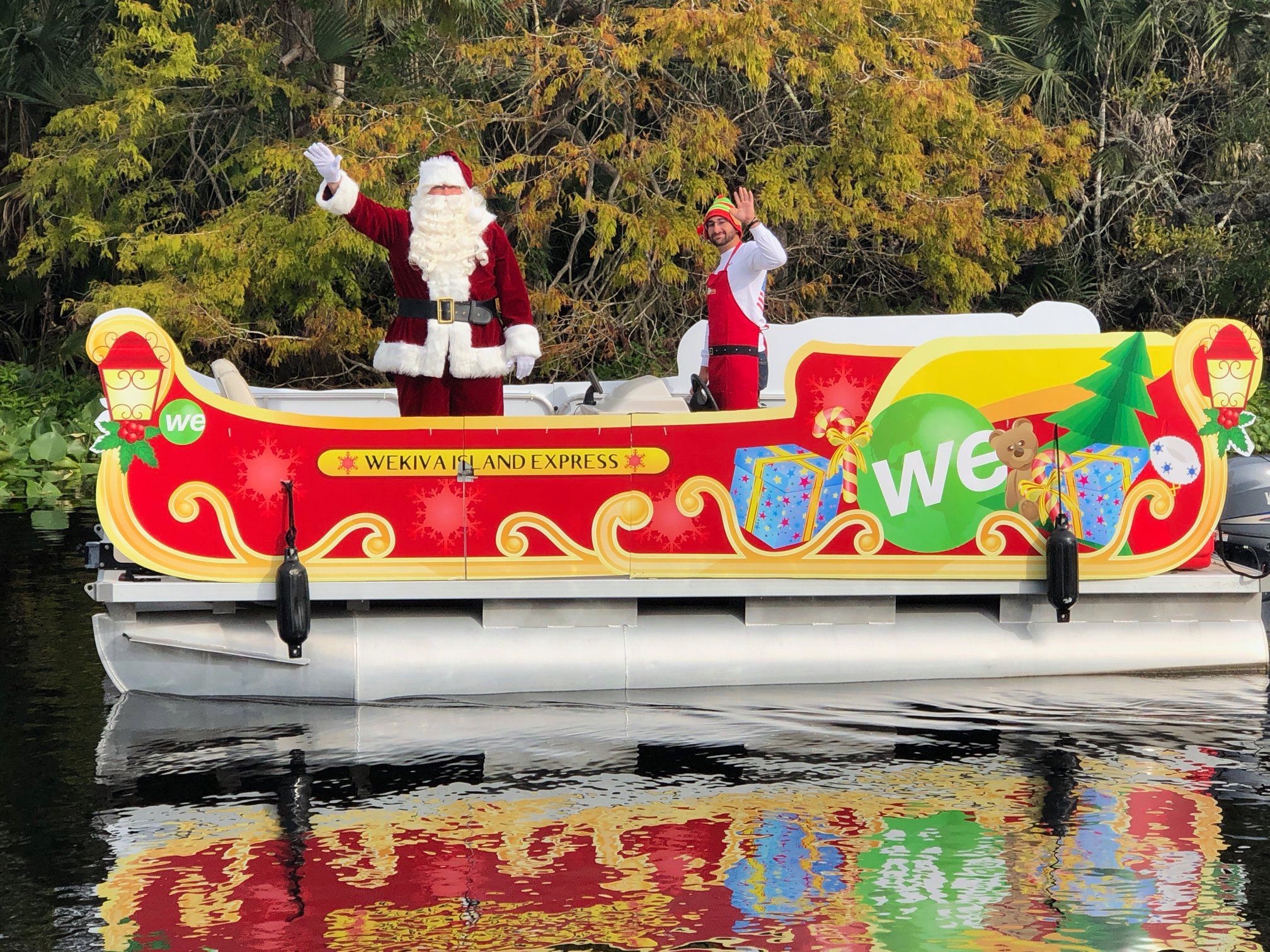 9. General Store
Did you happen to forget your sunscreen or river raft? They've got you covered. The bar area also serves as a general store with all of your essentials for a fun day in the sun — even jewelry, apparel, and towels. 
10. Wildlife at Wekiva Island
The wildlife at Wekiva Island is another huge bonus. There is a large softshell turtle that likes to swim around the dock and visit everyone (and grab some snacks while he's at it). The regulars named him George. My son enjoys seeing him and petting his back. He is very friendly. We also enjoy renting kayaks. You get to see wildlife up close like turtles, otters, deer, and tons of birds.
Conclusion
This amazing hidden gem in the city has everything you could need to relax, have fun, and get a break from the hustle and bustle of life. Enjoy the beautiful scenery, activities, and food and drinks. Maybe I'll see you there!
READ MORE: Your Ultimate Guide to Dry Tortugas National Park
Pin it!