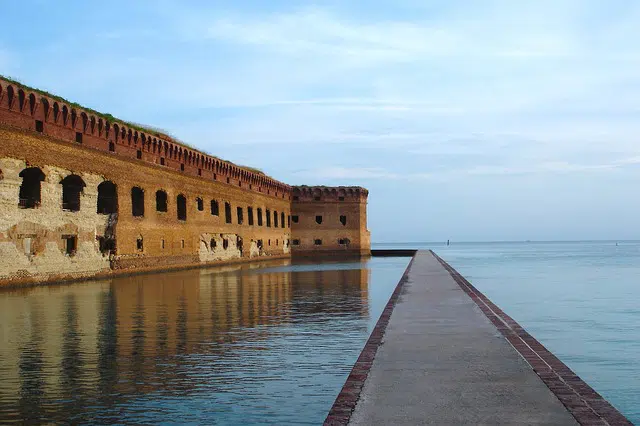 Located about 70 miles west of the Florida Keys, in the crystal turquoise waters of the Gulf of Mexico, are the seven isles of Dry Tortugas National Park.
Operated by the National Park Service (NPS), the area is made up of seven islands: Loggerhead Key, Garden Key, Bush Key, Long Key, Hospital Key, Middle Key, and East Key. You can learn more about the islands and different areas of the park from one of the park rangers at the visitor center.
Known for being home to Fort Jefferson, a former military fortification with a moat wall, it was used as a prison during the Civil War, the islands also serve as a nature preserve for various wildlife.
There is definitely more to this beautiful and isolated National Park than just a giant fort. So we're sharing our favorite things to do and tips for getting the most out of your visit to Dry Tortugas National Park.
How to Get to Dry Tortugas National Park
There are a few ways visitors can get to Dry Tortugas — on privately owned boats, the Yankee Freedom ferry, or a seaplane. If you don't own your own boat or know someone who does, the least expensive way to get to Dry Tortugas is via ferry.
Arriving by Ferry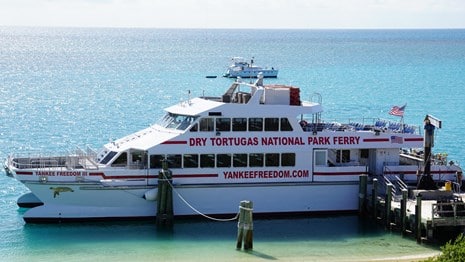 The Yankee Freedom III ferry is the only boat that operates day trips down to Garden Key. Once on the island, visitors will have about five hours to explore the island, swim, and even snorkel.
Fees, which are $190 per person and $135 for kids (ages 4-16), include admission to the park, breakfast and lunch on the boat, the use of complimentary snorkel equipment, and a 45-minute tour of the fort led by one of the tour guides.
If you have an annual National Park Pass or a Golden Age Pass, the national park entrance fee can be refunded if you present your pass at check-in on the morning of your trip.
They also offer special rates for students (ages 17 or older) with ID, active military, and senior citizens (ages 62 or older).
Arriving By Seaplane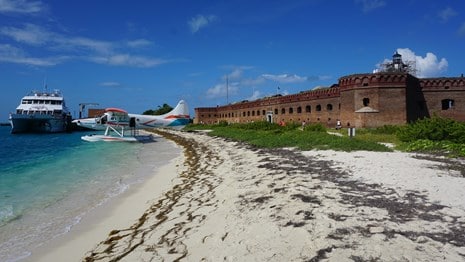 If you don't have all day to spend at Dry Tortugas and don't mind spending a little money, Key West Seaplane Adventure Charter can get you down to the national park in about 40 minutes, each way.
The company offers half day trip excursions for $361 per person and $288.80 for kids ages 12 and under.
Half-day excursions are about four hours long, and promise at least two and half hours on the island. The company also offers a full day trip to Dry Tortugas, which give visitors at least six and half hours of time on the island.
Advanced reservations are highly recommended regardless of whether you're traveling via ferry or seaplane, as spots fill up months in advance.
Arriving by personal watercraft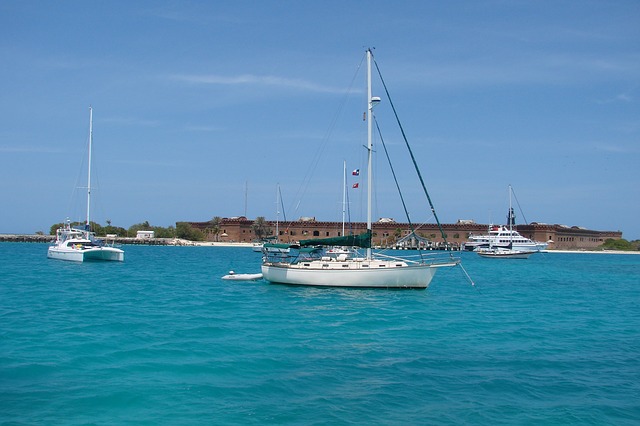 If you are lucky enough to have a boat or have a friend with a boat, and want to head down on your own, keep in mind that you can't just drop anchor anywhere you want.
You'll first have to check in at Fort Jefferson to get a free permit and be provided with information on where you may drop anchor and fish. Those failing to check-in and getting a permit run the risk of being given a citation.
What To Bring to Dry Tortugas National Park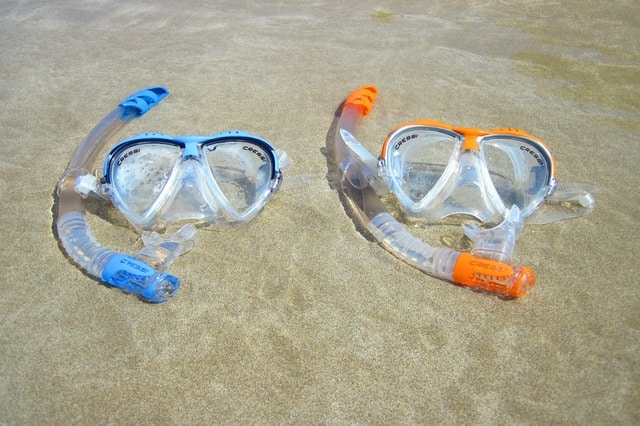 Keep in mind that there aren't any souvenir or convenience stores at the Park, so make sure you bring a few essentials with you.
Even though the ferry does sell several items onboard, for example, food and drinks, T-shirts, sunscreen, towels, and hats, they don't have an endless supply.
You'll want to make sure you pack a change of clothes if you'll be getting in the water, sunscreen, a towel, snorkel equipment, sunglasses, a camera, and any special snacks. If you're visiting during the winter months, it can be somewhat cold, especially once the sun starts to go down. So, you'll also want to pack a light jacket.
If you're visiting in the summer months, make sure to pack a rain poncho or rain jacket, as afternoon showers operate like clockwork in Florida during the summer.
What To Do at Dry Tortugas National Park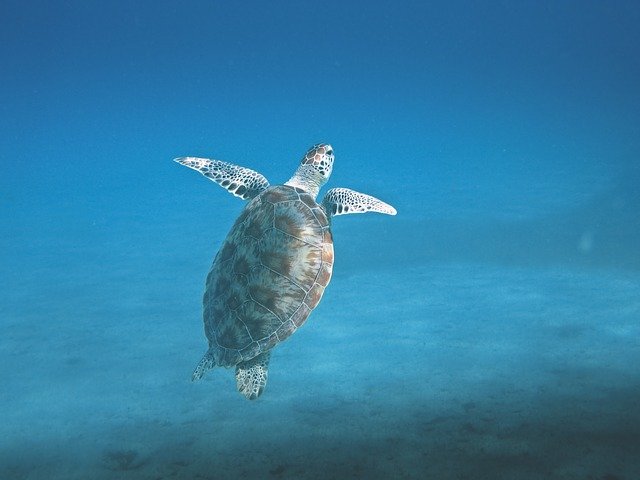 Once at Dry Tortugas there are plenty of things to do, from exploring the fort to snorkeling or scuba diving, so pack your snorkeling gear! Popular with bird watchers (look for the brown noddy and the sooty tern) and history buffs, this national park is also a watersports fan's paradise.
Whether you're fishing, snorkeling, scuba diving, paddleboarding, or kayaking, the crystal blue waters surrounding the islands are pristine and thriving with underwater wildlife.
Garden Key has a designated area for snorkeling that's great for beginners, as well as all skill levels. The fact that the park is so isolated means that coral reef conditions are significantly better than anything you might see closer to the Florida coast.
You'll definitely see a variety of tropical fish and perhaps nurse sharks. And if you're lucky you'll see sea turtles — which makes sense considering the name of the park.
Remember, you can only look and not touch — as the coral and shells are protected by law. And if you decide to snorkel outside the designated area, you must display an approved dive flag.
Read More: How To Camp In The Rain And Not Be Miserable
If you decide you want to go fishing, make sure you familiarize yourself with all the rules and restricted areas. The last thing you want to do is get a citation; you'll be able to get the latest information on restrictions on the park's official site.
Camping at Dry Tortugas National Park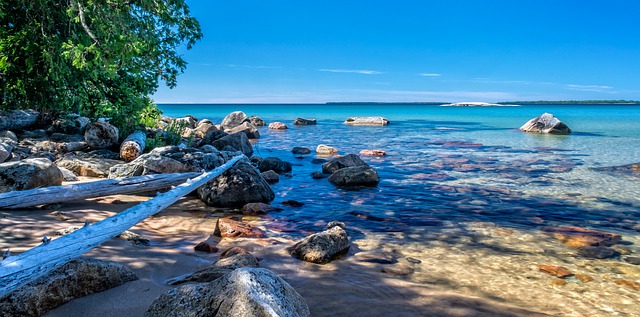 You can also camp at Garden Key, but come very well prepared. There is a small primitive campground not far from the public dock with 11 individual campsites, most of which are only able to accommodate a two-person tent. They are available on a first-come, first-serve basis. Each campsite has a picnic table and grill and campers must bring all supplies with them, including a tent, freshwater, ice, and food. Like with most campgrounds, you have to carry out all your trash with you once you leave.
You will not be permitted to start a fire at the campsite. The only fire allowed is grilling with charcoal or propane. However, in order to transport a gas grill to the park, you'll have to arrive on a personal vessel. The ferry service does not allow passengers to bring propane bottles onboard.
There are only two ways you'll be able to transport your gear to the island, either through the ferry or a private boat. If you do use the ferry, you will have to make a reservation with the company ahead of time as they have limited spots for campers and their gear on board.
Once you're there and settled, you'll enjoy one of the most peaceful nights ever. If you're lucky, you'll have clear skies which are perfect for stargazing.
Read More: Review: Faver-Dykes State Park in St. Augustine
Exploring Fort Jefferson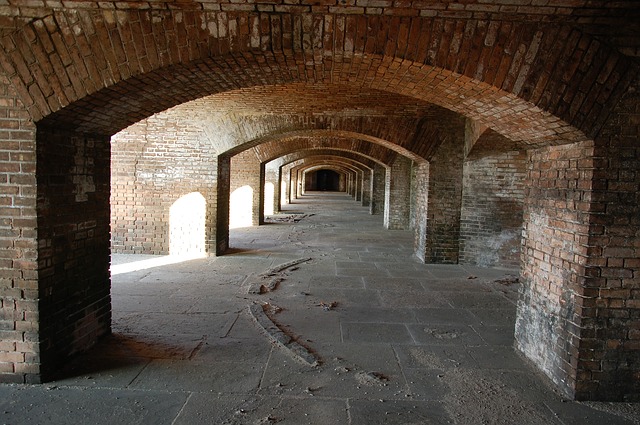 For history buffs, the real attraction is Fort Jefferson, which was originally built as a military fortification and was later also used as a prison for Union deserters.
The most famous prisoner at the fort was Dr. Samuel Mudd, the physician who set John Wilkes Booth's broken leg after he shot Abraham Lincoln. Visitors can see parts of the fort where he was imprisoned. Though the fort was never really finished, it spans 16 acres, making it the largest brick masonry structure in North America.
Best Time to Visit Dry Tortugas National Park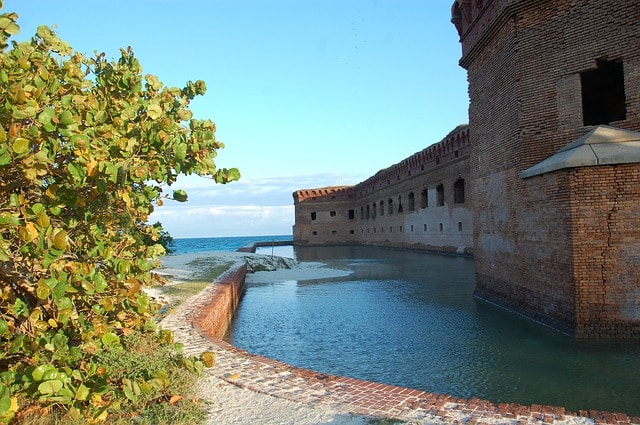 Like in Florida, there are really only two weather seasons: winter and summer. The best time to visit is during the "summer" time, which runs from May to October.
During these months, the weather is ideal with little to no wind and great water visibility for snorkeling and scuba diving.
During the winter months, which run from November through April, visitors can experience large swells and windy conditions, which means rough seas and poor water visibility for those interested in snorkeling or scuba diving. The only upside is cooler weather and fewer crowds. Historically the cooler months are January and February with lows in the lower 60s and highs in the up mid-70s.
The water temperature drops below 77 degrees Fahrenheit from December to April. The summer months bring it to above 80 degrees Fahrenheit. The water is the warmest in July, August, and September with an average water temperature of 86 degrees Fahrenheit.
Final Thoughts
Dry Tortugas is definitely in a category of its own when it comes to National Parks. There's something for everyone looking to enjoy this remote chain of islands. It should be a bucket list must, especially for those who love exploring the ocean and wildlife.
Just make sure you follow the rules and leave this unique location exactly how you found it.
Pin it for later!