A review of Faver-Dykes State Park that's located in south St. Augustine, Florida. After a half-dozen camping trips to Kampgrounds Of America (KOA) locations, the cost of using our new RV was beginning to add up rather quickly.
Looking for a less expensive alternative that provided as good or better camping experience, we decided to try out the Florida State Park system.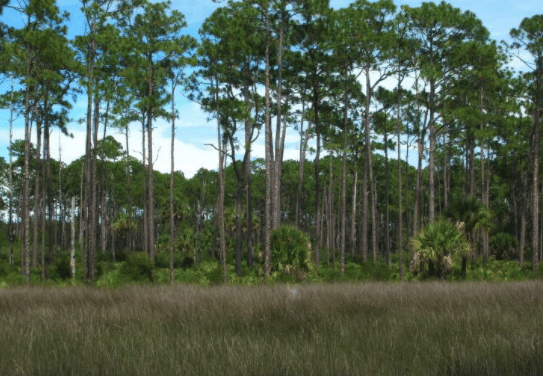 As Florida residents in the 65+ years of age group, we can camp for as little as $10/night. KOA, by comparison, ranges between five and ten times that amount.
Tip: Always price out State Parks as a more affordable camping option against commercially ran campgrounds.
Campsites Available at Faver-Dykes State Park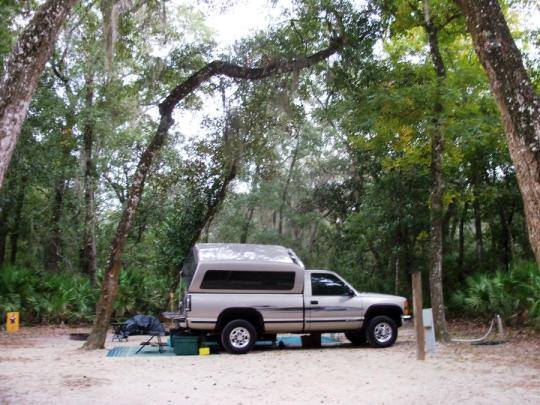 We chose Faver-Dykes State Park to give the idea of staying on public land a try. About an hour from our home in Altamonte Springs, Florida, this one was far enough to feel like you had gone somewhere but close enough to home and civilization to be a safe first try.
Campsites here are nicely spaced, probably between two and three times more space between sites than we had experienced at other campgrounds. However, there are no convenience stores or amenities similar to commercially-run campgrounds.
This is very much a camping place for campers.  The location was secluded and so quiet at night you could hear a pin drop.
First Impressions of Faver-Dykes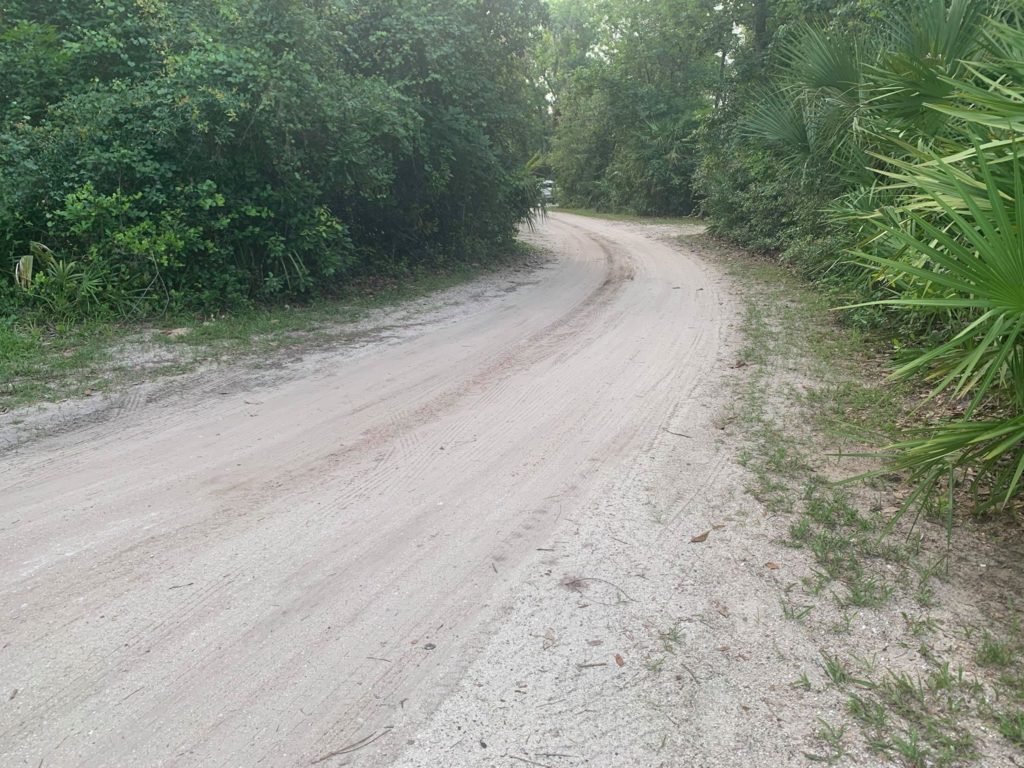 It only took a few minutes to realize: this is more like it!
While KOA's are very nice and highly recommended for first-timers like us, the entire experience is rather dumbed down for newbies.  Get past that and move right along to state parks, complete with helpful Park Rangers and a whole lot of pristine land to play on.
Already sold on the idea before we arrived, the price for two nights sealed the deal: $26.59, about half the price of one day at a KOA.
One thing I learned really quickly: there is always something you will want to buy for your RV, so managing the cost of camping is crucial to any budget.
Checking Out My Campsite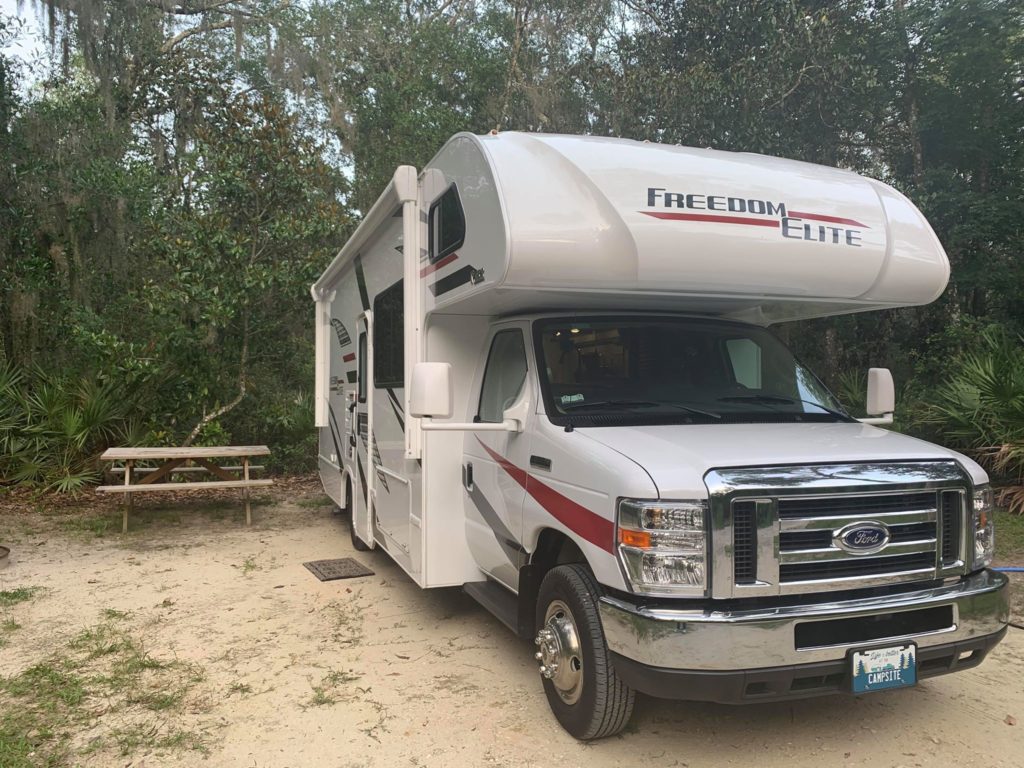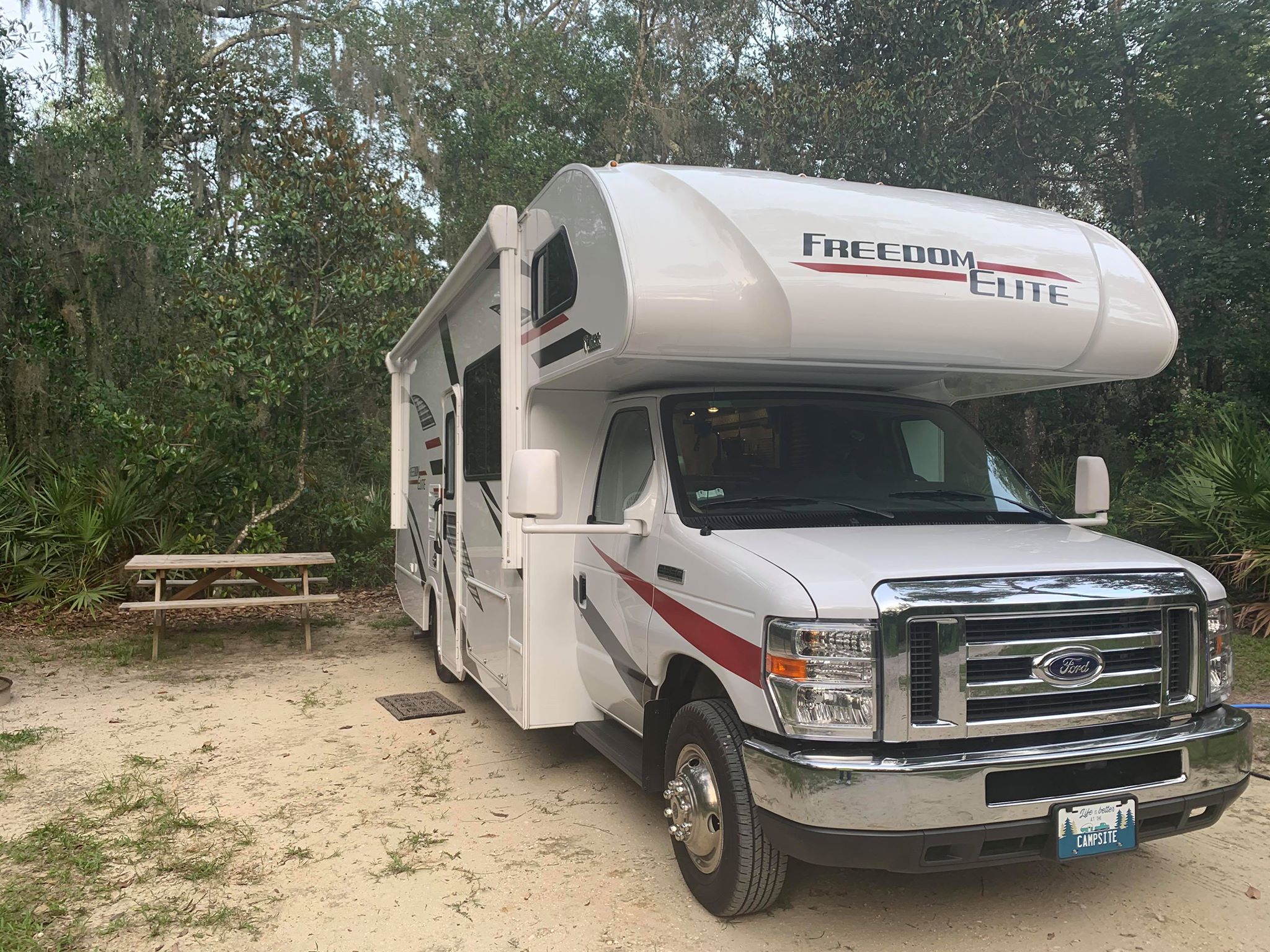 We had selected our campsite online at the Florida State Parks website so we had a pretty good idea on the lay of the land.  Each site had water and electric.  A big difference from other campgrounds is there were no sewer connections. But that is usual at most state parks.  Instead, they have a dump station where campers are able to empty black and gray water tanks if needed.
READ MORE: How To Set Up Your RV Campsite
Like other RV storage facilities, we just use the dump station at the Adult Toy Storage where we keep our RV when not in use.
The Campground At Night
Quiet time is from 11 PM to 7 AM, although it was very quiet most of the time anyway.  Travelers often stay at state parks to enjoy fishing, hiking and other outdoor sports. We go to enjoy time in our camper.
Something else state parks commonly offer, this one no exception, is programming that includes fireside chats (around a real bonfire), nature walks and bird watching adventures among other topics.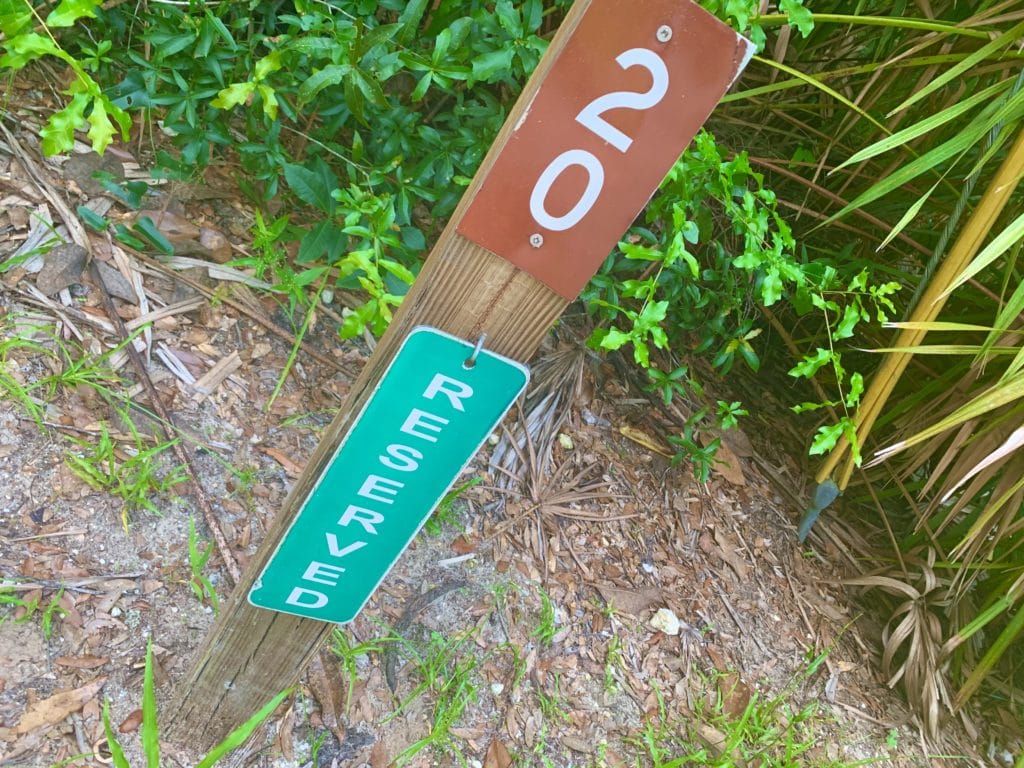 Bathroom Facilities
I would imagine that this is where KOA's rate better than state parks.  KOA hot water showers and attended restrooms are probably a better bet for those who need to use those facilities.  Being that we have all the needed restroom facilities in our RV, we didn't have to use the ones on the property.
REVIEW: Jacksonville North / St. Marys, Georgia KOA Campground
The park does have restroom facilities and showers available on the grounds. There's was an ADA restroom located near the picnic area. As always, it never hurts to wear flip flops or water shoes when using a public shower.
WiFi
You won't find much free wifi in Florida state parks. However, this is a camping place so we got with it rather quickly and turned off our devices.  We did check to see if we were able to use our phones as a hotspot on the T-Mobile network, and the signal was perfectly fine.
Activities at Faver-Dykes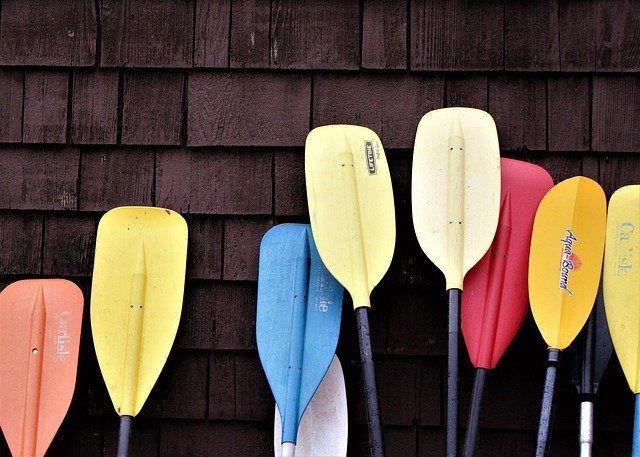 You'll find four different nature trails at Faver-Dykes State Park: The Picnic Area Trail, Campground Nature Trail, Pine Loop Trail, and Hiram Faver Trail. They range from a half-mile in length to 2.6-miles, with a couple of trails that are interconnected.
The park also allows small boats, canoes, and kayaks to launch at the Pellicer Creek boat ramp.
Final Thoughts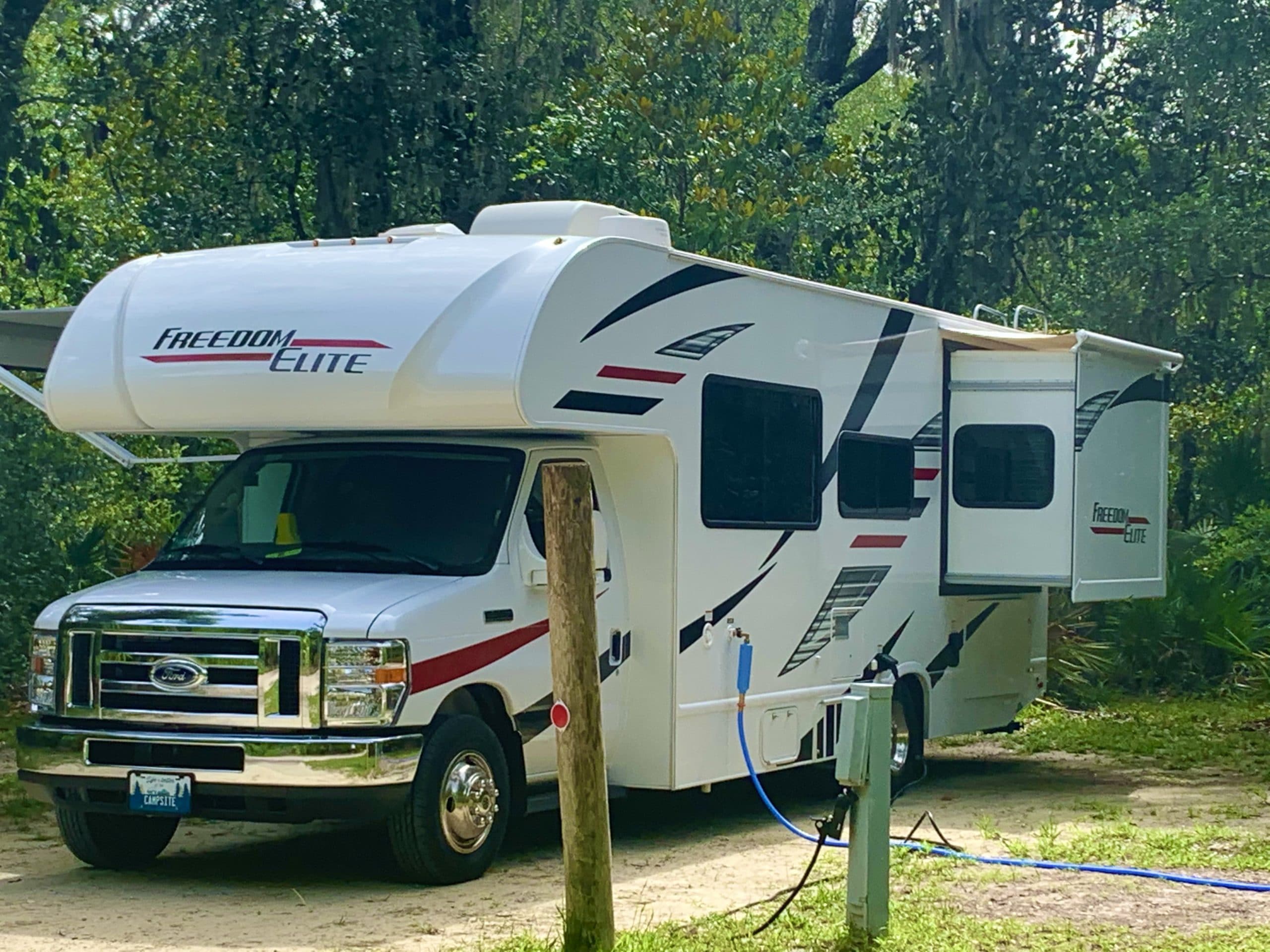 Years ago while growing up in Kansas, I camped at state and county parks.  My wife's parents had a cabin in Wisconsin that they visited in the summer as well.  The great outdoors is no stranger to either of us but I must say: there is something about camping in Florida that is just magical.
Bottom line: start at KOA, they do a very good job of hand-holding when you are new to all of this.  Sort of like Carnival Cruise Line was our first cruise line.
We would go back to Carnival frequently but moved along to other cruise lines as well.  We seem to be on a similar track with the world of RV's with a new adventure around every corner.
Pin it!