Many people are looking for new vacation ideas that might be a little closer to home or in less crowded spaces, and camping might just be their choice. It's a good way to get off the grid and explore parts of your state or region that you may not have previously considered, and you don't necessarily need to rough it in a tent.
What type of camping you choose depends on your personality. 
The Five Types of Camping Outdoors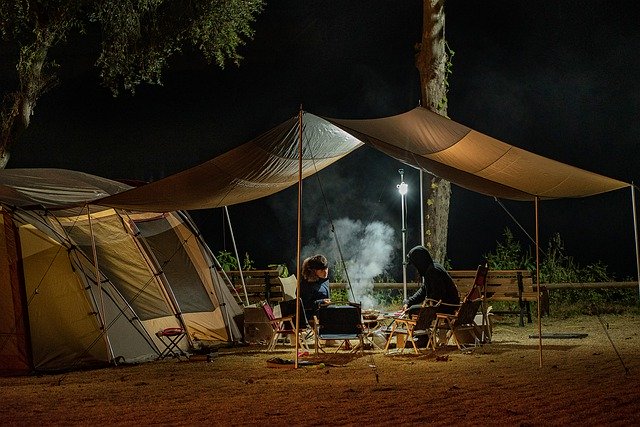 1. Basic Primitive Camping
This is as basic as it gets. It's just you, a tent, a sleeping bag, and a plot of land to set up. However, it doesn't have to so rough, many campgrounds nowadays offer power outlets, shower and laundry facilities and even Wi-Fi. Some of these amenities may be included with the lot reservation and at some locations, they may available at an additional charge.
READ MORE: 5 Tips for First Time Camping
When considering traditional camping keep in mind that you'll also need to bring with you additional equipment, including a cooking stove and equipment to cook your food in, camping chairs, flashlights, and even your own toiletries.
2. Cabin Camping
Some campgrounds may offer cabins for rent. There are typically two different types of cabins you'll find on-site — one with bathroom facilities and one without. Those without a bathroom will have to use the shared bathroom and shower facilities.
When renting cabins make sure you know ahead of time what you'll need to bring with you. Some cabins may offer very basic amenities like electricity and some may not, others may or may not offer cots to sleep on so you'll still need to bring with you a sleeping bag. Some campgrounds may be located close to nearby towns so you may be able to bypass having to bring cookware. It really depends on the campground so make sure you do your homework before booking.
3. Glamping
If tents and basic cabin accommodations aren't cutting it and you're looking for an outdoor experience but with little more comfort and luxury, than glamping is for you. Some campgrounds offer a comfortable and worry-free experience which includes luxury tent accommodations with beds and bathrooms, highspeed Wi-Fi, restaurants, and bars on property. 
4. Camper (Travel Trailer)
Campers or travel trailers, which you pull behind a truck or an SUV, come in various models including very basic which just feature a bed to fully operational units with a bathroom, kitchen, air conditioning, bed, a dining area and hot water. 
5. Recreational Vehicle (RV)
The main difference between an RV and a camper is that you can drive an RV. The vehicle and living quarters are all in one spot and there is no unhooking when you park. Many vacationers that own a recreational vehicle tow a car behind it so they can run to the store or explore the area without burning massive amounts of fuel.  
Why You Should Go Camping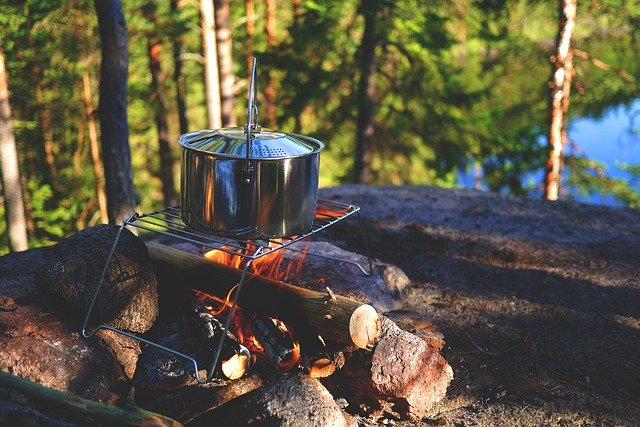 1. You Love Spending Time Outdoors 
What better way to get close to nature than by eating, hiking and sleeping outside? There's nothing like falling asleep to the sound of nothing but crickets and waking up to the birds chirping. Plus, we could all use some more fresh air, after spending months indoors.   
2. Unplugging From The World 
With the 24/7 news cycle nowadays, going off the grid and unplugging is a perfect opportunity for a social media cleanse. Even if you are within cellular service or the campground has Wi-Fi, consider staying off of it — or at the very least only checking once or twice a day for a set amount of time.
Spending time in nature and with your camping companions enjoying the moment are two great reasons to go camping in the first place. Don't spoil it by being glued to your phone screen like you everyday. You can always share photos and anecdotes from your trip when you get home. 
3. Affordable Camping
Aside from the start-up costs of getting camping supplies and buying a camper or tent, camping is extremely affordable compared to other types of vacations. Reserving a campsite is a fraction of the cost that hotels are per night, and some campgrounds even have complimentary amenities and activities for people that are camping there, such as kids' group games, bonfires with s'mores, and swimming pools. 
4. Exercise
Depending on the layout of the campground and what types of amenities your campsite has (including what's in your camper if you have one), you'll be moving around a lot throughout the day. If your campsite doesn't have water and your camper doesn't have a bathroom or even a sink, you'll have to walk back and forth from your lot to the campground bathrooms.
Camping also involves a lot of fun unintentional exercise, like swimming, hiking, or walking around exploring the local area. Camping is a great option people who love to stay active and even for those who want to become more active. 
5. Enhance Your Cooking Skills While Camping
Cooking gets really creative when all you have is an open fire and (maybe) a grill or portable stovetop. If you've got a camper or RV with a stove, microwave and fridge, you've already got a lot more options.
Generally, camp cooking involves a lot of planning. Learning to only bring the most essential items that need to stay cold in a cooler, figuring out the right temperatures of the fire to cook (and even bake) a variety of things on top of it, and using different dishes and cooking tools than you use in your kitchen are all part of the fun.
6. Bonding with loved ones 
Camping is one of the best types of trips that help bring family and friends closer. You are away from most screens and countless other daily distractions, so it's the perfect opportunity to be present and engage in great fun and conversation. 
Why Camping May Not Be For You 
1. You need to be constantly connected
If you're in a position where you absolutely cannot be away from the phone or internet for several days at a time, you need to be mindful about whether camping is the right fit for you. It is definitely possible to stay connected while camping if you choose a campground that has the amenities you need and/or is in a spot that has cell service.
However, as mentioned earlier, camping is one of the best types of getaways to force you to disconnect. Every case is different, but this is something to consider if you're weighing the different types of vacations you might want to take. 
2. You're not an outside person 
This one doesn't really need much explaining — the main purpose of camping is to commune closely with nature, so if you just don't enjoy being outside you might want to look into other options. 
3. Weather always changes
The weather is never the same anywhere you go. If you're looking to camp in an area that has especially fickle weather, be mindful of the time of year you're going and be prepared to have a back-up plan.
4. You can and will get dirty 
Being out in nature is pretty much synonymous with getting dirty, as opposed to staying somewhere indoors like a hotel or resort. It's all part of the experience, so if the other aspects of camping appeal to you, try not to let this one stop you. But if you just can't stand the thought of getting dirty every day, carefully consider whether camping is a good fit. 
5. The bathroom situation 
The bathroom situation can be tricky if you don't have a camper or RV that includes one. Yes, camping means that you will likely have to trek to the communal campground bathroom to go to the bathroom and take a shower. It can be a hassle and it can be a little uncomfortable. If the thought of that sounds too difficult or gross to you, camping might not be right for you.
6. You can't go with the flow
For most people, days spent camping aren't too structured. There's no hour-by-hour schedule to adhere to, and things can change quite a bit day-to-day. One day the weather could be bad, the next there's an event in town or activity at the campground that you didn't know about but want to attend. Your cooler ice may melt prematurely and you have to rearrange meals, or the hot dogs burned while cooking on the fire.
There are a lot of variables when camping, and you have to let things roll off your back and go with the flow. Camping may not be for you if you need a schedule or for things to be nearly foolproof. 
First Time Camping Tips 
Have a waterproof tent 
Check campground amenities before booking
Pick the right season to camp 
Bring bug spray 
Plan your meals 
Have a backup plan to sleep 
Ask the campground host any questions you may have