A day hike is a great way to get out and explore. Many state and national parks offer some great short hiking trails that are perfect for a fun quick afternoon enjoying the outdoors.
However, no matter the length of the hike you have to make sure you bring along a few things.
Things To Pack For a Day Hike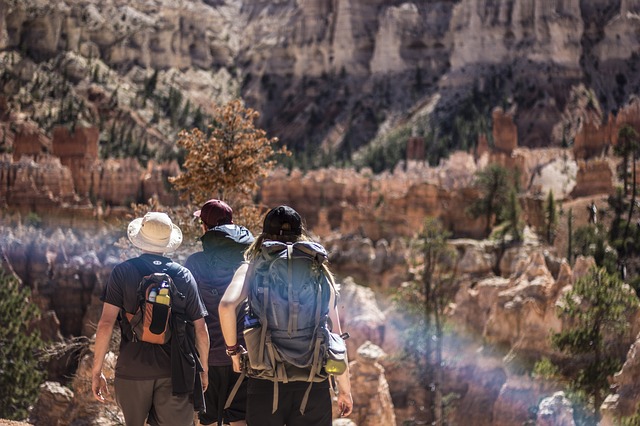 When you're trying to figure out what to pack, you'll want to think about how far the hike is, what the weather looks like and how remote the location is. All these factors will determine how much water and food you need to bring with you, your choice in wardrobe and even what items you'll need to have in your first aid kit.
Backpack
The primary item you'll need for any day hike is a backpack. It has to be comfortable and big enough to carry everything you'll need for the day. Comfort and functionality are definitely key for a good hiking backpack.
Most 11-20 liters packs should work just fine for a day hike. Ideally, it'll have a place to store a bottle of water either on the side or have a slot for hydration pack.
Another key thing to consider is whether it's waterproof or if has a rain cover. This will protect all your belongings from getting soaked should it start to rain during your hike. You also want to make sure it has plenty of pockets and storage areas for everything you'll need.

Appropriate Footwear And Clothing
The next thing you'll want to make sure you have is appropriate footwear. You want to make sure you've got comfortable and solid shoes on. Some short and easy trail hikes are fine in a pair of running sneakers, while others may require a sturdier footing like hiking shoes or boots.
Make sure you wear something that will also protect you from the elements while you're out on the trail. There's nothing more uncomfortable than squishing around in soaking wet shoes, which can ultimately produce blisters.
You also want to make sure you've dressed appropriately and are wearing quick-drying clothes. The last thing you want to be wearing in the middle of summer is a cotton t-shirt while you're sweating profusely. It won't help keep your body temperature regulated and it could also cause chafing.
This also pertains to the types of socks, you want to make sure you're either wearing synthetic socks or wool socks for hiking boots. Otherwise, the blisters on your feet are going to be killing you.
READ MORE: 7 Hiking Essentials For Beginners
Stay Hydrated
Staying hydrated is key when going for a hike, no matter the length of the hike, always make sure you have plenty of water. Two liters per person is usually a good starting point for short easy hikes.
However, you'll need to bring more if you're going on hour-long hikes or a trail that might be a little more intense. You'll also want to take into consideration the weather you're your overall fitness level.

Day Hike Trekking Poles
Depending on the length and type of terrain, packing trekking poles for your day hike might be a good idea. They'll help reduce and strain on your knees and legs, especially when facing any inclines or any type of uneven terrain.
There are plenty of inexpensive lightweight options and they really make a difference when tackling challenging trails.
READ MORE: 6 Key Tips To Hiking Safely
Sun Protection For Day Hiking
Even if the day looks cloudy, sun protection is very important and it's not just limited to sunscreen. Consider packing lip balm with SPF, sunglasses and a hat.
There's nothing worse than coming back from a day outside with a really bad sunburn or even cracked lips. These items also shouldn't be limited to the summer and spring, the sun is still beating down even during the fall and winter.

First Aid Kit
Another thing to make sure you have in your backpack for the day hike is a first aid kit, with some basic items.
For example, bandages, medical tape, antibiotic ointment, antiseptic wipes, hand sanitizer, gauze and blister treatment. You might also want to pack any prescription medication that you might need.
Another thing you'll want to make sure you have insect repellent. Depending on the area and the time of year you'll be wandering outside it might be a necessity.
Extra Items For Your Day Hike
Hiking is a fun activity to do with a group of friends, family, or even by yourself, so don't forget to enjoy it. Consider bringing along a camera, binoculars, even two-way radios in case there are some faster or hikers in the group.
Pin it!