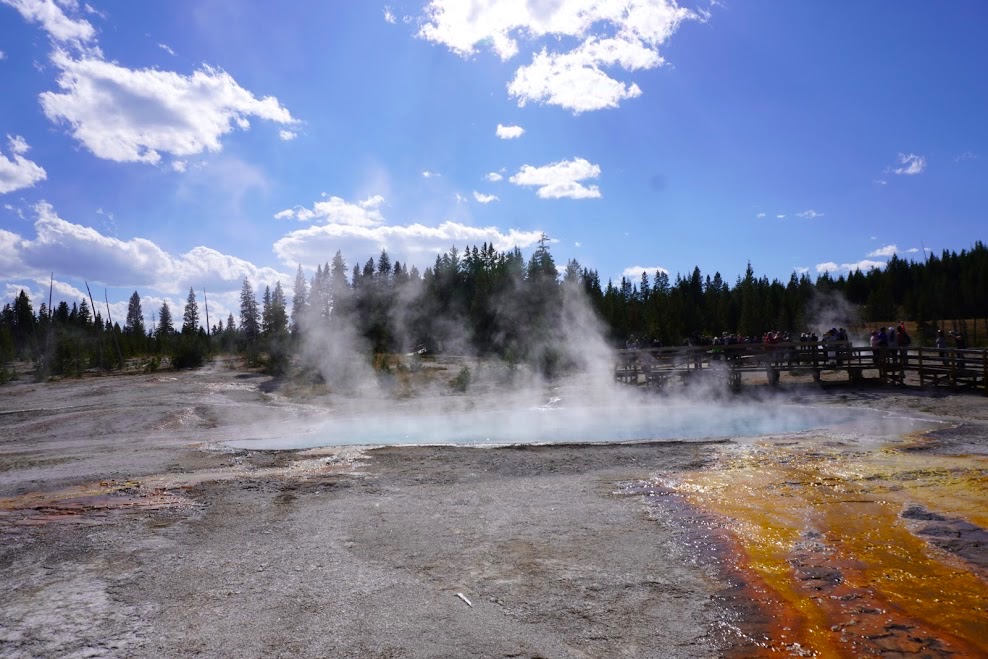 Yellowstone National Park is huge. It's 2.2 million acres of bubbling geothermal areas, volcanic wonders, mountains, valleys, and drastically carved canyons, and it's larger than the states of Rhode Island and Delaware put together.
To make the most of your trip, you'll want to stay right inside the park. This will save you time commuting into the park each day so you'll have more time to experience all the natural wonders the park has to offer.
Even if you only have one day in Yellowstone park, staying inside is definitely worth the effort it takes to secure lodging reservations or track down a first-come, first-served campsite.
Depending on how long you're staying in Yellowstone, it's a good idea to stay in at least two different locations in the park.
This will cut down on drive time and let you see more. You'll also want to make reservations as soon as you know your travel dates since reservations often book six months to a year in advance.
Depending on your preferences and budget, you can choose from a wide range of accommodations in Yellowstone National Park. There are a number of popular hotels and lodges that offer amenities that will make your stay in the park a relaxing and enjoyable experience.
There are also several options for RV camping, which is a great way to vacation the park.
Whether you're looking for a secluded tent spot, a roomy RV site, a rustic cabin rental, or a hotel room within view of the world-famous Old Faithful Geyser, you'll find tons of options for where to stay in Yellowstone National Park.
Being over two million acres and having a west entrance, east entrance, northeast entrance, south entrance, and north entrance of Yellowstone, it's good to know exactly what you want to see before booking your accommodations.
Yellowstone National Park Camping
Yellowstone National Park is home to twelve campgrounds spread out throughout the park. Five of the campgrounds are operated by a private concessionaire, the Xanterra Travel Collection, and the other seven are operated by the National Park Service. The campgrounds managed by the National Park Service tend to be smaller and less developed than the campgrounds managed by Xanterra.
Some of the campgrounds offer showers and flush toilets, while others are more simple with vault toilets and limited services. All campgrounds welcome trailers and RVs, but some have restrictions on RV size.
Reservable Yellowstone Campgrounds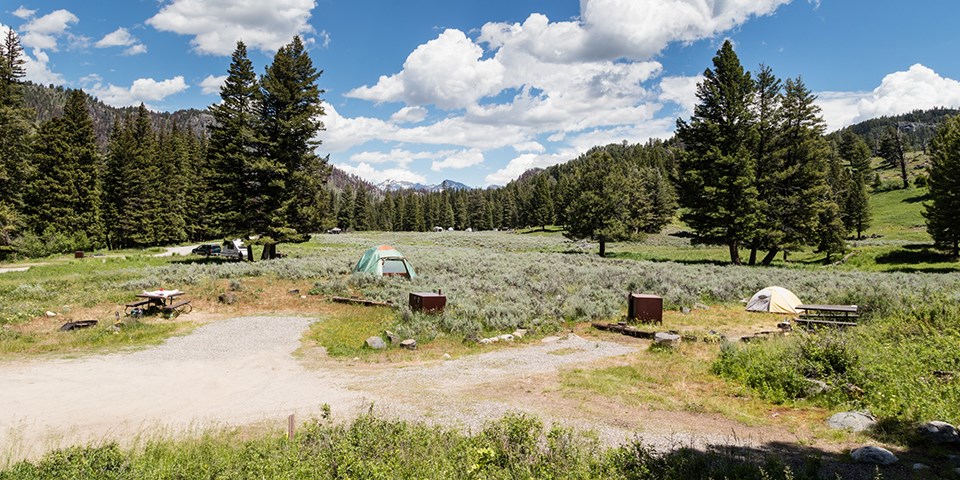 All of the campgrounds managed by Xanterra Travel Collection, including Fishing Bridge RV Park, Bridge Bay, Canyon, Madison, and Grant Village, can be reserved in advance by calling Yellowstone National Park Lodges.
Three of the campgrounds operated by the National Park Service, Mammoth, Slough Creek, and Pebble Creek, can be reserved in advance at Recreation.gov.
Reservations fill quickly, often months in advance, so book your campground reservations as soon as you know your travel dates. If you're unable to get a reservation for your preferred travel dates, search the reservation system for the next available campsites and consider adjusting the dates of your trip. Also, you may get lucky finding a last-minute reservation if you check the reservation system often for cancellations.
First-Come, First-Served Camping in Yellowstone
Yellowstone National Park has several campsites available on a first-come, first-served basis. All the sites at Indian Creek, Tower Fall, Lewis Lake, and Norris campgrounds are available on a first-come, first-served basis. The Pebble Creek Campground contains both reservable and first-come, first-served sites, and all Mammoth Campground sites are first-come, first-served mid-October through April.
READ MORE: The Best Short Hikes in Yellowstone
RV Camping in Yellowstone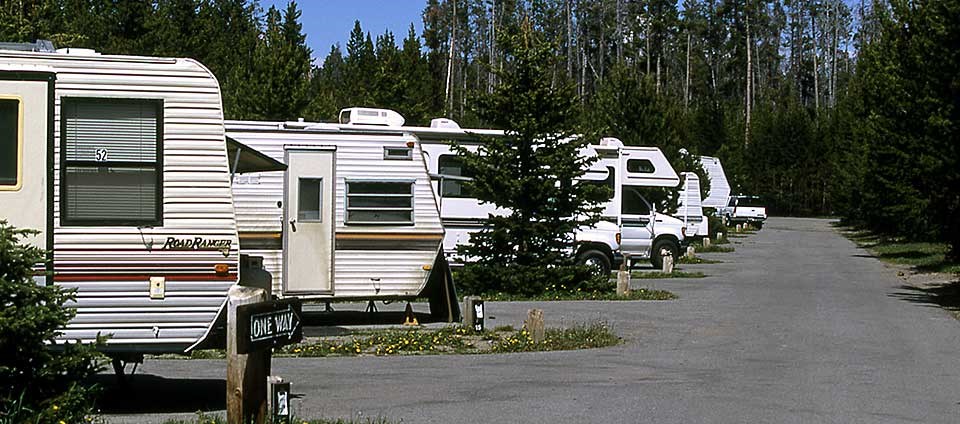 Not all campgrounds in Yellowstone National Park are particularly RV-friendly. Many campgrounds have restrictions on RV size, and hook-ups are only available at the Fisher Bridge RV Park.
With several pull-through sites, Pebble Creek Campground is the most RV-friendly campground in Yellowstone. Slough Creek and Tower Fall campgrounds can only accommodate RVs up to 30 feet in length and Lewis Lake Campground RV sites are limited to 25 feet or less.
Norris, Mammoth, and Indian Creek can accommodate larger RVs but oversized sites are limited.
The Best Campgrounds in Yellowstone National Park
Slough Creek Campground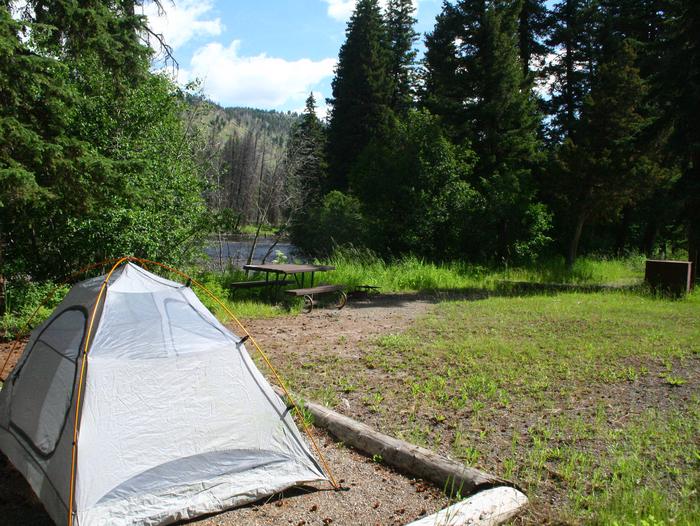 Located in the Lamar Valley, near the northeast entrance of Yellowstone National Park, Slough Creek is one of the most popular campgrounds in the park.
This peaceful and quiet campground is located at the end of a two-mile dirt road, and is most suitable for tent campers and small RVs. Some of the best wildlife viewing opportunities in the park are located nearby and it's possible to hear the wolves howling at night from the campground.
Madison Campground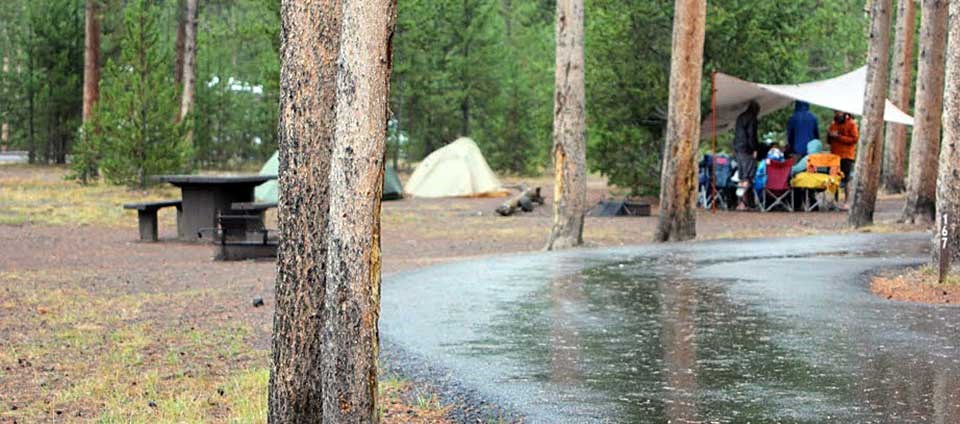 The Madison Campground is located near the West Entrance to the park, about 14 miles east of the town of West Yellowstone, Montana. It's located right near the Madison River, a world-class fly fishing destination, and it's one of the closest campgrounds to Old Faithful and the Grand Prismatic Spring.
The campground is huge with 278 spots, and the sites are shaded and well-spaced to provide some privacy.
Norris Campground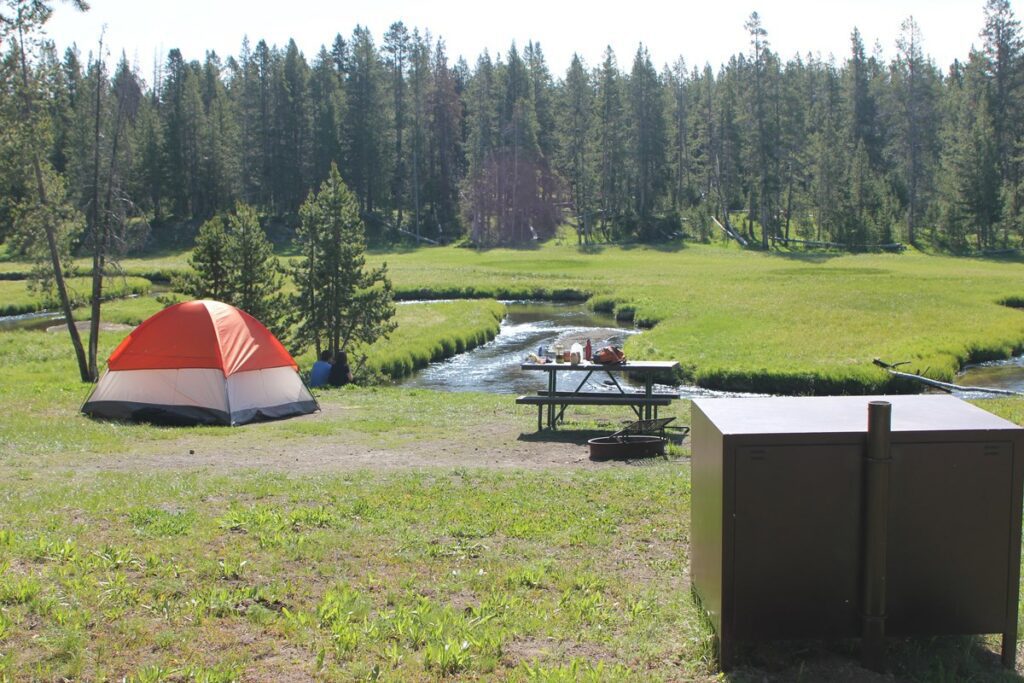 Thanks to its central location and its proximity to the most active thermal area in the park, the Norris Campground is one of the most popular campgrounds in Yellowstone. The sites are well-shaded by large lodgepole pine, and bison sightings are frequent in the nearby meadow.
The Norris Geyser Basin Museum, the Norris Geyser Basin trails, and the Museum of the National Park Ranger are all a short jaunt from the campground.
Mammoth Campground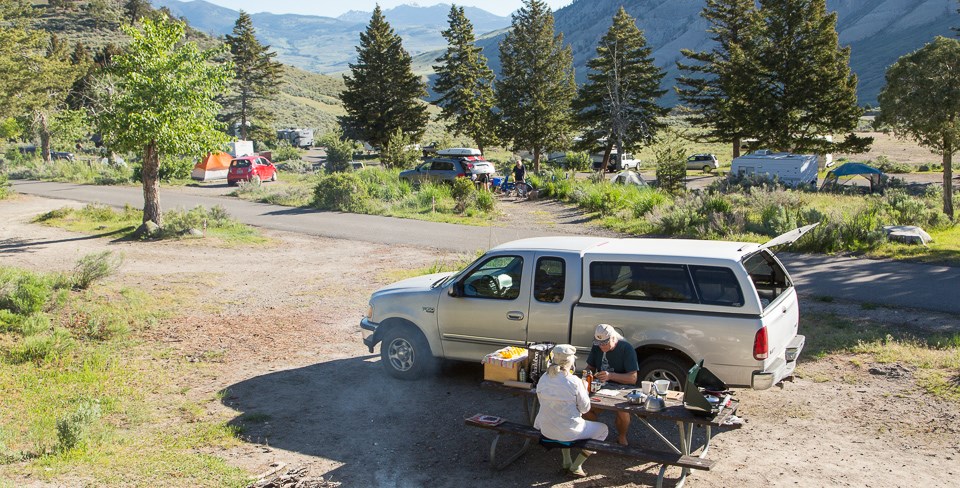 Mammoth Campground's large pull-thru spots are popular with RVers. The campground is located near the north entrance, only five miles south of Gardiner, Montana.
The Mammoth Hot Springs Terraces and the swimming area where the Boiling River and Gardner River meet are close by. This is the only campground open in Yellowstone during the winter months.
Yellowstone National Park Lodging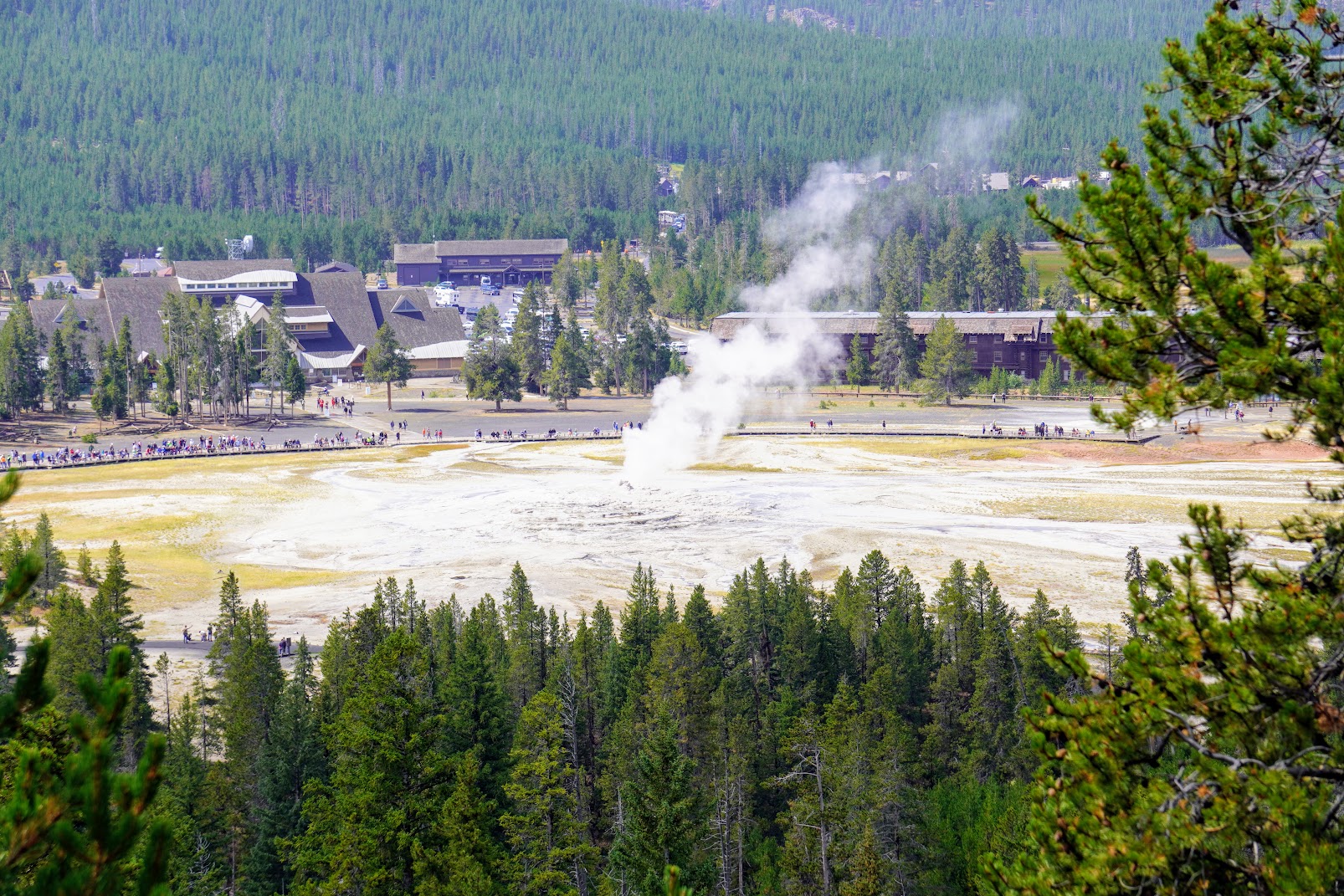 Yellowstone National Park operates nine lodges scattered throughout the park. Accommodations range from rustic cabins and historic hotel rooms to modern suites and lakeside cottages. All lodges are open from late spring through fall, but only the Old Faithful Snow Lodge and Mammoth Hot Springs Hotel are open in winter.
To encourage an authentic national park experience, televisions, radios, and wireless internet are not available in park hotel rooms or cabins. There's also no air conditioning, however, it rarely gets hot enough in Yosemite to necessitate it, and fans are provided. 
The Old Faithful Inn
Reservations at the Old Faithful Inn are the most sought-after in the park. The seasonal property runs from May to October.
Constructed out of local logs and stone in 1903 and 1904, the Old Faithful Inn is a national historic landmark and considered by many as the largest log structure in the world.
It's the perfect blend of rustic and luxurious and the massive stone fireplace in the lobby is a sight to see. Even if you're not staying there, it's worth a peek inside.
The Old Faithful Inn and Old Faithful Lodge cabins (later built in the 1920s) are located around the geyser, which erupts up to 20 times per day.
The Old Faithful Inn also has a dining room and free wifi in public spaces that can be used by both guests of the property and tourists visiting the park for the day.
Roosevelt Lodge Cabins 
Constructed in 1920 in the Tower–Roosevelt area of the park, the Roosevelt Lodge Cabins offer rustic yet comfortable accommodations with an Old West theme. Cabins are heated with wood-burning stoves and some have private bathrooms while others have shared bathrooms. A nearby corral operation offers horseback rides, stagecoach rides, and an Old West cookout dinner.
Canyon Lodge and Cabins
Canyon Lodge and Cabins offers some of the best centrally located lodging options in Yellowstone. This relatively new lodge in Canyon Village is located near the Grand Canyon of the Yellowstone and offers standard hotel rooms including large suites for families, as well as some older cabins. Norris Basin, the Tower-Roosevelt Area, Yellowstone Lake, and the Lamar Valley are all easily accessed from here.
Final Thoughts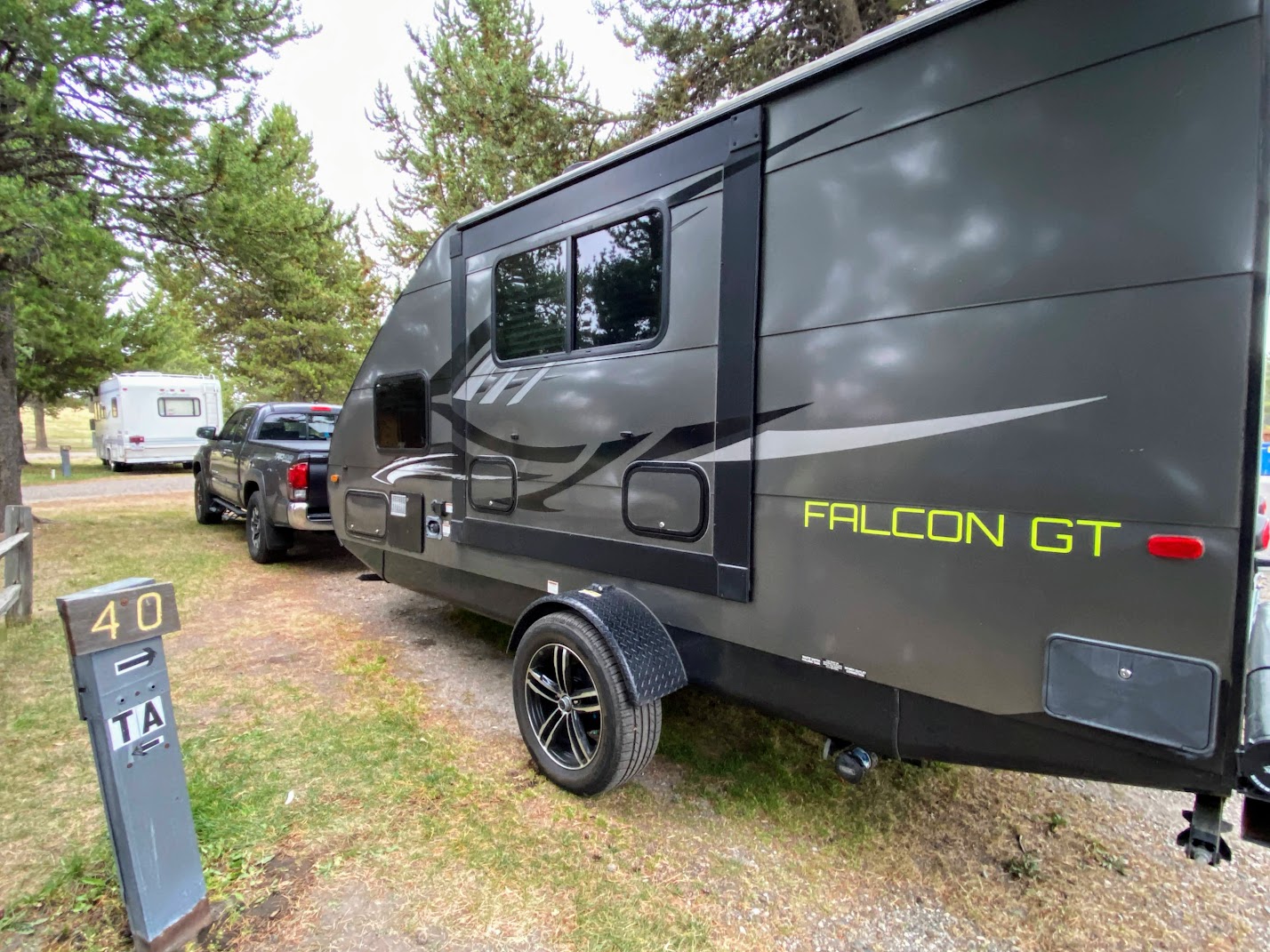 There are many other choices when it comes to lodging in Yellowstone. The official guide to Yellowstone National Park provides information about the attractions and accommodations within the park. There are nine hotels in the park and many more in the surrounding area. For the most convenient and affordable options, you should choose the best one based on your preferences and budget.
There are also multiple campgrounds outside the park around Yellowstone, Montana, or Cody, Wyoming (Where the Buffalo Bill Center of the West is located).
Whether you're planning a family vacation or a romantic getaway, there's a place for you at Yellowstone National Park.
With the park being a couple-hour drive to Grand Teton National Park and Jackson Hole, Wyoming (near the south entrance of Yellowstone), it's even possible to visit more than one park on your Yellowstone itinerary.
READ NEXT: How To Make The Most Of Yellowstone National Park
Pin it!