When driving to the Florida Keys, the first key after the 18 mile stretch from Florida City is Key Largo. For many of us who don't know the Florida Keys, the name itself brings about an image of an escape, "Sailing away to Key Largo." Yet many of us often continue the journey and drive 100 more miles to Key West. But as the song reminds us, there is no need to drive all the way through the keys when Key Largo remains a perfect place to spend a weekend escape or Florida vacation.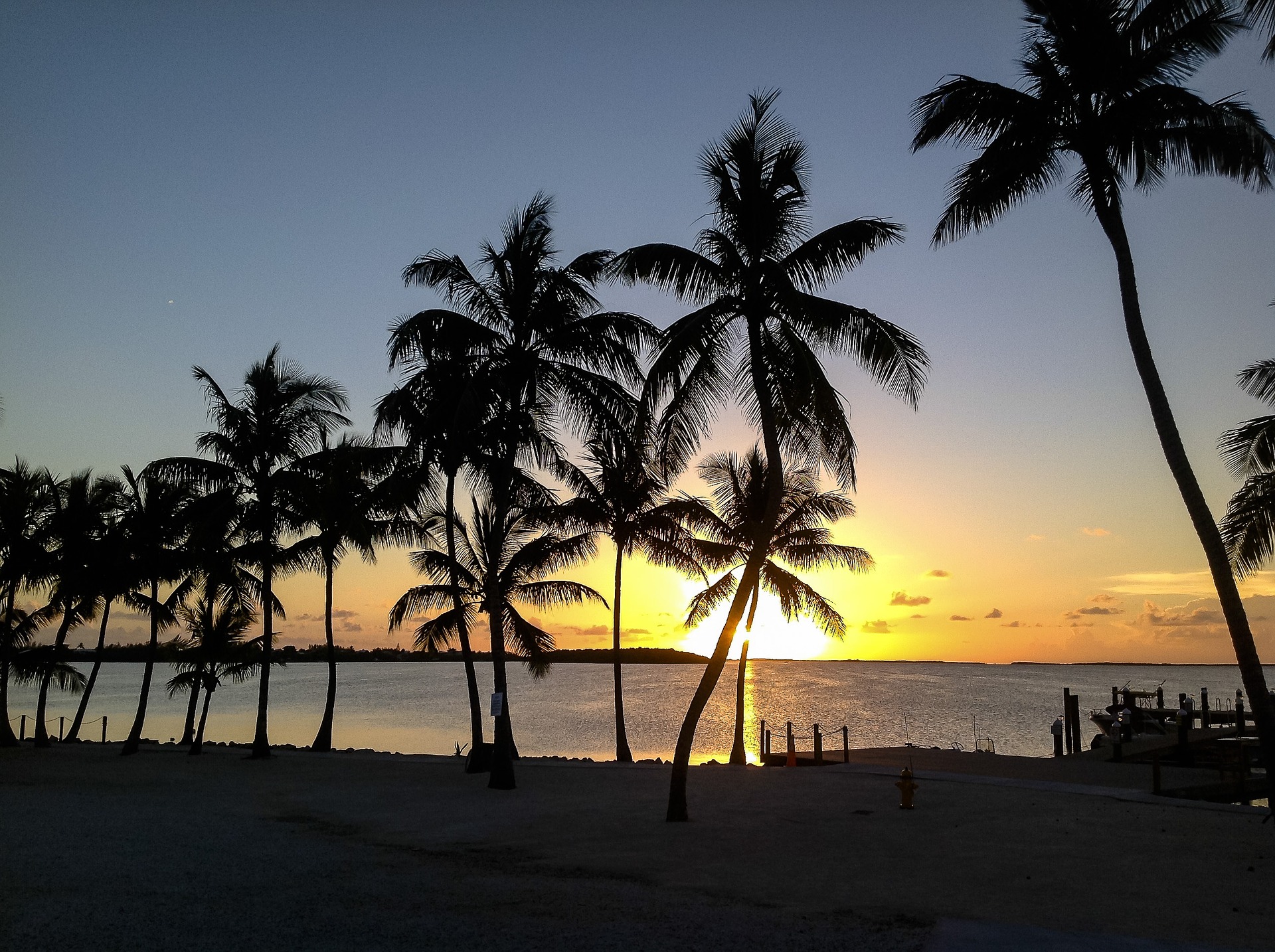 Key Largo offers activities for all types of travelers too — here are seven things in Key Largo for you to put on your to-do travel list. 
1. Kayak in the Mangroves of Florida Bay
A trip to Key Largo starts with exploring the Florida Bay. This unique ecosystem benefits from the brackish water (saltwater from the Gulf of Mexico and fresh water run-off from the Everglades) that establishes a pristine place to paddle. It's normally filled with marine mammals, tropical birds, and fish. Plus, the opportunity to kayak among the winding waterways of the mangroves makes for a memorable day.
For those unexperienced or visiting from far, kayak tours and rentals can be found up at Gilbert's Resort at the last exit before crossing the final bridge to Key Largo, or at the Florida Bay Outfitters at mm104.5.
2. Get Yourself a Cuban Coffee
On any visit to Key Largo, one must taste the famous Cuban Coffee. Cuban cuisine and culture remains one the biggest influences on south Florida (especially the Keys) and its coffee can be found throughout Key Largo. Known for its strength and its sweetness (it's not recommended to order one without sugar), it can serve as the perfect pick-me-up to jump-start the new day after a night out on the island.  
One of the best places to order your Cuban coffee, ironically just down the street from Starbucks, is at Denny's Latin Café. And no, it is not the popular chain Denny's which also exists in Key Largo with a full bar. This Latin Café offers a full menu of authentic Cuban cuisine, so if you want more than a coffee break consider stopping in for dinner. 
3. All Aboard the African Queen
Another way to traverse the waterways is hopping aboard the famous steamboat, the African Queen.  Located in Key Largo, visitors can book passage on the iconic ship used in the multi Oscar-nominated film. Head out through the Key Largo canals on a voyage aboard the very vessel Humphrey Bogart and Katharine Hepburn sailed in Africa. 
The 1.5 hour voyage, filled with movie trivia and fun facts about the film, departs Marina del Rey at mm99 and traverses the Port Largo canals until it reaches the Atlantic Ocean before returning.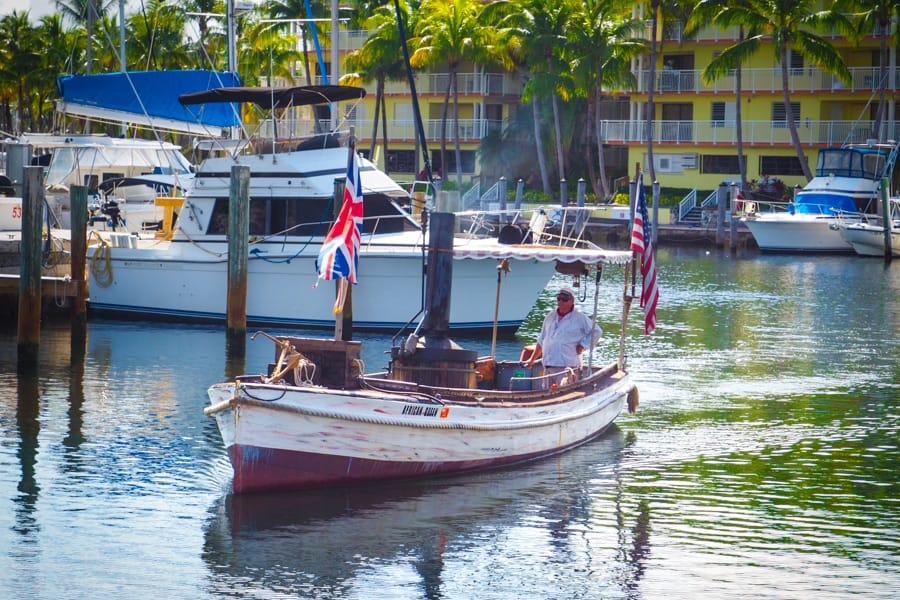 4. Watch a Sunset with Humphrey Bogart
Not enough Humphrey Bogart? Well then order up your favorite cocktail, snap a selfie next to a life-size statue of the Oscar winning Hollywood actor, and prepare to watch one of the best stars of the Florida Keys steal the show.
During every evening golden hour, one of the best places to take in the sunset with the locals is at the Caribbean Club. Famous for its nightly live music and "old keys" reputation, this location was the set of the classic film Key Largo, and remains one of the best places to watch a sunset in Key Largo — if not all of the Florida Keys.
READ MORE: Camping Dinner Menu: Florida Keys Favorites
5. Scuba the Wrecks and Reefs
One of the most popular activities in Key Largo remains SCUBA diving. Dive shops line US-1 in Key Largo with good reason, considering all the reefs and wrecks available to explore.  Both experienced divers and new adventurers come to these warm winter waters to visit world-class dive spots.  
On a trip, divers have the chance to see not just colorful coral and wildlife such as rays, sea turtles, sharks, and tropical fish, but also dive into history at places like Carysfort Reef named for the HMS Carysfort (1766), a 20-gun Royal Navy post ship that ran aground on the reef in 1770. Visitors can also dive at a more popular spot, Elbow Reef, to visit four historic wrecks and view many artifacts including train wheels, anchors, and cannons along with the underwater fish populations. 
6. Visit John Pennekamp State Park to Touch Jesus
A trip to John Pennekamp State Park offers visitors the chance to explore sub-tropical hammock hikes and meander along the mangrove-twisting waterways where one can also swim, kayak, or canoe. The park is also part of the local marine sanctuary and extends miles into the Atlantic Ocean.
It's common for SCUBA divers to depart from here, but for most tourists this is the best place to snorkel. It's from here when the winds, tides, and currents are in your favor that you can venture out to Dry Rocks. Upon exiting the boat, swimmers can snorkel among many species of tropical fish and multiple varieties of coral such as fan coral, brain coral, and staghorn coral. But the highlight of Dry Rocks remains free diving down just a few feet to touch Christ of the Abyss — an iconic statue of Jesus placed at the reef in the 1950s. 
Plus, for those looking to find a place to call home when in Key Largo, the state park offers camping sites for both RV and tent campers.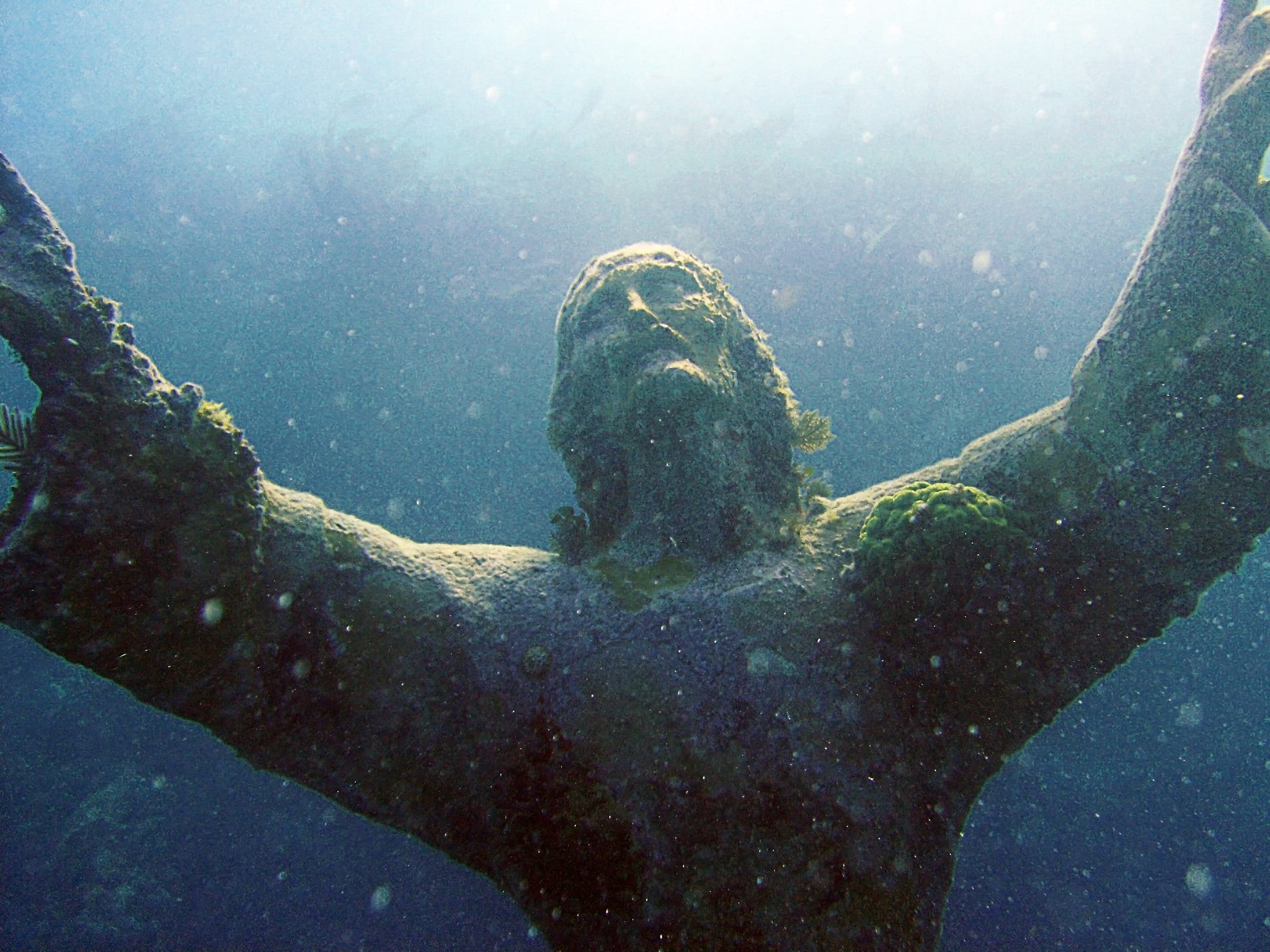 7. Order Fresh Fish from the Market
Visitors coming for an escape from the mainland life and staying in a place with a kitchen will be able to sample some of the fresh local seafood from the local seafood markets. Both the Key Largo Fisheries and the Fish House offer fresh fish for sale.
Plus, both locations also have popular eat-in restaurants too. So whether you plan to stop in and order by the pound or order a meal of yellowtail snapper matecumbe-style, you are guaranteed to enjoy fresh, local seafood in Key Largo. 
So there you have it, you don't need to venture all the way to Key West for a classic Florida Keys vacation. A trip to Key Largo can make for a perfect escape, especially with these seven activities to add to your travel itinerary.
When are you planning to sail away to Key Largo?
READ MORE: Your Ultimate Guide to Dry Tortugas National Park
Pin it for later!