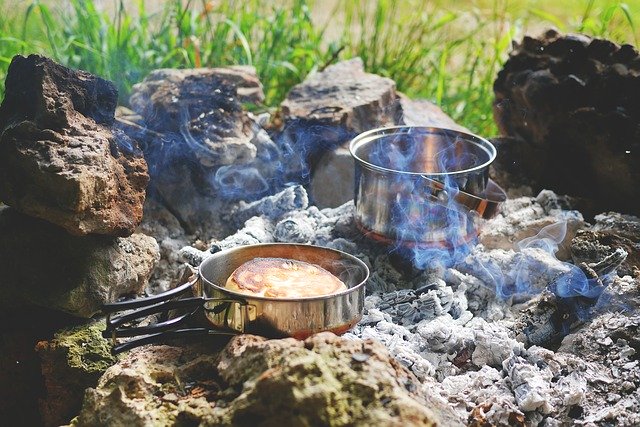 Cooking while camping may seem complicated, but it's really not. Let's face it, everything tastes better when you're outdoors. Coffee, no matter how you brew it, a can of tuna served on top of mac and cheese and even boxed wine is exponentially more delicious around the campfire.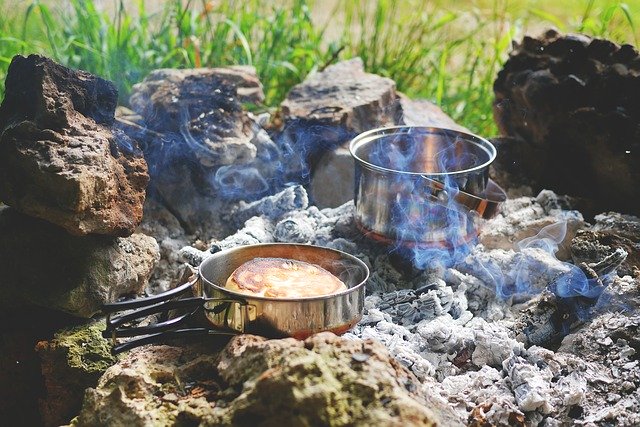 Sharing dinner around the campfire is truly one of the most enjoyable parts of camping. However, just because you're camping doesn't mean you have to live on packaged foods alone or eat hot dogs for every dinner. Although, hot dogs are amazing when grilled over an open fire. 
Easy Ways to Conquer Cooking While Camping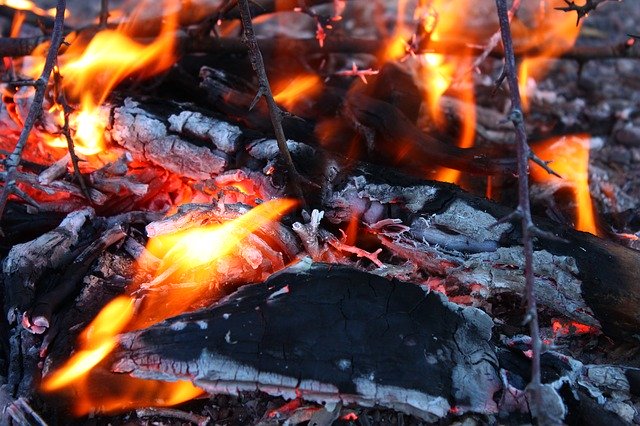 You can cook almost anything at camp as you can at home, it just takes some planning, patience, and the right tools. Use the tips below to make cooking while camping a little less daunting and way more delicious. 
Keep it Simple, at First 
Cooking is one of the greatest joys at camp, but it can be overwhelming at first. If you're new to camping and already put off by the amount of camping gear you need to acquire, you can get away with using old cooking pots you have around the house before you invest in a camping specific cookware kit. Cast iron is the best for camping if you have it. 
Beyond just roasting hot dogs, campfires are a little tricky when it comes to cooking. Campfires need a while to build up enough coals to cook on, so you'll want to consider having a backup plan if you don't want to go hungry.
Propane camp stoves are inexpensive and easy to cook with and are a great tool for getting comfortable cooking at camp. You can boil water, scramble eggs, saute veggies, make pancakes – really anything you can do with your stovetop at home. 
Plan All Meals Ahead of Time 
One of the best things you can do to make your camping trip easy and less stressful is to plan all your meals ahead of time. New campers often don't put enough thought into what they're going to eat and pack ingredients at random. Plan to do all your grocery shopping ahead of time. Groceries are typically more expensive and items are harder to find at camp stores or rural grocery stores. 
To keep things simple, plan on only cooking one meal a day. Breakfast and lunches are easy to make without cooking and then plan to go big with dinner. Camping dinners like pasta, burgers, kabobs, sloppy joes and tacos are easy options for first-time campers.  
Prep Everything You Can in Advance
If you plan your meals ahead of time, you can do much of the food prep at home. You can premake breakfast burritos, pre-chop veggies and pack in foil packets to throw on the grill, prepare kabob skewers, or make chili to simply reheat at camp.  
Stay Away From Dehydrated Meals & Instant Coffee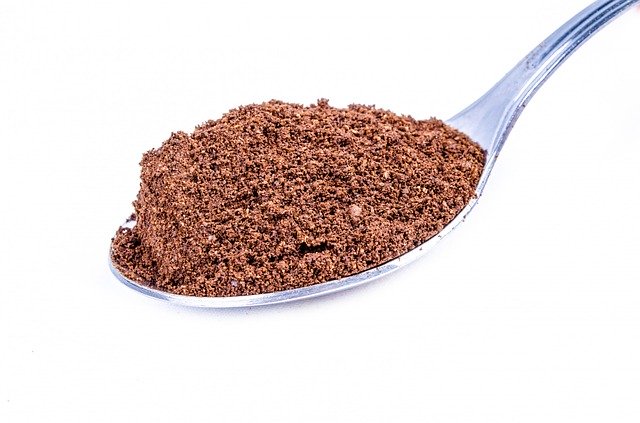 One of the biggest mistakes new campers make is relying on dehydrated and freeze-dried meals. Pre-packaged backpacking meals may be convenient and lightweight, but they are expensive and packed with preservatives. They're also not as tasty as real foods.
If you really get into camping and backpacking, you can learn how to make your own dehydrated foods with a food dehydrator.  
As for coffee, there are many ways to make coffee at camp besides the instant variety. If you have a large group, a French press or percolator is the way to go.
You can also make coffee with a single-serve pour-over system, Aeropress or Moka Pot. You can even go old-fashioned with Cowboy Coffee – simply throw grounds into warm water on the stove, let it rolling boil for a few minutes, and add a little cold water to help settle the grounds to the bottom of the pot. 
Get Comfortable Using Cast Iron
Cast iron is a must for camp cooking. It's inexpensive, super sturdy, cooks evenly and it can be used over an open flame or campfire. Cast iron is really heavy though and you would never want to take it backpacking.
There's also a bit of a learning curve on building up a good seasoning base to get the pan to non-stick, but once you've got that dialed in the cookware is relatively low-maintenance.  
Aluminum Foil Will Be Your Best Cooking While Camping Tool
Aluminum foil will become an essential part of your camp kitchen kit. Foil packets are popular and easy camp meals.
Just create small packs of veggies, herbs and spices sealed in foil, and toss on the grill or campfire. Foil is also great for roasting potatoes, reheating breakfast burritos or pancakes, as well as, cooking fresh fish on the campfire.  
Get Yourself a Dutch Oven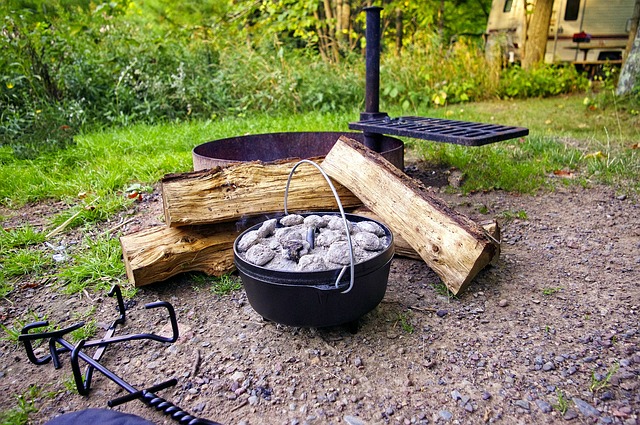 Some people prefer simple meals or prepared foods while camping, while others enjoy going gourmet. If you want to take your camp cooking up a notch, a cast-iron Dutch oven is key.
A Dutch oven is a rugged cookpot with a lid built to withstand cooking directly over a fire. You can make anything in them, including lasagna, enchiladas, pizza to desserts like cobblers, cakes and cinnamon rolls.  
How to Keep the Camp Kitchen Clean
The Leave No Trace ethics recommend never doing dishes near water sources. The proper way to do camp dishes involves scraping all food scraps into your trash bag. Then using minimal amounts of biodegradable soap to clean dishes. Finally, strain out your food scraps and dispose of dirty water in a cathole at least 200 feet away from camp.
Packing out food scraps and disposing water away from camp avoids attracting animals.
Pin it!