There's no doubt that camping is a fun and exciting way to vacation and get closer to nature. It's also no secret that it can quickly become a stressful experience if you come unprepared.
Whether it is a simple family camping trip, a one night camp out with friends, or a multi-day hiking adventure, here are five first time camping tips to take with you on your first outing.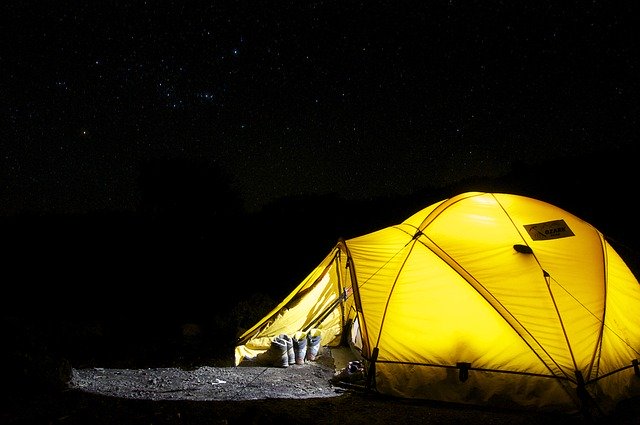 These five essential tips will help make the experience a little smoother, especially if you are a first-time camper.
1. Invest in Your Gear
One of the most important tips is to invest in your gear. There's quite a thin line between an awesome camping trip and an awful experience that will want to make you never want to camp again. Quality gear is key and this applies to all your gear, especially when it comes to camping in a tent. 
The tent becomes your primary home when you are out camping and the last thing you want is an unreliable shelter, and quality makes a tremendous difference.
When buying a tent, the one thing to remember is to make sure you always go up one person for the in-tent capacity.
If there are two people sleeping in the tent, then get a 3-person tent at the minimum. The tent can get crowded once you start storing your things inside and can get a little cramped quickly, so make sure it is spacious and comfortable.
2. Test Out Your Gear Ahead of Your Trip
If there's one common mistake new campers make its not testing their gear ahead of their trips. Getting familiar with how to set up your tent, camp stove and any other equipment is critical to avoid a bad experience. Trying to figure out and struggling to set up your brand new tent for the first time at the end of a long day of hiking is not a fun experience.
It's important to make sure everything is functioning properly and you know exactly how everything works. Not only will it help you feel confident and prepared, but it will also save you plenty of time for other activities.
3. Research Your Next Camping Destination
Whether you are camping in the wild or at a campground, there are many things you need to consider, so researching your next destination is the key to being well prepared. These are the key factors you want to make sure you're well prepared for:
Dangers involved – Whether you're hiking on a trail or a camping ground, you want to make sure you're fully aware of any possible dangers you could be facing. This could anything from a strong wildlife presence, landslides, flash floods, quick-changing weather patterns, and more.
The Size & Popularity – You want to make sure that the campsite has enough room for you. One option is to check the size and its popularity to determine if you need to arrive early or even reserve a spot ahead of time, if possible.
Activities Available – When staying on a camping ground you want to make sure you're having fun. Try to research ahead of time to see if the location has connecting trails for hiking, a nearby lake for paddle boarding or any other fun activity you might want to do. You want to make sure you're making the most of your trip.
Accessibility – This is important for those considering doing any backcountry hiking or multi-day hiking trails. You definitely want to research ahead of time what type of camping locations may be available out on the trail.
Weather – Familiarizing yourself with regional weather patterns ahead of time is key to packing properly and making sure you're well prepared for any sudden changes. Once you start your trip it's also very important to make sure to check the weather prior to heading out on any long hikes or activities.
4. Plan your Meals & Food Carefully
Most first time campers always seem to underestimate the importance of food planning. Especially, since a good majority of people don't take into consideration how much energy they'll actually be wasting during the day.
It's important to remember that the more energy you spend, they more food and water you'll need to consume to recover energy for your adventure the next day. If you're traveling with your family, then you'll definitely need to plan even more carefully.
GUIDE: Mastering Cooking While Camping
In order to make sure your food starts fresh longer, make sure you shop right before heading out for your trip. It's also important to make sure you purchase nonperishable food items, for example, granola bars, nuts and dried fruits and individual packets or tablets of electrolytes to add to your water.
Running out of food and drinks can put an early end to your camping trip or even put you in danger if you get caught too far out in the trails or mountains and run out.
5. Don't Forget the Overall Essentials
Whether you're camping for two nights, a week or even hiking the Appalachian Trail. Unless you have the essentials, you will never be truly prepared for any kind of camping trip.
READ MORE: 10 Camping Safety Tips

Here is the ultimate list of camping essential items you want to make sure you have. Even though you might not always use them on every trip or hike, they're key items that can help keep you safe and prepared should you unexpectedly need them.
Navigation tools
Extra water and snacks
Sun and rain protection
First aid kit
Knife and multitool
Safety items (whistle, flashlight, etc.)
Firestarter
Tent, sleeping bag and sleeping pad
Food preparing equipment
Extra Dry-Fit clothes