When you do the final walkthrough of your camper you'll quickly realize there are some must-have camper accessories.
Before you start buying these supplies from the RV dealership, consider browsing Amazon first. You'll quickly learn that prices at some dealership can be significantly marked up, sometimes by 50 percent. 
So before you hitch up your camper and head out to your favorite national park or campground. Here is a list of some of the supplies you'll need to pick up if you expect to have running water, electricity and a level ground once you arrive at your assigned lot. 
Camper Accessories You Must Have Before Hitting The Road 
1. 30/50 Amp Power Cord 
One of your first purchases should be a power cord so you can plug your unit in when you get to the campsite. For most campgrounds, a 25-foot cord is sufficient, but it won't hurt to do your due diligence and contact the campsite to see what to expect in a worst-case scenario. 
Most campground power outlets have either 30 or 50 amp outlets or a combination of both. If you get assigned a lot that only has a 50 amp power outlet and your unit is 30 amp, you will need a dogbone electrical converter.
The dogbone electrical converter, which gets its name because it looks like bone, plugs into the electric box and coverts the power to fit your camper's specifications. If you have a 30 amp unit you will need to get a 50 amp male to a 30 amp female adapter. 
2. Impact Wrench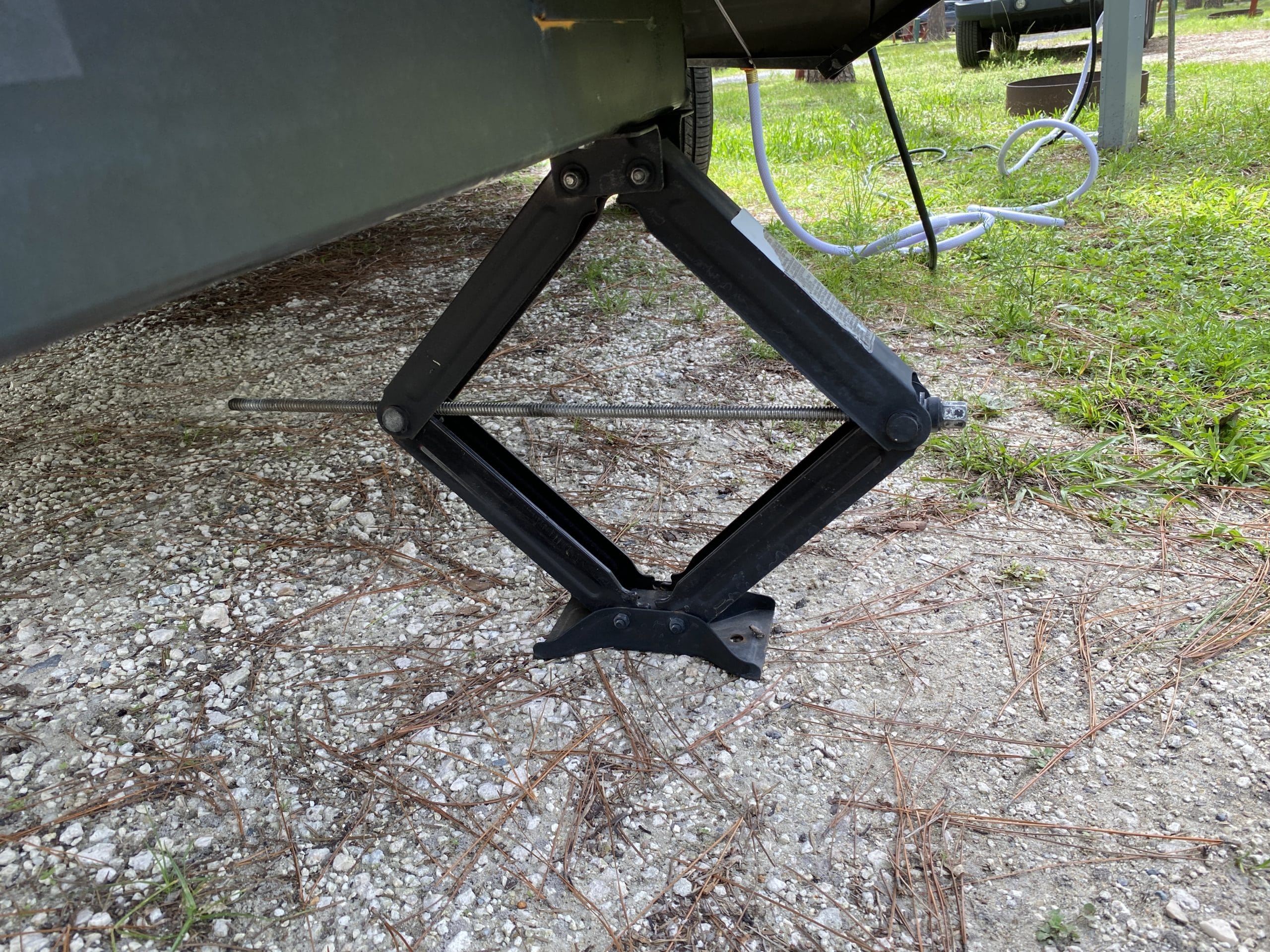 Most campers will have four stabilizers that are located on the underbody of the unit. These stabilizers keep the weight evenly distributed in the unit and prevent the camper from lifting off the ground if too much weight is on one side of the unit. 
The impact wrench will make your life a lot easier and help you extend and retract the stabilizers so you're not winding them by hand. It will also come in handy if you ever get a flat tire. 
3. Grease Gun
Just like the oil in your car's engine, grease also breaks down over time on your camper, so it is normally recommended to repack your wheels with grease every 10,000 miles. Just make sure to double-check your owner's manual for exact mileage and any additional information. There are also a number of variables, including whether you're towing the maximum weight or driving in extreme conditions.
4. Surge Protector
Even if someone tells you that you don't need one — buy one anyway. Look at it this way, if you wouldn't think twice about purchasing a $100 surge protector for your $400 television, why wouldn't you purchase one for your camper or RV that costs thousands of dollars more? 
The reality is, you never know what kind of electrical current you'll tap into when pulling up to a campground. The power poles on the property sit out in the weather and have merely a cover protecting them from the outside elements. Not to mention, the fact that a lot of the units are on the same power grid. 
Depending on your unit, you can purchase a 30 or 50 amp surge protector starting at $50 and going all the way up into the $200 range. This is definitely not something you'll want to skimp on.
READ MORE: 5 Ways to Avoid Bear Conflicts While Camping
5. Water Hose 
Believe it or not, a water house will be responsible for providing fresh water from the source at the campsite to your unit, so a 25' or 50' water hose is definitely a must. 
Depending on how frustrated you get while trying to coil a hose, it may be beneficial for you to get two 25 foot long hoses instead of one 50 foot hose. This way it's less to wrap up at the end of your trip. Plus, most water outlets are within a few feet of the utility side of the camper. 
6. Water Tank Filler 
This will come in handy when you're filling your freshwater tank ahead of a long road trip, especially if you plan on stopping at a rest area or a Cracker Barrel for a few hours to rest and want to take a shower to freshen up.  
This device can be compared to a handle you find at the gas station. Instead of having to stick your house down in your tank, you will stick the plastic tube inside to fill your reservoir. 
7. Water Filter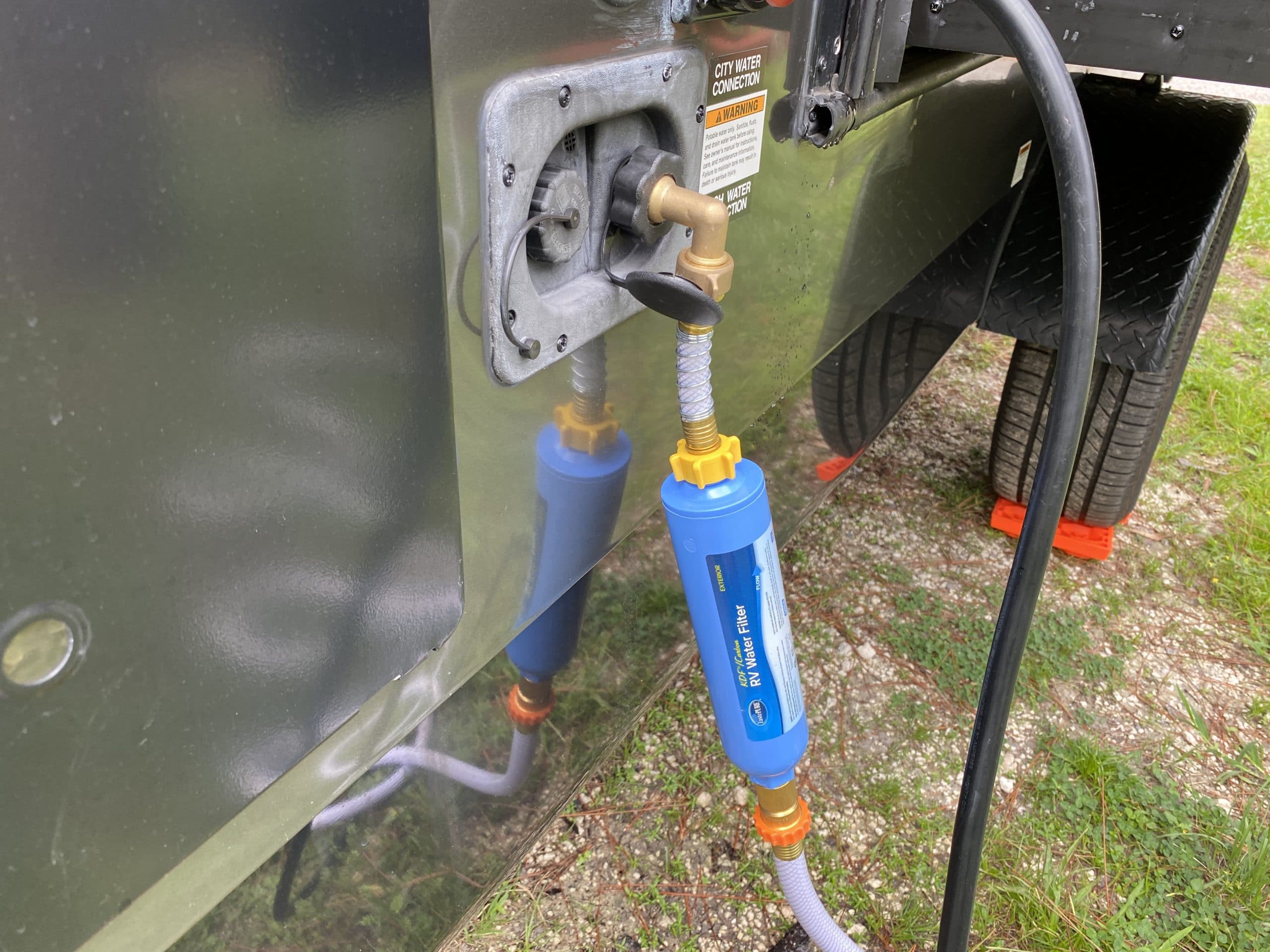 Some campgrounds only offer well water, which comes straight from the ground, while other locations could be piped into a city line. Since you're never really sure of the type of water you'll be getting or when you'll be able to fill up your fresh water tank again. Purchasing a filter will help keep your water tank clear of debris and different items that could come through the water lines. 
The water filter simply hooks up to the campsite's fresh water supply line and then to your hose. 
8. Water Regulator 
One of the most recommended items to purchase is a water regulator. With campsites being spread out across acres of land, many times with different elevations of terrain, they require pumps in order to distribute the water to the various water units. Meaning, there's no real way of knowing what the water pressure will be like coming out of the water unit.
This is where the water regulator, which hooks up outside your camper on the freshwater line, can save you from a major headache. Especially, because too much water pressure can blow out the pipes inside your unit. With some campgrounds tested at 100 PSI, and most campers and RVs are rated for 60 PSI max, this can lead to a disaster if you don't have a water regulator.
There are various options of regulators you can purchase, each with its own benefit. Some people recommending a standard 50 PSI regulator, and other an adjustable regulator that allow you to adjust the PSI with a flathead screwdriver. In this case, it's really a matter of preference, as either option works just fine.   
9. 90 Degree Hose Elbow
In order to alleviate any strain on your camper's hose fittings it's highly recommended to purchase a 90 degree hose elbow. This will plug right into your camper or RV's freshwater supply outlet and will not only help with wear and tear on the hose fitting, but also help extend the life of your hose.
10. Sewer Hose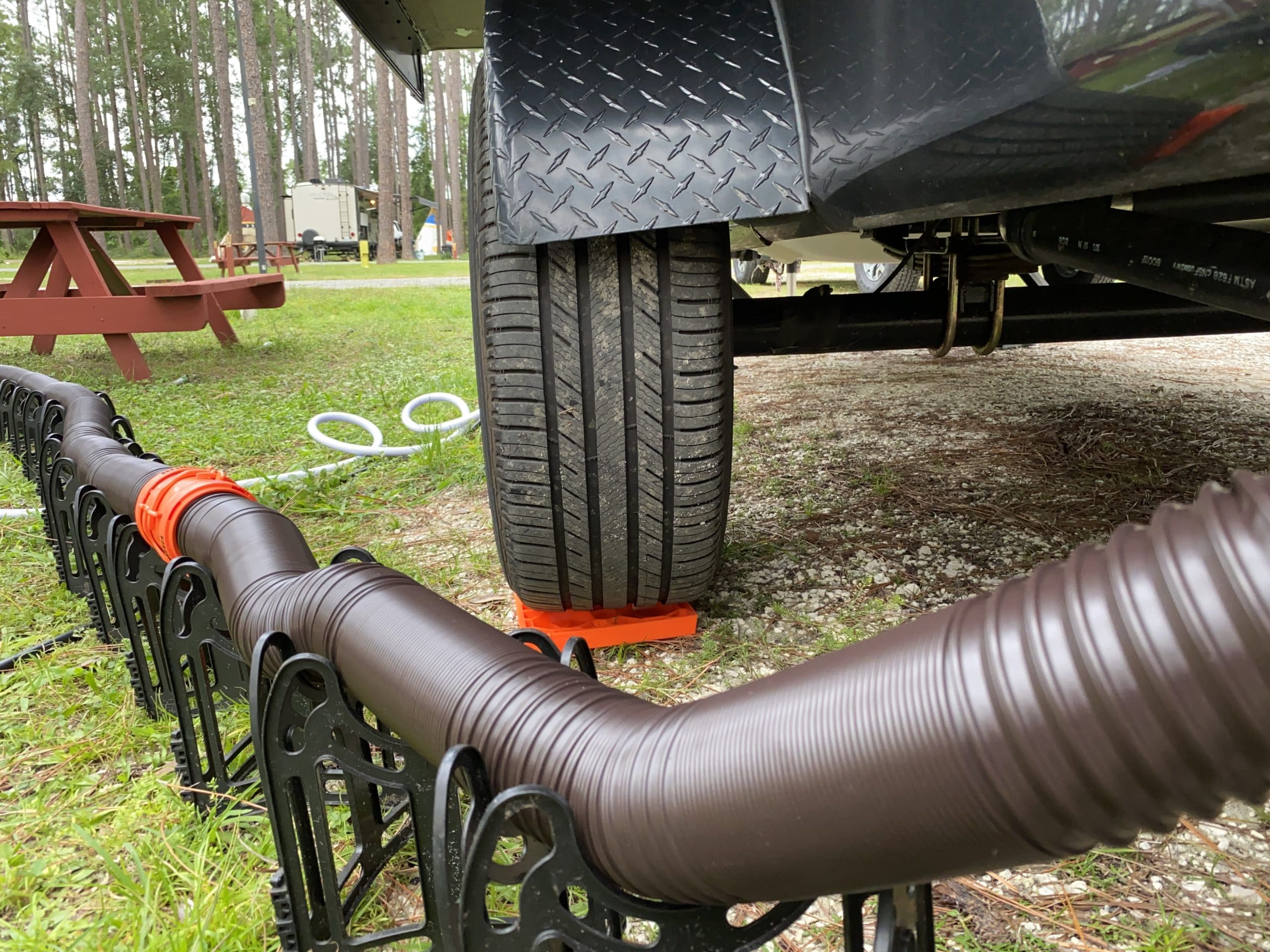 No one ever wants to talk about the crappy part of the camping experience. Yes, we're talking about going number two. As much as no one wants to deal with it, it's something natural and if it isn't disposed of properly you'll find yourself….well, in deep crap. 
That's where the sewer hose comes in handy. With a variety of name brands to choose from, the preferred brand amongst most RV and camper owners is Rhinoflex.
READ MORE: 7 Tips for Dumping RV Waste
There are also few other camper accessories that you may want to consider purchasing that will help make the process a little less dreadful to deal with.
This includes items like a clear sleeve so you can see how clean the water is after flushing the black tank out, a sewer hose guard that lifts the hose off the ground (this is required at some parks, so make sure to ask before you go), RV or marine grade toilet paper, and finally a black tank additive to prevent the portable toilet smell. 
11. Leveler Blocks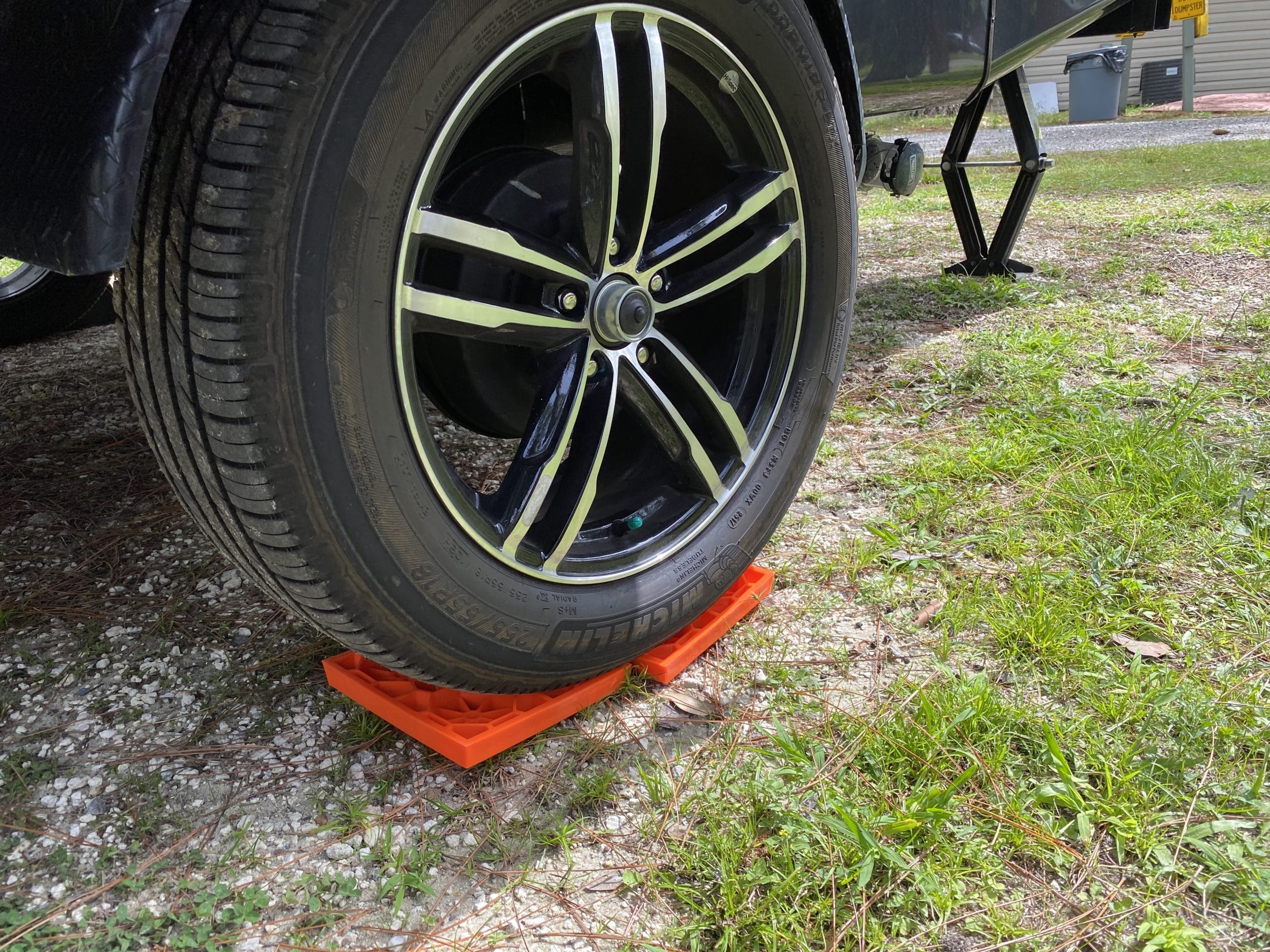 Not all campsites are on level ground, this is especially true if you're at a State or National Park in the mountains. This is important not just for reasons of comfort, but also technical. Especially, since items like your fridge need to be level within two degrees for the coolant flow through the lines without issues. 
There are many different kinds of leveling blocks available to purchase, including stackable blocks that resemble legos or a leveling ramp that you can drive up onto and use wheel chocks once the unit is leveled. When purchasing, keep in mind you'll need one for each wheel. 
Levelers shouldn't be confused with stabilizers since stabilizers are only meant to support the unit and not to level it.

Leveler blocks or ramps must-have camping accessories. 
12. Toolbox 
Every road warrior should have a toolbox filled with essential tools and items in case something goes wrong while you're on the road. Some of the key items include replacement fuses for the electrical panel, a socket set and screwdrivers for fittings around your unit. Just in case you need to access any buttons or areas that are behind closed panels. Like for example, the override button for the slider in some camper models.
Taking delivery of your first camper can be very exciting. The world is basically your oyster. No more having to spend the night in cheap hotels off the interstate, worrying if you're going to have hot water or clean sheets. Like the boy scouts, always be prepared.
READ NEXT: 5 Must-Have Accessories For The Camping Family
Pin it!