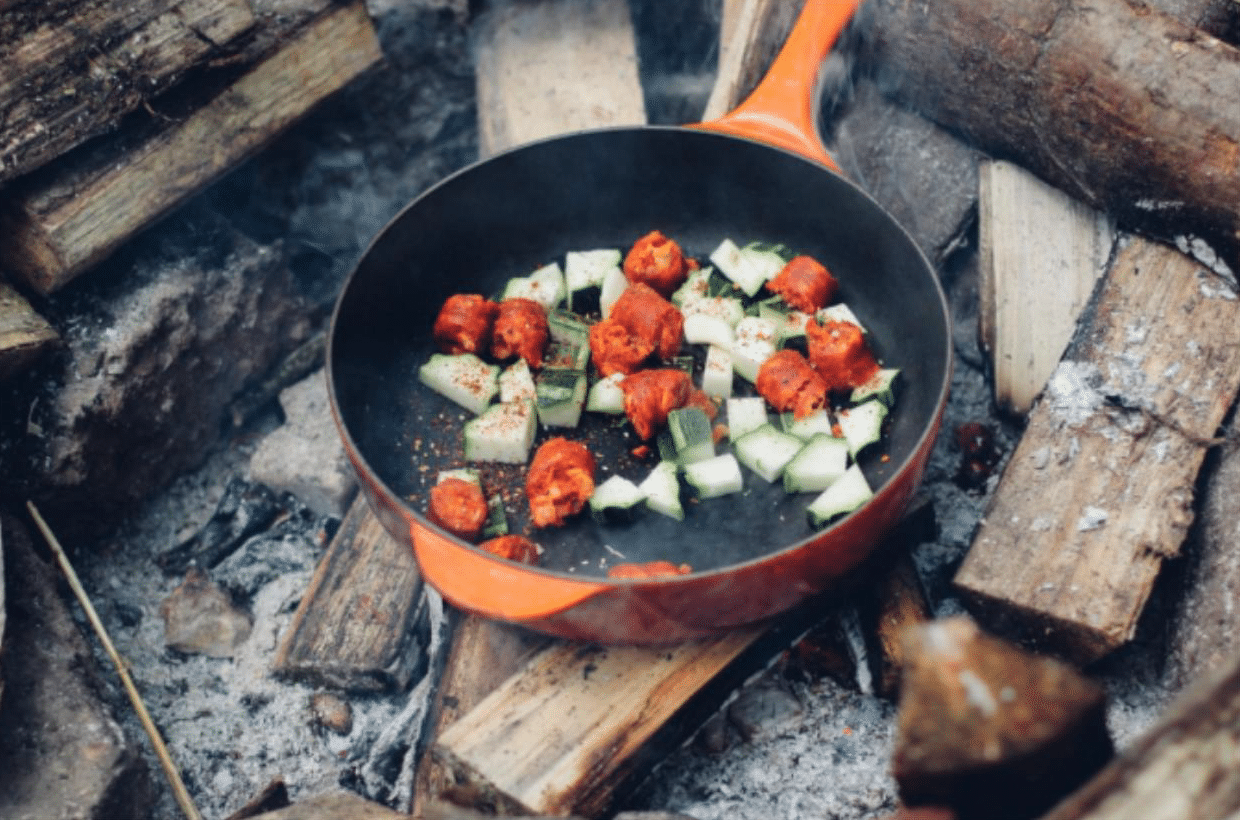 If you're still limiting your campsite cooking to hot dogs, hamburgers, and chips, it's time to broaden your horizons. With the right camping cookware, I've made fall-off-the-bone ribs, beef stew, and trout fish tacos this year — just to name a few.
With the right cookware, utensils, and know-how, you can cook just about anything you can imagine in the great outdoors. Below, we'll cover some camping cookware essentials and extra "specialty" items you might want to consider, and we'll also cover some options for minimalist cookware setups better suited to backpackers.
Cookware Options For Car And Group Camping
Before you run out and buy any particular camping cookware kit, I'd encourage you to think of the kind of cooking you'll be doing and the size of the group you'll be cooking for.
There are some seriously deluxe sets with everything but the kitchen sink. If I'm not mistaken, a few even include that.
Look at each of the main components of a good camping cookware kit below, and think of which you would and wouldn't use. If you find a single kit with everything you need, go for it. If you prefer to start with a minimalist kit and build out from there, that works, too.
Cooking Pots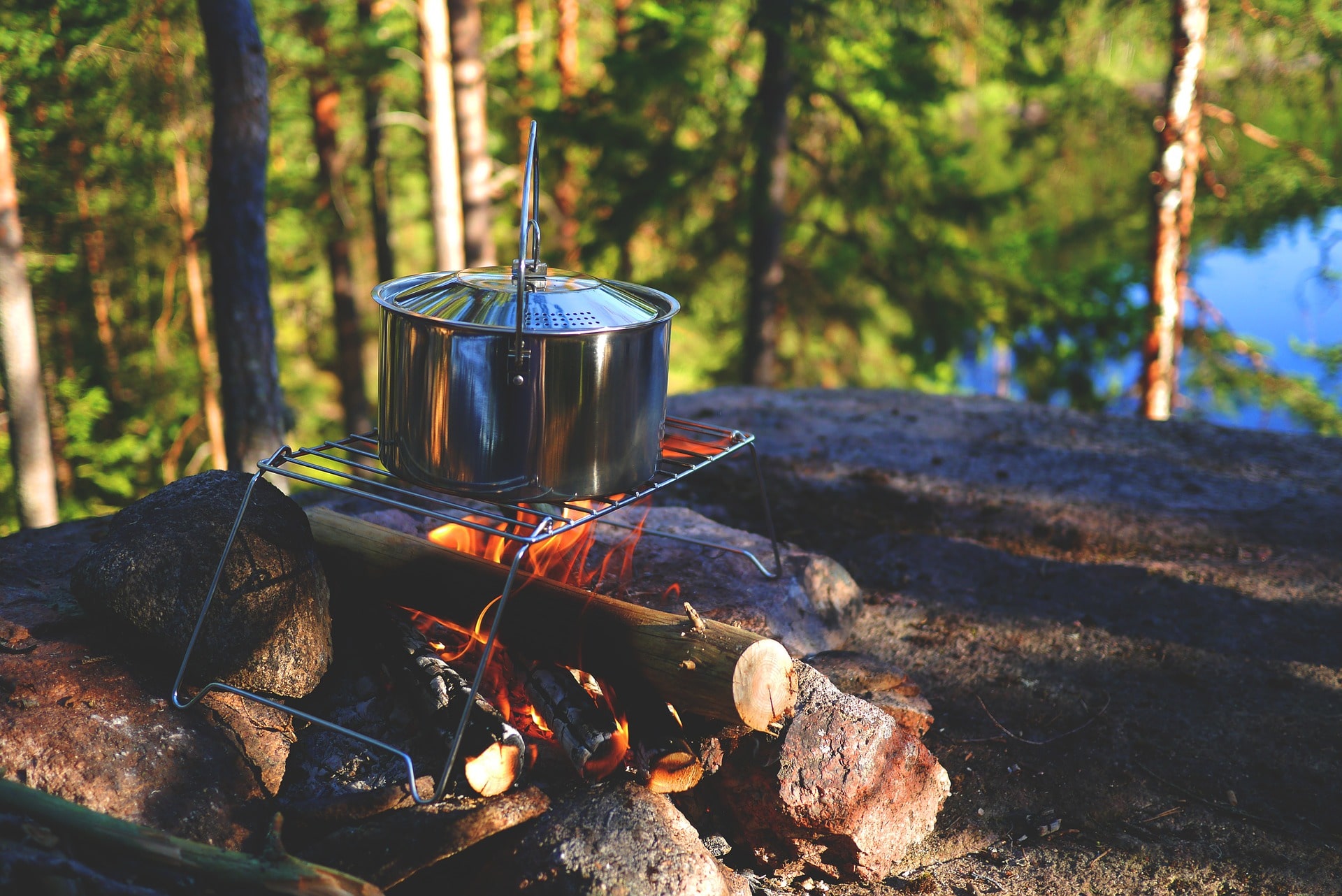 The humble cook pot is essential if you don't include anything else in your camping cookware.
Need to boil water for pasta, soup, coffee, or hot chocolate? Your cook pot does all of that.
Looking for a place to simmer a group meal? Bring along a nice big one, and you're all set.
In a pinch, you can even use a cooking pot as a frying pan, but you'll want to be mindful of the materials and non-stick coatings on your cook pot, as some do better with high heat than others.
Pans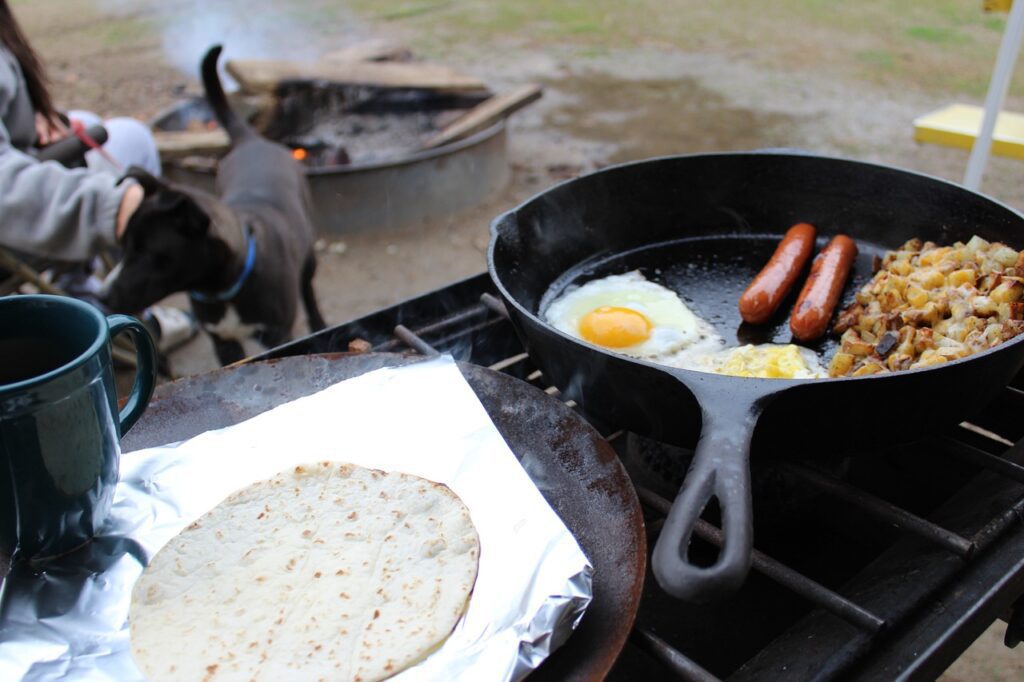 Many modern camping cookware sets come with nesting pots and pans, pans double as pot lids, or good old-fashioned standalone frying pans.
Lightweight options like aluminum or titanium are great and often include non-stick coatings like Teflon that make cleanup a breeze. But don't forget about a good ol' cast iron pan either if you're going to be car camping.
There's just nothing like searing meat and veggies in a hot iron skillet, and we've made everything from steaks to shrimp in ours.
Remember to watch your pans closely if you're using them around an open fire. Frying pans are much more susceptible to grease fires when used with the open flames of a campfire than they are on your range at home.
Mugs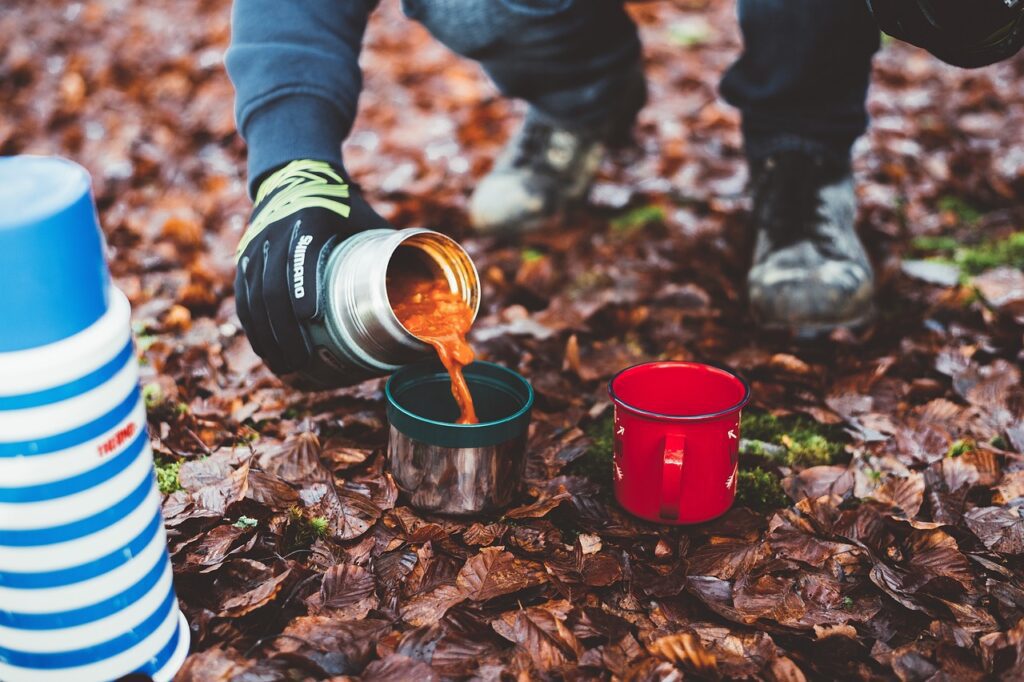 Good ol' camp mugs. They hold everything from your morning coffee to your evening whiskey and even double as food bowls when called upon.
A basic plastic mug is reliable and durable, but you can always get fancy with it. Companies like Snowpeak produce superlight titanium mugs that cost a premium but last a lifetime—single-walled metal mugs like these double as little cook pots in a pinch.
Double-walled aluminum mugs are also super durable and do a great job keeping hot and cold drinks cold.
Reusable Plates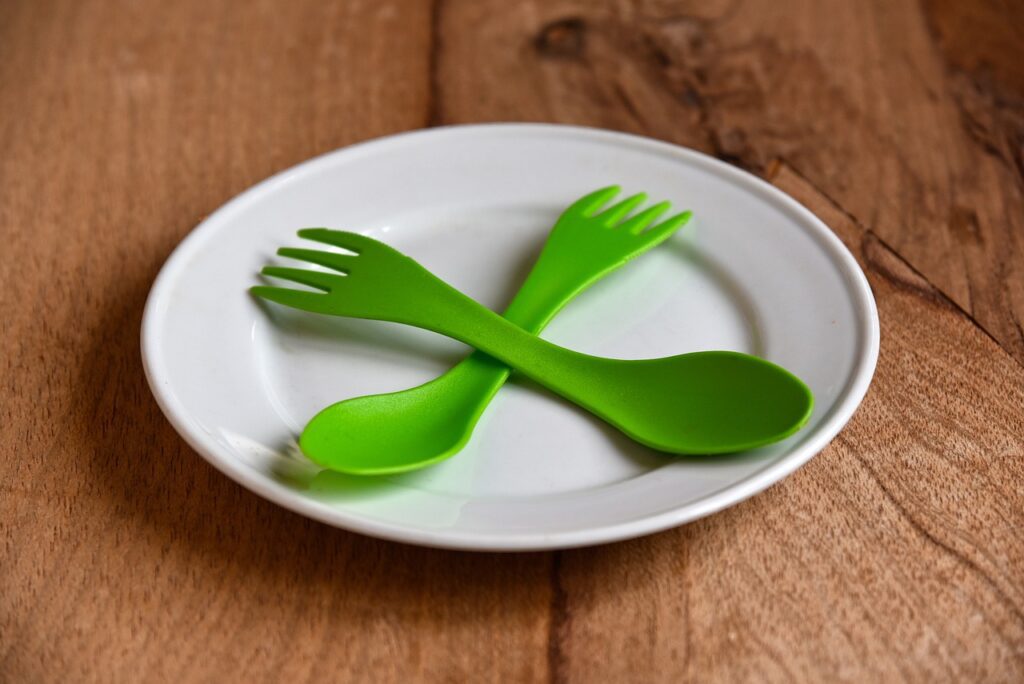 Sure, you could just bring paper or styrofoam plates and create a bunch of trash but, ya know, don't do that.
Most modern reusable camping plates are made from polypropylene, a rugged plastic-like, stain- and odor-resistant material. If you opt for a plastic option, just ensure it's BPA-free.
Of course, if you're nostalgic, multiple companies still sell the classic "speckled blue" enamel camping cookware. They don't pack down well and can get hot to the touch, but they're as tough as ever and easy to clean.
Wash Basin / Kitchen Sink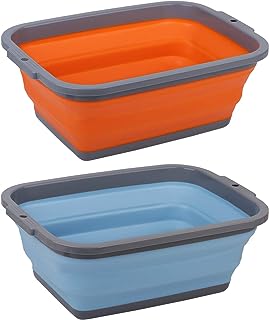 Because most camping trips last more than a single day and night, chances are you're going to need to wash your camping cookware at some point, if not daily.
Some kits will include wash basins, but if yours doesn't you'll need somewhere to hold the suds. Most folks can get away with a 10-20 liter container. There are a few handy packable/collapsible options to shop around.
Whatever you decide on, pack some outdoor-friendly soap, too as you'll be scattering your gray water into the woods.
Look for all-natural/biodegradable options and keep them with your camping gear. Remember, a little bit goes a long way, and steer clear (200 feet) from any natural water source when dumping wash water.
Other Camp Pantry Accessories You Might Consider
Coffee maker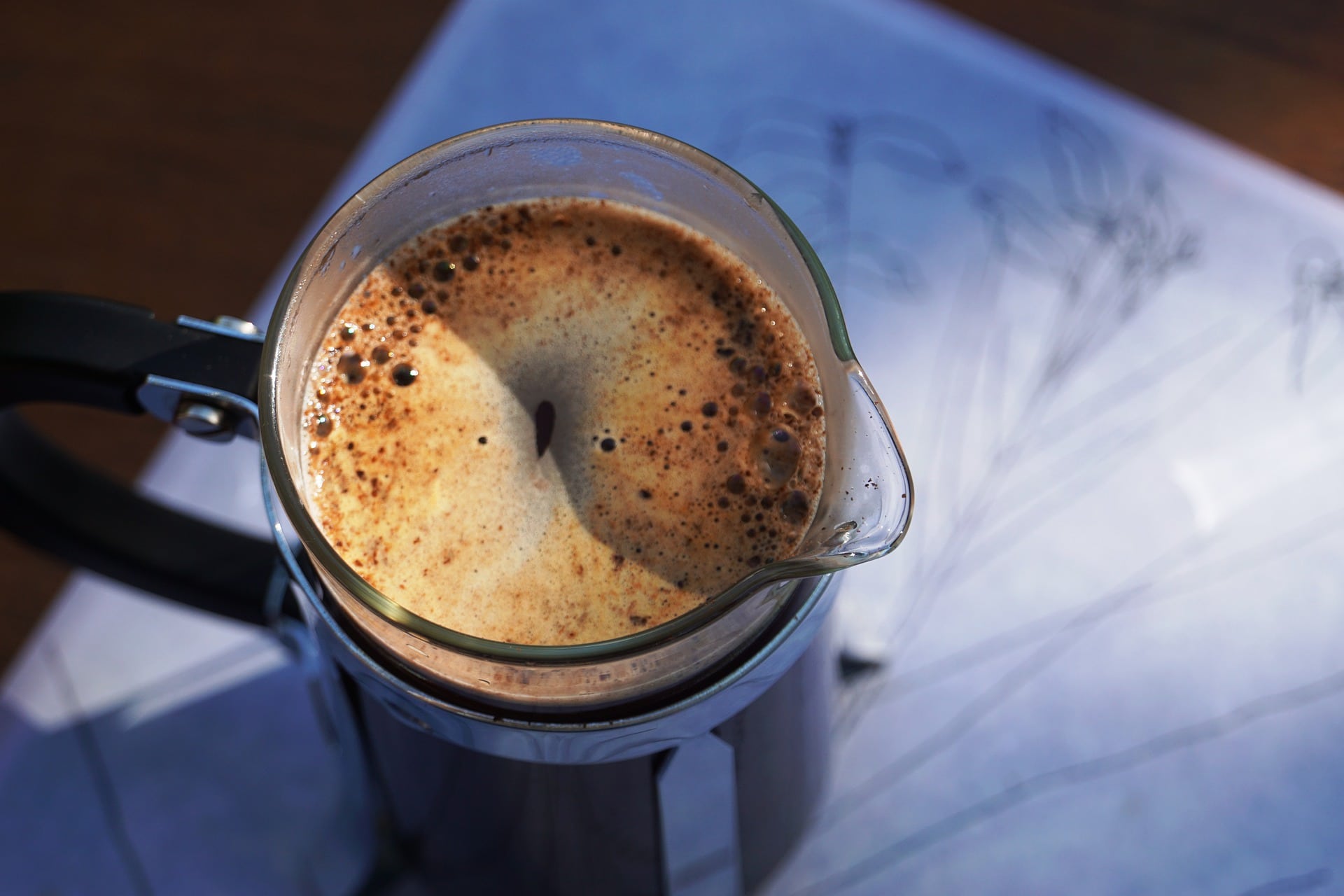 Most campers opt for the "French press" approach to camping coffee, and it's the easiest way to make decent coffee. Don't get me wrong, instant coffee has come a long way, but it still tastes… like instant coffee. I prefer to bring a simple pour-over with a reusable mesh filter. With a steady hand, you can brew pour-over coffee straight into your cup with one of these.
Dutch oven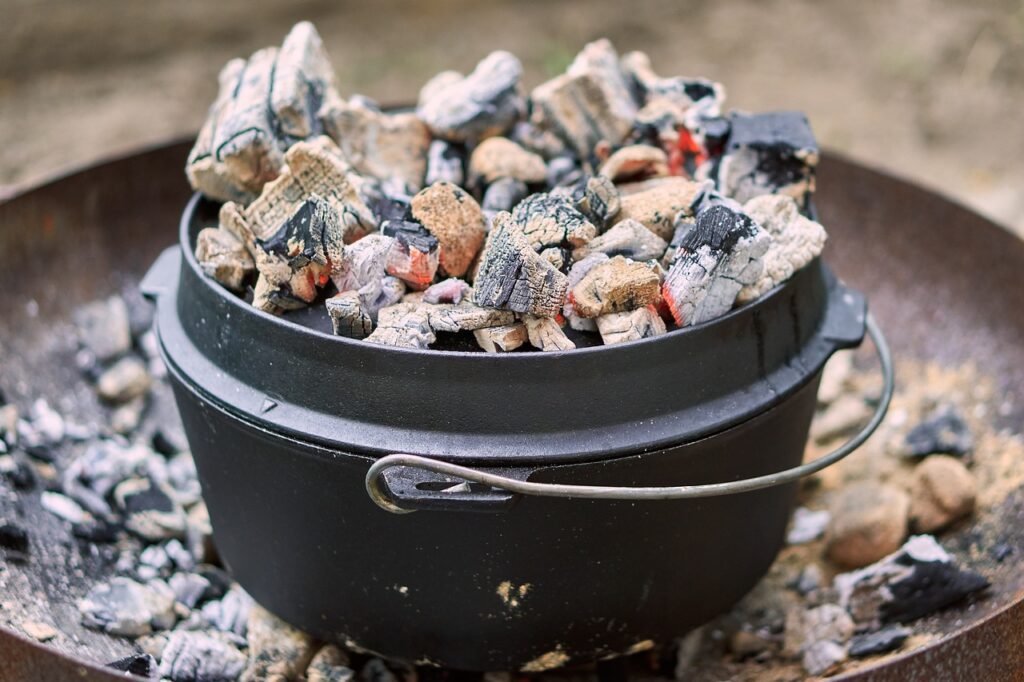 We almost always do one night of "camp stew" when we're out with a big group. We just cut up whatever meats and veggies we want to include, load it all up in the Dutch oven, and let it spend a few hours simmering over the campfire coals. It's a super easy and tasty way to fix your meat & potatoes.
Camping Cookware Options For Backpacking
When we're backpacking, we don't have nearly as many options for camping cookware since we're limited by what we're willing and able to fit into our bags.
Still, that doesn't mean you must resign to a plastic spork and a tin cup if you don't want to.
Backpacking Cookware typically comes down to three simple items: Your cookpot, food bowl, and spork.
Cookpot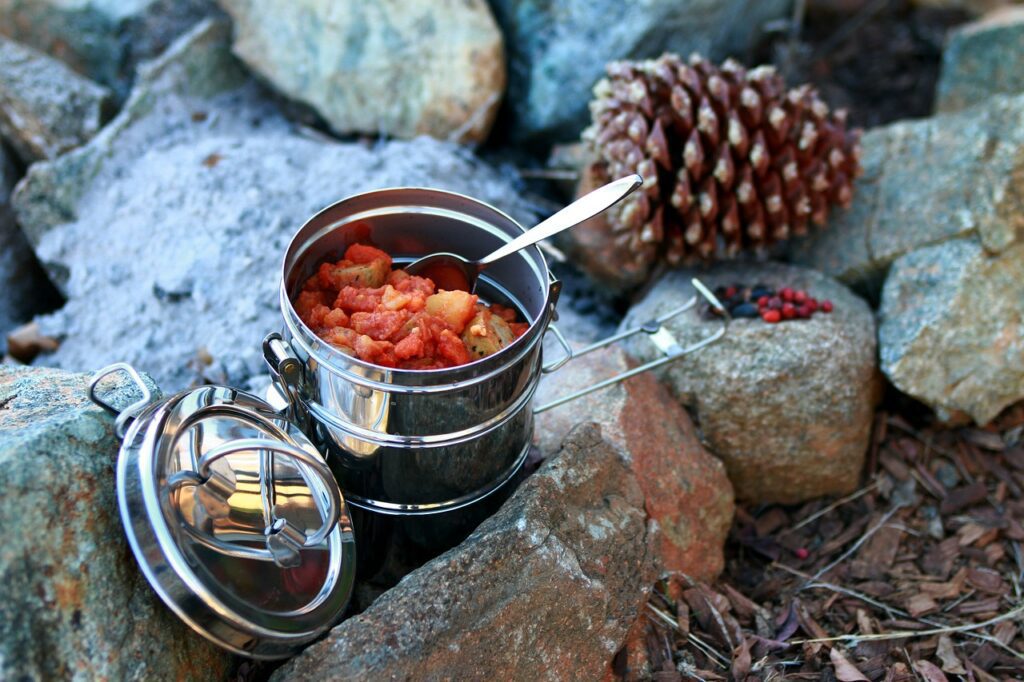 Technically, this can be anything that allows you to boil water and simmer food inside. We've gotten to the point now that there are "collapsible" silicone cooking pots that pack down flat when not in use. What a great time to be alive!
Food bowl and plate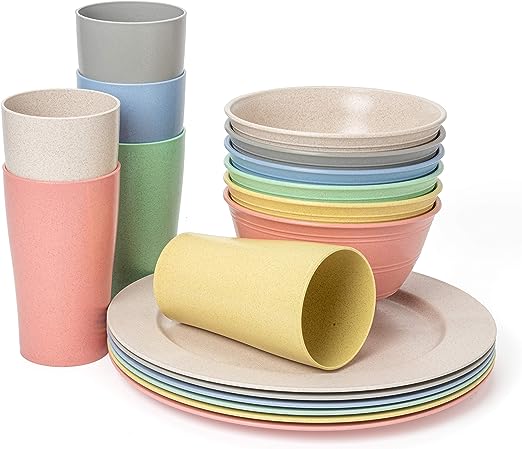 I suspect this one needs no introduction, but yes, unless you aim to eat every meal straight out of a boil bag or cook pot, you'll need a food bowl of some kind to hold your grub. We've already disclosed the existence of a collapsible cooking pot, so it should come as no surprise that food bowls also come in backpacker-friendly collapsible configurations.
Spork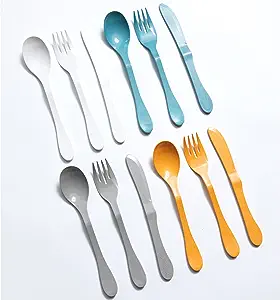 Ah, the humble spork. So simple, so useful. Pick up a cheap plastic one or an expensive titanium one. Both will almost certainly outlive you. I've recently called them "Foons" instead, and I hope you'll join me in that regard.
Final Thoughts On Camping Cookware
A good set of cookware is a worthwhile investment that can force you to step up your campsite culinary skills. It will also help keep trash out of landfills and plastic out of our oceans, so this is a no-brainer.
Pick up a deluxe group set or a solo version before your next trip, but whatever you do, don't let your lack of camping cookware limit your menu options. You can do better than eating rehydrated food out of ziplock bags.
Pin it!