I've been searching for an Amelia Island kayak rental company for the past few months. Ever since the pandemic hit, outdoor activities have been top of mind for not only me but a lot of people.
On top of that, I recently took my camper to the KOA campground in Kingsland, Georgia. With the campground being at the Florida-Georgia line, it was only a 20-minute drive to Lofton Creek.
Our Amelia Island Kayak Adventure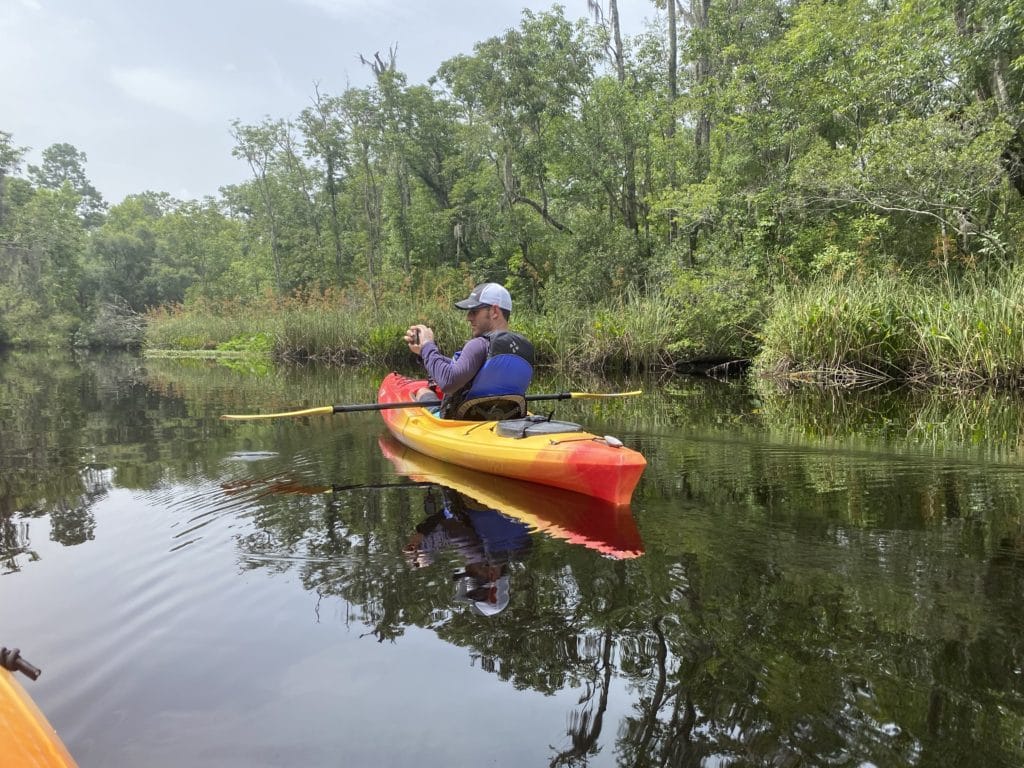 The company I ended up going with was Amelia Island Adventures.
The Booking Process
Booking a kayak rental with Amelia Island Adventures was straight forward. Since I was booking it last minute, I decided to call the store directly and making the reservation over the phone.
It was just as easy as booking online with only a couple of simple questions about the tour I was interested in, what day and how many people were in my party.
For kayaking, they have both single and tandem (double seater) kayaks available.
Due to the Florida heat, we decide to book a late afternoon kayak rental on Lofton Creek to avoid the blazing early afternoon sun. Lofton is also a blackwater creek, so the water is too acidic for mosquitos to live and breed in, which means no bugs!
Starting Our Kayaking Day

(DOUG PARKER/CURRENT CAMPER)
Before meeting the Amelia Island Adventures representative at the Melton Nelson Boat Ramp, we had to sign a liability form. The form was very simple and straightforward. It basically released the company from lawsuits if you got hurt during your adventure.
If you don't have time to complete the liability form online, they also have hard copies available to sign before your kayaking tour beings.
The kayak company was easy to spot because they had a trailer full of kayaks and a guide with a logoed shirt on. After we were assigned our lifejackets and paddles, we were given an overview of how to steer and navigate in the kayak. The last time I went kayaking was in Alaska in 2013, so a simple refresher course was nice (but not really needed).
READ MORE: 10 Camping Safety Tips
Exploring Lofton Creek in Nassau County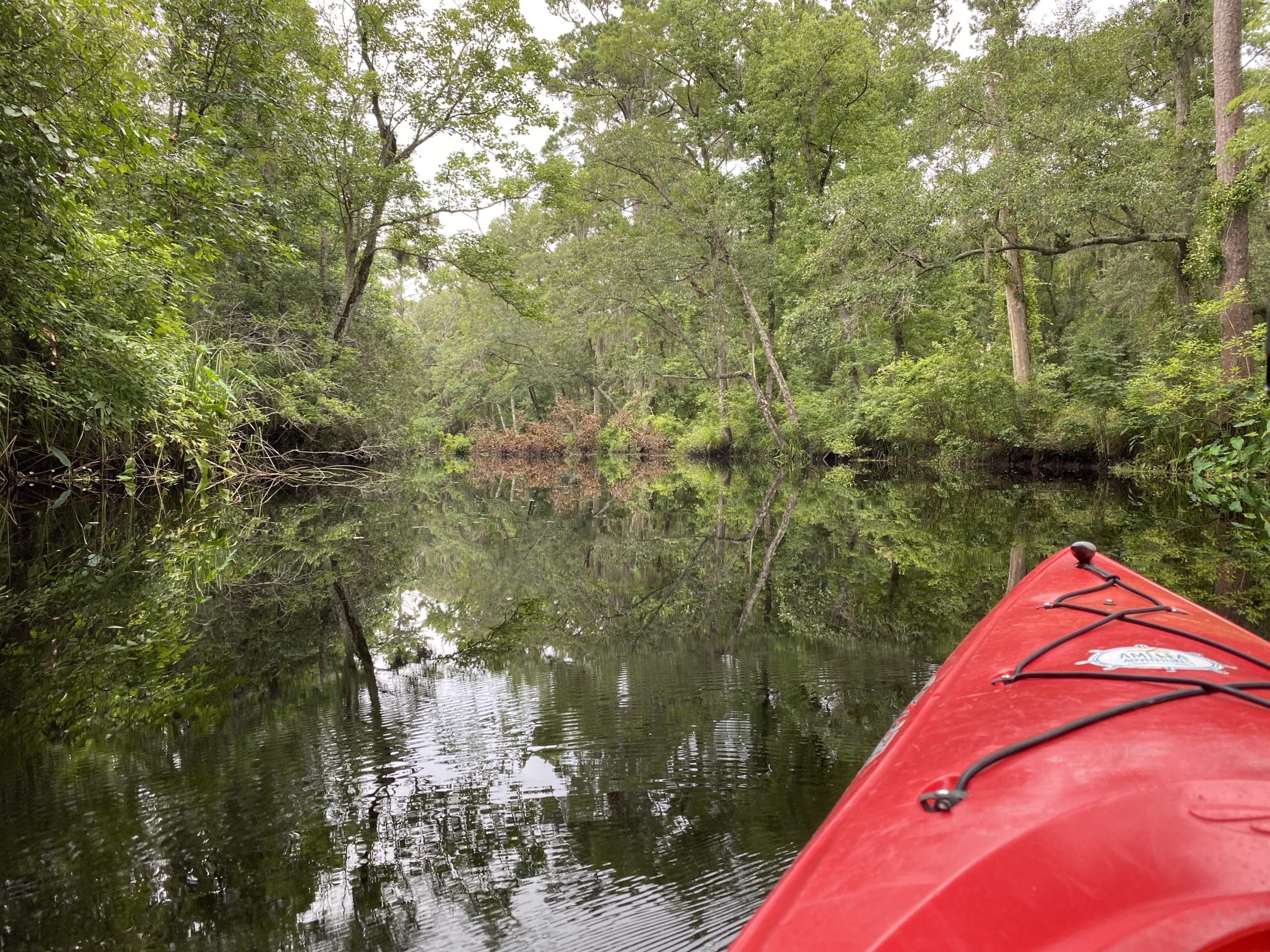 The guides advised the group that after about 45 minutes of paddling up Lofton Creek we would come across a pair of bridges, one being a railroad bridge and another for vehicles. We were told that the bridges were a good halfway point to turn around and start heading back.
After a quick rundown of the essentials, we loaded into our kayaks and headed down Lofton Creek. When they said the creek is a blackwater creek, they definitely meant it.
Just to clear up any misconception, a blackwater creek is a slow-moving body of water that flows through swamps or wetlands. Dead trees and vegetation stain the water causing it to look like black tea. It has no relation to the term blackwater tanks (sewage) in the marine or RV world.
Wildlife From The Kayak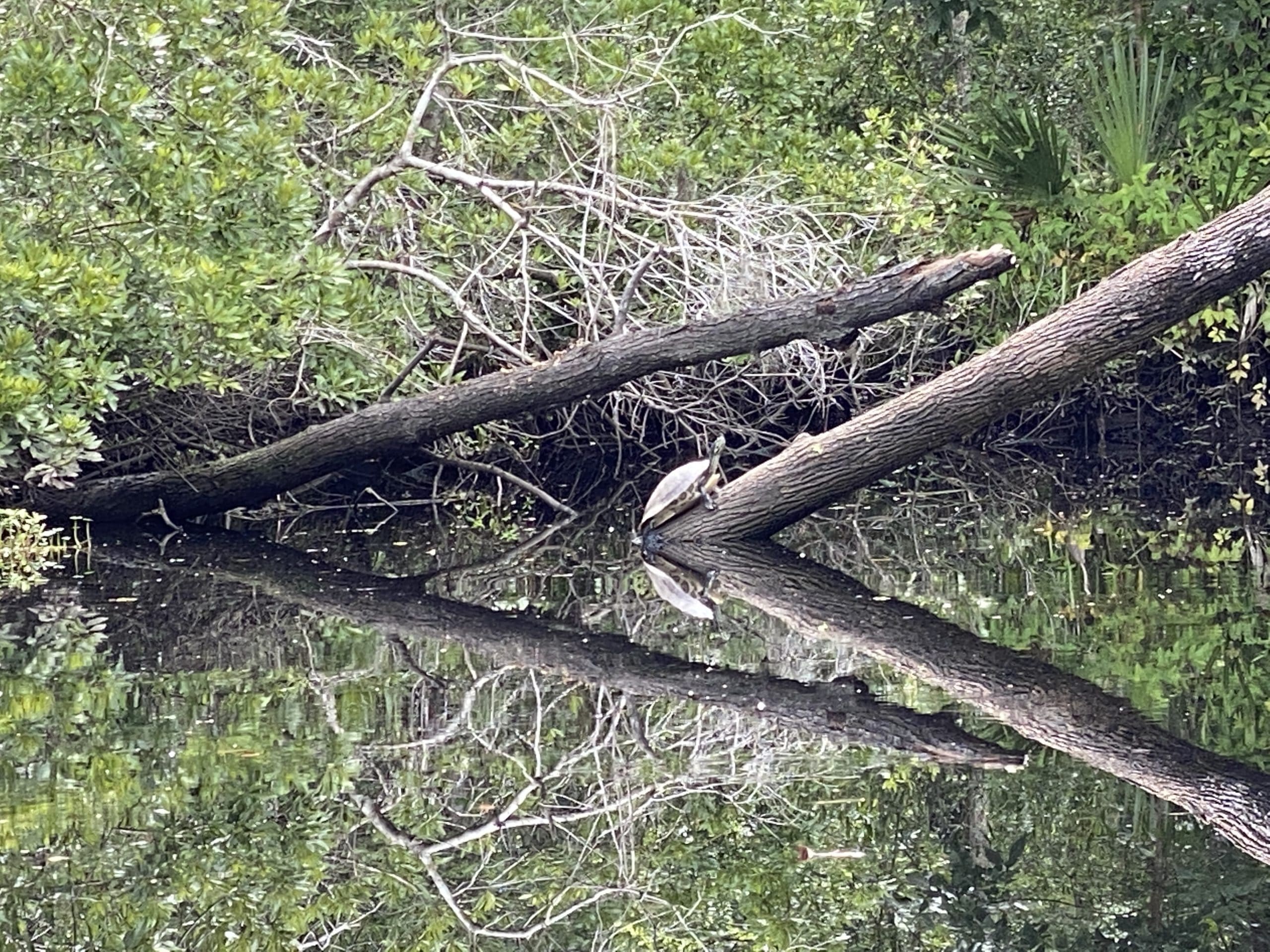 Within the first five minutes of our Amelia Island kayak adventure, we saw a turtle sunning on the log, and then saw a few more as we headed up the river. We also saw a variety of plants and birds. 
Apparently, there was also an eight-foot alligator laying on one of the banks that we missed. There were a couple of kayakers we were talking to on the way back, who asked us if we had seen it.
The creek had a fair share of downed trees, sometimes in the middle of the channel. However, it was more of a navigational skill test than blockage in the creek. Never at any point did we have to get out of our kayak during our journey.
Once we turned around at the bridge and started heading back towards the boat ramp, you could tell you were no longer floating downstream, we were suddenly paddling against the current. Let's just say the trek back definitely gave my arms a much-needed workout.
Just remember that it's important not to overexert yourself when you're going with the tide because the current will carry you. All you really have to do is steer going downstream with the current.
You'll definitely be working harder when you're going against the current when paddling back upstream. It took us approximately an hour to paddle in each direction.
Finishing Our Kayaking Adventure
Two hours later we were back at the boat ramp where they assisted us in getting out of the kayak and back on terra firma. After turning in our lifejackets and paddles, we were free to go explore.
Final Thoughts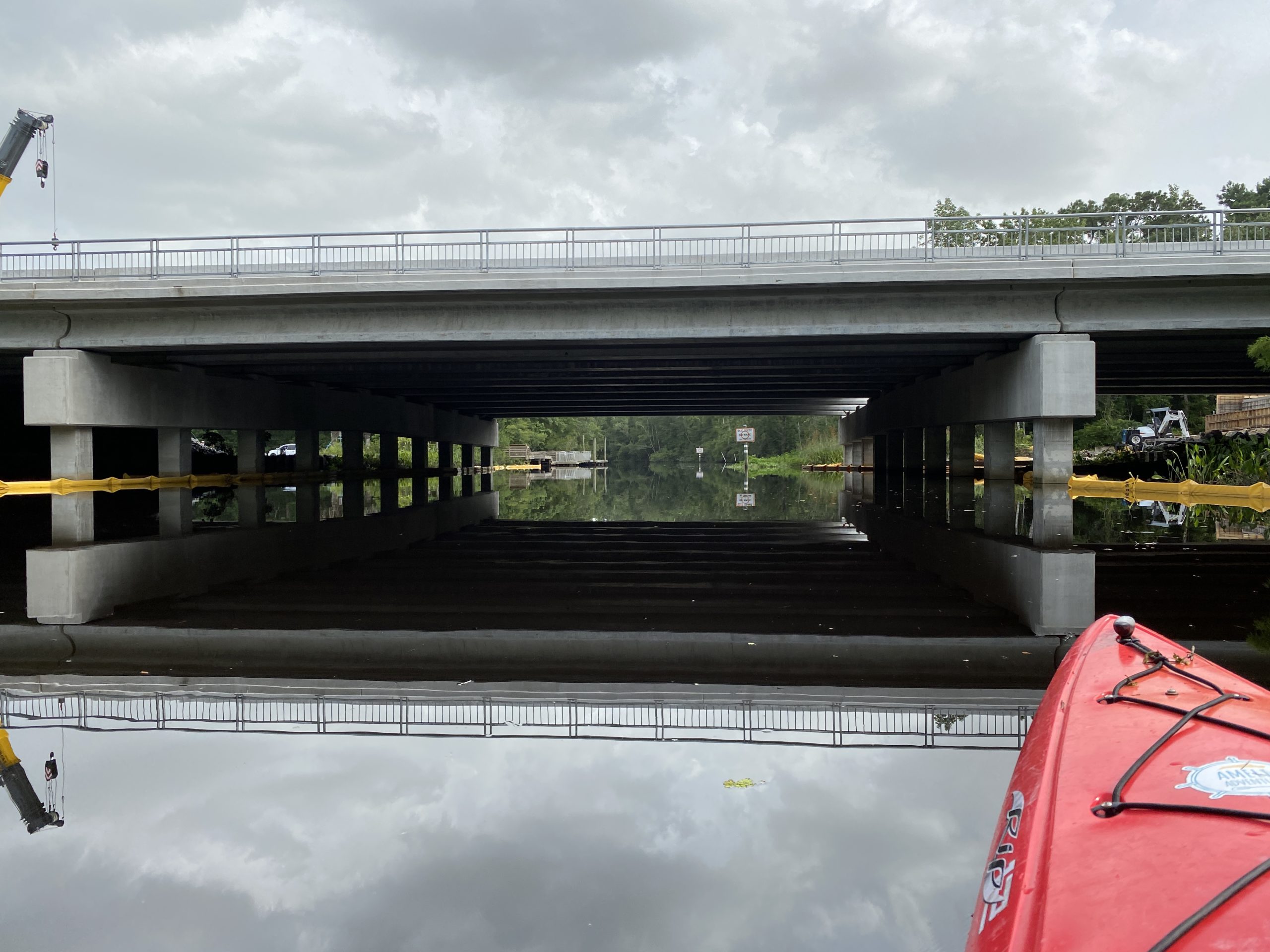 Overall Amelia Island Adventures was a very well organized operation. Everything from navigating their website to reaching someone on the phone (who booked us even though it was after hours on a Friday night). I've already researched some of the other excursions they offer like standup paddleboarding and other kayaking spots around North Florida.
READ MORE: 7 Hiking Essentials For Beginners
First Time Tips For Kayaking In Amelia Island
Bring plenty of sunscreen, a hat, and skin protection.

Take at least one bottled water per person

Bring a waterproof camera to take pictures (or a GoPro to mount on your kayak)

Take it easy, fighting the current and getting worn down is what usually lands kayakers in trouble.
Pin it!