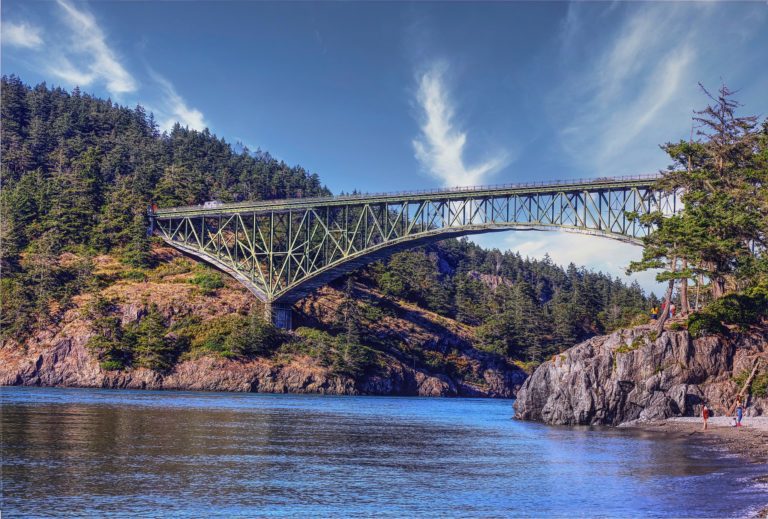 As a Pacific Northwest native who grew up in Oregon, I've seen firsthand just how unique and beautiful this corner of the United States is. Oregon and Washington have so much to offer including the coast, mountains, temperate rainforests, expansive views, and huge waterfalls. If you love the outdoors, good food, and awesome views, a road trip through the Pacific Northwest won't disappoint. I've consulted my Oregon and Washington family for this one, and we've put together a list of the top three best road trips in the Pacific Northwest.
Portland & Beyond
Recommended Days: 4 to 5
Miles: 220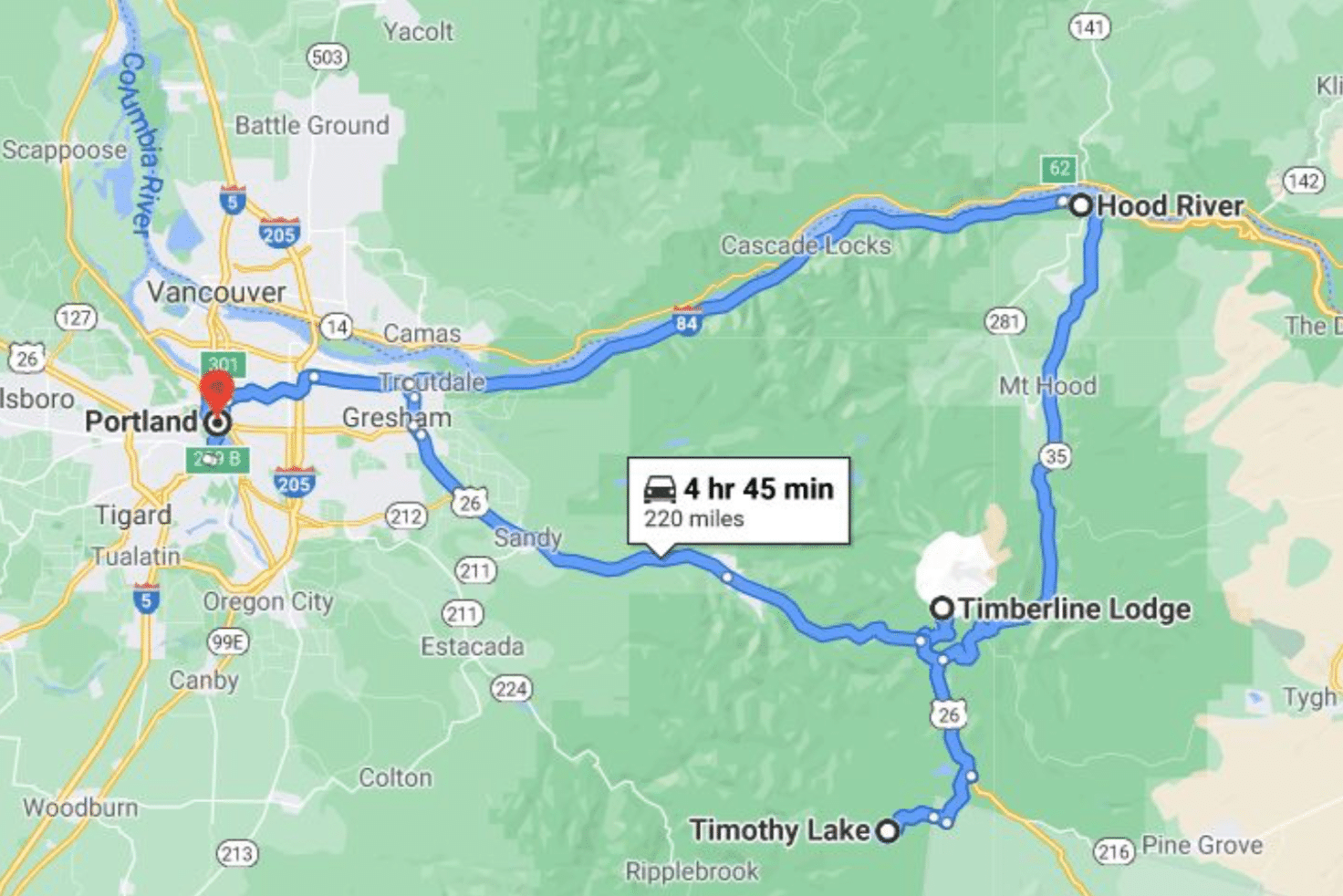 This Oregon road trip leaves nothing out. You'll get to see the city, the gorge, the mountains, and a beautiful lake. Start in the city of Portland, Oregon, where you'll experience the eclectic hipster culture of dive bars, weird food, and weirder people. Portlanders tend to be very friendly and love their unique city and its close proximity to outdoor recreation.
Once you're ready to escape the skyline for the treeline, head east on I-84 towards Hood River. This route will take you along the gorge-ous (get it?) Columbia River Gorge which features the huge, windy river (where you'll likely spot windsurfers) and even bigger waterfalls. Make sure to stop by Multnomah Falls along the way to check out Oregon's largest waterfall at 620 feet tall. Then, spend the night in Hood River and enjoy the scenic views, great hiking and fishing, and an array of wineries and breweries.
Next, head south on OR-35 toward Timberline Highway in Government Camp and book a stay at Timberline Lodge on Mt. Hood. Timberline is a historic lodge at 6,000 feet elevation that offers panoramic views of both Mt. Hood's summit and the surrounding area, great hiking trails, and Palmer Glacier which is open for year-round skiing and snowboarding. Continue your trip by taking the Timberline Highway to US-26 East toward Timothy Lake. This beautiful lake has a gorgeous view of Mt. Hood and is a great place for camping, fishing, kayaking, and/or paddleboarding. Finish off the loop by heading back west on US-26 towards Portland.
The Cascade Loop — A Collection of Washington's Best Road Trips
Recommended Days: 7+ (but can be done in fewer)
Miles: 440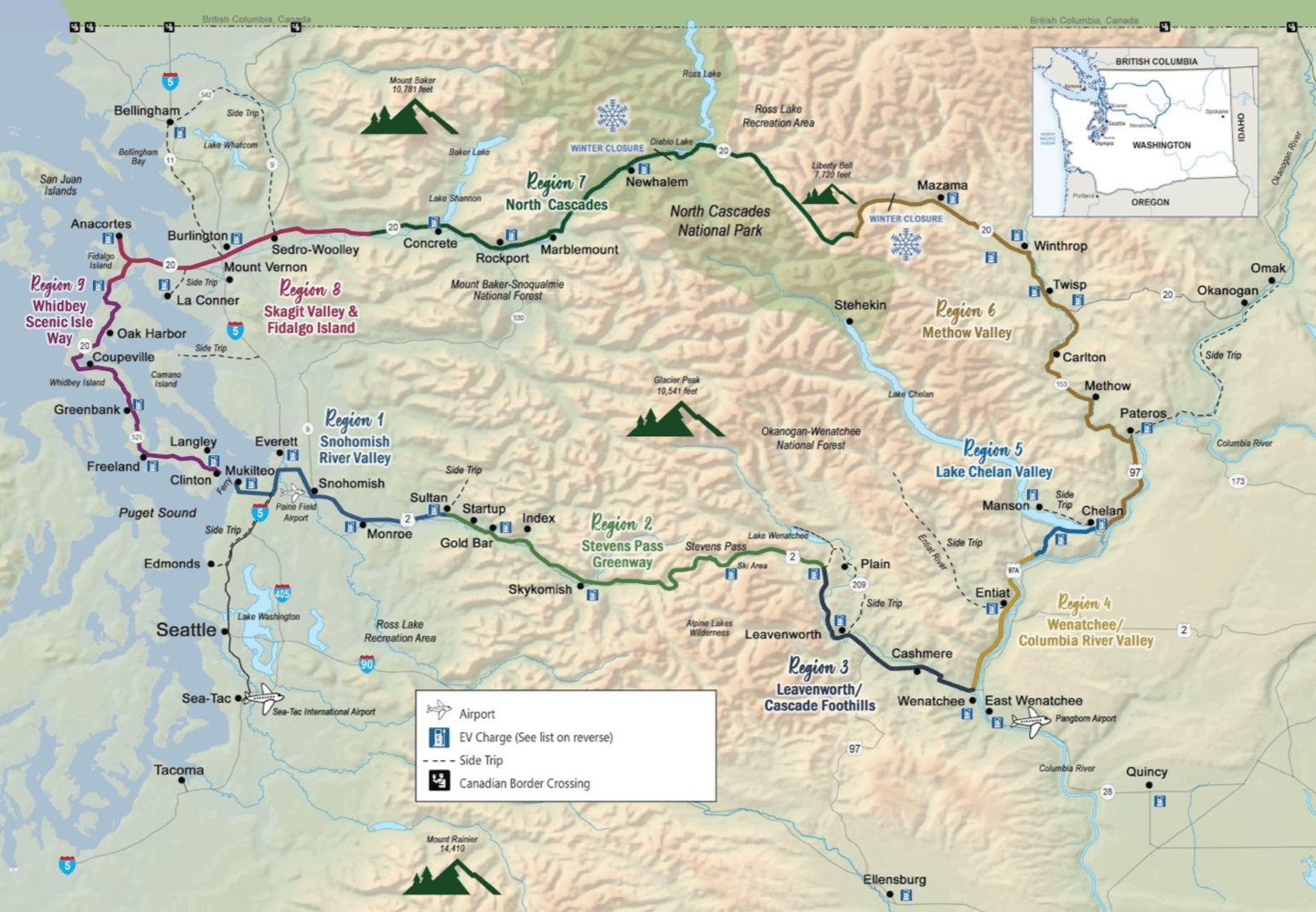 The Cascade Loop is pretty much the ultimate Washington road trip. You can complete the full loop or just choose the portions that interest you most. They each have their own unique attractions and you can use the cascadeloop.com​ website to help plan a personalized itinerary. This trip is best done in the summer or early fall due to winter road closures. Here's a rundown of the various sections of the loop:
Seattle Northcountry​: This section features the hip city of Everett, the waterfront community of Mukilteo, the historic town of Snohomish, and the adventure capital — Monroe, which offers plenty of opportunities for outdoor recreation among other attractions.
Whidbey Scenic Isle Way​: While traveling this section, you'll have the opportunity to soak up all the beauty this scenic byway has to offer in addition to photo-op attractions like the Deception Pass Bridge.
Skagit Valley and Fidalgo Island​: This section is full of rolling hills, farmland, and small communities. You can make your road trip longer by hopping on a ferry in Anacordes and taking it to the San Juan Islands, one of the most magical places in the Pacific Northwest (in my opinion). Anacordes offers great opportunities for kayaking, whale watching, and seafood dining. Keep an eye out during the rest of this stretch for berry farms, art shops, flower fields, and beautiful views of Mt. Baker and the North Cascades.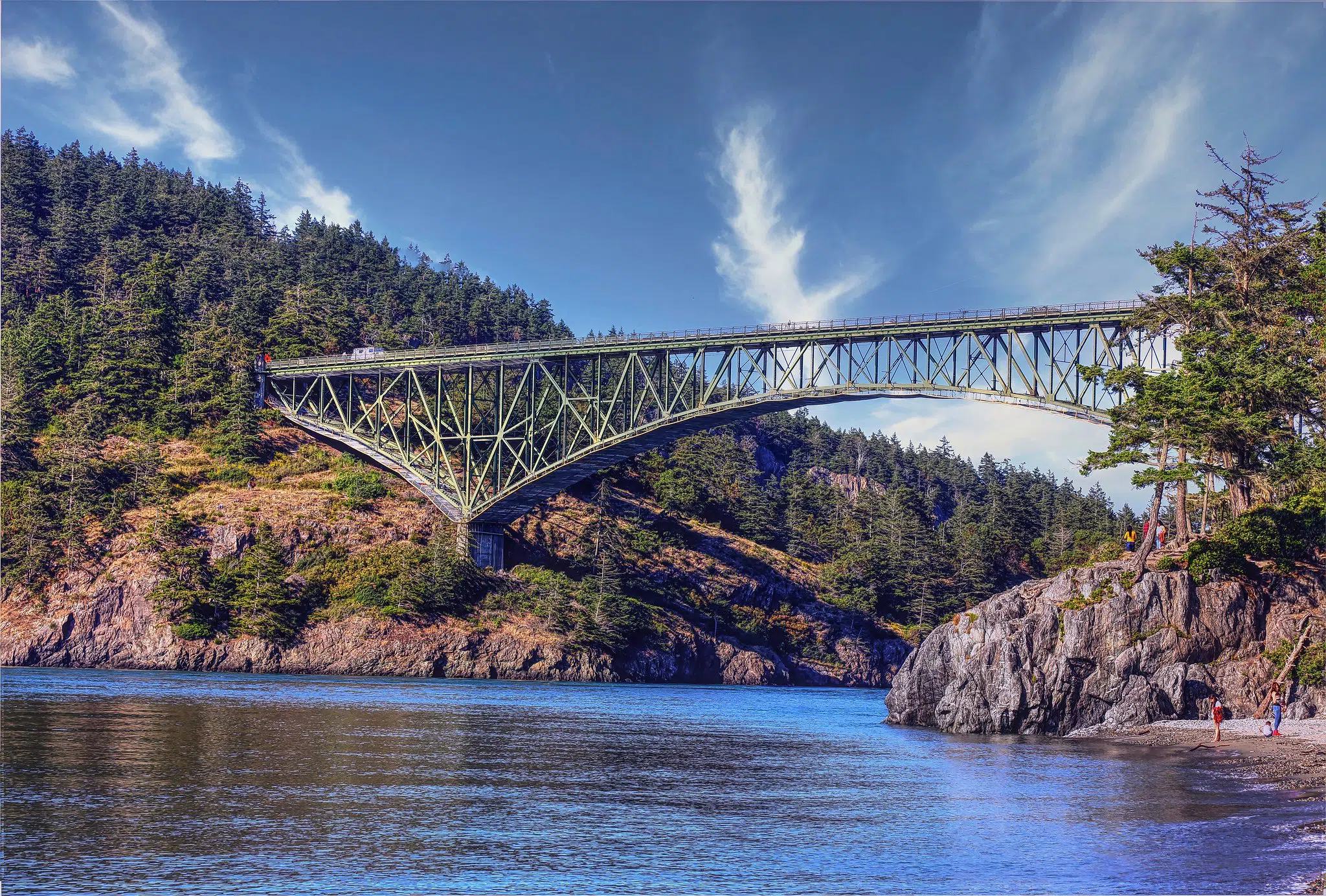 North Cascades​: North Cascades National Park is a personal favorite of mine. The mountains and glaciers here are like nothing you've ever seen before. This is a great stretch for hiking, climbing, beautiful views, and plenty of opportunities to see wildlife.
Methow Valley​: This stretch offers a little bit of everything. You'll likely spot wildlife and can recreate outside in the Twisp River Recreation Area. You can also soak in the art scene of Methow including galleries, music, and theater. Don't miss out on a visit to the wild west town of Winthrop, either.
READ MORE: Popular Hikes in the Northwest
Lake Chelan Valley​: Lake Chelan is worthy of its own vacation. It's a beautiful lake surrounded by vineyards, making it fun for the whole family to enjoy beach time and water sports at the lake as well as wine tasting in the valley. You may also want to explore the remote town of Stehekin while in this area. Stehekin is only accessible by foot, boat, or helicopter. It's a unique mountain village that features a waterfall and plenty of hiking opportunities.
Wenatchee/Columbia River​: This section is known for its abundance of fresh produce in addition to wine, beer, and cider. It's also right along the Columbia River, so there are plenty of fun, small towns to explore as well as opportunities to enjoy the outdoors.
Leavenworth/Cascade Foothills​: Leavenworth is a really fun, quaint town and popular destination due to its Bavarian theme, food scene, and abundance of attractions and outdoor recreation opportunities. Leavenworth is known for its holiday spirit and winter snow, but there's just as much — if not more — to do during the other three seasons as well.
Stevens Pass Greenway​: Lastly, the Stevens Pass Greenway is another scenic byway full of gorgeous views, hiking opportunities, and historic mountain towns. This section features skiing and snowboarding in the winter and mountain biking in the summer, as well as the beautiful Deception Falls located in the midst of a classic green and mossy Pacific Northwest forest.
The Oregon Coast
Recommended Days: 4 to 7
Miles: 343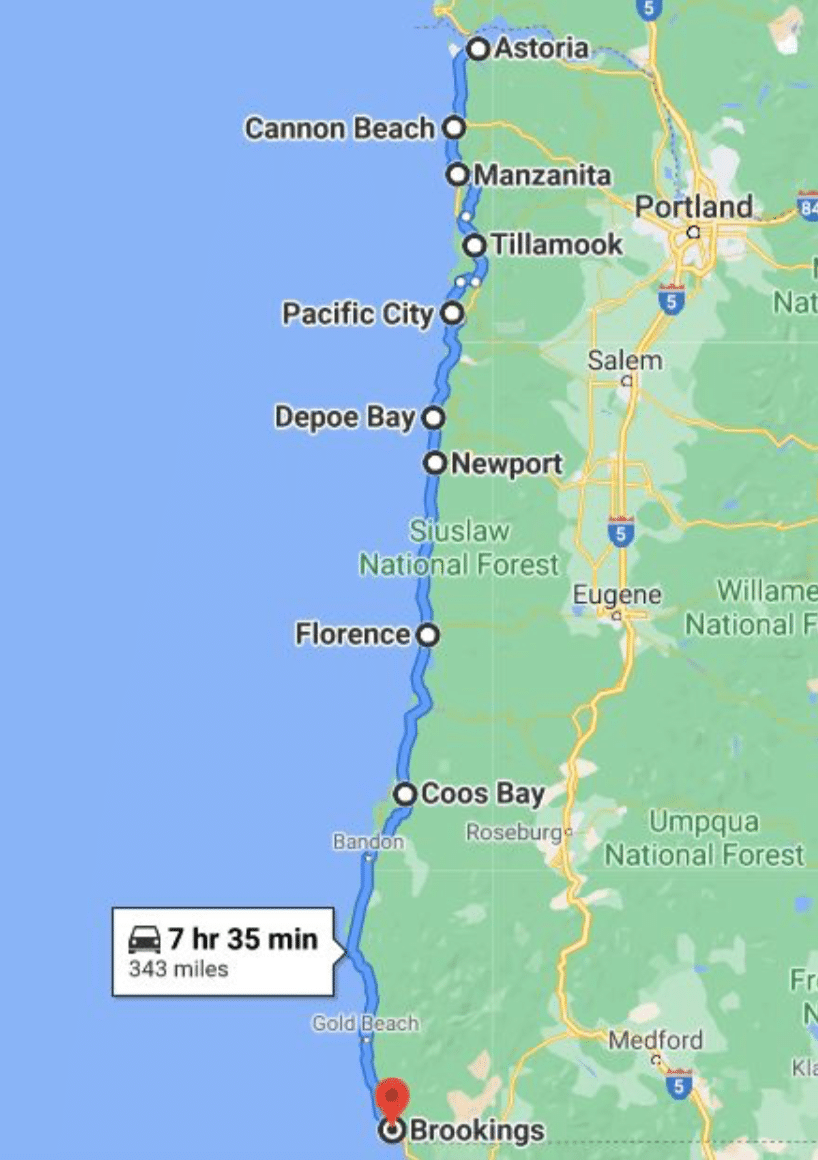 One of the best things about the Pacific Northwest is that pretty much no matter where you are, you're in close proximity to the mountains, the cities, and the coast. This list wouldn't be complete without a west coastline road trip. The Oregon coast is lined with unique, small beach towns including favorites like Cannon Beach, known for its picturesque Haystack Rock; Tillamook, known for its delicious and local cheese factory; Depoe Bay, known for whale watching; Florence, a favorite of mine known for its sand dunes and cute art shops; and many others. If you love salt, sand, seafood, and small towns this is the trip for you!
We hope this has inspired you to plan a trip out to our beautiful corner of the country!
READ MORE: Camping in Utah: What You Need to Know
Pin it!