Is cross-country skiing for beginners? It depends. If you are active, cross-country skiing should be on your list of things to try if you're looking for a new winter activity.
Cross-country skiing is somewhat of a leisure sport like hiking or snowshoeing. Traveling through the snow and experiencing snowy winter views while exercising is fun. Although your first descent on cross-country skis may be a bit of a thrill, cross-country skiing is not an action sport like downhill skiing. It has a slower pace and less of a risk-taking factor. Here, we'll review all the basics you might want to know before setting out on your first cross-country skiing adventure.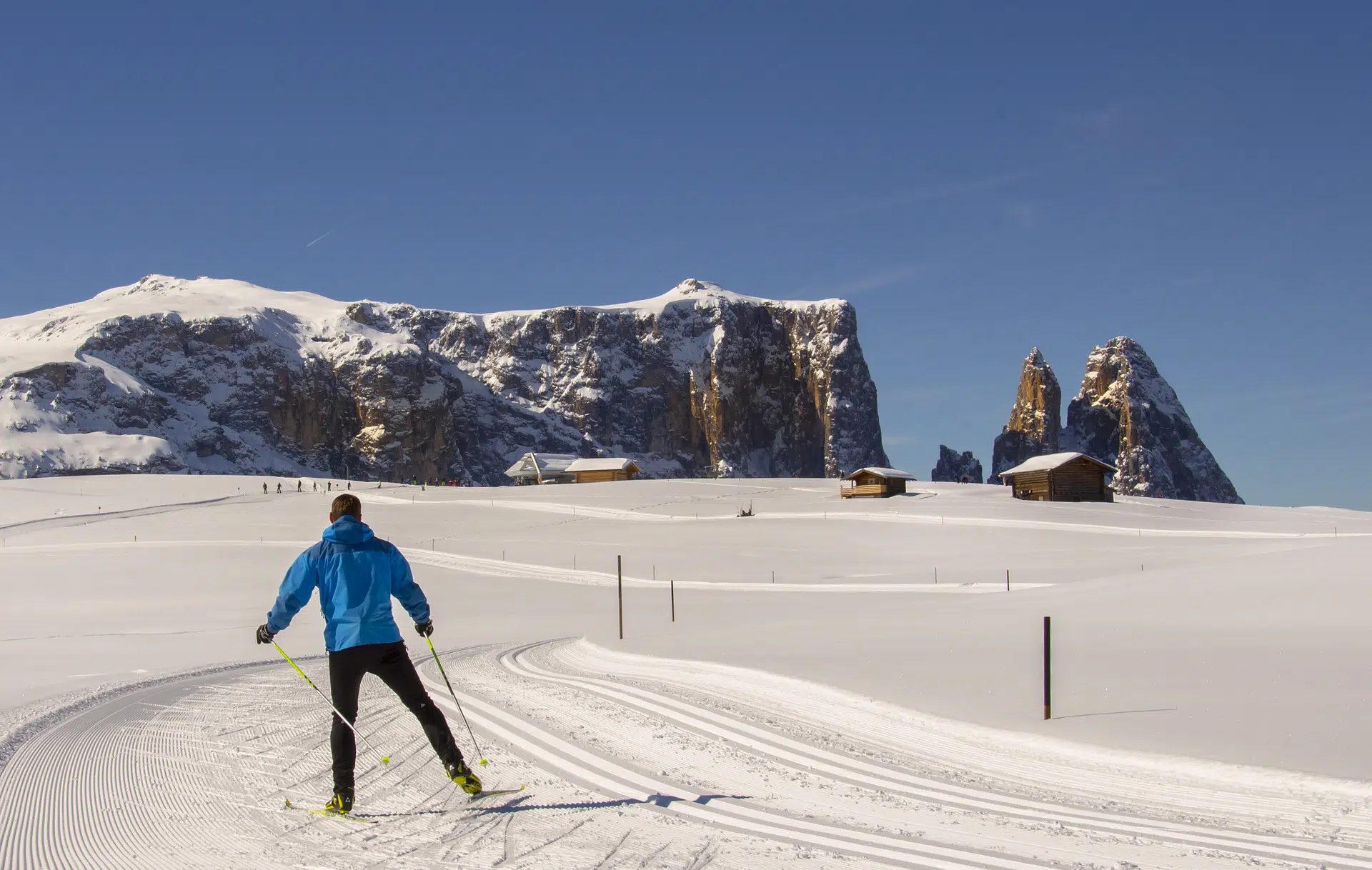 Cross-Country Skiing for Beginners
Cross-country skiing, sometimes called Nordic skiing, is simply skiing on somewhat flat ground. It differs from downhill or "resort" skiing because it's typically done at a slower pace where you are the main force moving yourself forward instead of a steep slope. Like downhill skiing, there are various trail types and levels for varying difficulty.
Cross-country skiing has two main types: classic skiing and skate skiing. Classic skiing is the easiest because it mimics a similar motion to walking. You can shuffle your skis forward to move on to classic cross-country skis. This makes cross-country skiing fairly straightforward for most beginners.
Skate skiing, on the other hand, mimics a similar motion to ice skating. This type of skiing allows you to push your skis out to the side and use the edges to push yourself forward. It can take a little more getting used to and allows skiers to get going much faster.
Gear
First, you'll (of course) need skis. However, cross-country skis differ from downhill skis because they are generally longer, skinnier, and lighter-weight. They often don't turn or stop as well (because they are not meant for those things) and are designed for ascents, descents, and flat, groomed terrain — whereas downhill skis are specifically made to go downhill.
If you are buying cross-country skis, it's important to note that there are differences between classic skis and skate skis, so you should make sure you're buying the right skis for whichever activity you prefer. The rental shop can set you up with the correct ones if you're renting.
You'll also need boots and bindings that are compatible with one another. Some brands use different boot/binding systems than others and don't always cross over, so it's important to ensure your boots and bindings use the same system. You may also want to consider manual or automatic bindings. Manual bindings require you to reach down to lock or release your boots, whereas automatic bindings allow you to 'click in' from a standing position and release using your ski pole (similar to downhill ski bindings).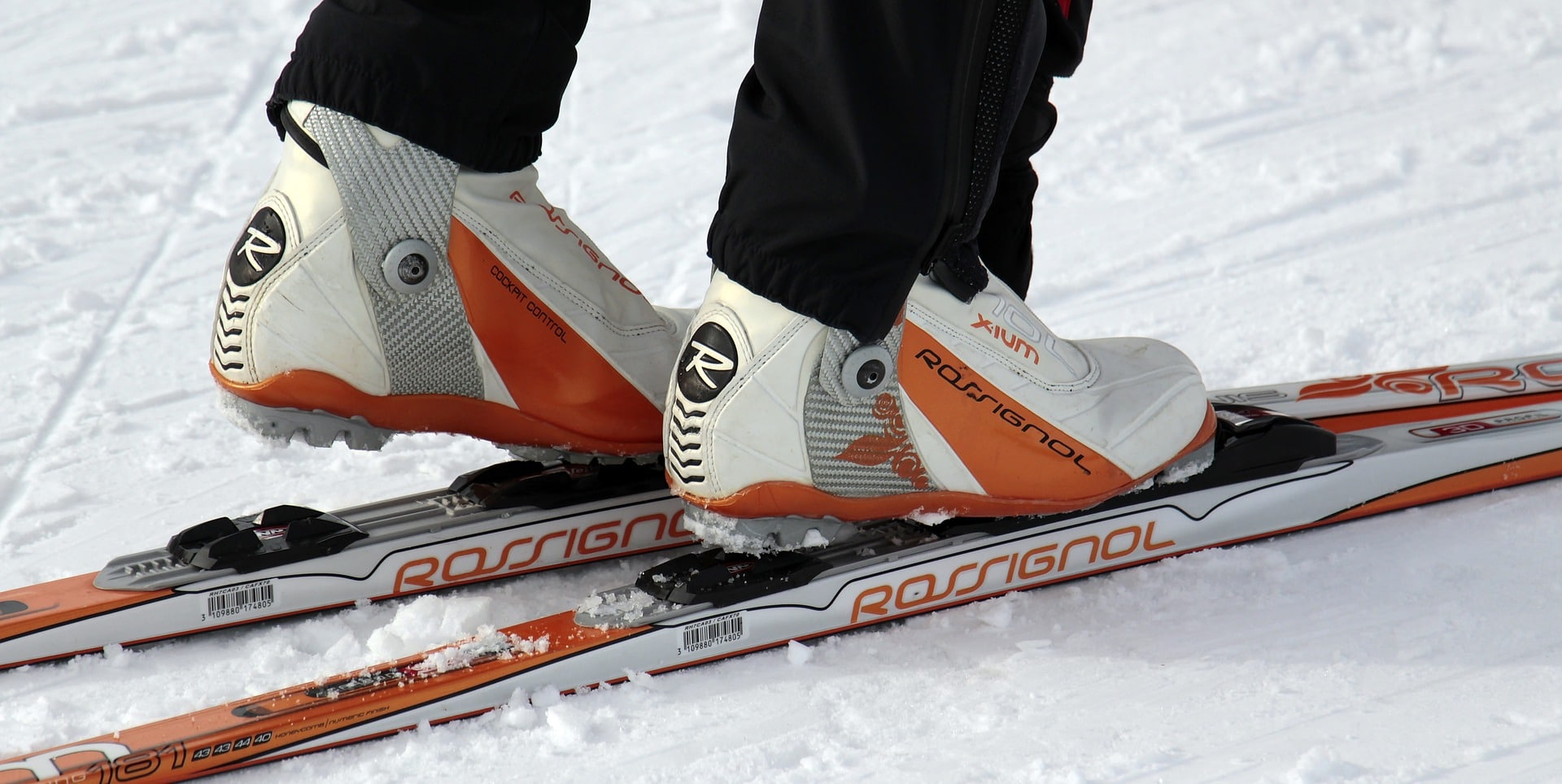 You'll also want to use poles to help stabilize and push through flat spots and uphill sections on cross-country skis. Cross-country ski poles are typically longer than downhill ski poles and are usually made of either aluminum (which makes them heavier) or carbon (which makes them lighter). They will have a basket on the bottom, typically a circle or semi-circle shape, that keeps your poles from sinking into the snow.
Trails
Cross-country ski trails are typically groomed and fairly flat. They are often wide and fairly straight (or with wide turns) since cross-country skis are not meant for making sharp turns. Many even have tracks (two depletions in the snow) to put your skis in and follow for the entire trail.
Some people also enjoy cross-country skiing "off-track" on snow-covered hiking trails packed down by hikers, snowshoers, and cross-country skiers. Tracked trails are typically rated using the same system as downhill skiing. Green circle signs indicate beginner-level trails, blue squares indicate intermediate trails and black diamonds indicate advanced trails.
Trail Etiquette
There is important trail etiquette that you should probably know before heading out on your first cross-country skiing adventure.
First, if you're on a one-way trail, ensure you only go in the proper direction. If you're on a two-way trail, keep in mind that uphill skiers yield to downhill skiers because downhill skiers often have less control. Like driving, if someone behind you is moving faster, you should step aside and let them pass before continuing. Also, do your best to preserve the tracks.
If you accidentally fall, try to fill in any hole you caused with snow before continuing.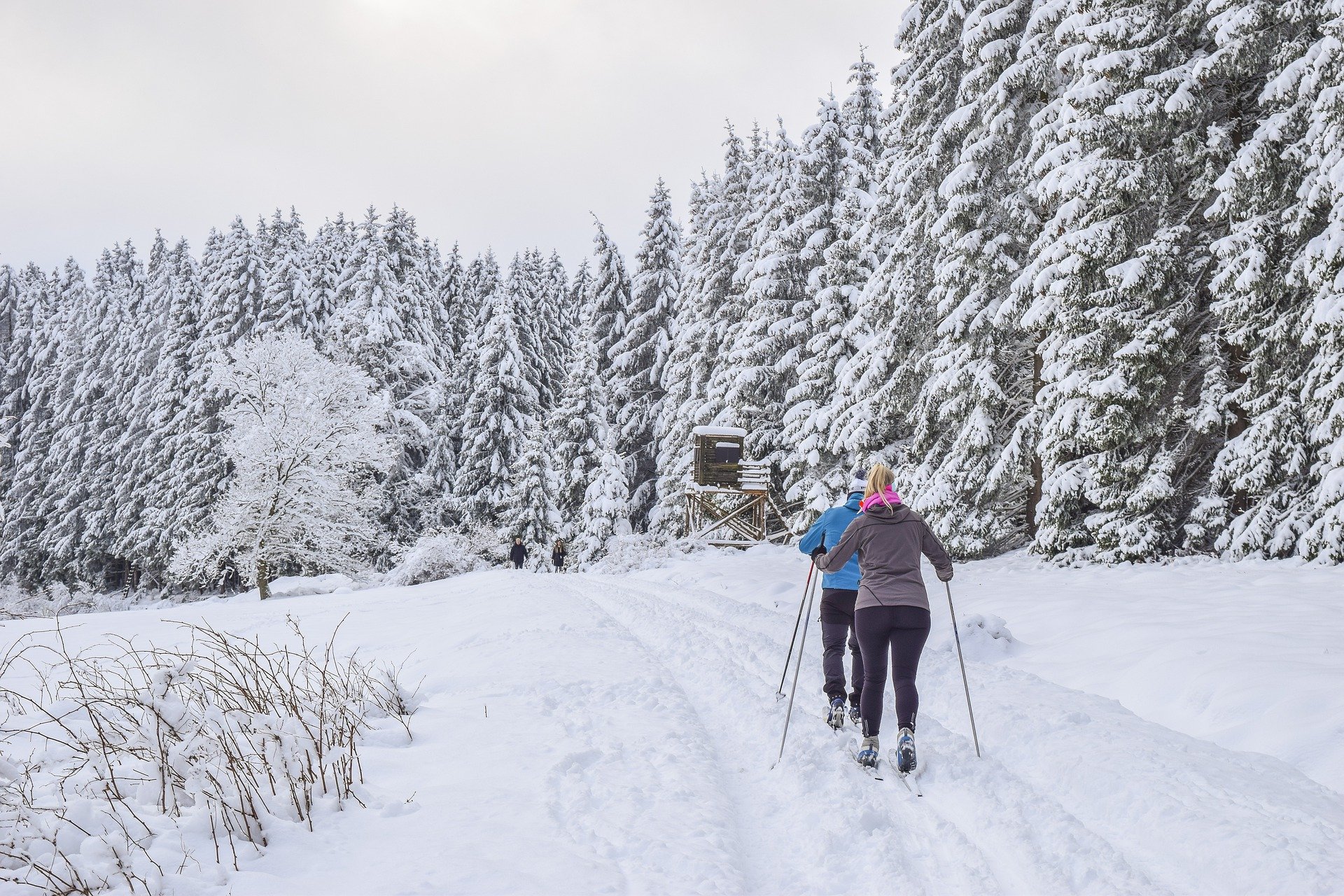 What to Wear and Pack
Besides adding skis, boots, and poles, you'll want to prepare similarly to any other winter adventure.
Dress in layers. You should have a moisture-wicking base layer like merino wool that will keep you dry. Then, an insulating layer like a fleece or down jacket to retain heat. Lastly, a water and windproof shell that will protect you from the elements. You'll also want to wear a hat, gloves, wool socks, and a neck gaiter to cover your face from any cold wind.
You should also always bring plenty of food, water, and safety equipment. Make sure to pack The Ten Essentials in addition to extra layers. If it's sunny out, you may also want sunscreen and sunglasses to protect your skin and eyes from the sun reflecting off the bright snow.
Where to Cross-Country Ski
There are lots of places you can cross-country ski. Any trail that is snow-covered, fairly flat, wide, and packed down will do, although it will be easier to start on something that is groomed and has tracks. Try searching for the nearest Nordic center. Nordic centers often rent snowshoes and cross-country skis and have or are near cross-country ski trails.
Some downhill ski resorts also have Nordic centers. Wherever you choose, familiarize yourself with the area, carry the proper navigation equipment, and let someone know where you're going. Enjoy!