Snowshoeing is one of the most underrated winter activities. Many people get outside to hike in the summer, but then winter comes around and they stay inside to avoid the cold. Little do they know, winter is much more enjoyable when you find unique activities that showcase all the wonderful things the season has to offer. Snowshoeing is a way to keep hiking year-round even when the winter snow storms kick in.
What are Snowshoes?
Snowshoes are wide, lightweight foot frames that are strapped onto your footwear. They have a wide frame so that they can distribute your weight over a larger area, allowing you to walk over deep, powdery snow without sinking in.
They're meant to be worn on flat or low-angle terrain in snowy conditions. Though some snowshoes feature spikes for extra traction in mixed conditions, they're not meant to be worn on icy terrain. The deeper the powder and greater your weight, the larger snowshoe you will need to stay afloat.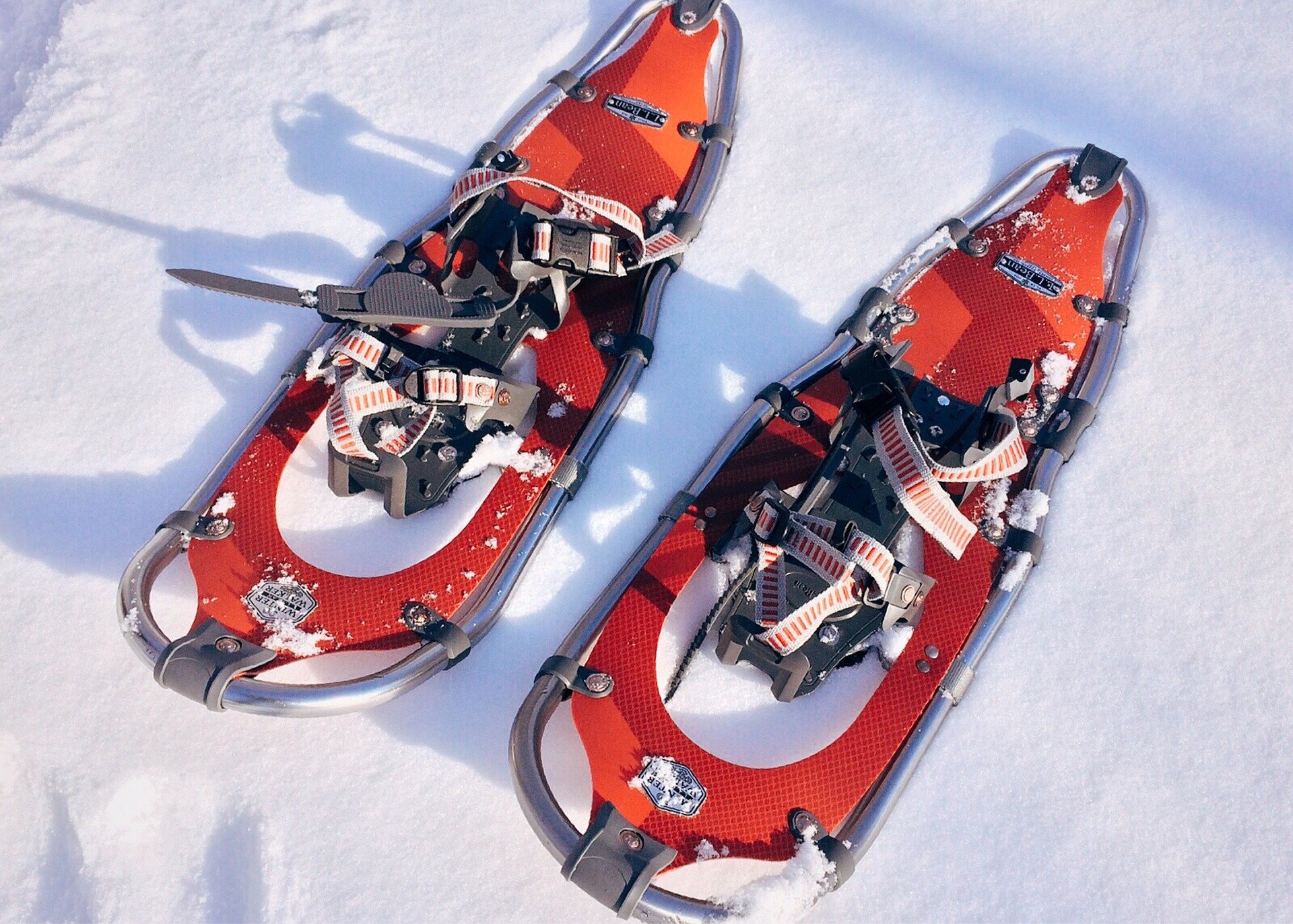 Why Snowshoe?
Snowshoeing is one of the most low-key winter activities you can do. It's simple, straightforward, and enjoyable. Anyone can snowshoe with little to no experience and it'll make getting outside in the winter much more accessible.
Getting outdoors during the winter will give you a newfound love for the cold, frigid season. Once you start snowshoeing, you'll be opened up to all the breathtaking, snowy winter views that come with this chilly time of year like snowy white trees, frozen lakes and waterfalls, icicles, and snow-covered mountain peaks.
It's great exercise! Snowshoeing can be as low-key as a slow walk or as intense as traversing up a steep slope, depending on what type of adventure you're looking for. Regardless, it gets you outside in the fresh winter air and moving your body, which is always beneficial.
READ MORE: A Beginner's Guide to Backcountry Skiing
How to Find Trails to Snowshoe
Now that we've got you excited about all that snowshoeing has to offer, let's talk about how to plan your first snowshoe adventure.
First, you'll need to decide if you're going to rent snowshoes or use your own. If you're looking to rent, you might want to look into a rental option that has a nearby trail. Try looking up the nearest nordic center; they often rent snowshoes and have trails that snowshoers and nordic skiers can share. You can also rent snowshoes from many mountain sports and ski shops and take your rental snowshoes wherever.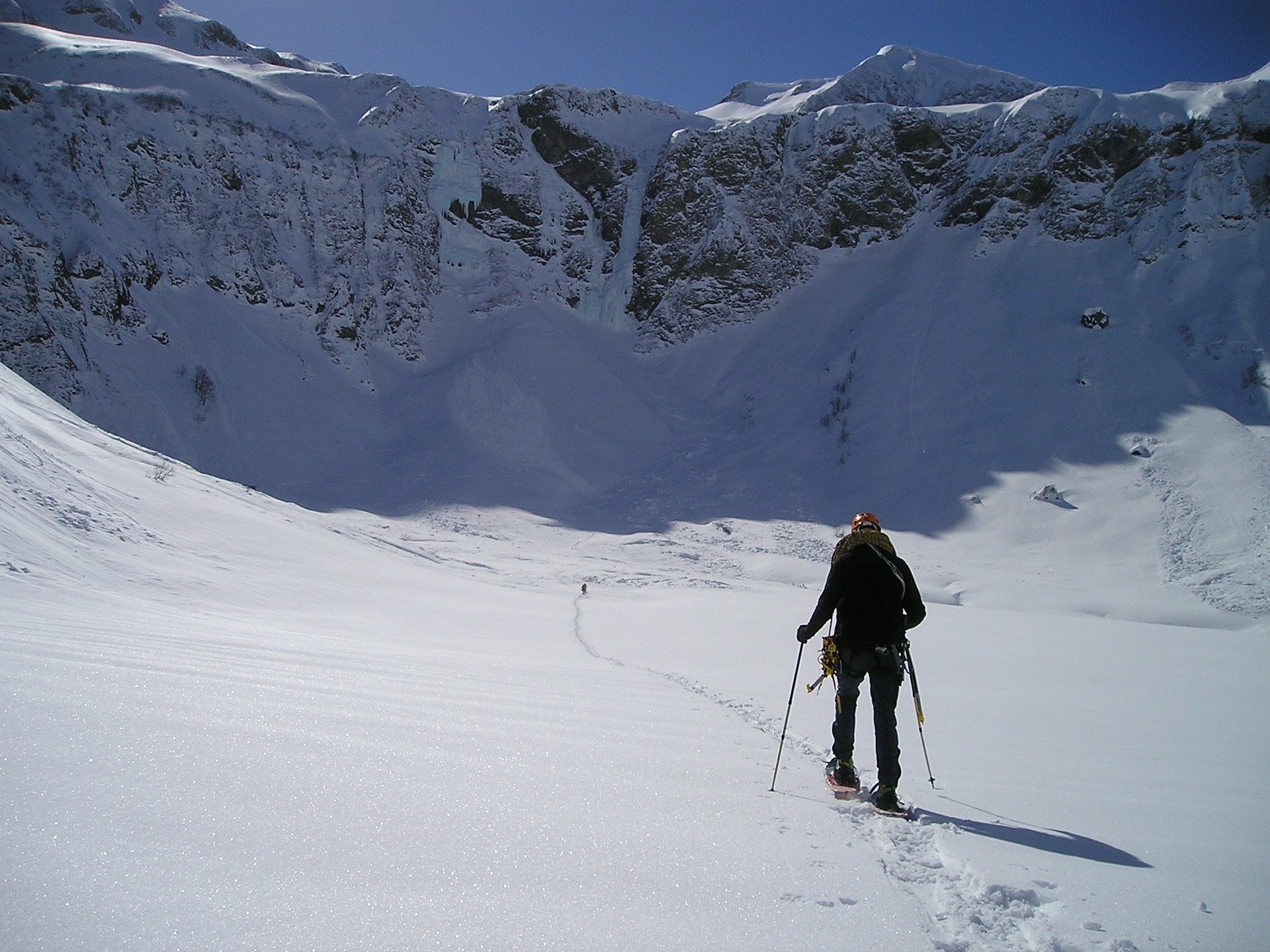 If you don't already have a trail in mind, try looking up the best snowshoe or winter hiking trails in your area. Find something that is fairly short and easy to start with for your first snowshoe adventure; you can always work your way up.
You may also want to look for trails on a hiking app like AllTrails, which allows you to search for trails in your area and filter by activity (like snowshoeing). You can also see what time of year the trail is accessible, what the weather is predicted to be like, a map of the trail, and recent photos and reviews from other hikers to give you a better idea of the current conditions. Make sure to check the weather and conditions up until you go so you can prepare accordingly. Although many snowshoes do have traction, you're still going to slip around in icy conditions and may want to opt for a snowier day.
What to Wear/Pack When Snowshoeing
Boots: The best footwear for snowshoeing would be a good pair of winter/snow boots. These boots are waterproof, insulating, and are often rated for certain temperatures (as low as -40 degrees Fahrenheit). If you're worried about your toes getting cold, definitely consider wearing toe warmers in your shoes for added warmth.
Poles: Many people like to use trekking poles when snowshoeing for added balance and stability in icy, rocky, or uneven terrain. When using trekking poles, make sure you put snow baskets on the end of your poles. These are the round endings that help keep your poles from sinking down in the snow (sort of like the ones on the ends of ski poles).
READ MORE: How To Dress For Any Winter Occasion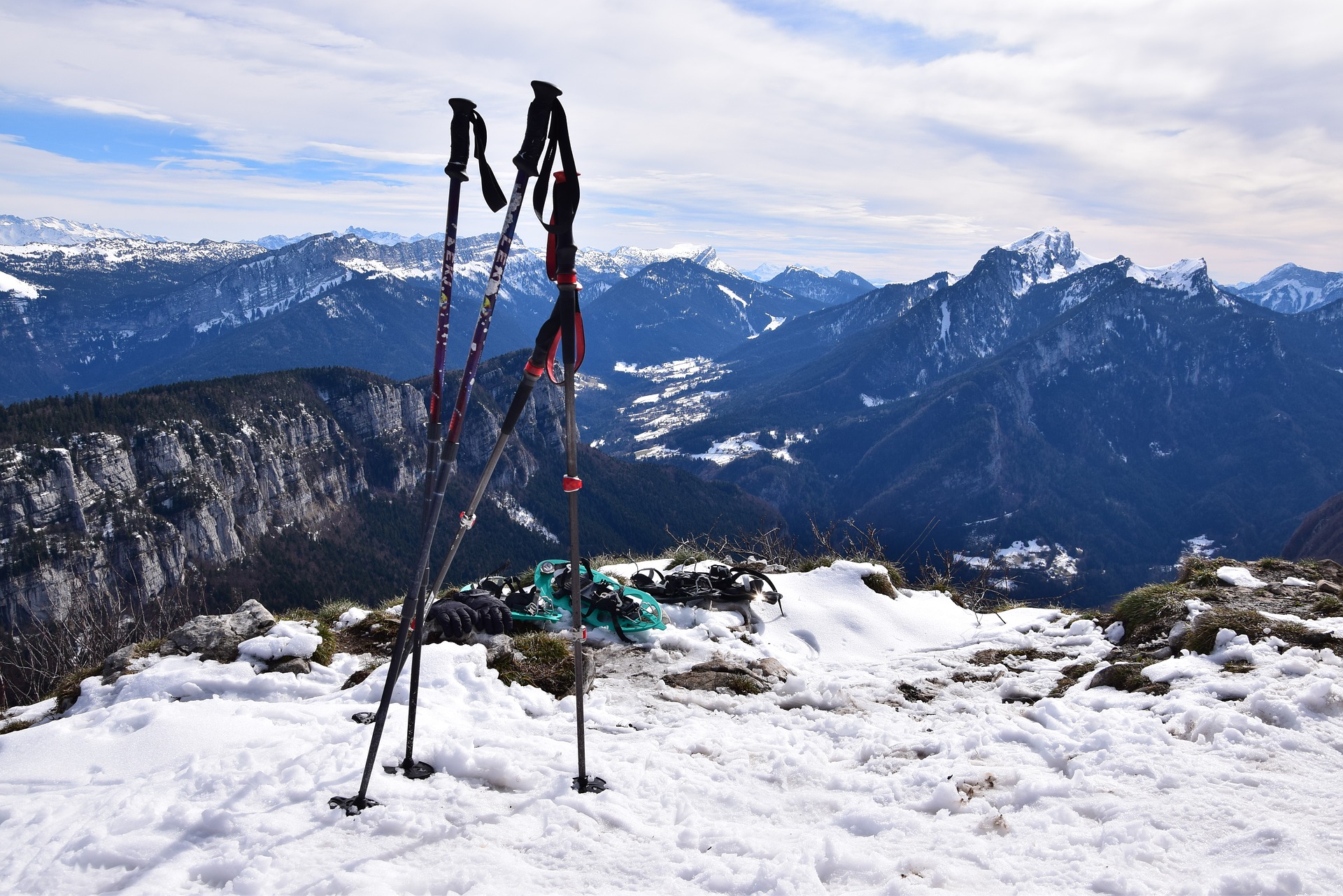 Layers: When doing any sort of winter activity it's always a good idea to dress in layers. You should have a moisture-wicking base layer like merino wool that will keep you dry. Then, an insulating layer like a fleece or down jacket to retain heat. Lastly, a water and windproof shell that will protect you from the elements. You'll also want to wear a hat, gloves, wool socks, and a neck gaiter to cover your face from any cold wind.
Snacks, water, & the ten essentials: On any outdoor adventure, no matter the season, you should always bring plenty of food, water, and safety equipment. Make sure to pack The Ten Essentials in addition to extra layers. If it's going to be sunny out, you may also want sunscreen and sunglasses to protect your skin and eyes from the sun reflecting off the bright snow.
We hope this article inspires you to get outside this winter (via snowshoe) and enjoy all the season has to offer!
Pin it for later!