I'll be frank with you here: I don't know anyone who enjoys hiking in the rain, even with the best backpacking rain gear money can buy.
If you happen to enjoy hiking in the rain, congratulations, you've found your superpower.
For the rest of us, avoiding the wet when we can is often the best option, and packing the best backpacking rain gear we can muster is the less attractive plan B.
Still, rain happens, but rest assured: We've got you covered from head to toe and then some.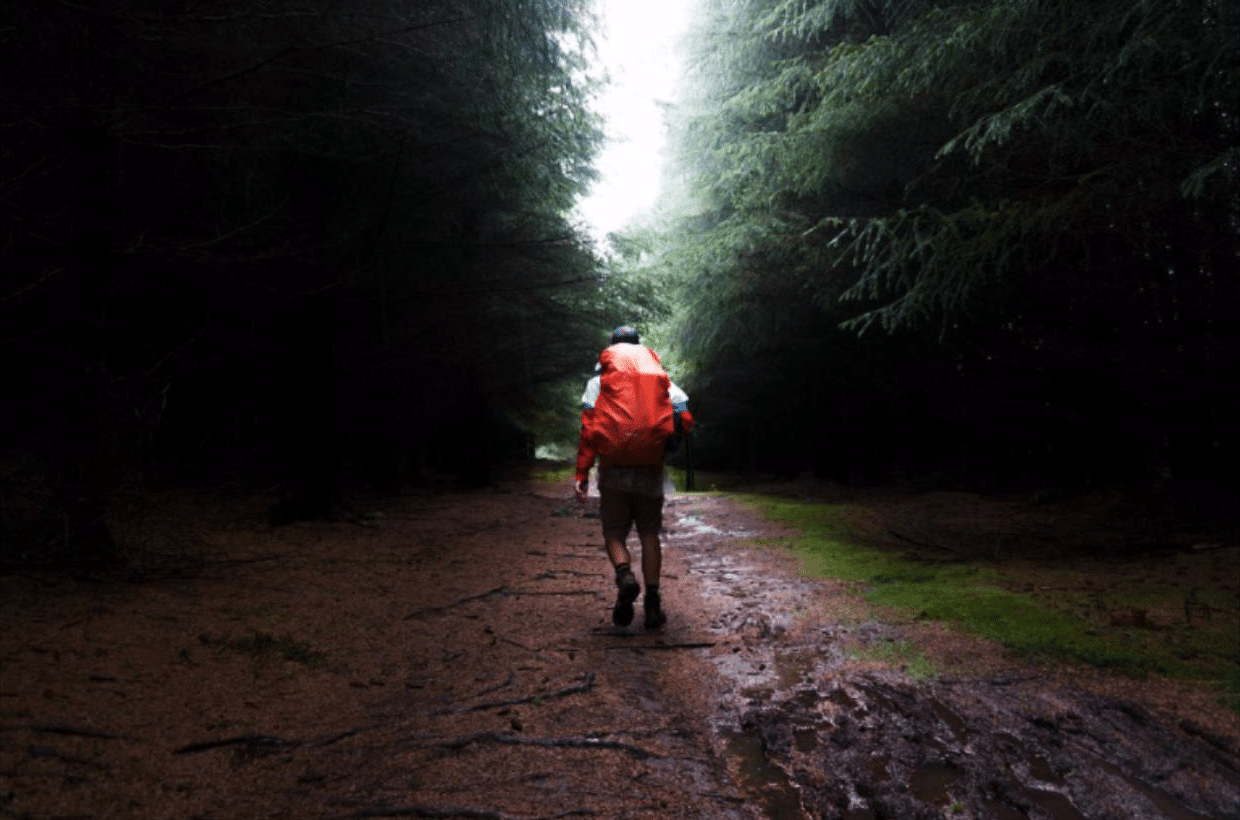 Types Of Backpacking Rain Gear To Consider
When you're shopping for rain gear, you'll run into one of three designations on the label: Waterproof, waterproof-breathable, and water-resistant.
Water-resistant is a no-go for any serious backpacking if your goal is staying dry. That's because while a water-resistant garment may be able to keep you relatively dry in light rain, it won't keep moisture out entirely. Go ahead and skip this one.
Waterproof and waterproof-breathable, on the other hand, will both keep the wet out in anything shy of a hurricane.
And while "waterproof" items certainly keep moisture out, they're made from impermeable materials, which means they'll keep moisture inside too.
Backpacking is a strenuous activity, and strenuous activities are sweaty activities. A "waterproof" jacket traps all that heat and moisture against your body, so you'll effectively be hiking in a sauna.
If you believe you might enjoy hiking in a sauna, or you don't sweat at all, congratulations. You, too, have found your superpower.
For the rest of us, that narrows the field down to "waterproof-breathable" garments, so let's focus on those specifically.
Key Features To Consider
Not all backpacking rain gear is created equal, but there a few common features many jackets and pants share that you'll want to keep in mind.
Taped seams, for instance, are required to make garments truly waterproof, as even waterproof materials are vulnerable at the seams. If a garment doesn't have fully-taped seams, you don't want it.
Ventilation is another important feature you don't want to go without. On minimalist options like the ponchos and kilts we'll cover below, ventilation is abundant, but comes at the cost of coverage. Armpit zippers, pockets, ankle zips, and adjustable cinches are all features that allow you to adjust ventilation vs. protection, and are generally worth spending a few extra dollars on.
Packability is another important feature, and one that runs through just about every other piece of backpacking equipment as well. Jackets that come with their own stuff sack or conveniently pack down into their own pockets are nice to have. Keep an eye on the overall "packed" size of your backpacking rain gear as well, because it will (hopefully) be spending a lot more time packed away than being worn.
READ MORE: A Hiker's Guide To The Perfect Backpacking Sleeping Pads
Backpacking Rain Gear For Your Upper Body
You've generally got two choices for your upper body, and those are rain jackets and rain ponchos.
Rain jackets feature full-length sleeves and typically come with more adjustability at the wrists and waist, but they also tend to be much less breathable, and won't protect your pack.
Ponchos, on the other hand, can be thrown over both your body and your pack quickly. They're much more breathable, but ponchos have a few drawbacks too. Because they don't fully cover your forearms, they may leave any sleeves you're wearing underneath exposed to rain. Also, due to the free-flowing design of most ponchos, they can be hard to live with in extremely windy conditions.
Both are great options, but the jacket is usually the better choice in cold weather, so keep that in mind.
Now we're talking backpacking gear, so let me start here by saying yes, you can spend a small fortune on the lightest, most packable, fashionable backpacking rain gear out there.
The good news is, you don't have to. If you don't mind donning something a little baggy and basic, some of the rain gear costs less than $20.
I'm talking about Frogg Toggs, of course. If you're not familiar with the name, I'd recommend starting by Googling "hiking in Frogg Toggs." The images that follow are unpleasant, but if you can stomach what you see there, your search may be over.
If Frogg Toggs aren't your bag, or you simply prefer something a little more high-tech, you'll want to look into buying a rain shell or jacket from a reputable brand.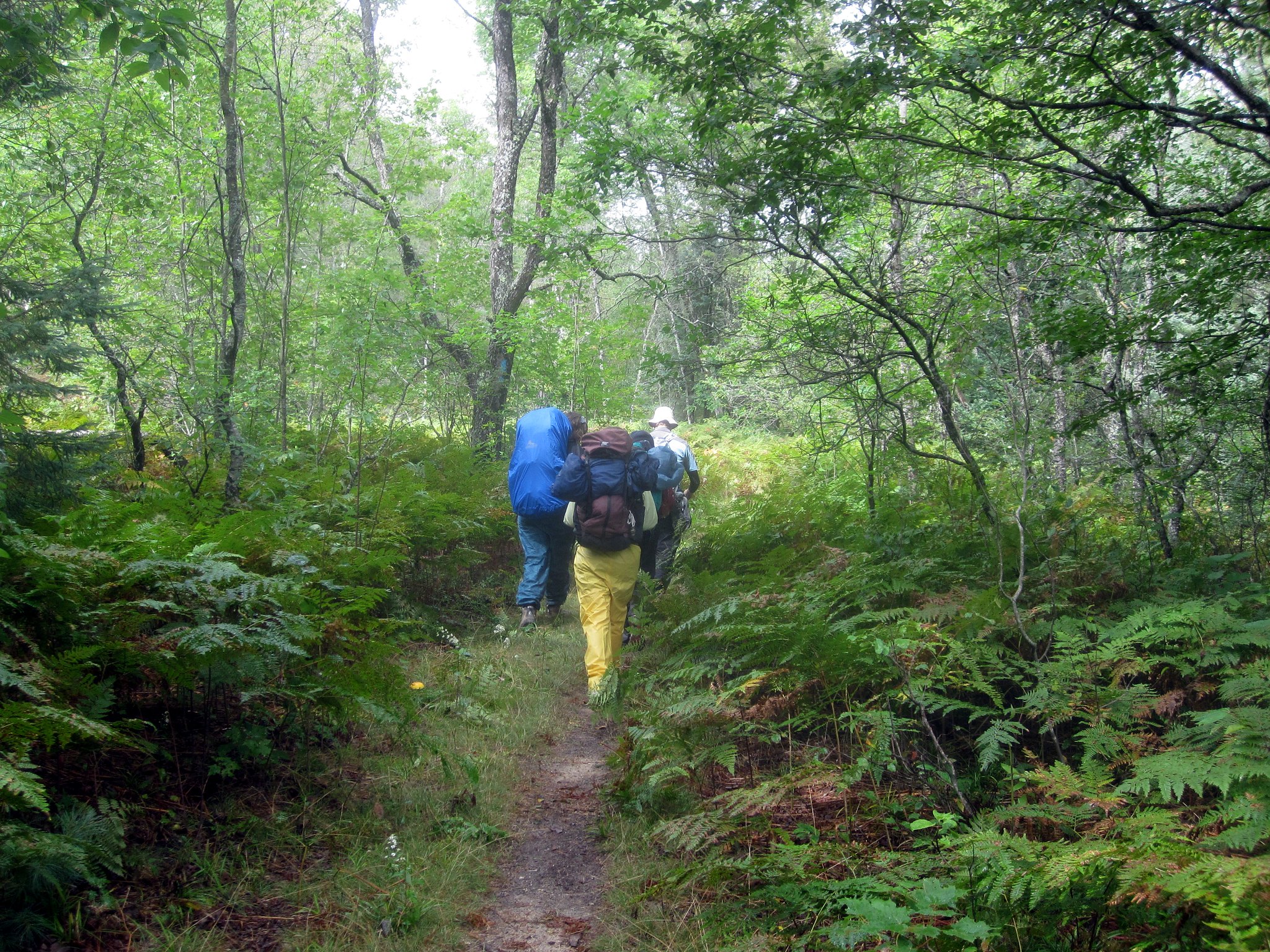 Backpacking Rain Gear For Your Lower Body
Hikers usually fall into one of two categories for lower body backpacking rain gear: Rain pants and rain skirts/kilts.
Pants are by far the most common option on the trail. They're popular for their full-length coverage and added wind protection, but can be a little stuffy during strenuous activity.
Rain skirts (or kilts, depending on who is selling them) provide waist-to-knee protection and are a popular option for warm weather as they provide much better ventilation while moving.
Again, just keep the conditions you'll be hiking in mind and pack accordingly.
The Footwear Dilemma…
Waterproof footwear or fast-drying footwear… That is the question…
And while I can't answer that question for you definitively (again, personal preference), I can share what I know.
Every year, more and more hikers switch from hiking boots to lightweight trail runners. There are a few reasons for the switch, with comfort and weight being high on the list, but it's no surprise people are getting away from boots. Even the best Gore-Tex-protected hiking boots just aren't going to breathe as well as non-waterproof footwear.
For the same reason you want "waterproof-breathable" rain gear rather than "waterproof" options, I think you'll find trail runners are your best choice for anything but the harshest weather.
Feet sweat. No two ways about it. Especially when you add in a pair of cushioned hiking socks. Sweat enough, and the inside of your waterproof boot will match the outside in a rainstorm. Your feet aren't dry, and that's the entire point of waterproof boots.
Better to enjoy all the benefits of a lighter, more breathable shoe that won't stay wet for long rather than fight the rain only to end up with wet feet anyway.
Keeping Your Pack (And Its Contents) Dry
Okay, so we've covered how to keep your body dry, but what about all that nice gear you're toting around on your back?
You've got three routes available to you here: pack covers, dry bags, and (my personal favorite) plastic bags.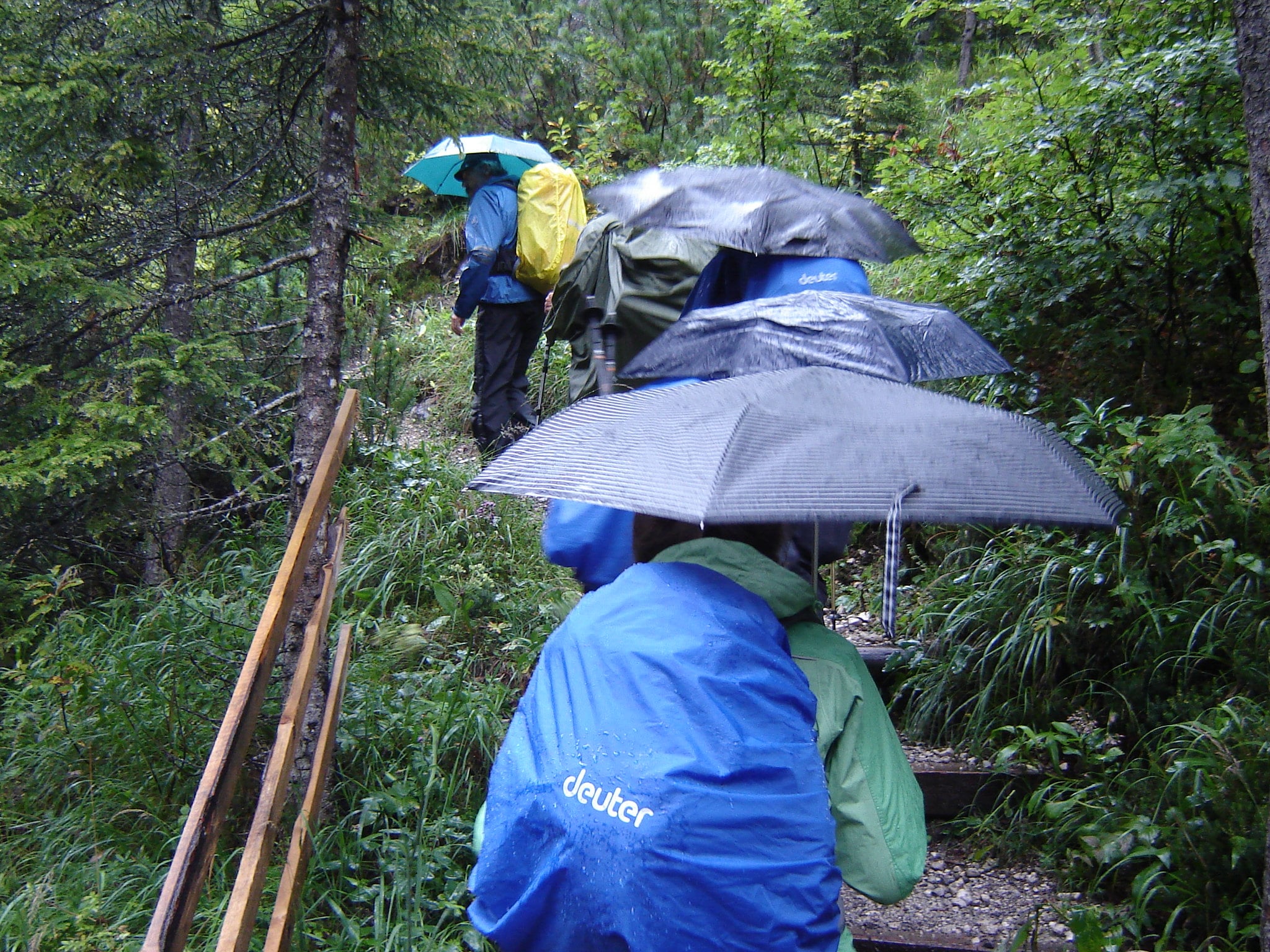 Pack covers are a common sight. Many packs are sold with a pack cover included, while others offer one for an additional fee. These are 100% waterproof shells that stretch securely over your pack to shield both the inside and outside contents, and are generally very effective.
Backpackers gripe about the inconvenience of stopping and putting on a cover every time the rain starts. They gripe about pulling it off every time they need to access something inside too, and that's a fair complaint. Honestly, if you're smart about packing the inside of your bag, you can probably skip a pack cover altogether.
Dry bags are waterproof sacks that you store inside your bag, and come in a range of sizes. Many backpackers like to use multiple dry sacks to organize their gear into different sections (clothes, food, sleeping bag, etc.). This has the added bonus of only exposing the gear you need to the weather should you need to dig into your bag for something in the middle of a storm.
If you prefer to keep it simple, or just add a second layer of protection, you can also pick up a backpack liner. Backpack liners are the largest kind of dry bag, and have enough space to hold all of the gear in your pack.
Which brings me to my favorite option, the "other" giant waterproof bag for lining your pack, the humble trash bag.
Trash bags are 100 percent waterproof, cheap, and effective. You can pick up a dozen or more for the price of a single dry bag. Their downside? Well, if you've taken out the trash recently, you know these things aren't exactly hard to put a hole in. But there's a fix for that!
Pro tip: Considering keeping it simple and going with the trash bag option? Look for bags labeled "compactor bag" rather than standard trash bags. Trash compactor bags are thicker to stand up to the compression forces of compactors and will take a lot more abuse without breaking.
READ NEXT: How to Find the Perfect Tent Camping Spot
Pin it!