Planning a Yellowstone National Park camping trip is an ideal adventure. From bubbling hot pots and exploding geysers to fascinating geologic formations and more than 600 lakes, this national park is so massive you'll want to stay a few days, if not a whole week.
With so much to see at Yellowstone National Park, camping is the way to go, especially if you don't want to make the long commute into the park each day.
Planning a Yellowstone National Park Camping Trip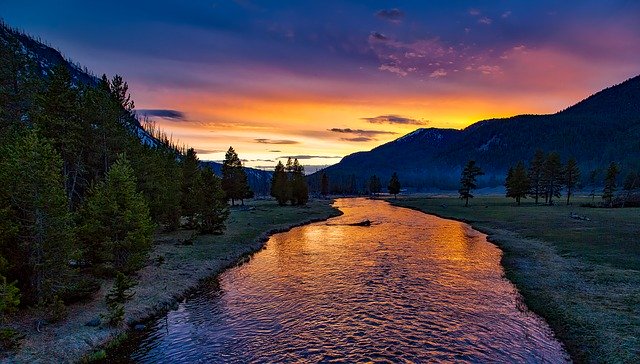 The key to finding a great campsite and successfully navigate the summer crowds is proper planning. 
Reserve Campsites Ahead of Time Online
Although Yellowstone National Park has twelve campgrounds and over 2,000 campsites, scoring a campsite during the summer months can be a challenge. Luckily five of these campgrounds can be reserved ahead of time online.
These include Bridge Bay and Grant Campgrounds on Yellowstone Lake, the Grand Campground near the Grand Canyon on the Yellowstone River, the Madison Campground near the city of West Yellowstone and the Fishing Bridge RV Park (the only Yellowstone campground with hookups for RVs). 
Reservations often fill up months in advance especially for holiday weekends, so book as soon as you know your travel dates. It is common for Yellowstone campgrounds to be booked six months to a year in advance.
If you're booking a last-minute trip it is always worth browsing the campground reservations to see if there have been any cancellations. 
Arrive Early in the Day if You Don't Have a Camping Reservation
If you want to camp in Yellowstone National Park and don't have a reservation, arriving early in the morning is key to getting a spot. Indian Creek, Lewis Lake, Mammoth, Norris, Pebble Creek, Slough Creek, and Tower Creek campgrounds are all first-come, first-serve.
Checkout time is at 10 am, so around that time or earlier is a great time to start looking for a spot. The Yellowstone National Park website offers up to date information on times campground have recently filled and what the current status is of each campground to help you find a spot. 
If You're Traveling With an RV, Be Sure To Check the Campground Length Limits
RVs and travel trailers are welcome in all Yellowstone National Park campgrounds. Trailer size matters though and some campgrounds have limits based on length.
For example, the Lewis Lake Campground can only accommodate RVs under 25 feet in length and the Slough Creek Campground only accommodates vehicles under 30 feet in length.
This length includes the trailer length and the length of any other vehicle or towed vehicles. Some sites are also tent-only so it's best to reserve RV sites ahead of time if you can to ensure you find a site suitable to the length of your camper. 
Choose a Campground Near the Sites You Most Want to See
Yellowstone National park is huge and if you have your choice, choose a campground near the Yellowstone attractions you are most excited to see. Madison and Grant Village are the closest campgrounds to Old Faithful and the Fountain Paint Pots and Norris and Indian Creek are the closest to the Norris Geyser Basin boardwalks.
Pebble Creek and Slough Creek campgrounds are great base camps for visiting the Lamar Valley, the more remote section of the park famous for frequent wolf and bison sightings. 
Forest Service Campgrounds Outside the Park are Less Crowded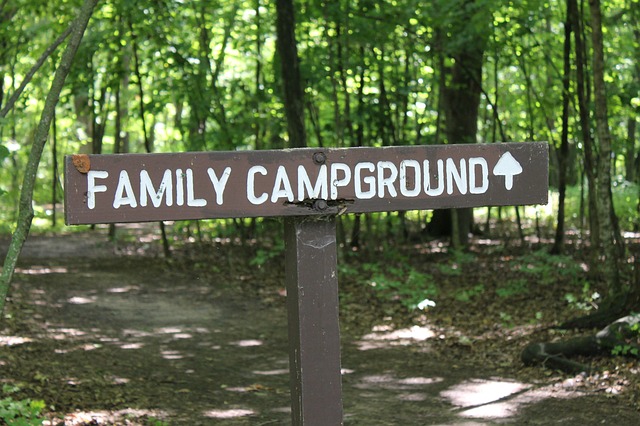 Several U.S. Forest Service campgrounds are located just outside the west entrance of the park. Baker's Hole Campground has several electric sites for RVs and they are all available on a first-come, first-served basis. Rainbow Point and Lonesomehurst have sites for tents and RVs and can both be reserved online in advance.
Several other Forest Service campgrounds are located near the northeast entrance and the north entrance of the park and all are located within 35 miles of the park. There are also several private RV parks in the gateway towns outside the park.
Don't Expect to Sleep In Your Car at Trail heads or Parking Areas
No overnight camping or parking is allowed outside of designated campgrounds in Yellowstone National Park. Park rangers will ticket campers found sleeping in their car and force them to move their car in the middle of the night. If you wish to sleep in your car, you'll need to be parked in a designated campsite or outside the park in surrounding National Forest land. 
Be Prepared For Cold Temps, Even in the Summer 
All Yellowstone campgrounds are located above 6,000 feet in elevation (Canyon Campground is the highest at 7,900 feet) so expect cool nighttime temperatures even during the summer months. If you're tent camping, bring an extra blanket to toss over your sleeping bags for extra warmth, and packing a hat and gloves won't hurt.
Only Purchase Campfire Wood in the Park
Campfires are permitted in all Yellowstone campgrounds except for Fishing Bridge RV Park. Fire restrictions are put in place occasionally when the fire danger is high. Any dead or down wood may be used as firewood and firewood is available at campgrounds and park stores. Firewood from outside the Greater Yellowstone Area is not allowed since it can transport invasive pests into the park. 
Be Sure To Follow All Bear Camp Safety Rules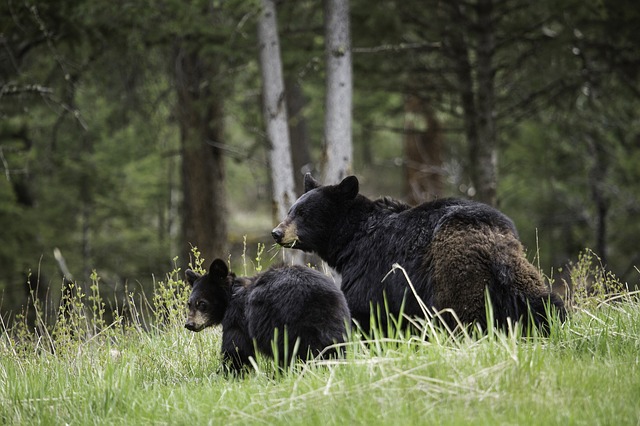 The Yellowstone area is home to a large population of both black bears and grizzly bears. Considering they learn to associate food with humans very quickly,  proper food storage is very important.
Food scraps and smells can attract bears so all food, cooking utensils, beverage containers, garbage, and even cosmetics and toiletries need to be stored in your vehicle or campground bear boxes when not in use.
After every meal, it is important to check for food scraps on the ground and immediately put any food and containers, even if empty, into your vehicle or bear-proof storage box. Although bear encounters in Yellowstone are rare, having a bad experience with a bear often results in its removal from the park and often euthanization.
Allowing a bear to obtain human food even once can result in them becoming more aggressive to people, so keep a clean camp to not only protect campers but to protect the bears as well.
Backcountry Camping is Always an Option
Yellowstone National Park has hundreds of miles of trails and over 300 designated backcountry campsites. Backcountry permits are required and can be obtained in person no more than two days before the start of your trip or by advanced reservation.
Backcountry campsites are almost always available and are accessible via backpacking, boating, or horseback.
Camping in Yellowstone National Park is a once in a lifetime experience, just remember to give yourself enough time to explore all the trails.