The Florida Keys may not be as well known for its beaches compared to its Caribbean and Bahamian island neighbors, but beach days still remain a big part of a Florida Keys vacation. Across the over 125 miles of connected islands, visitors can sample and enjoy more than a few sandy shores to tan, relax, and obtain a proper amount of "vitamin sea."
Many hotels and resorts offer private beach areas for their guests, but don't worry if you booked alternate accommodations — we have you covered with this list of 7 of the best Florida Keys beaches to visit.
The Upper Keys
Access to quality public beaches start to open up once visitors start to travel deeper into the Keys and find themselves in Islamorada. Here two places in the upper keys with beaches worthy of a stop.
1. Founders Park (mm 87)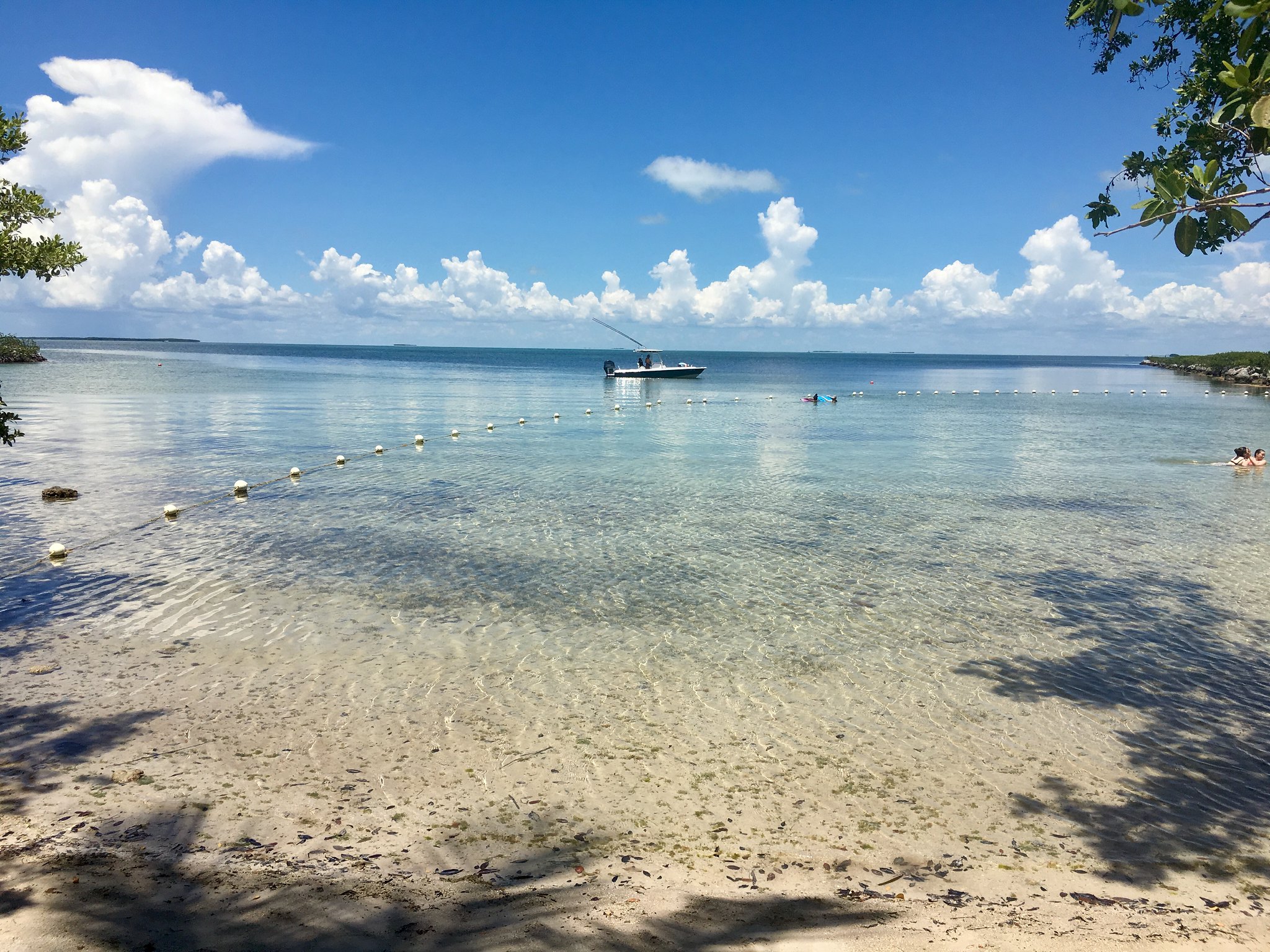 Founders Park offers more than a beach, and can be classified as a complete recreational area since it provides access to an Olympic-sized pool and diving boards, tennis courts (including pickle ball), a basketball court, ball fields, an exercise park, and even a dog park. Even then, many visitors come here solely for its beach access.
The well-maintained and manicured sands of the shallow water beach area gives visitors (and locals) the chance to appreciate the clear and calm waters of the Florida Bay. This family-friendly Florida Keys beach offers Tiki Huts (available for rent by residents), picnic tables, cooking grills, a sand volleyball court, playgrounds for children, outdoor showers, and restroom facilities — providing plenty of amenities to make for a full day at the beach.
All non-village residents will need to pay an access fee between 9am-5pm, but stopping in to catch a sunset on the Florida Bay after the entrance booth closes is free of charge for everyone.
2. Anne's Beach (mm 73)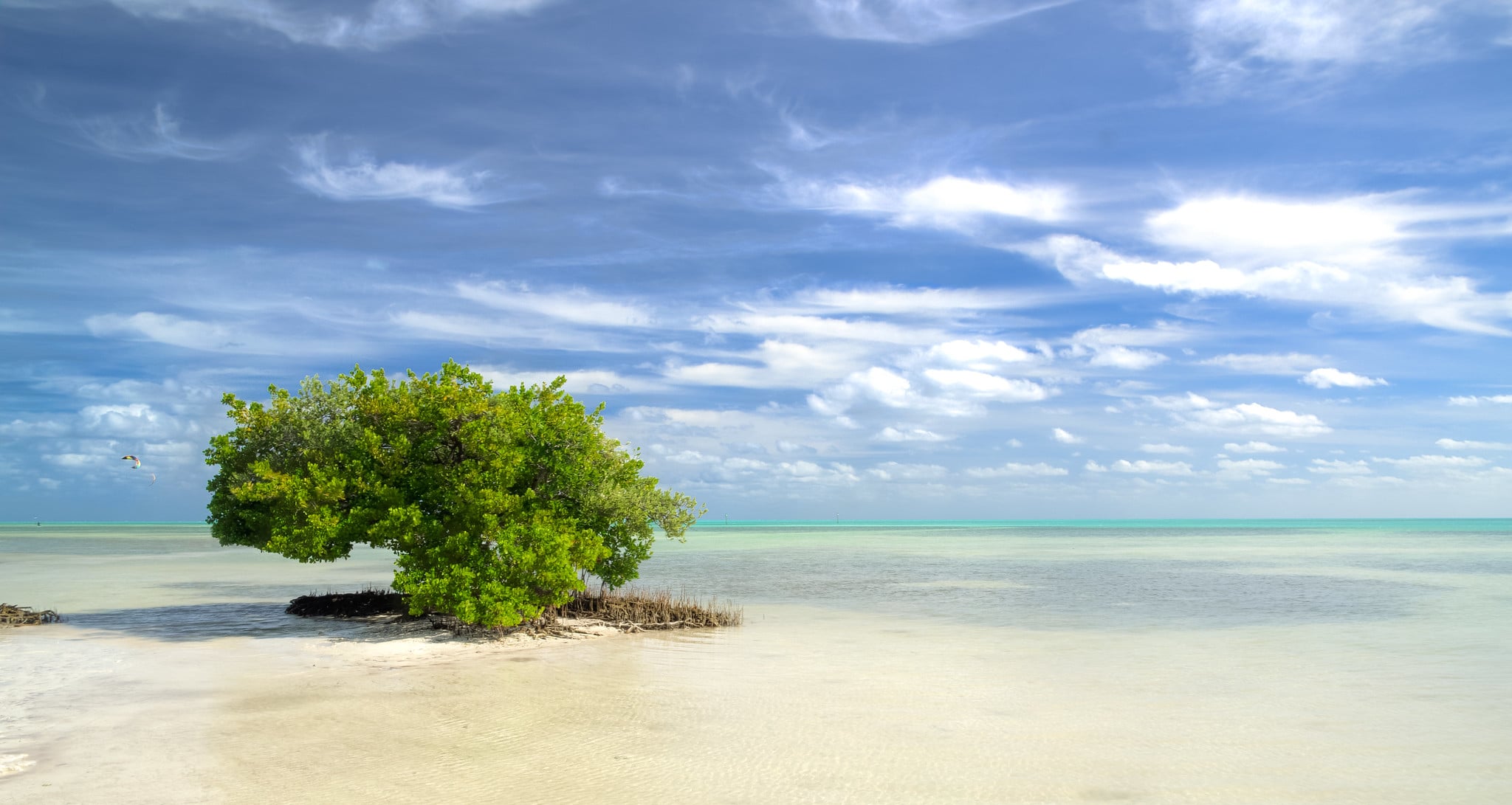 Located on the Atlantic Ocean side, Anne's Beach is a small stretch of land dedicated to honor a local environmentalist. The shallow beach produces no waves, but the views are expansive and the water is always warm.
It remains a popular destination for locals and also for kiteboarders. The breezes and shallow waters make it especially great for beginners who aim to learn the sport and soar. Two parking lots bookend the beach's popular and expansive wooden boardwalk, while inside the grounds travelers will appreciate the covered picnic tables, bathroom facilities, and walking through the coastal mangroves.
Middle Keys
Driving further west (or south) into the Keys and guests will transition to the middle keys, location and home to perhaps the two most popular and arguably best Florida Keys beaches.
3. Sombrero Beach (mm 50)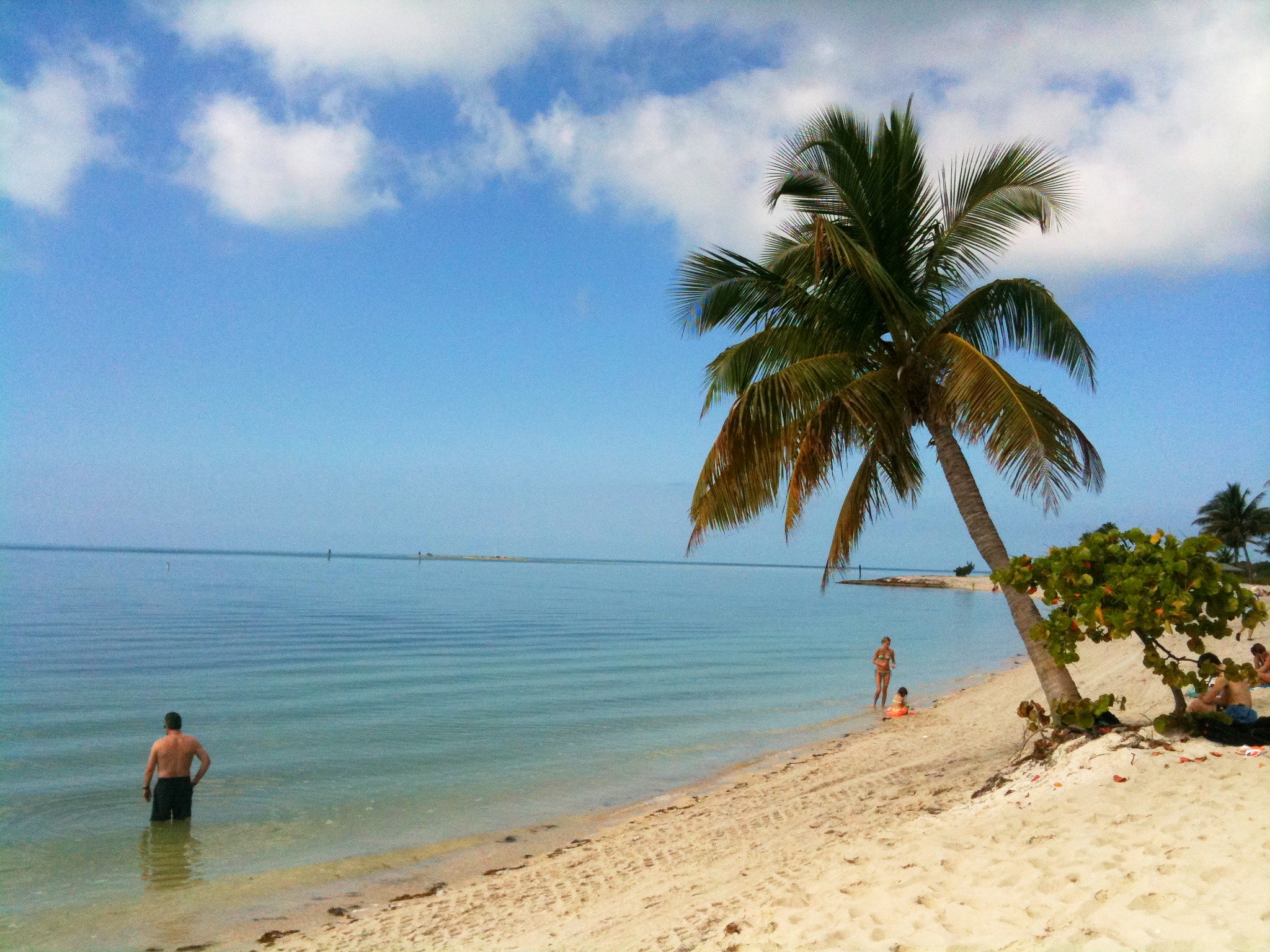 Located in Marathon (and not Mexico), Sombrero Beach offers tropical views and water comparable to many Mexican beaches. Here, soft sand and clear blue waters are found along with many public facilities such as a playground, public restrooms, and showers.
The beach, very popular with the locals, offers free adjacent parking spaces and handicap access. Sombrero is the place to sun, swim, snorkel, and even fish all from the shore when in Marathon.
4. Bahia Honda (mm 39)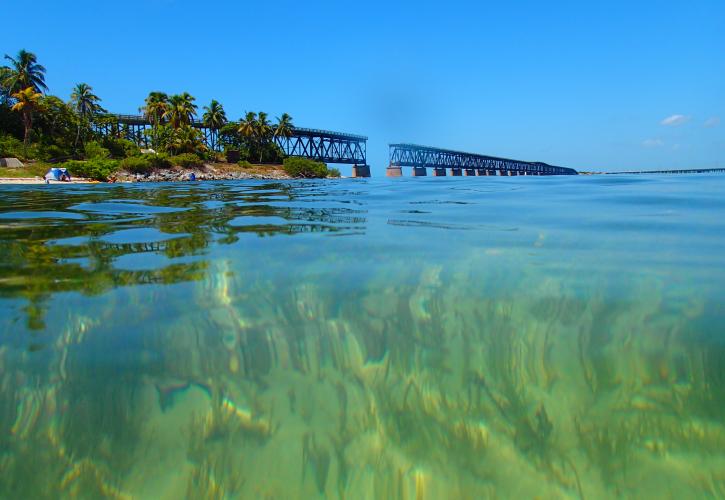 The most iconic beach in the Florida Keys, and one of its only natural beaches, can be found inside Bahia Honda State Park. Often acknowledged as a "Top 25 Beach in the US," this state park often fills up with daily beach-goers to lay out alongside the lucky campers who obtained one of the coveted campsites. (Book early as campsite reservations open one year in advance.)
With both Atlantic Ocean side and Gulf of Mexico side beaches, visitors can step off the soft sands to swim or even snorkel in the pristine clear waters often filled with colorful tropical fish, and sometimes even marine mammals too.
Guests often refresh after the beach in the expansive restrooms and shower facilities before heading out to an evening dinner in Marathon or Big Pine. Yet regardless of how long one decides to stay, it is recommended that all visitors take the small hike up the iconic Bahia Honda Train Bridge for panoramic views of the area, and to learn about the historic Florida Keys Overseas Railroad on-site.
READ MORE: The 9 Most Popular State Parks in the Florida Keys
Key West
Key West vacations usually center around spending time on its famous Duval Street and nearby attractions. But for those making it a more than a weekend escape for the party scene it offers, beaches are available to rest up between bar hopping.
5. Fort Zachary State Park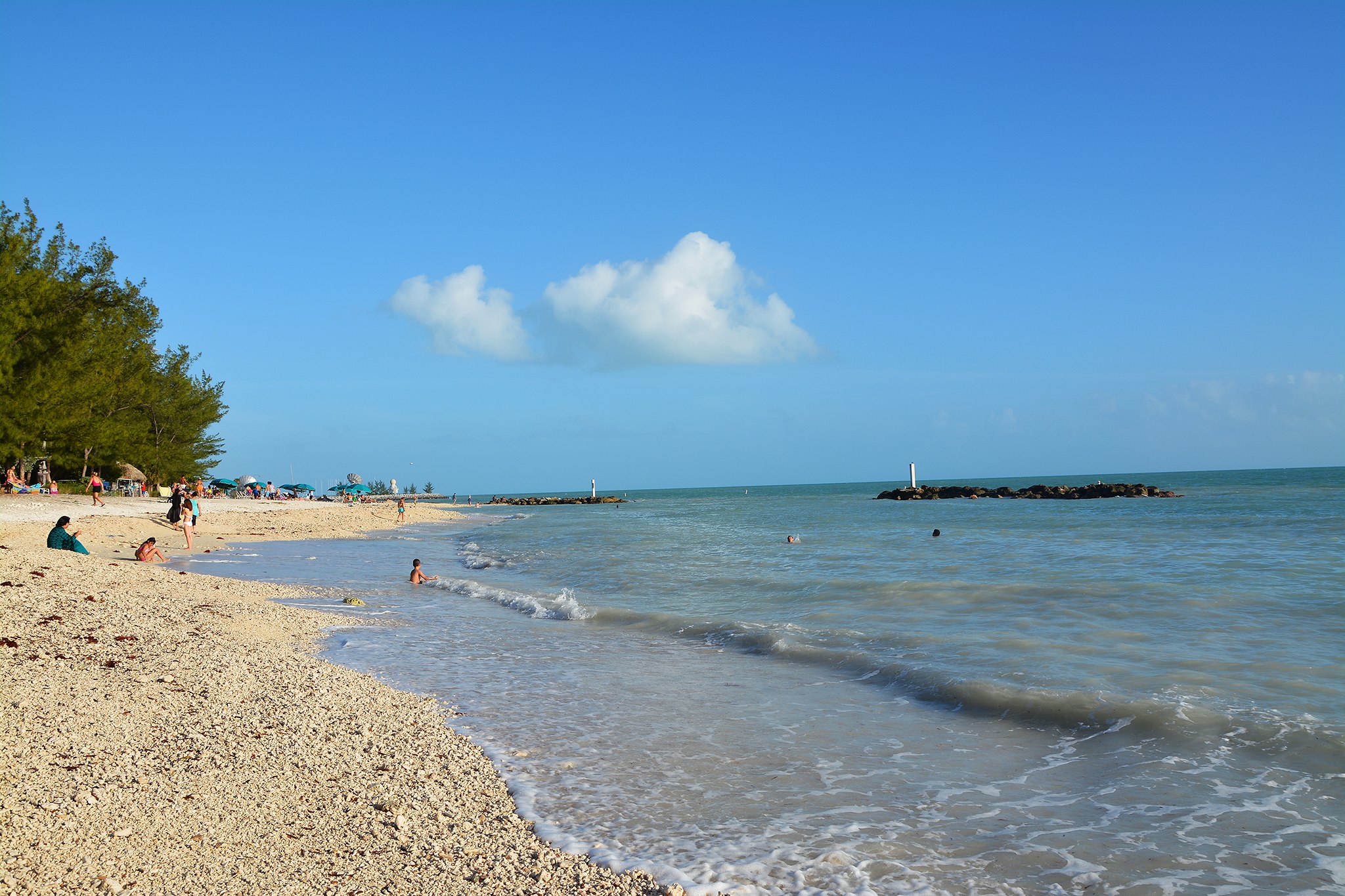 Another one of the best Florida Keys beaches can be found at another one of the must-visit Florida State Parks in the Florida Keys. Fort Zachary State Park's beach is the most popular beach escape for those traveling to Key West. Here you can enjoy swimming as well as a bit of history with a visit to the historic fort dating back to the mid-1800s.
6. Simonton Street Beach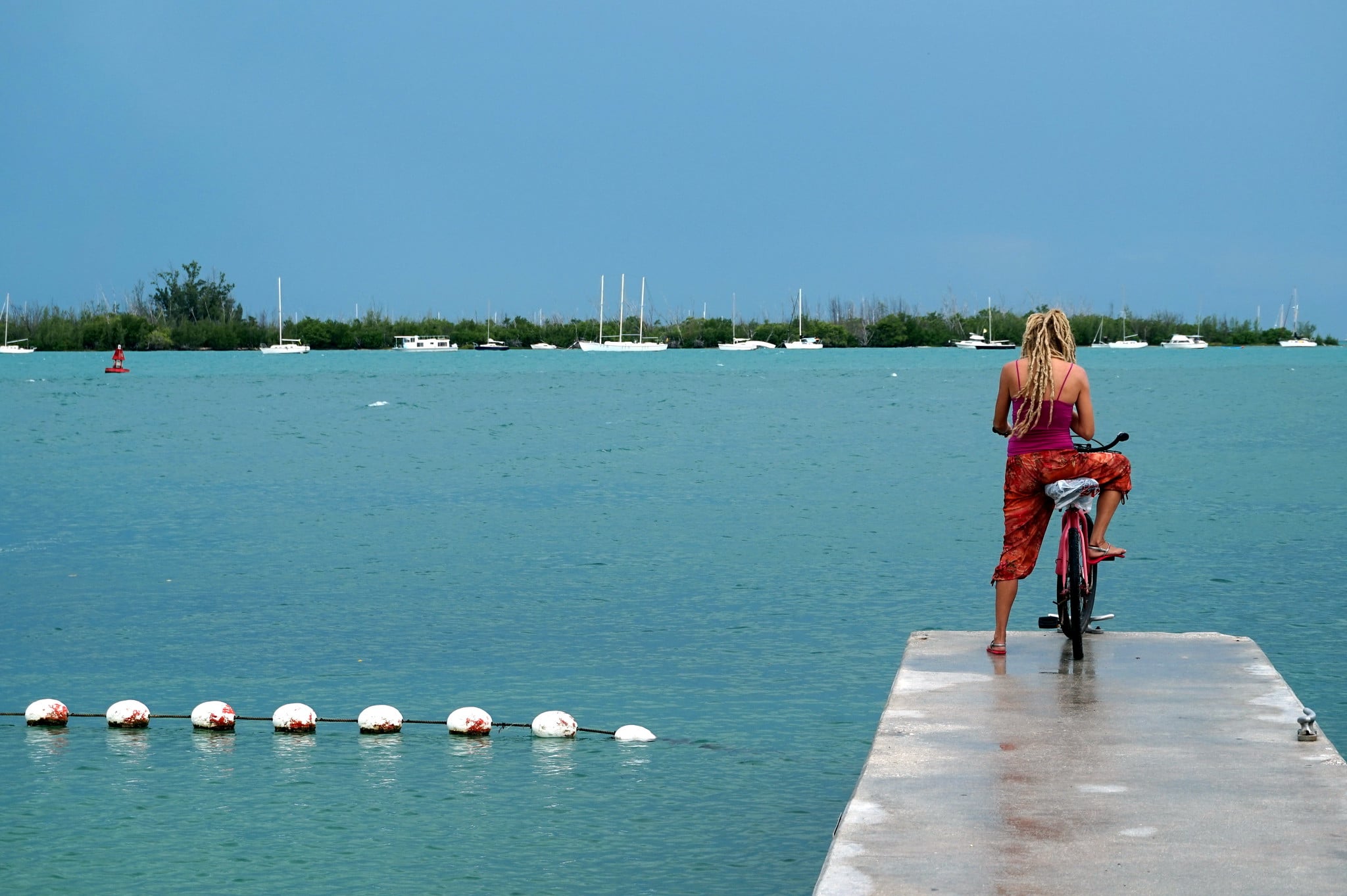 If you believe good things come in small packages, Simonton Street Beach may be the perfect place for your visit — especially if staying at one of the hotels within walking distance. The small size may put pressure on one's beach real estate or access to the rentable lounge chairs and umbrellas, but here the water is clean and clear, the sand soft, and the local beach bar provides full service.
7. Higgs Beach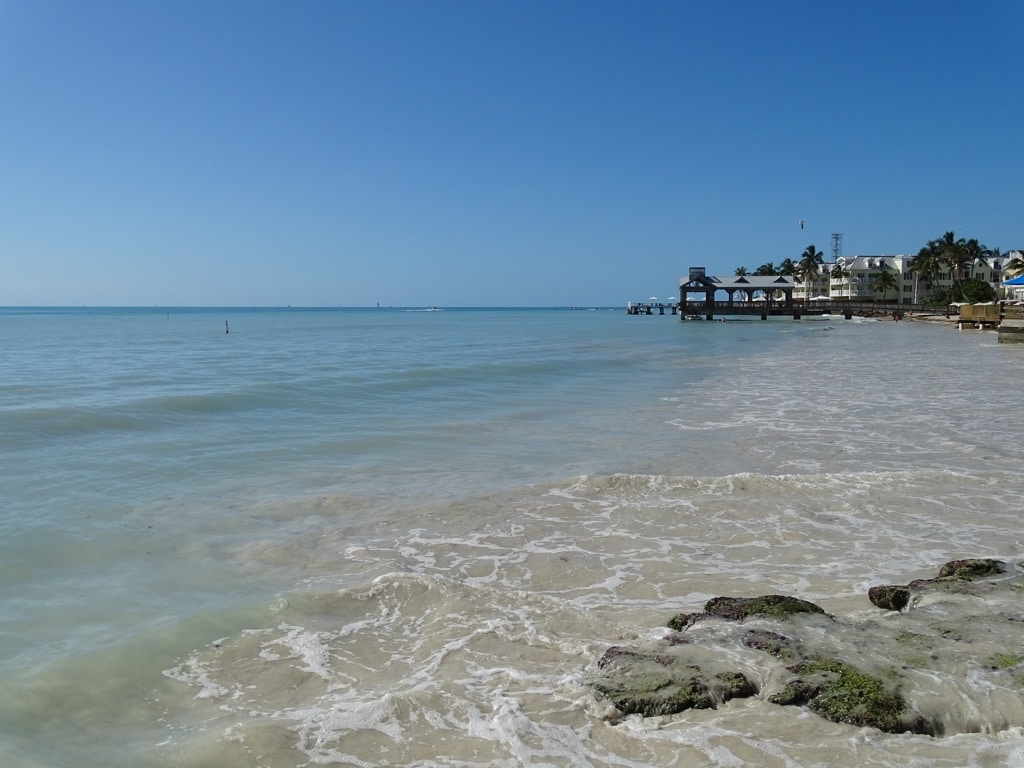 For those who prefer the sunrise over the massive sunset celebration at Mallory Square in Key West, Higgs Beach is the perfect place to start the day in Key West. The bigger beach offers great views of the water, but swimming from the shore will be a challenge through the rocks. However, there is a long walkable pier with ladders so swimmers can essentially walk beyond the coral for a swim. Lounge chairs and umbrellas are also available for rent with parking nearby.
Even though the Florida Keys beaches may not provide the miles of soft sugar sands found on an idyllic tropical palm tree beach vacation in the Caribbean, these beaches are all special in their own way. The long stretch of over 125 miles of connected islands offers access to the protected waters of a living coral barrier reef, coastal mangroves, and plenty of watersports.
So pack a picnic basket, bring a beach chair and drink (where allowed), and enjoy being knee-deep at one of these seven popular Florida Keys beaches.
READ MORE: Which Florida Key Should I Visit?
Pin it for later!