When planning a trip to see fall colors, images of New England's kaleidoscope of colors or Colorado's colorful aspens are sure to come to mind before Utah. Sure, Utah does not have the brilliant orange and red maple leaves like the east, but the state's wide array of forests and national parks still put on a pretty good show for fall foliage lovers.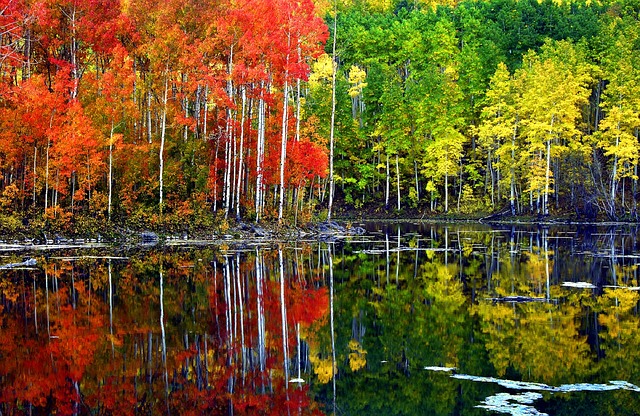 Thanks to Utah's assorted geography and varying elevation, fall colors peak at multiple times throughout the state. Therefore, you can find fantastic fall foliage displays whether you visit early or late in the season. Plus, Utah's remarkably-carved peaks and stunning red rock formations provide the perfect backdrop for bright yellow cottonwoods and brilliant aspen displays.  
Here are some of the most scenic routes for enjoying fall colors in Utah. 

Alpine Loop Scenic Byway
The Alpine Loop Scenic Byway is by far the most popular spot to view fall colors in Utah. This 20-mile scenic drive winds through the Wasatch Mountains just 30 minutes south of Salt Lake City, and offers incredible views of Mount Timpanogos and other dramatic glacier-carved peaks. The route also passes by Timpanogos Cave National Monument, a spectacular limestone cave system accessible by guided tours, as well as Robert Redford's Sundance Mountain Resort. 
The loop is open each year from late May to late October depending on snow conditions, and colors typically peak in early October. The Alpine Loop is fully paved, but not recommended for vehicles more than 30 feet long. Visitors to the area are required to purchase a recreation pass, but if you have the America the Beautiful (National Parks) pass, it will work here.  
Mt. Nebo Loop 
This 38-mile scenic byway winds through the Uinta National Forest between the cities of Nephi and Payson about 75 minutes south of Salt Lake City. It makes for a great side trip if you're driving from northern to southern Utah. There are several campgrounds, trails, and scenic viewpoints along the way. 
The route climbs to over 9,000 feet with spectacular views of the Wasatch Mountains including 11,929-foot Mount Nebo, the highest peak in the Wasatch. The Devil's Kitchen is a popular spot off the Nebo Loop, and resembles a mini Bryce Canyon National Park with its red rock spires and other interesting geological formations. Although the road is entirely paved, its steep and windy nature makes it not very suitable for RVs and trailers. 

READ MORE: 8 Top Sights On the Drive to Yellowstone
Mirror Lake Highway
Due to its high elevation, the Mirror Lake Highway is one of the earliest places to see fall colors in Utah. This northern Utah scenic byway travels from the city of Kamas into the high Unita Mountains before descending into Wyoming. There are many places to pull off and enjoy the scenic views or take a hike to a waterfall or lake. 
Mirror Lake Highway climbs to 10,687 feet at Bald Mountain Pass, making it one of the highest roads in Utah. From the pass, it's just 2 miles of moderate hiking to the summit of Bald Mountain (elevation 11,943 feet), one of the easiest accessible high mountain peaks in Utah. There, you'll be rewarded with incredible views of Utah's highest mountain range. 
La Sal Mountains
Just 20 miles south of Moab, an isolated mountain range abruptly rises from the red rock desert reaching heights of nearly 13,000 feet. Often only known to visitors as the snow-covered backdrop from scenic viewpoints in Arches and Canyonlands National Park, the La Sal Mountains are rarely visited despite their immense beauty and numerous outdoor recreation opportunities. 
The La Sal Mountain Loop State Scenic Byway begins eight miles south of Moab and winds up through the mountains before descending into Castle Valley and the Colorado River. In addition to fantastic fall colors, the La Sals also offer incredible views of the Moab Valley and Canyonlands National Park. This 60-mile route is paved, but narrow and steep and not suitable for large RVs and trailers.

Cedar City's Fall Color Loop
Known as Southern Utah's Fall Color Loop, this scenic drive begins in the small town of Parowan, Utah, 230 miles south of Salt Lake City, and weaves through both mountains and amazing red rock scenery before heading back to Cedar City. The display of fall colors with a backdrop of red rock hoodoos and cliffs is beyond comparison. 
This route combines three scenic byways: Utah's Patchwork Parkway, Cedar Breaks Scenic Byway, and Markagunt High Plateau Scenic Byway. It passes by numerous southern Utah attractions including Brian Head Resort and Cedar Breaks National Monument. To help visitors time their visit, the area tourism bureau keeps an up-to-date fall color report of which leaves are changing and at what elevations. 
If you have extra time, take a side trip to Navajo Lake, a small reservoir where brightly hued aspens border an ancient lava bed and make for some interesting photo opportunities. You can also kayak or paddleboard on the lake, mountain bike the entirety of the lake via the Navajo Lake Loop Trail, or hike to Cascade Falls — a fascinating geological wonder where an underground river emerges from the side of a cliff. 
Pando (Fish Lake National Forest)
This huge grove of quaking aspen trees near Fish Lake in south-central Utah is the largest known aspen clone on Earth. Each of the grove's 50,000 or so trees are not individuals, but shoot from an underground root system. Pando, also known as the "Trembling Giant," is a single living organism. Each tree is identical to the other and it just may be the most massive single living organism in the world. 
Fishlake National Forest is off the tourist radar and even that of many local Utah residents. It's an absolutely amazing place to explore and there are several national forest campgrounds and primitive camping areas close to Pando. Colors tend to peak in early October, but it can also occur earlier or later in the month, depending on temperature and precipitation. 
There are no formal hiking trails through Pando, but visitors can roam on their own through the trees or hike, bike, or drive one of the many Forest Service roads that goes through the forest. Just be sure to respect the fenced-off areas, which are there to encourage new growth since the organism's health has been threatened by overgrazing.
READ MORE: How To Plan Your First RV Trip
Pin it for later!