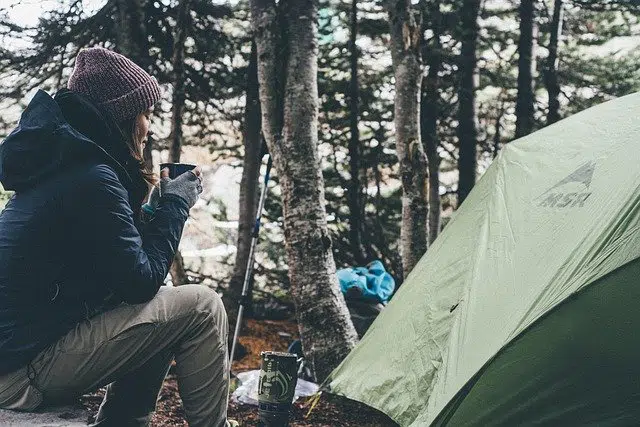 Cold weather camping has its perks. There are typically fewer crowds, no bugs, and a higher chance of seeing wildlife.
But if you're not prepared, a cold night in the tent can be downright miserable, so we've put together some of the best cold weather camping tips to keep you warm.

Staying comfortable while cold weather camping may be easier than you think and you don't really need to dish out a fortune on expensive camping gear.
With the right clothing and a few tips and tricks when it comes to setting up camp, you can stay cozy warm in the tent all night long, even in freezing temperatures.
Cold weather camping requires special preparation. You could have to prepare for wind, snow, and colder temps.
But even if you do not plan to sleep outdoors during these conditions, there are many things you can do to make your trip more enjoyable. Here are nine tips for a winter camping trip in cold weather.
Before we go any further, always check multiple weather forecasts to make sure that it is safe to camp in the cold. The last thing you want is an unexpected snow dump stranding you and your family in the woods.
Pick the Right Tent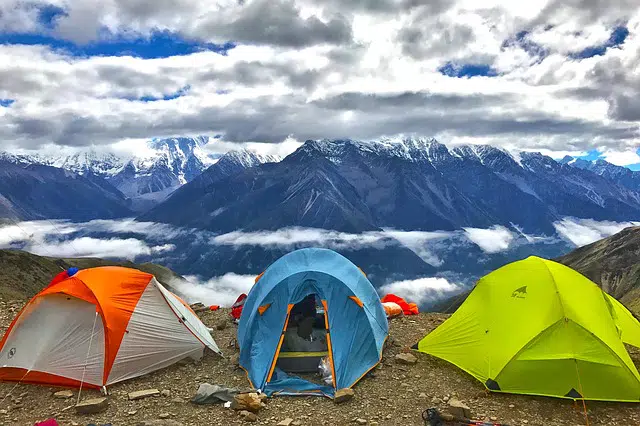 Although no basic weekend-camping-tent is going to make protect you from bone-chilling cold weather, it's a necessity for comfort and avoiding hypothermia.
There are literally 100s of cold weather tents to pick from when you're ready to make your purchase. Choosing the right tent is an important factor. I suggest browsing tent reviews on YouTube or going down to your local outdoor store so you can see a display set up.
At a minimum, make sure your tent has a solid waterproof rating and an opening at the top for air circulation. Place your tent in an area that receives the most morning sun. Also, keep the square footage of the tent in mind, if there are only two people, there is no reason to buy a larger tent.
Understand Your Sleeping Bag's True Temperature Rating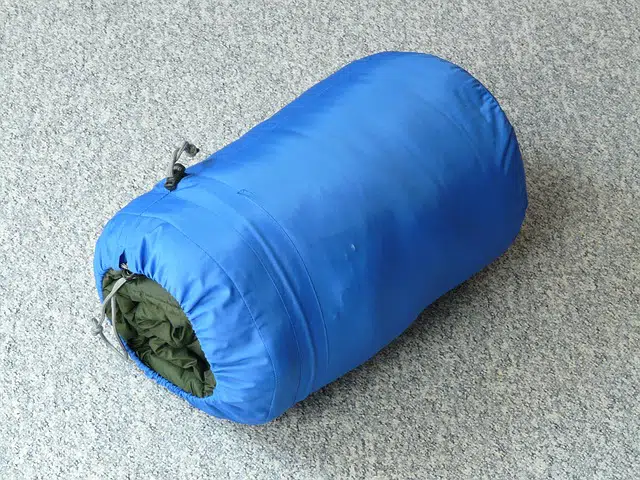 Understanding your sleeping bag's temperature rating can be quite complicated. Just because your sleeping bag is rated to 10 degrees doesn't necessarily mean you're going to be sleeping comfortably at 10 degrees.
Temperature ratings are just estimates and are dependent on all sorts of other factors including the insulation rating of your sleeping pad, differences in clothing materials, individual body differences, and more.
When choosing a sleeping bag for a cold-weather camping trip, you'll want to have a good idea of the coldest temperatures you'll encounter.
To be safe, it's a good idea to choose a sleeping bag that is 10 to 15 degrees cooler than the lowest temperature you plan to encounter. Sleeping bags usually have two ratings: a comfort rating which indicates the temperatures at which a cold sleeper should feel comfortable and a lower limit rating at which a warmer sleeper should feel comfortable.
Make Your Sleeping Bag Warmer in Cold Weather
If your sleeping bag is not rated low enough for the temperatures you're anticipating or you just can't seem to get warm inside your bag at night, there are all sorts of tricks for making your sleeping bag a little warmer.
If your bag is a bit roomy, fill up the empty space with extra clothing or a warm water bottle. Also, consider purchasing a sleeping bag liner, which can add a few degrees of warmth to any sleeping bag.
If you have an extra blanket, toss it over the top of your sleeping bag to seal in the heat. Snuggle close to someone else or your dog for more body heat and put hand warmers in your socks or gloves to keep those parts extra toasty.
Also, try to keep your bag from touching the wall of the tent. The last thing you want is the cold walls of your tent sapping the heat out of your bag.
If you haven't purchased your sleeping bag yet, make sure that it has a high R-Value. The R-Value measures the capacity to resist heat flow. REI has a great article detailing the R-Value of sleeping bags and pads here.
Make Sure Your Sleeping Pad Has Insulation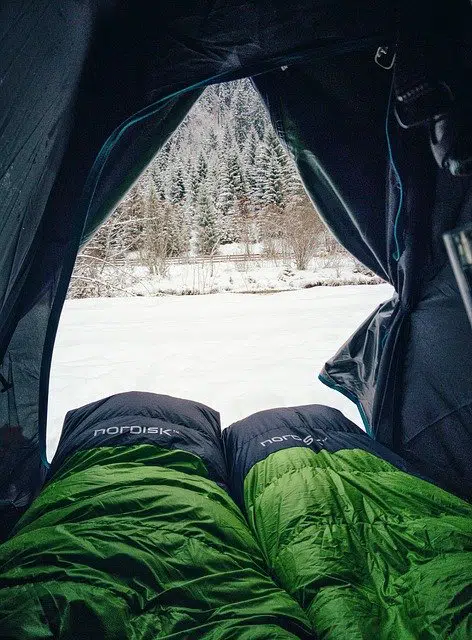 When you're car camping you don't really have to worry about sleeping pad weight or size so go with lots of cushion for overall comfort. These larger, thicker mattresses are often less expensive than the lightweight backpacking alternatives but may lack the insulation needed to keep you warm and cozy when camping in cold weather.
An air mattress by itself offers very little insulation especially since you'll be filling the mattress with cool air. However, you can easily throw a closed-cell foam pad on top for added insulation and then you'll have both warmth and comfort.
Every sleeping pad has an R-value, which notes its ability to prevent heat loss to the ground. Higher R-values mean a warmer pad. For winter camping, an R-value of at least 5 is highly recommended. R-values can be added together so you can easily stack two mattresses for sufficient insulation.
If you plan on doing a lot of cold-weather camping, you may want to invest in a winter sleeping pad to avoid the cold ground. However, you can get the same effect by stacking two pads and it's also probably more economical.
Read More: 7 Best and Cool Camping Gear Worth Purchasing Ideas
Wear the Best Clothing for Cold Weather Sleeping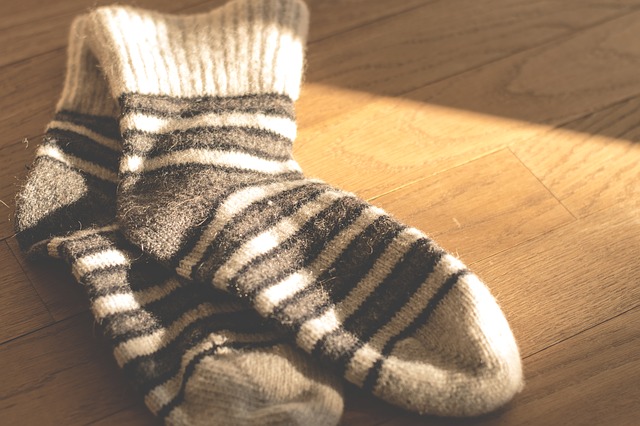 To stay warm while sleeping avoid cotton, layer strategically and resist overdressing. Baselayers made from moisture-wicking materials such as wool, polyester, polypropylene or other synthetic materials make the best sleepwear choice for cold weather camping.
Cotton absorbs moisture and once wet provides no insulation properties and can seriously drop your body temperature.
Also consider non-cotton socks, gloves and a comfortable cap. Avoid bulky clothing, which can actually reduce the sleeping bag's ability to efficiently hold body heat. If your neck tends to get cold, wear a neck gaiter. Dress in layers you can easily remove if you get too warm.
The base layer is made of material that keeps moisture and sweat off the skin.
The middle layer contains body-heating clothing, such as merino wool or synthetic blends.
The top layer will keep you warm while you're out in the cold.
Don't Go To Bed Cold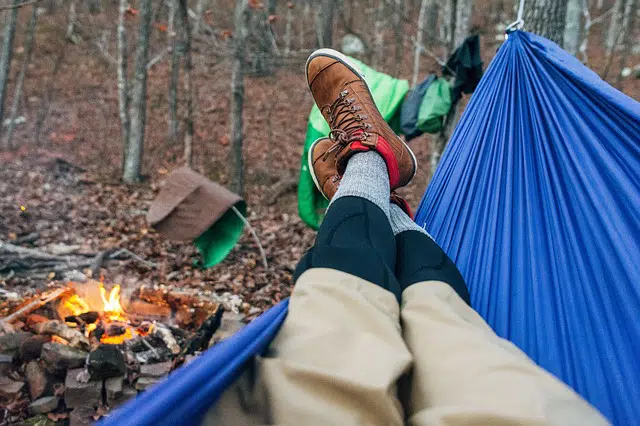 Before hitting the sack, warm up by the campfire or go for a walk or do some jumping jacks, anything you can do to get warm. Just make sure to not get sweaty. Wet clothing quickly reduces your body temperature. Always put on an insulating layer and socks before bed.
Drinking a warm beverage or eating a light snack can also help. Digestion and hydration warm you up from the inside.
Also, consider filling up a water bottle with warm liquid and then placing it near your core to warm up quickly in your bag. Non-insulated stainless-steel or BPA-free water bottles like Nalgenes or a hot water bottle work best.
Read More: 5 Different Types of Camping for Campers
Keep Your Tent Well Ventilated at Night
It may seem strange to consider keeping your tent well-ventilated in cold weather, but maintaining a little airflow through your tent can actually keep you warmer.
The heat from your body and the moisture added by your breath create condensation and can dampen everything in your tent making it much colder.
If there is a breeze, pitch your tent so a door or window is facing it and open opposing vents for cross ventilation. Also, avoid storing any wet items in your tent since this will only up the humidity in your tent.
Try not to breathe into your sleeping bag at night since moisture can get trapped inside and can create a clammy and unpleasant atmosphere. A wet bag loses its insulation and can take a long time to dry.
If your face is cold, use a bandanna or neck gaiter or if you have a mummy bag, cinch the hood leaving only your mouth exposed so you exhale outside the bag.   
Keep Your Electronics Safe in Cold Weather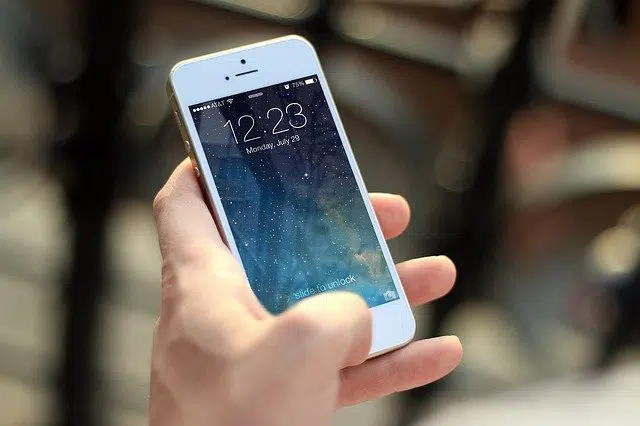 Cold temperatures can drain battery power quickly. Place items such as your cell phone, headlamp, GPS units or spare batteries at the foot of your sleeping bag or in a pocket close to your body.
Some sleeping bags come with a stash pocket which is nice for keeping your electronics both warm and handy in case you need them in the middle of the night.
Don't leave devices in your car overnight if temperatures are expected to fall below freezing. Otherwise, you'll wake up with drained batteries.
Stay Warm the Smart Way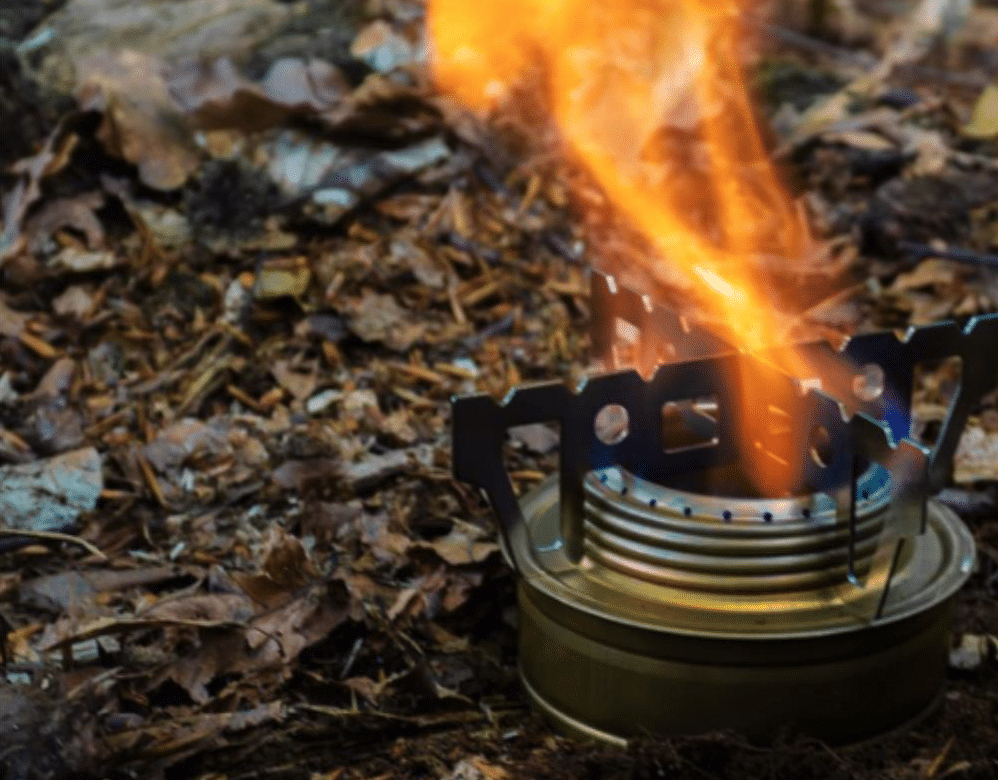 If you are staying at a campground with a power hook-up at your campsite, consider bringing a small electric space heater. Just don't forget the extension cord!
If it's going to be blistering cold, don't let pride step in the way. If there's a nearby RV or camper with a power unit, kindly ask if you could run an extension cord.
If you're going off the grid, a portable and rechargeable power station like the Jackery 500 can work wonders for you. You just need to make sure that the
Some campers use indoor-safe propane heaters for the tent. With the risk of carbon monoxide poisoning or a fire, I stay away from them. Even with a ventilated tent, the risk still outweighs the reward in my opinion.
Final Thoughts
Keep the mentioned cold weather camping tips in mind before embarking on your next outdoor adventure.
Although winter camping isn't as popular as summer camping, it is still a great option for many people. In fact, you may find that the cold weather is more scenic, so you'll be able to enjoy yourself more. You may be surprised by how much you'll enjoy your trip during the cooler months.
Pin it for later!