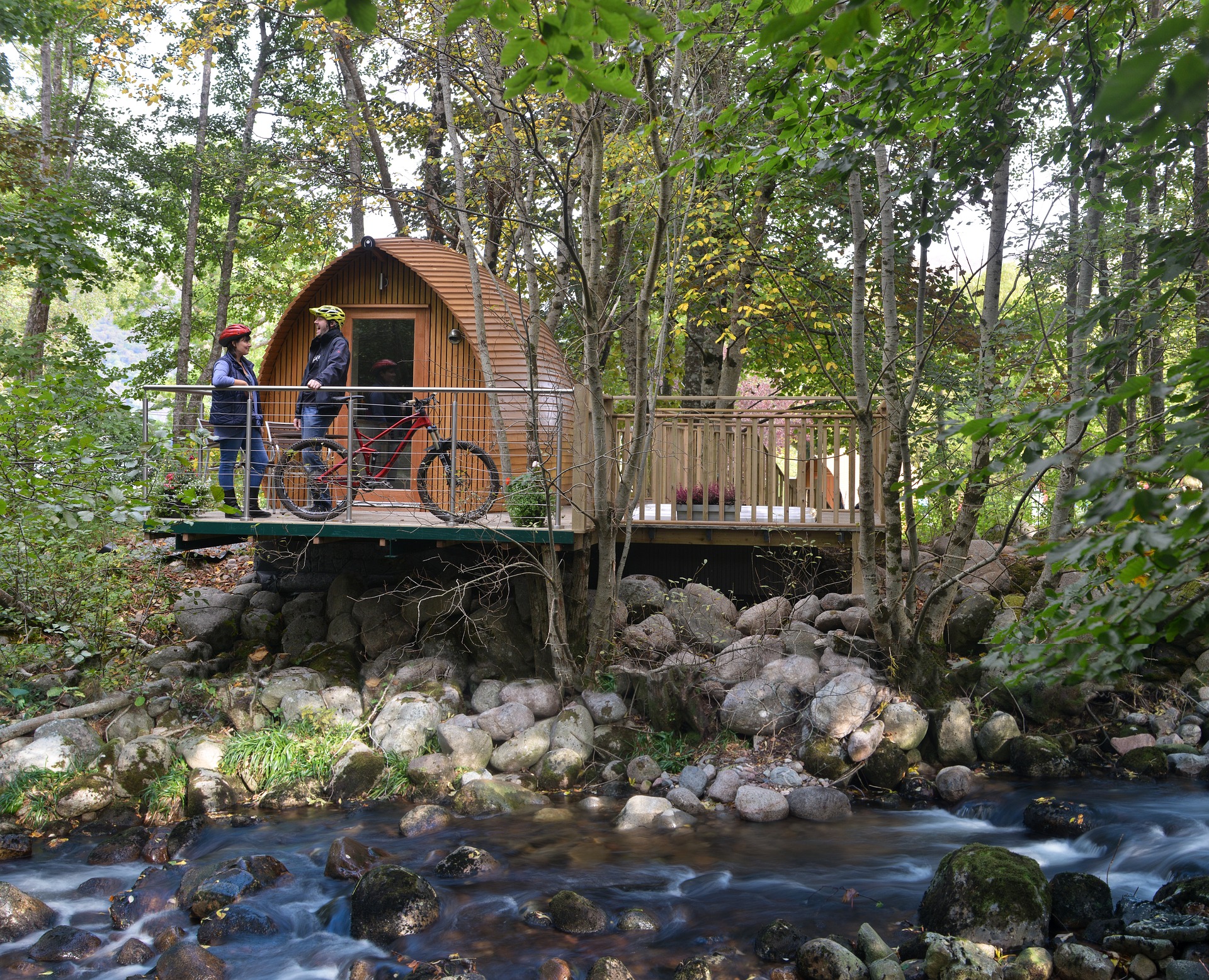 2020 was the Year of Camping and Glamping. Okay, actually it was the year of a lot of things, but one positive thing was that many American families took to the road and decided to make domestic travel a way of life. One trend sweeping the nation is called glamping, and in this article, we will discover why this fad appears to be one that's going to stick around.
What is Glamping?
Oxford Language gives the definition of glamping as, "a form of camping involving accommodation and facilities more luxurious than those associated with traditional camping."
In its simplest terms, glamping is camping kicked-up a few notches. It's not the tent-campout experience you may have had as a kid! Officially, glamping is a form of short to long-term stay travel involving more luxurious accommodations than traditional camping.
Luxury is the keyword here — people want to feel at home, comfortable, and truly on vacation. The days of sleeping on lumpy air mattresses on the ground are long gone for many campers.
Where Can I Glamp?
Depending on what you're specifically hoping for in a campsite or campground, you can glamp at just about any facility. There are two options for glamping:
Invest in an ultimate glamp-machine like a new (or immaculately maintained used) RV or a high-end tow-behind camper.

Search for a campground that provides glamping experiences (see below), like luxurious cabins, rental RV's, Yurts, or glamping-style tents. A true glamping campground will typically have lots of amenities. These range from recreation areas (think big: tennis courts, resort-sized pools, fully-equipped fitness centers, etc.) to spas and upscale restaurants.
The best place to start is to determine the location you'd like to visit, and making a mental list of amenities you'd most appreciate in a camping experience. Then you can start searching for campgrounds that fit your personal preferences, and thus will provide a true glamping experience for your family.
What Do I Need for Glamping?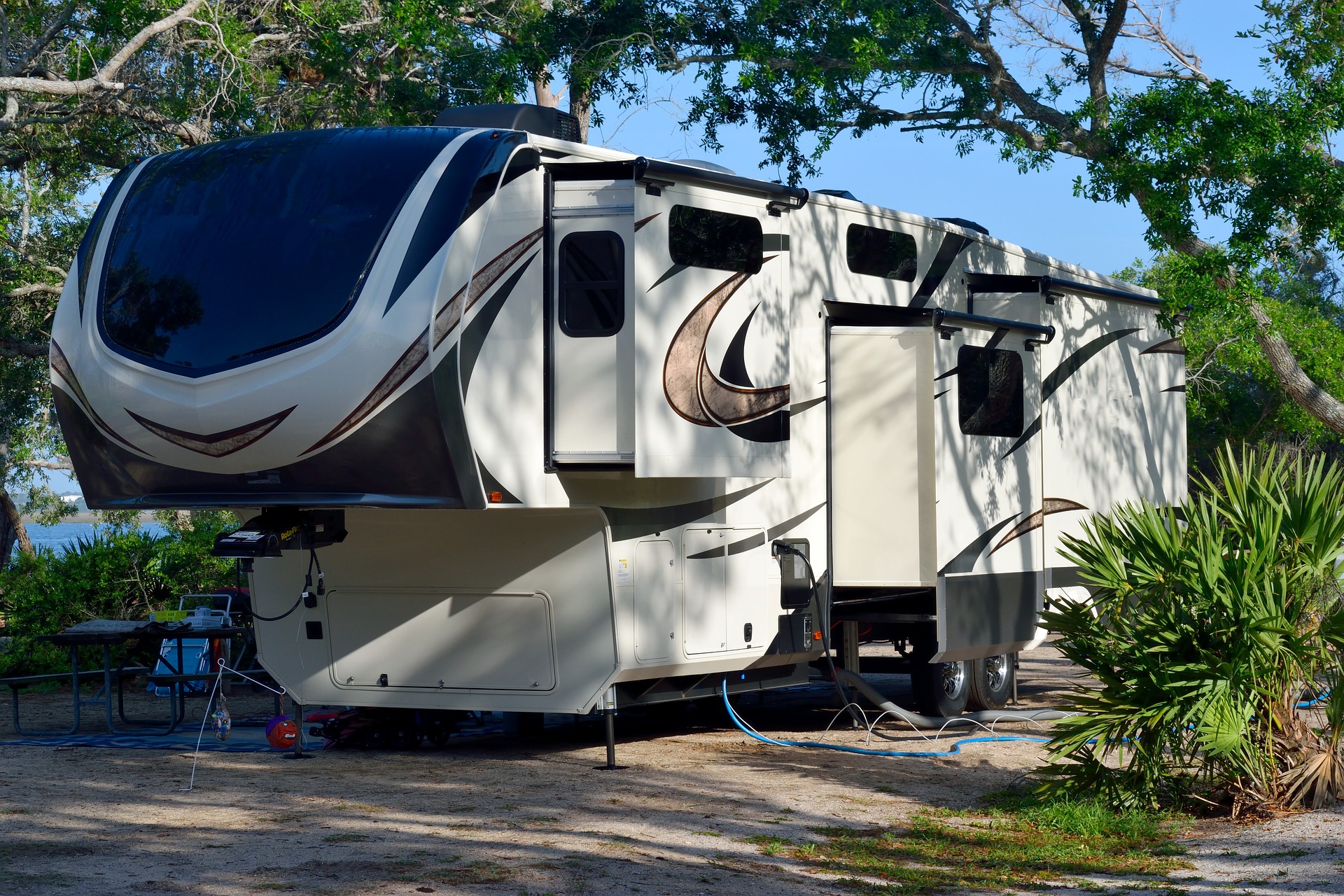 The footing of all glamping (or traditional camping, for that matter) is a place to stay. At the very minimum, you need a place to sleep! If camping is a new endeavor for you (you'll want to get some tips here), discuss with your family what travel and camping style may be the best fit.
Not everyone is comfortable driving an RV (also called a motorhome), and not every family is equipped with a truck to pull a camper.
If it's not in the budget to purchase either at this time, it may be best to look for glamping experiences — that is, campgrounds and resorts that offer on-site stay options like cabins, yurts, campers, or tents for rent.
Yurts are round structures that are somewhere between a tent and a house, with at least part of it covered by tent-like fabric to give you a real camping feel.
Cabins are often available with multiple rooms, a full kitchen, and with or without a bathroom. If that's not quite enough adventure for you, some resorts have a treehouse rental option that might be a great alternative!
RVs and campers have so many incredible options out there today. They often include some form of a kitchen, and some include outdoor dining options like outdoor tables, sinks, prep areas, and grills. Depending on your needs, you can get a camper with a luxurious king bed in a master suite and hide-away bunk beds for the kids. The options really are endless and there are some excellent models on the market.
Regardless, depending upon which avenue you choose, you'll need to fill your travel vessel with the necessities your family requires for a getaway. Some RVs come equipped with bedding, and all are equipped with built-in furniture like couches, tables, and benches, but all other equipment needed is up to you to purchase and furnish before hitting the road.
Guide: Tent Camping for Beginners
Where To Glamp?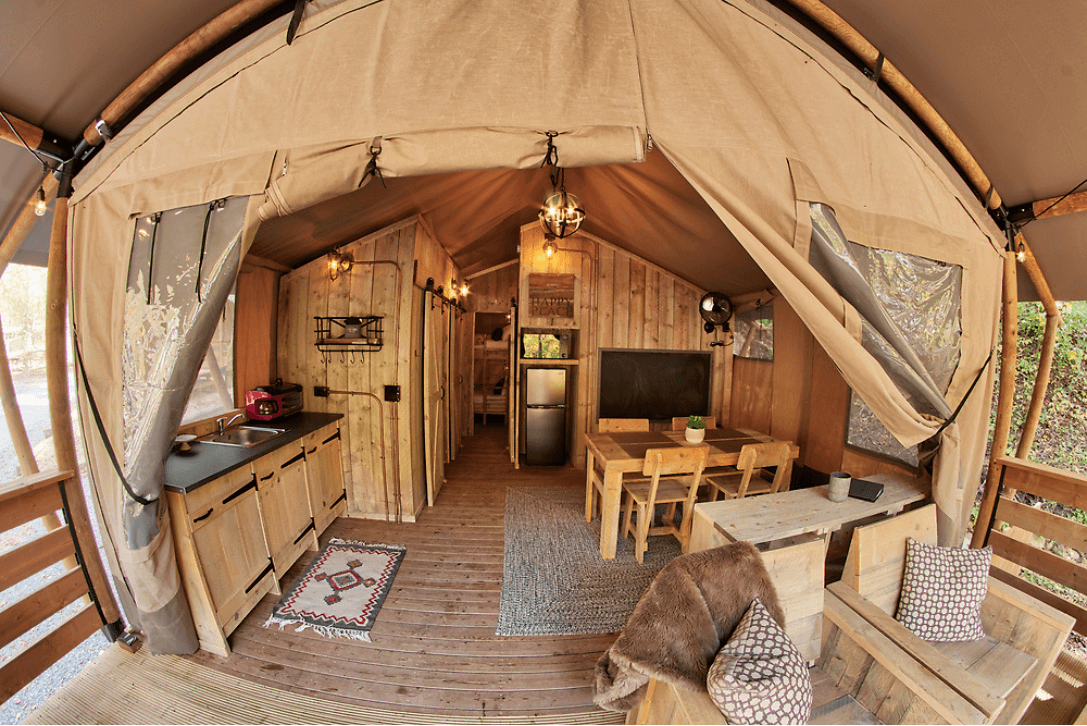 Taking full advantage of the surge in the glamping community, some resorts cater to this specific idea.
Here are four of the top-rated glamping destinations in the United States:
1. Little Arrow Outdoor Resort, Townsend, Tennessee: USA Today announced this resort as the top Glamping resort of 2020 for its variety of offerings including RV rentals, rustic and beautifully designed cabins, and unique tiny homes.
2. Fireside Resort, Jackson Hole, Wyoming: This picturesque property in a beautiful wilderness setting has 25 furnished cabin rentals complete with all the comforts you'd need, plus extras like a private fireplace and outdoor porch.
3. Conestoga Ranch, Garden City, Utah: Tents still have a rightful place in Glamping, and this resort proves it. Situated on the epic shores of Bear Lake, these "grand tents" have full electricity and elegant beds and linens, and the experience is complete with an award-winning restaurant on-site.
4. Firelight Camps, Ithaca, New York: Luxurious tents with a private balcony complete with rocking chairs round out this safari-themed property. Among a variety of community-focused events, this resort offers a complimentary locally-sourced breakfast.
MORE: 5 Different Types of Camping
And here are four top-rated glamping campgrounds that offer exciting resort-style accommodations for those staying in their own RV or camper:
1. Solstice Motorcoach Resort, Mesquite, Nevada: Compete with a plethora of amenities and great views, campers enjoy private waterfront lots and a world-class golf course on-site.
2. Bluewater Key RV Resort, Key West, Florida: Campers get waterfront access through on-site docks and decks, as well as a huge freshwater pool for the whole family.
3. Bella Terra RV Resort, Foley, Alabama: The only resort on our list with an infinity pool, this property flaunts an on-site activities coordinator, a stocked fishing pond, a jacuzzi, and a sauna.
4. Hearthside Grove Motorcoach Resort, Petoskey, Michigan: For those looking for even more unique experiences, this place advertises on-site cooking classes by great chefs, a clubhouse and theatre, and a full fitness center.
Camper Accessories: 12 Must-Haves Before You Go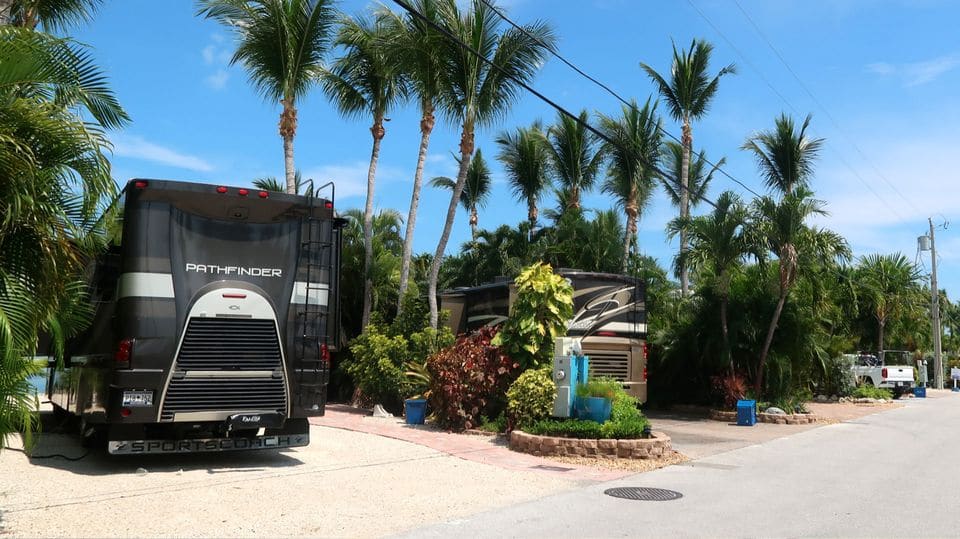 Whatever fits your style best, you're guaranteed to have a memorable glamping adventure. This style of camping makes it all the more inviting to spend time in the great outdoors and explore the many incredible destinations of the United States.
Take to the road while never leaving the comforts of home behind!
Pin it for later!